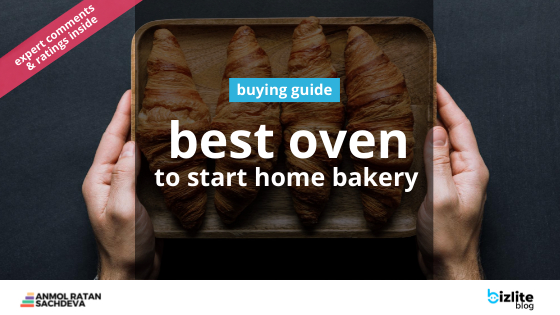 Rohit bought a high-end oven to start his home bakery business after finding this low-cost business idea online. The online reviews made him confident that the oven he chose was perfect for his needs. But sadly, online reviews can be deceiving - mostly because everyone has a different need. While the oven he bought was suitable for a family that bakes occasionally, it lasted only six months because he started using it daily. 
Most online blogs and reviews rate/review an oven based on occasional usage. But the home bakery business is a different ballgame. You might need to bake multiple times a day. Plus, every home baker has different needs and skill sets. 
If you're looking for the perfect oven to elevate your home baking game in India and don't want to struggle like Rohit, you're in the right place. We've curated a list of the best ovens for home. So, stick around to find your ideal match.

There are many ovens for home bakers in India, but only a few stand the test of time. But don't worry. With proper research (and a thorough read of this blog), you can easily find the best oven for baking and run your home bakery smoothly. 
TLDR: Don't have time but Searching for the best Deal on Ovens for Home Bakers? Morphy Richards 52 Litre OTG is available at a discount. Check Today's Price & Buy Now
Best Oven For Baking At Home – What You Need to Know? 
I know you are looking for a 'dream' oven that supports your home bakery through and through. So, what type of oven should you go for? From convection to microwave, there's a variety to choose from.
You might have already browsed Amazon, visited local showrooms, talked to your aunty who used to cook lovely cakes in childhood, or seen Insta influencers vouching for several ovens. 

But let's be practical here - you can't buy everything, nor is every oven suitable for 'everything'. Whether you're looking for an oven for home use or hands-down the best oven in India, you should straighten your priorities and start rating ovens based on their features. Ideally, look for: 
Capacity
As a home baker, you'd frequently be baking in large quantities at a time. So, picking an oven that can support your rigorous loads is a wise choice.
But keep in mind that the larger the oven, the higher your investment (and increased electricity bills). You don't want a scene at your household after your father looks at the next electricity bill. So, make a wise choice based on your expected bake-load. 
Oven Dimensions
One thing almost everyone misses at the 'early stages' of their home bakery is how much space will the oven (and utensils, accessories, etc.) need. And you end up shifting things every other day - wasting time you could spend on bringing more business. 

A better approach will be to check oven dimensions, measure your space in the kitchen, and make arrangements beforehand. You can even call a carpenter and electrician to guide you with suggestions on ensuring maximum space utilization. 

Remember that the oven dimensions are directly proportional to the capacity of the oven, your baking needs, and the way you plan your home baking journey. You can always pick something today that's appropriate till the time you test your recipes and upgrade on the go. 
Power Output/Electricity Loads
Smaller, conventional OTG ovens are rated at 1200 watts, while larger ovens can be found at 1600 watts and 2000 watts of power rating. If you're opting for a smaller oven, 1200 watts is powerful enough to cope with your recipes. For larger OTG ovens than 28 Litres, aim for atleast a 1500 watts.
Your Budget

The most important thing for a small business owner in India - the amount you're willing to spend. In the beginning, you might not be open to spend a lot of money. But keep in mind, your oven is the lifeblood of your business. So, keep a substantial portion of your setup budget for buying a oven for your home bakery. 
Built-in Ovens Vs Standalone Ovens 
For a home bakery, built-in and microwave ovens both work equally well. Built-in ovens require special arrangements, plus they're costly. It's wise to test your product recipes with a standalone oven, make your home bakery successful, and then invest in a large, built-in oven, later. 
When compared, built in ovens and standalone ovens have the following differences: 
| | |
| --- | --- |
| Built-in Ovens | Standalone Ovens |
| Costly  | Affordable  |
| Service and maintenance are a hassle (Lack of Trained Professionals in Small cities in India)  | Easy to maintain and cost-efficient servicing |
| Need special arrangements/civil work for fitting in  | No special arrangement needed for installation. Plug & play system.  |
| Looks aesthetically pleasing  | Need dedicated countertop/unit in your Kitchen (Might look odd without proper section in your kitchen)   |
| Replacement is costly | Replacement is easy  |
Convection Microwave Ovens Vs OTG 
The simple difference in an OTG and a microwave is that an OTG can bake, toast, and grill. On the contrary, a microwave can do all of those things like - bake, toast, grill, cook and heat up the food for you. And if you buy a convection microwave, you do not need to buy a separate oven as a microwave bakes in convection mode. 
If you are just starting your home bakery and need an oven for those specific purposes, an OTG is recommended, otherwise you can choose a microwave for an all purpose oven. 
| | |
| --- | --- |
| Convection Microwave Ovens | OTG  |
| A microwave (Convection) is an all purpose oven-  Bake, Toast, Grill, Cook and Reheat the Food | An OTG bakes, toasts, grills and even have rotisserie  |
| Uses microwave heating system | Uses traditional heatwave heating system |
| Lesser Pre-Heating Time | More Pre-Heating Time |
| Faster Food Preparation | Takes More Time Comparatively  |
| Crispiness in Breads is not up to the mark | Bakes crisp breads and toasts adequately |
| Browning not perfect | Brings Perfect Browning Effect |
| Suitable for home use | Suitable for home bakery business |
Best Ovens for Your Home Bakery in India
But before we jump on the list of best ovens for home bakers, I want to clarify that I am a hobbyist baker myself and have researched deeply before curating this list.
My research and discussions with other homebakers are distilled here. I hope you find an oven for your home bakery from this list. 
On a tight budget but still want quality? No worries. We've scoured places to find the best oven for home use and the best oven for home baking business that won't break the bank.

Best For
Baking cupcakes, artisanal cakes, and simple baking recipes. 

Starting a small home bakery with limited number of daily orders. 

Bakers with limited 'kitchen' space. 
Capacity: 16 Litres 
Last Checked Price: INR 3999/- 

Check Latest Deals at Amazon
Bajaj is known for its durability, and this can be the perfect companion if you are just starting up your home bakery business. The OTG is light, doesn't require special fixtures and can sit on your countertop without taking too much space. Plus, it offers excellent baking results -  from simple cakes to breads and more. 
Bajaj 160 3T is an OTG with 1200 Watts power output and an inbuilt thermostat for temperature control. With a manual temperature control that promises temperatures up to 250-degree celsius, it is the perfect mix of efficiency without any fuss.  But beware, Bajaj OTGs are known to have uneven temperature problems. 
| | |
| --- | --- |
| Pros  | Cons  |
| Compact and Portable | The Power Cord is Short  |
| Sturdy Powder Coated Stainless Steel Body  | Auto-timer Reset Option not available  |
| Locks food nutrients with Nutri Pro feature  | Uneven heating or temperature problems |
| Dedicated rods at top & bottom for temperature distribution |   |
| Dedicated control knobs |   |
How Other Home Bakers Have Rated Bajaj 1603T?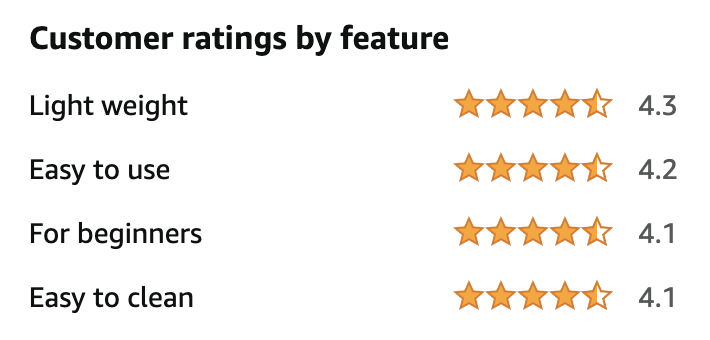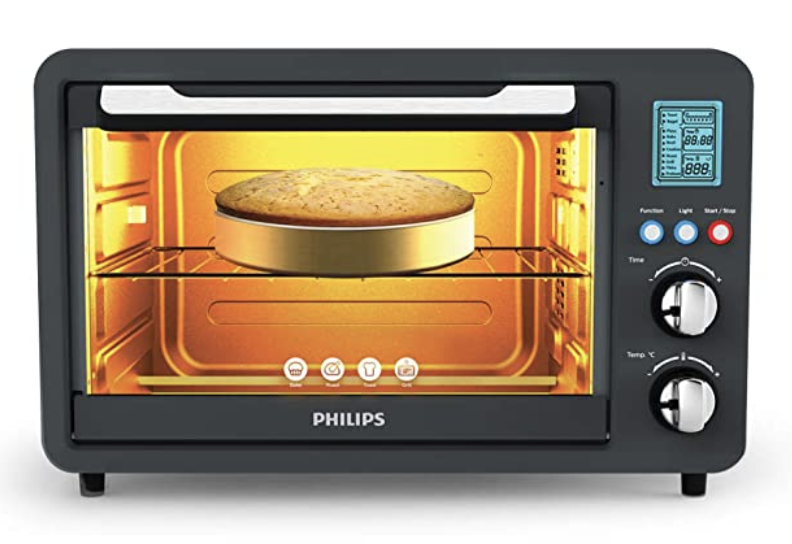 Best For
Baking cakes, cupcakes, pizzas and cookies 

First-time bakers who want to experiment with their menu. 

Cooking tandoori items, bagels, kebabs in rotisserie mode 
Capacity: 25 Litre
Last Checked Price: INR 7100/- 
Check Latest Deals at Amazon
Philips HD6975/00 is a powerful 25 litres 1500 Wattage OTG powered by opti-temp technology and comes with a one-touch preset menu and preheat functionality. 

The opti-temp technology helps give optimum browning of the bread, cupcakes, cookies and more. It's multi-functional and preset menu help you bake the perfect 'croissants', cakes, cookies, and more. Plus, the rotisserie function helps you try out new 'recipes' to delight lovers of 'tandoori' items and fusion baked products. 
Philips OTG - Pros & Cons
| | |
| --- | --- |
| Pros  | Cons  |
| Ensures uniform cooking  | Handle & body turns excessively hot when the oven is in use |
| Helps in 10% higher nutrition retention  | Thin body metal and non-sturdy accessories |
| Gets desired level of crispiness  |   |
| Mode Selection according to recipe  |   |
| Time & Temperature Control  |   |
| 10 pre-set modes  |   |
| 90 minutes auto cut-off |   |
How Other Home Bakers have Rated Philips HD6975/00?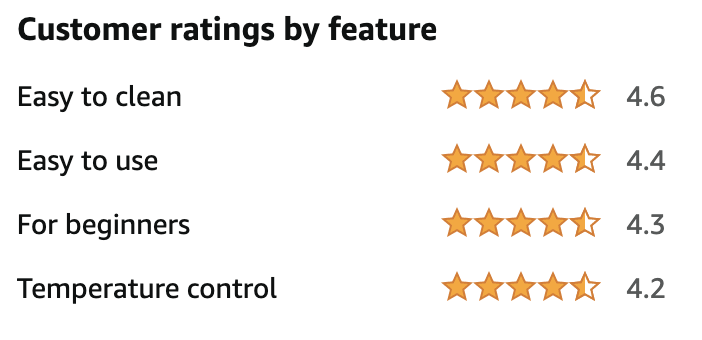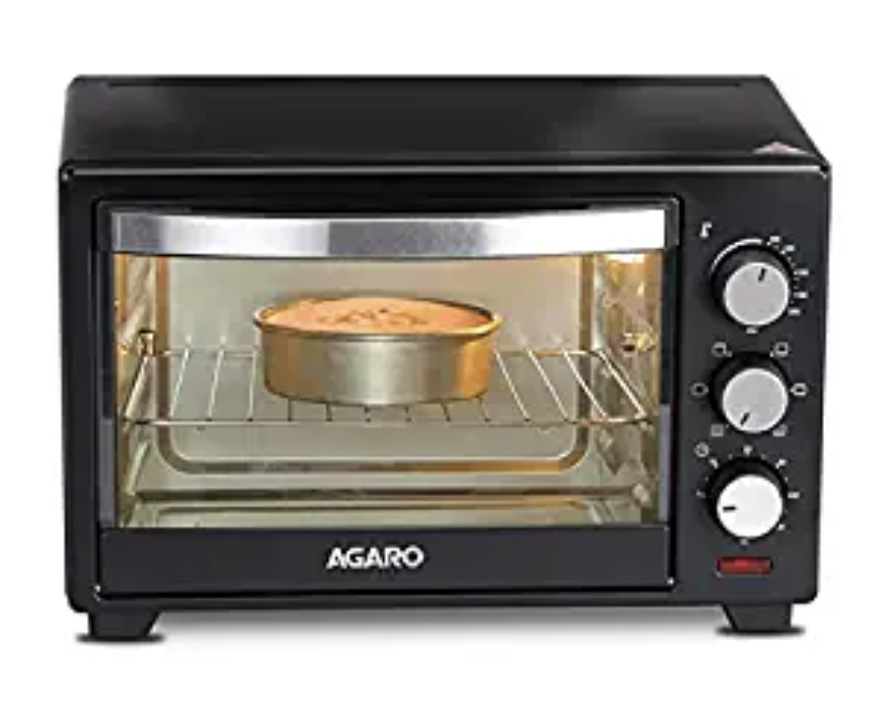 Best For
Baking cookies and breads.  

Someone who wants to start a homemade cookie business. 

Bakers who need a rotisserie function but have a limited budget.
Capacity: 19 Litre
Last Checked Price: INR 3199/- 

Check Latest Deals at Amazon

AGARO is a budding Indian company that has been enjoying raving reviews for its oven and other electrical products. Its product range is priced for the masses and promises reliability. 

This particular model is a testimony to the brand's promise of reliability, functionality, and efficiency.
With 5 stage heating modes, AGARO Marvel 19 Litres OTG allows you to try complex baking recipes and get the perfectly-baked cookie every time. Depending upon the recipe you want, you can set the temperature from 100-250 degree Celsius and set your preparation to auto-cook for up to 60 minutes. It comes with a rotisserie but doesn't have any convection fan.
Agaro OTG - Pros & Cons
| | |
| --- | --- |
| Pros  | Cons  |
| 5 heating modes  | Non-responsive customer service |
| Motorised rotisserie cooks food evenly  | Small inner cavity |
| Heat resistant tempered glass window | Temperature range is uneven |
| Automatic Thermostat  |   |
| Illuminated Chamber |   |
| Cool Touch Handles  |   |
How Other Home Bakers Have Rated Agaro Marvel OTG?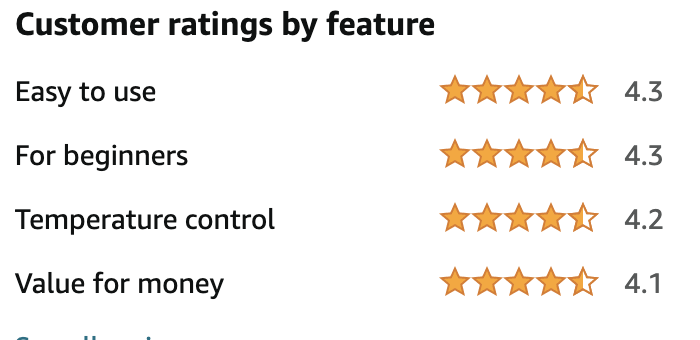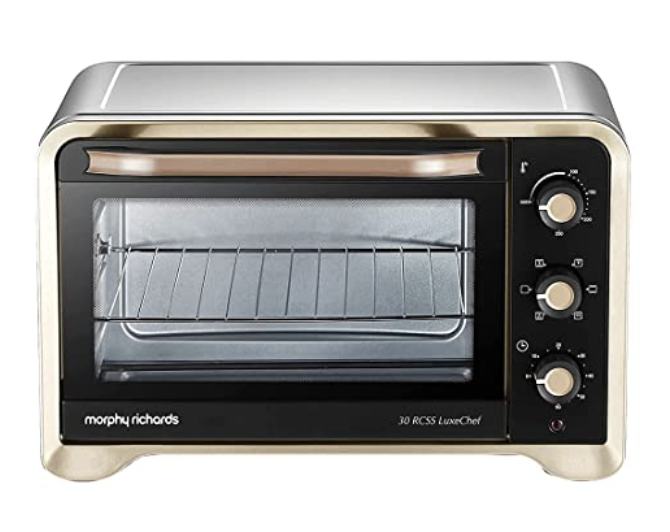 Best For
Successful home bakers looking to upgrade to a bigger oven. 

Someone who appreciates 'accuracy' when it comes to baking
Capacity: 30 Litre
Last Checked Price: INR 7999/- 

Check Latest Deals at Amazon
Morphy Richards 30 RCCS Luxechef 30 Litres OTG is undeniably the best oven for a serious home baker. Brought to you by the British Giant, the oven is the perfect blend of form, function, and flexibility. 

You must have already swooned over Morphy Richards product a million times if you are a habitual baker. Trust me; this one's going up your wishlist too. The beautiful design and an integrated automatic light will make buying it your best decision. 

Coming to the features, it has six separate modes to help you bake, toast, grill or roast. Many bakers have manually tested its timer and temperature control to ensure nothing's off (and you can cook without worrying about inconsistent temperature settings). 

There's no lower oven rod in this model. However, that doesn't stop the oven from baking your cakes evenly and ensuring you get the perfect crust, every time. 
Morphy Richards OTG - Pros & Cons
| | |
| --- | --- |
| Pros  | Cons  |
| Integrated oven light | Takes time to heat up  |
| Convection fan and motorised rotisserie function  | Body heats up when the oven is in use  |
| 6 mode options |   |
| Stainless Steel Design  |   |
How Other Home Bakers Have Rated Morphy Richards LuxeChef?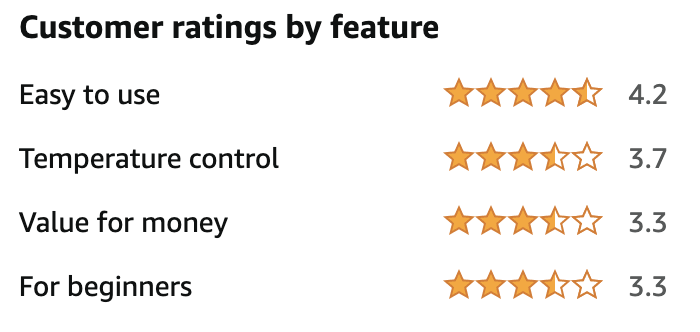 Prime Day is Live on Amazon. Morphy Richards 52 Litre OTG is available at 55% Discount for just 13,000/- only. Buy Now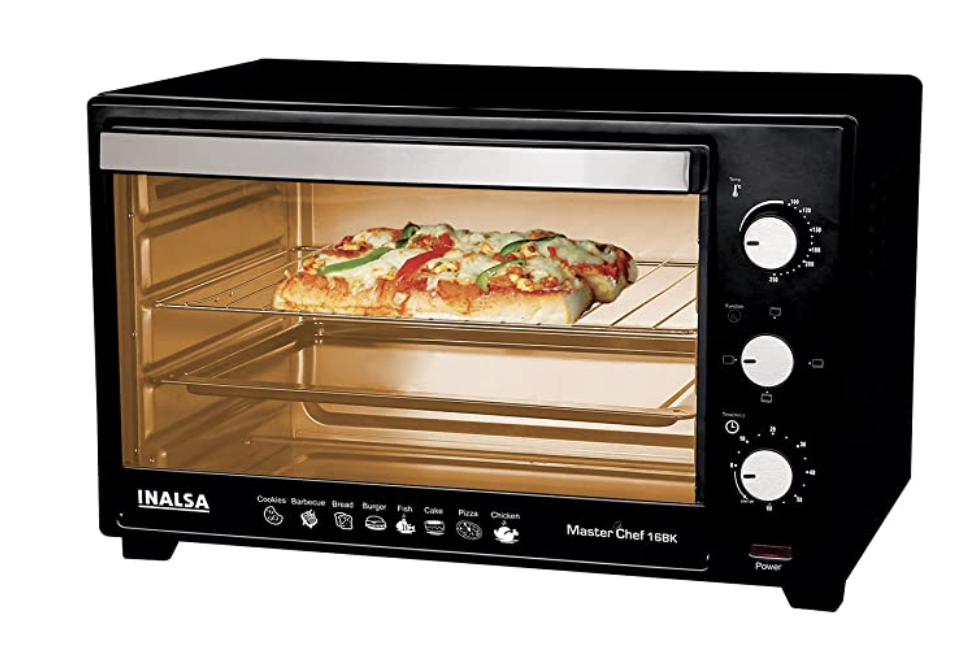 Best For
Baking cakes, puffs and croissants

Bakers who want an additional oven along with their built-in oven to test 
Capacity: 16 Litre
Last Checked Price: INR 3658/- 

Check Latest Deals at Amazon

Suitable for a small home bakery setup, the oven offers a wide range of temperature controls that helps you bake according to the recipe. It is a compact countertop OTG with ample space that can easily accommodate a  9-inch pizza or a 1 -2 pound cake.

Not only this, even heat distribution in the oven results in uniform browning of cakes and breads. With perfectly crisp pizza bases, and tender croissants, perfectly baked cookies, baked using this Inalsa Oven, your home bakery will flourish within no time. 
Inalsa OTG - Pros & Cons
| | |
| --- | --- |
| Pros  | Cons  |
| 4 stage heat selection  | Suitable for a very small setup only  |
| Energy efficient  | Loss of heat  |
| Even toast technology  | No chamber lights  |
| Double heating elements  |   |
How Other Home Bakers Have Rated Inalsa Oven MasterChef?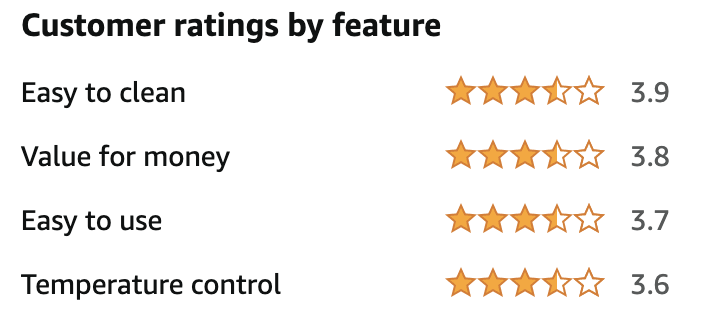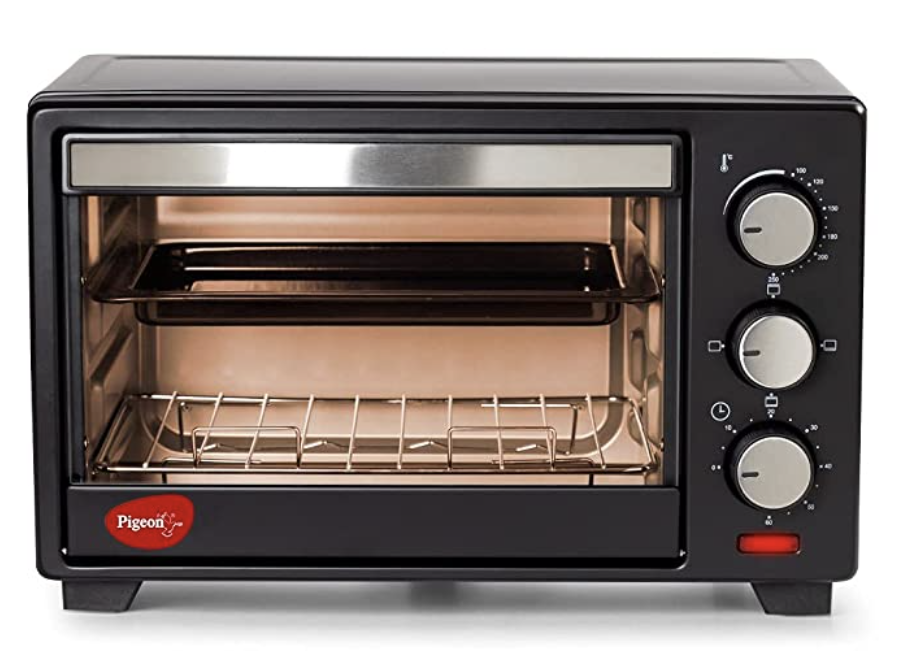 Best For
Beginners who don't have an established home bakery business. 

Someone who's tight on a budget but still want to start a small business as a home baker. 

Baking cookies, muffins or lip-smacking pizzas. 

Home-based cafes/bakers looking for an on-counter oven. 
Capacity: 16 litre 
Last Checked Price: INR 3504/- 

Check Latest Deals at Amazon
If you are looking for the best OTG for your home bakery, Pigeon by Stovekraft Bakers' Collection offers an affordable starter OTG. 

This oven features a compact design with three durable control knobs and can bake finger-licking cakes, pastries, and muffins.  
Not only this, you can use it to grill chicken, paneer, veggies for toppings if you're thinking to start a home-based pizzeria as this best oven for baking and grilling at home.
However, think twice about this one if you're looking to buy an OTG or a good oven for baking multiple cakes in a day. It's more suitable for a beginner who is just starting his/her own business. 
Pigeon OTG - Pros & Cons
| | |
| --- | --- |
| Pros  | Cons  |
| Easy to use double knobs  | Does not have a rotisserie  |
| 4 stage heating option | Takes longer time to heat up  |
| Superior cooking performance  | Body gets hot while the oven is in use  |
How Other Home Bakers Have Rated Pigeon OTG 16 Litres?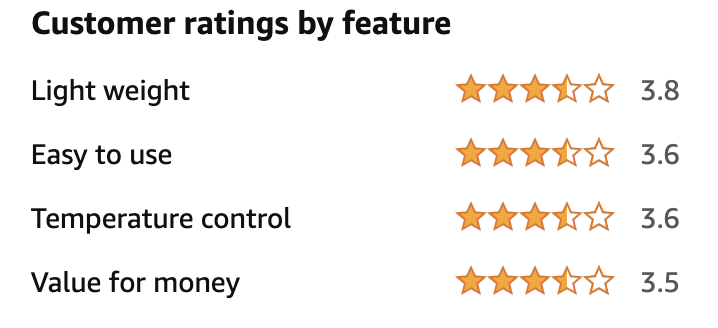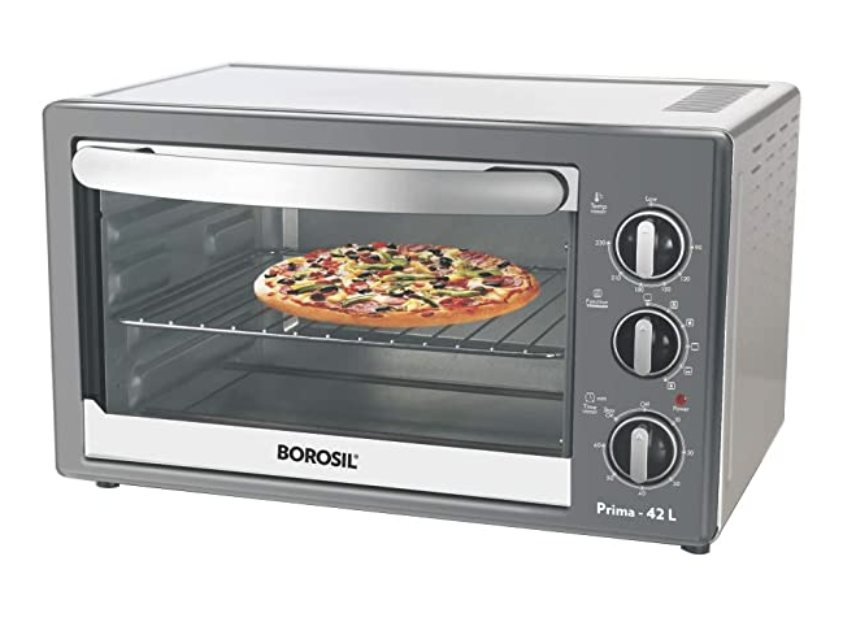 Best For
Serious home bakers looking for an upgrade

Home bakers who deliver 2-3 cakes (or more) daily
Capacity: 42 Litre
Last Checked Price: INR 7199/- 

Check Latest Deals at Amazon
If you're into baking for a while, you might link Borosil to the 'prided' glass containers, bins, and baking dishes. The brand doesn't disappoint in the appliance category too. 
In fact, we kept the best for the last and feel this is the perfect oven for home bakers in India. The large inner compartment and convection fan ensures you can bake multiple cakes simultaneously without facing any heating issues. It has all the standard functions - six baking modes, baking accessories, and a self-lit inner chamber to ease out your daily job. 
Don't write it off after looking at the price if you're serious about being successful as a home baker. Trust me, you won't regret buying this one. 
Borosil OTG - Pros & Cons
| | |
| --- | --- |
| Pros  | Cons  |
| 6 heating modes  | Can take a lot of space on counter |
| Convection and motorised rotisserie  | Not beginner-friendly (temperature settings)  |
| Adjustable Temperature Control from 90°C to 230°C | Rust-prone inner chamber  |
| Illuminated chamber |   |
| 360° heat circulation  |   |
How Other Home Bakers Have Rated Borosil Prima 42 Litre Oven?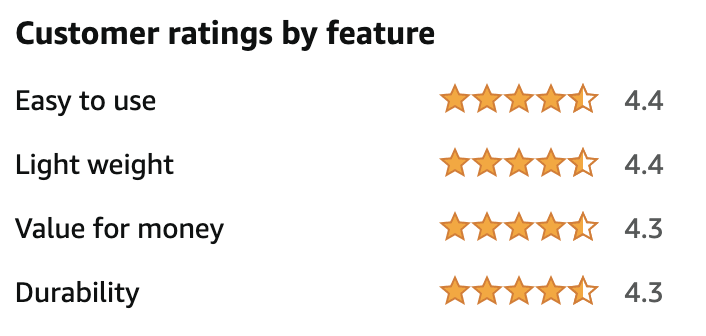 Which Oven Should You Buy for Starting a Home Bakery in India? 
Latika Sharma, a home baker, shared her thoughts on picking a oven on Quora. Her thoughts highlight an important issue that Amazon pages and online reviews — the utility and capacity required to run a home bakery. Check her answer below: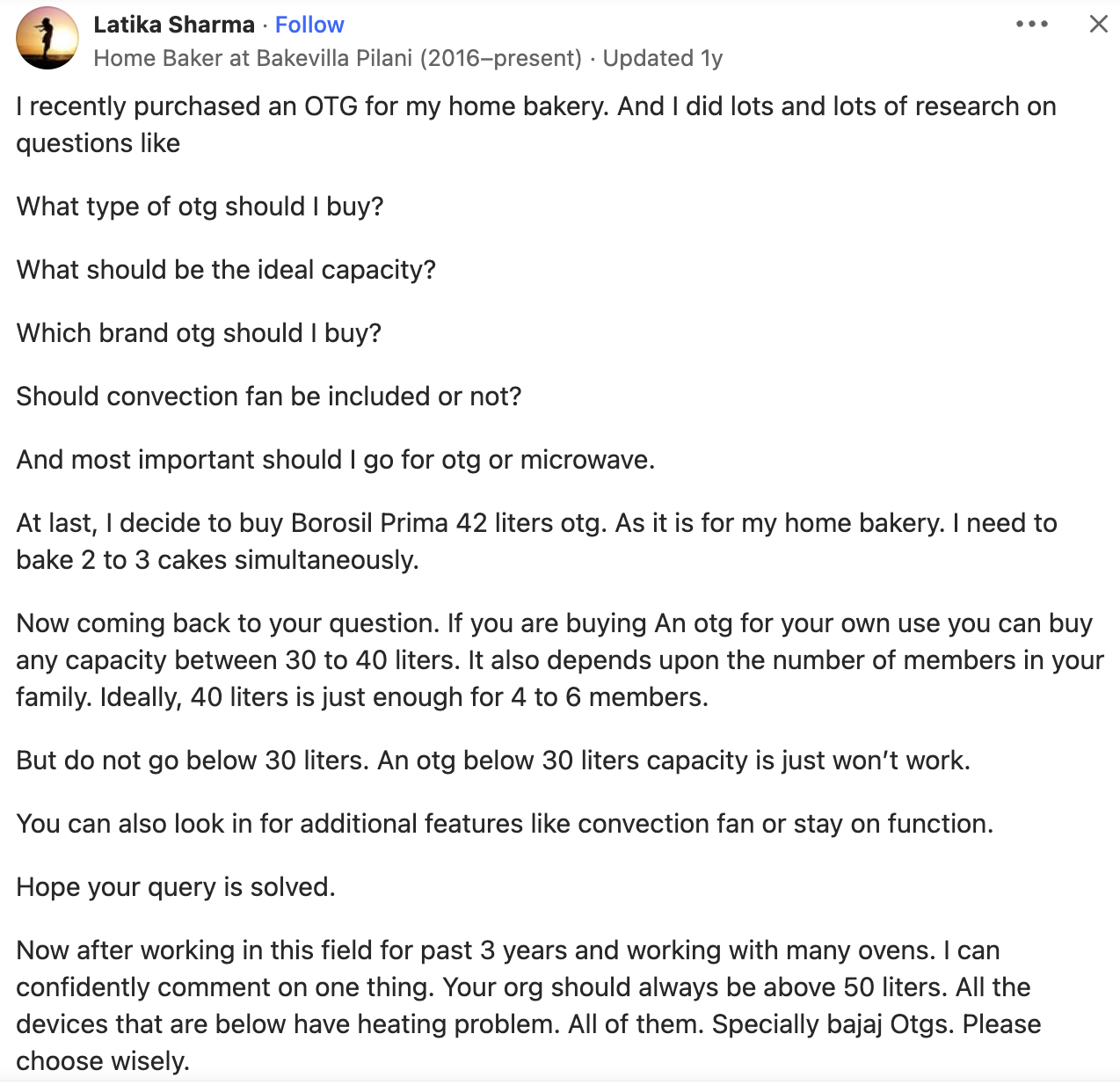 Source:
Quora
According to Latika, if you run or plan to start a home bakery, Never buy an oven that's below 30 liters capacity. This would help you manage your customer load more efficiently, once orders start coming in. 
Also remember; not all ovens are created equal, especially when it comes to baking. Keep an eye out for features like even heat distribution and precise temperature control. Such features make any oven the best oven for baking cakes at home. 
Best Oven in India: List of Winners for 2023 (Based on Expert Recommendations) 
Looking at expert insights from bakers like Latika and personal experience, here is a list consisting the the best electric oven in India and the best baking oven in India.  Ovens from these brands are top-rated and highly reliable.
Before you go... 
Starting a home bakery is a tough job - you've got a lot of things to manage. But don't fret over everything today. First take the decision about picking the right oven, list out your recipes, create a menu, and then worry about other things.
While you're at it, why not create a digital business card for your home bakery business? 
Get a Free Digital Card for your Home Bakery with Bizlite Now 
Also Read: 
We're also coming up with the best tools and digital products you must have as a home baker, soon. If you don't want to miss out, join our Free WhatsApp group Now