How To
The Cheapest Way to Build a Website in 2023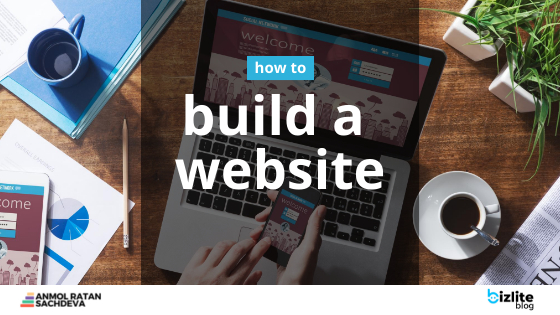 Thinking about starting with your business? Or you might be planning to start marketing your existing website.
The idea to build a website might have come as a suggestion by your friend, a marketer, YouTube video, the GoDaddy ad or the mighty Google baba. Everyone wants you to have a website.
Well, they're not entirely wrong. While there are some steps you must take before launching a website, having a website is pretty much the beginning of digitizing your small business.
Around 40% of shoppers choose to shop online weekly. So, having a website does increase your chances of attracting new customers online. Plus, you have a link to share with all your customers, on social media and even your relatives.
If you google 'how to create a website, you'd find at least 1000 results (if not more) -  every result being right in its own way. From hiring a freelancer to build a website to hiring a web development agency, choosing a no-code platform to doing it yourself, there are a million ways to build a website. 
But which one is the cheapest and most affordable way to build a website for your business? 
I am not going to be preachy about choosing one over the other here. But rather will present a simple and affordable way to build your first website before the end of today. You don't have to pay a fortune and you'll have a professional website. 
Sounds right?
Okay. So let's begin.


Must-have things you should have in a website 
Building a website is and isn't a mammoth job (depending on your requirement). But don't let anyone fool you ever into believing that you need pages and pages of information on your first website. You need a website, not an encyclopedia.
You can start with just your business information and a few other pieces to fit together. Remember your website needs to be clear about the value your business provides. 
Now that we're clear about that, here's what you need in a starter website:
Your business information:

Prepare a list of what your business does, who your customers are, and what products and services you provide. It's going to be the story that connects your customers with you.
Your official logo:

The logo is your business's visual identity. If you don't have one yet, you can create one with Canva in a few minutes. Canva has hundreds of

logo templates

you can customise for your business.
Attractive graphics and videos:

Graphics are also essential for a website. You probably have product photos, some demo videos and other such visuals lying around. They'll do. And you can always use Canva to design more graphics.
Website domain name:

Your domain name is your online address for the website. You can buy it from a domain name registrar, like

Namecheap

, at affordable rates.
Hosting platform:

A hosting platform is where your website files, images, logos etc., are saved. The hosting company is responsible for keeping your site live 24/7.
Website design:

It takes care of all the code behind building a website. You get a nice, cosy, intuitive interface to drag and drop different "elements" and build your online storefront.
Carrd.co is an amazing web design tool that helps you build a simple one-page website in minutes without worrying about hosting, graphics, design, and many other essentials.  


Cost of building a website using this method
If you Google 'how much does it cost to build a website,' you'll find many different answers. Some blogs will tell you that you can build a website for free, while other professional ones will show a quote exceeding your annual salary package 😂.
The rates wildly vary, particularly based on the requirements, the tech stack, and many other reasons (Some even no one knows). But you might be surprised at the minimum cost at which you can have a fully-functional website.
Well, I don't say it's the cheapest way. But if you go my way, you'll have a professional website for less than $15 (which is less than the cost of a decent meal for two in your city). 
| | |
| --- | --- |
| Requirement | Cost |
| Hosting | NIL |
| Domain Name | Less Than $2 (Use Namecheap to find cheap domain names)  |
| Web Design + Hosting | $9 per year  |
| Total Cost | $11 per year |
Intrigued?
Keep reading the blog to know more. 
6 Easy Steps to Build Your First Business Website
Okay! Enough theory for the day. Let's go through the steps you need to follow to create your first business website. 
Step 1: Make a free account at Carrd.co
Carrd is a free one-page website builder that helps you launch a website without writing a single line of code.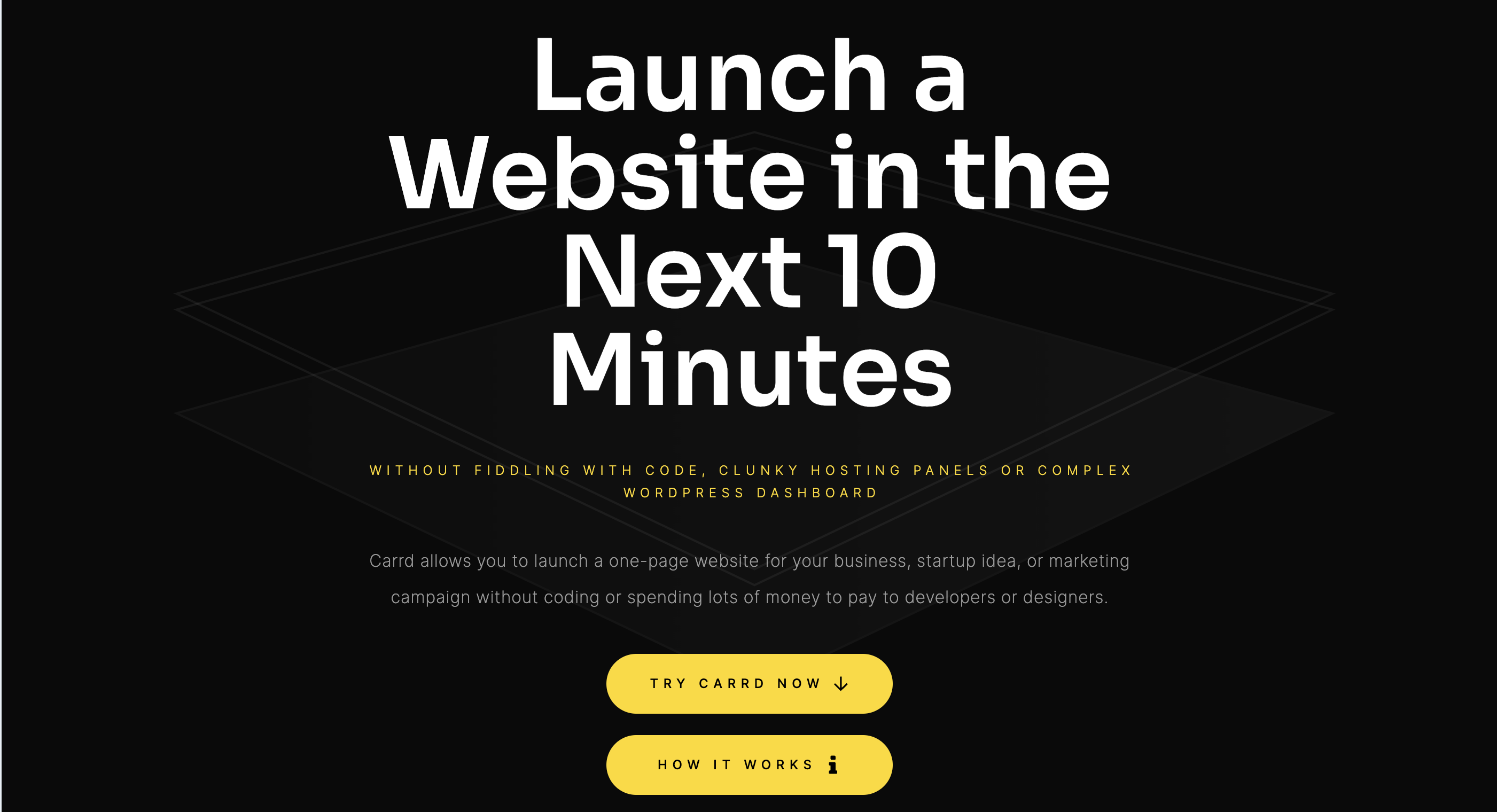 Go to Carrd website and scroll to the bottom of the page (or click Try Carrd Now) to sign up for a free account within seconds.
Click the 'Choose a Starting Point' button on the next page to move to the next step. 
Note that you don't need a credit card of payment information to signup for Carrd. 
Step 2: Choose a Carrd template
Carrd has 100+ templates for almost anything. You can build a website to showcase your products, entertain service queries or display a content portfolio.
It doesn't need a lot of skills. You can pick a template and let your imagination run wild.
Step 3: Customize your template
Carrd offers an easy-to-use drag-and-drop interface to help you build a mobile-friendly business website. 
Once you've selected your template, change the text and graphics to suit your business needs. Then, add your logo and a short introduction to your business, and you're ready.
Add some graphics to make your business more appealing. You can add your own photos or download some relevant images from sites like Unsplash and Pexels. You can design, too.
Step 4: Publish the website on a free domain
Carrd allows you to publish your newly-created website and keep it online for free. How?
When you've completed your website design, click the save button from the toolbar. It allows you to save your website as [site-name].carrd.co. You can pick any site name you want that's available with Carrd for free and your website is ready to be viewed. 
On the free Carrd plan, you can use this free subdomain for as long as you want. You won't have to pay even a single penny to have the website and promote it. 
Step 5: Buy a new domain at namecheap.com
If you want a dotcom domain name (like bizlitesolutions.com), you can buy a domain name for cheap using Namecheap.com. Go to namecheap.com to find your domain name availability and register it.
If you want a custom domain name and add your namecheap bought domain to Carrd, you will need to buy it's premium plan that starts at $9 per month. 
Step 6: Connect your new custom domain with Carrd.co
After you've bought your domain on Namecheap and signed up for premium Carrd account, you can add the custom domain on your Carrd website.
Go back to your Carrd website and save your website again. But this time, select the custom domain option. Enter your new domain name. Then, Carrd will show you some host records. You need to enter those in your Namecheap account.
Check this step-by-step guide to connect Carrd with Namecheap.
And you're done. Wait for a few minutes (usually less than an hour), and your new Carrd site will be live on your official domain.
FAQs
How to write content for your website?
You don't have to be a pro writer to put content on your website. You know what your audience wants, and you can write the content keeping them in mind. You can also try AI tools like ClosersCopy to write content. When you're ready to upgrade to professional content, hire a content writer.
Should you hire a website development company to build a website?
Ideally, you should.  But you don't always need to, especially when you're just starting something. You can set up a simple one-page website using Carrd and an eCommerce website using Shopify by yourself.
My local web developer is asking a high amount for a website. What's wrong with this?
Website development is costly if you need a custom website to suit all your requirements in one place. But you can always set up a website affordably with the tools available online, especially if you're beginning. If you pick the right tool for your purpose, you can build a fast and mobile-friendly website on your own. 
Why should I create a website?
The number of digital buyers is likely to increase to 378 million by 2025. And you need a digital presence to capture their attention. People are turning to the Internet for information, research and product recommendations. You can be their saviour.
Q. I am a local shopowner. Do I really need a website?
Yes, you do. Your customers are searching for products online. With a website, you can attend to their needs and improve your sales multifold.
Build Your First Website Now
So, you know now that building a website isn't as hard as it seems. Plus, it's cheap too. All you need is a Carrd account. If you want a dotcom, only then you need to pay money, else, having a website is free with Carrd. 
So, what are you waiting for? Build your first website with Carrd today and don't forget to share this blog with your business friends also.