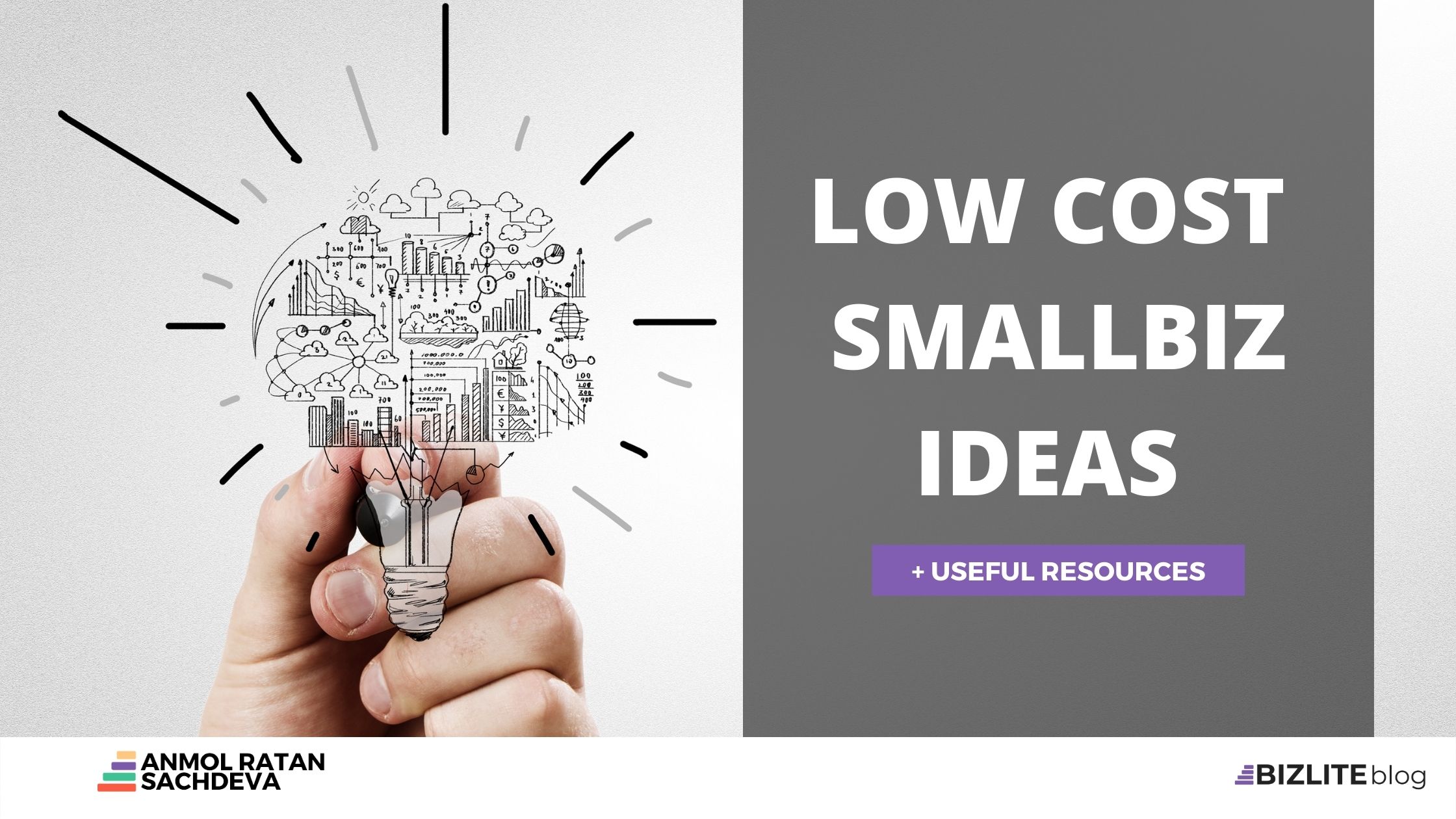 Starting a business is a great way to find meaningful work, earn money, and be happier. 
According to a survey by Micheal Page — a global recruitment agency, 86% of the Indian employees are considering resigning from their job in the next six months. 
Not many are happy with the post-pandemic job scenario. Looking at the whole condition and the global aversion to 'working for others', starting a business can be a great idea in 2022. 
But starting a business is no easy task. It requires a lot of hard work and a lot of money.  And a really great idea. And because starting a business involves so many variables, only a tiny percentage of us actually start a business in India. 
That's why we decided to compile a list of small business ideas for first-time entrepreneurs in India.
These low cost business ideas are not complicated. Any of these ideas can be used to start small home based business in India, are very easy to start, require least compliance, can be done almost anywhere, and can generate a reliable source of income for you.
But before we look at the low cost business opportunities and ideas, let's look at the opportunity as a startup or small business entrepreneur in India. 
Why launch a business in India in 2022? 
The time is ripe for starting a business in India. 
Why do I say so? Let's look at some hard facts. 
Startup India Initiative is a welcoming change to improve the entrepreneurship culture in India.
The government program is designed to help create a robust startup ecosystem in India, which will help drive the country's economic growth. The government also wants to provide financial support to startups working on technology-powered solutions. 
The goal is to create a nationwide network of startup incubators and accelerators that will help entrepreneurs launch new ventures, scale up their businesses, and make them profitable.
On top of it, the news about ONDC - an open eCommerce network for small businesses and online merchants in India is also an interesting development. 
Moreover, as the economy has begun to recover from the pandemic, too. 
The rent of commercial space and interest rates on small business loans are already attractive enough to start something. This unprecedented advantage isn't the kind that will repeat itself often and is something you must take advantage of as a potential business owner.
Look at the following rates of interest offered by popular Indian banks and lending associations today for a business loan:
| | |
| --- | --- |
| Bank/NBFCs | Interest Rate |
| HDFC Bank | 11.90% – 21.35% p.a. |
| Axis Bank | 14.25% – 18.50% p.a. |
| IDFC First Bank | 14.50% p.a. onwards |
| Kotak Mahindra Bank | 16% – 19.99% p.a. |
| Bajaj FinServ | 17% p.a. onwards |
| RBL Bank | 17.50% – 25% p.a. |
| ICICI Bank | 18% p.a. onwards |
| Tata Capital Finance | 19% p.a. onwards |
Looking at everything - attractive interest rates, a positive small biz ecosystem, and the push for local startups, it's definitely a great time to start a business in India.
So, let's look at ten small business ideas to help drive your success in this soon-to-be-booming economy.
Small business ideas for first-time entrepreneurs
The government plans to spend $15 billion over the next five years on the Startup India initiative. This includes the creation of an online marketplace where entrepreneurs can find mentors and investors to help them launch and scale their businesses.
Considering the government's inclination and the Shark Tank India wave, starting a business can be a great way to take hold of your life. Here are some low cost business ideas that you can explore as a first-time entrepreneur in India: 
Launch a dropshipping business 
Dropshipping is a great way to start a business if you have limited startup capital. Dropshipping allows you to sell products that you don't actually own. 
Dropshipping can be an excellent opportunity for a first-time entrepreneur in India. It allows you to sell products without worrying about inventory, shipping costs, or fulfilment. 
You simply need to find a product people want and then ship it directly to them. In many cases, the manufacturer will even handle shipping and handling for you. This means you can focus on growing your business and not worry about shipping and fulfilment. 
Instead of owning inventory, you act as a middleman between the manufacturer and the end customer. You source products from suppliers and then resell them to customers.
This allows you to sell products at a much lower cost than a traditional store. As a dropshipper, you'll be able to sell products from a wide variety of brands at a low price and make a profit.
For one thing, you will not need to pay any money upfront to get started. You can start selling your products. In addition, you will not have to deal with any inventory or shipping problems. 
This is because you can sell your products from anywhere. Finally, you can make more money than you would if you worked a regular job. You can start with one or two products and slowly add more as your business grows.
Useful resources
Start a D2C eCommerce Brand 
A D2C eCommerce store sells directly to the customer. This means you don't have a middleman between you and your customer. You are selling directly to your customers. 
D2C store sells products to customers looking for a particular product. These customers may not be familiar with the brand yet, so they need to be sold on the brand before they buy it.
A D2C brand is based on a demand-driven eCommerce model. This type of eCommerce is about selling products based on customer demand, not the other way around. The goal of a D2C store is to find new customers, not to sell more products to existing customers.
The idea behind a D2C eCommerce store is to find new customers, and that's why you should have a strong social media presence. It's not enough to have a Facebook page or Twitter account. It would be best if you also had a solid online presence. The best way to do this is to create an eCommerce website. You can also create a YouTube channel, a blog, and a Facebook page. You can also create a Google+ page.
Useful resources 
Start a Tuition or Coaching Center
We live in a fast-changing world where the gap between a child and his peers is widening.
Top it up with the problems in the Indian education system - slow pace, lack of equated and personalized guidance for all subjects, lack of proper infrastructure, etc., and you've got a great idea. 
Many parents are turning to private tutors to bridge this gap, especially after schools open up after the pandemic. 
If you are someone who loves to teach, then coaching can be a lucrative business.
People often seek professional guidance to guide their children in their education journey. You can create a coaching centre if you can provide these services and have a good network and knowledge.
This business has been evergreen in small towns and cities, as well as big metropolitan centers. And it's growing if we look at the number of students increasing every year. 
Useful resources 
Set up Pet Care or Boarding Center. 
Pet care is another industry booming during and after the pandemic. 
There are millions of pet owners in India who like to travel but find it hard to leave their pets behind. In such situations, pet boarding services come handy as they allow owners to keep pets safe during travel. 
In 2020, the pet care market was worth $207 billion globally and is expected to keep rising at a rate of 5.6% to attain a market share of $325 billion by 2028. 
This may seem like a slow growth rate at first, but looking at your local demand, you can expect better profits and growth in this sustainable industry.
The existent mental isolation across the country due to the lockdown has caused several people to buy pets as a means of coping with the stress. 
However, many of these pet owners will be returning to work and need someone to care for their precious pets once they're out.
Useful resources 
Everybody loves cakes and sweets! Baking is a skill that most learn at some point in their lives. 
If you have the ability to bake well, you can start a bakery.
You can start a bakery business with a well-equipped kitchen, a few utensils, and a lot of dedication.
The culinary scene is booming, and people appreciate freshly-baked homemade cakes, pastries and bread.
This business is easy to run and requires a minimum amount of investment.
All you need to start a bakery is a kitchen and essential equipment. Once you get your hands on some good equipment and start your kitchen, you can bake and sell your products.
You can also do online marketing and reach out to people all over the world.
A small home-based baking business is not very capital intensive. A home oven, a few racks and some equipment will be enough to start your baking business.
Useful resources 
Create your own Digital Assets or Online Course 
 If you like to reading, writing and teaching, then why not sell ebooks or build an online course out of your skill?
You must have seen people selling their courses on social media. This is a great starter step to launch a business in India. 
People today spend a lot of time searching for information and answers to questions. Hence, if you are well-versed in your field and can provide useful insights, you are highly likely to attract customers and earn a living with a comparatively lower investment.
It does not require any huge investments and there are always many people who are eager to buy ebooks, courses, and paid webinars, nowadays. 

With a bit of marketing, you can make a lot of money out of it.
With ebooks and courses becoming easier to create and distribute, this business idea is bound to grow.
If you are a creative writer, then you can start writing ebooks on hot topics. If you're confident creating a course, you can launch your own course.
Both ways, you can earn decent earning if you manage to create a thoughtful funnel and nurture buyers for upsell. 
Who doesn't love receiving gifts? It is something which makes us happy every single time. We receive gift cards to restaurants, movies, shopping, and so on.
Starting your own store for personalized gifts like mugs, tea bags, bags, coffee, and so on can be a good investment idea.
If you are a creative person who knows something about gifting, you can start your own gift store in India.
You can start small by sourcing unique gift items and crafting personalized messages for them.
The reason for starting a gift store is that if you're really good at designing unique products, you can make some money out of it. You can also choose the products that your target customers want.
You can start with just a few items in your room and expand into a customized gift shop, online or offline. It does not need a lot of capital, as the profit margin is pretty high and the product is not much expensive.
 Useful resources 
Launch a Whitelabel agency
Have you ever heard of a white-label software or license? 
Yes, the same where someone lends the rights to sell the software as their own. 
A white label agency also works on a similar model. Here, you are entitled and licensed to sell an agency's services as your own. 
For example, let's say there's a video creation agency based in Mumbai that creates explainer videos for early-stage SaaS startups. 
It has its own team, set up, and set of clients that it services. Along with marketing for its services and acquiring clients, it allows people to become their 'channel partners and bring in orders for them to fulfil. 
You get to create your own brand around the service and market it as you want. Every order you receive is directly sent to the agency, which in turn, fulfils the order. You deliver once you get the final work done. 
It's just like dropshipping, but for services. Lately, it has become quite popular in India. Some popular niches for Whitelabel agencies include SEO services, digital marketing solutions, website development, and content marketing. 
Become a franchisee of a famous and successful brand 
This is an interesting and easy start for anyone who's looking to start their first business in India.
All you need is a small investment for the franchise fee, a license, and a physical space (shop/showroom) to run the business. Rest an established franchisor offers everything to you instead of the fee you pay them. 
A franchise is a business model where you buy a license to operate a business in a particular region, brand name, trademark or system.
When a franchise is a pre-established business model, then there is no reason why you cannot replicate a successful franchise in your area.
It is a relatively low-investment business. You can take a franchise to the next level with some research and good execution.
A franchise business allows first-time entrepreneurs to start their own business without worrying about the nitty-gritties of running their own business.
Franchising provides a good opportunity to start a business as it is easy to find a franchise. There are plenty of franchise consulting firms that would guide you to find the right franchisor based on your risk appetite, goals, and capital investment. 
Useful resources 
Launch your own cloud kitchen in your city 
These days many professionals and nuclear families rely on online platforms like the Zomato, Swiggy, etc., to order food online. In fact, it has become a regular occurrence in cities. 
When COVID-19 was stopping restaurants from serving, the cloud kitchen concept came as a saviour. 
A cloud kitchen is a 'dark kitchen' that doesn't welcome dine-in customers but prepares food to cater to online orders. 
The kitchen would require minimal space and minimal capital and, therefore, can be considered an ideal small business idea for those who wish to start their first business. 
Starting a cloud kitchen could be a great idea if you have a passion for food and cooking. You can set up a cloud kitchen, list your kitchen on aggregator platforms, and start delivering food online. 
All you need is just a basic set of kitchen equipment such as a commercial gas stove or electric oven, microwave, refrigerator and other appliances and space to set up, and you're good to go. 
Useful resources  
Become an interior designer 
Interior designers are all the rage these days. We are always looking for ways to make our homes more beautiful.
With the rise in demand for home interiors, this has turned into a lucrative career option for aspiring designers. We all love a new home or even a new look in our living rooms, dining rooms, bedrooms, kitchens and bathrooms.
If you know your way around designing interiors, you can start an interior design service in your city. This is especially suitable for people who have a creative mindset and don't mind moving around the city to work on sites. 
You can literally be paid for adding beauty, elegance and value to other's homes and offices.
This business has the potential to make you a millionaire as the demand for these services is always high. If you like work remotely, you can even go for an online interior design service (virtual interior designer consultation) and set your own rates and charges.
Useful resources
Start a pet grooming salon
If you are looking for a new business to get into, why not think about a pet grooming salon? Many people are interested in pampering their pets and making them look beautiful. This makes a great small business idea.
It takes less than Rs 10,000 to set up a pet grooming salon and the demand for pet grooming is high, especially in metro and Tier-I cities in India. 
If you can provide good quality and personalized care for pets, you can charge a reasonable amount for your service.
This business idea is extremely simple and has minimal capital requirements. You can start from your home itself. All you need is the passion, determination and a little bit of knowledge on dog grooming (which you can get online). 
Don't forget to consult your family members before you make a final call. Because pets can be really an intimidating topic for Indian families. 
Useful resources
Become a real estate agent 
This is a business that many people dream about. You can become a real estate agent and help your friends or family buy a house, condo or apartment.
If you have a good communication and people skills, you are likely to attract buyers and sellers alike and broking a deal could help you earn a handsome commission.
This can be a great way to earn money while helping people who need a place to live. You will need to understand the real estate market and the laws that govern the property business.
You will need to have a good understanding of contracts, deeds and documents before you take on this job. Once you find the right clients, you will need to sell them a property.
You will be paid a fee as the transaction goes through. This can be a good source of income in case you like real estate and can keep yourself busy.
The investment required to start this is very less and as you build your network and start playing a role in more deals, the commission you earn can make the business venture a highly profitable one.
Become a host by listing your extra room or property on AirBnB
The concept of Airbnb is gaining popularity by the day. AirBnB is an online platform that allows you to rent your space to travelers who are visiting your city, just like a hotel. 
People are using this platform to rent out their unused accommodation - extra rooms, floors, another home, to tourists. 
With Airbnb, one can make money by renting out their place to tourists. You can hire a helper (or manager) who can take care of the place, in case you're worried about the nitty-gritties.
It is a good business idea if you can convert your flat into an Airbnb, so you can use the extra income, easily. If you love hospitality and can manage a place well, it can be turned into a very profitable business.
This is one of the most flexible ventures and is likely to provide great returns in terms of cash flow. 
Useful resources
FAQs
What is the first step to starting a business?
Starting a business always begins with a business plan which requires extensive research. Once you have a business plan, it's a good idea to have it reviewed by an expert to look for areas of improvement.
What makes a business successful?
A business is made successful by an unshakeable focus on the customer experience. If you're able to provide value to your customers, you will be rewarded with loyalty and recommendations.
How do I get financing for my small business?
Getting financing may sound hard for a small business, especially when it is a sole proprietorship. However, you can request someone you know to invest in your business or even opt for a business loan from any commercial bank. ICICI, HDFC, and all major banks support small businesses and offer small business loans at attractive interest rates. 
Final words
Starting a business may not be easy, but it is an incredibly rewarding experience. Especially post-COVID, with the job scenario grim, taking control into your own hands can be a great idea. 
While you're ambitious, it's always great to have a roadmap with goals in mind before you decide to take the leap of faith. And in case you're thinking of starting up, all the best! 
Thinking of Starting your own business? 
Explore the following resources to help you get started on your journey: