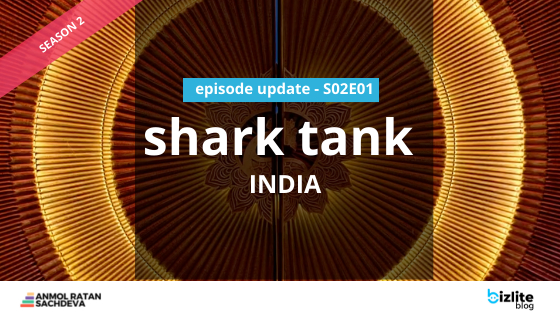 (This is a regularly updated story. Come back for more updates after the show or join Shark Tank India WhatsApp Group for instant notifications after the episode goes live) 
Shark Tank India's Season 2 Episode 1 brings  exciting brands- a brand for fresh pooja flowers, a tea brand and a beauty and cosmetics brand. 
Brands on Shark Tank India Season 2 Episode 1
Hoovu 
Based in Bangalore, Hoovu Fresh is a fresh flower delivery brand that claims their flowers remain fresh for 15 days instead of 2-3 days. It delivers traditional flowers that you need for your morning prayers, hair decor, home decor, car decor and more. 
Founders: Yeshoda Karuturi & Rhea Karuturi 
Hoovu Product Portfolio: 
Daily Horoscope 

Agarbatti 

Panchang 

Traditional Fresh Flowers 
More details at https://hoovufresh.com/ 
Also available on Amazon
Hoovu Social Media Links: 
Hoovu Ask from the Sharks in Shark Tank India
₹80 Lakhs for 1% Equity, Valuation - ₹80 Crores
Discussion: Did Hoovu Get Funding from the Sharks at Shark Tank India? 
The discussion started from Aman who sharply asked both the sisters, Yeshoda and Rhea, their reason to start this business because there are endless opportunities and the sharks were quite confused on the scalability of this venture. 
Both the founders were from Bangalore and they took this question sportingly where they stated that their family business is in floral culture. And, they returned to India starting a traditional flower business to help people reduce the floral waste by increasing their shelf life to 15 days. 
Aman asks - How is your work divided between the two of you?
To which, Yeshoda answers that she is a CEO and she takes care of day to day operations and finance, while Rhea is CTO and she looks after marketing and technical aspects of their brand 'Hoovu'. 
Namita was concerned about the scalability of the brand because people generally buy the fresh flowers from a nearby vendor. 
Rhea answers that she looks at these vendors as a channel and not a competition. They both have a vision that they can deliver 'Hoovu' fresh traditional flowers, they can pass it on to the customers delivering high quality flowers. 
Namita asks - What is the price difference? 
Rhea answers that they started with 10 Rupees packets of flowers to compete with the already saturated market. People wish to buy high-quality flowers and with 'Hoovu' quality is guaranteed + there is 2%-3%reduction in the wastage of flowers which is otherwise 40% in India. 
Anupam asks about the technology they use to keep the flowers fresh for 15 days?
Rhea answers that they do not use technology on a broad level but yes they control the moisture levels in the flowers, bacterial growth, and more. They showed a presentation where they showcased their garland machine. Also, they pointed out that they hired 60 ladies to take care of this garlanding work. 
When these flowers get wilted or blooms, there is just 1 biological process and we help stop that biological process. When the packet is sealed at our factory, the flowers are flushed with a gas and this helps stop this biological process. 
Vineeta asks - Is this process similar to a chips packet?
No, it is not a nitrogen flush which is done in chips packets. 
Anupam asks - Why don't we work this process for fruits or vegetables?
Rhea answers that it does not work like that. For plants, transpiration or respiration are the first signs of damage. While, fruits and vegetables show such signs on a later stage. The sharks were impressed by Rhea's explanation. 
Peyush demands to see the products. 
While smelling one of the flowers, Vineeta makes a face that resembles that she did not like the smell of the flowers. 
Yeshoda explains that this is not a marigold flower which is why it smells different. 
Peyush asks - Does the packaging make your flower smell differently?
Yeshoda denies. 
Vineeta asks - Is this a growing market? This business can turn out to be a major declining business. 
To which Aman answers that he also prays and offers flowers to Gods. 
Peyush asks about the sales which is an important question. 
Yeshoda answers that she was able to make ₹1 crore sales in a month. Profit - ₹15 Lakhs in a month. 
All the sharks were impressed by their sales and Rhea exclaims that we are under-performing. The market is really big for this business. 
Anupam asks - from which channel do you get most of your sales?
Yeshoda answers that she sells to quick commerce platforms like - BigBasket, BlinkIt and Zepto. We also supply to temples who decorate their entire temples with such traditional flowers. 
Also, there is no competition right now who is doing such traditional flower business. 
Namita asks - This is not difficult to replicate and she does not see a potential in this business?
Rhea begs to differ and says strongly that she does not find this business easy. We work with 500 farmers and the flower of every variety fluctuating price (hour per hour and market to market) becomes an issue. 
Without having a shortage of flowers in seasonal flowers is itself a big moat. People who start a business, stop here. 
Vineeta and Namita talk separately and make an offer. 
Peyush asks - What are the things that you will never do in your business? 
Rhea answers that she does not wish to break the trust factor of the brand's customers. 
Anupam asks about the month on month growth?
Yeshoda answers - In August, the sales was ₹1 Crore. In July, it was ₹50 Lakhs and in June, the sales were ₹45 Lakhs. 
Anupam says that because of the festive seasons - there might be a drop when there are festivals round the corner - maybe after November? 
Yeshoda says that her average sales is ₹60-₹65 Lakhs. The projection of this year is - ₹10 Crores. FY' 22 projection is ₹5 Crores. 
The brand Hovu is already funded by Sauce. VC - ₹3.5 Crores, Valuation - ₹50 Crores 
Anupam advises Yeshoda and Rhea to improve their technology as he was doubtful of the brand's future. 
Offers for Hoovu at Shark Tank India
Offer 1: Namit and Vineeta: ₹40 Lakhs at 4% equity & ₹40 Lakhs debt at 12% interest, Valuation - ₹10 Crores
Offer 2: Peyush and Aman: ₹1 Crore for 2% equity, Valuation - ₹50 Crores 
Offer 3: Namita and Vineeta: ₹50 Lakhs for 1% equity & ₹30 Lakhs debt @ 12% interest, Valuation - ₹50 Crores 
Yeshoda and Rhea went for a personal discussion after all the offers. 
Final Verdict - The deal 
₹1 Crore for 2% equity, Valuation - ₹50 Crores. The deal was closed by Aman's and Peyush's joint offer. 
Dorje Teas
Based in Darjeeling, Dorje Teas comes from the Selim Hill Tea Garden. The brand brings the delicious darjeeling tea from the tea gardens to people's homes. 
Founders: Ishaan Kanoria and Sparsh Agarwal 
Dorje Teas Product Portfolio: 
All Varities of Flavoured Tea 

All varieties of Black Tea 

All Varieties of Green Tea 
More info at: https://dorjeteas.com/.
Dorje Teas Social Media Links: 
Dorje Teas Ask from the Sharks in Shark Tank India
₹30 Lakhs for 5% Equity, Valuation - ₹6 Crores
Discussion: Did Dorje Teas Get Funding from the Sharks at Shark Tank India? 
The discussion started from Ishaan who showed a magnificent oration and awed all the sharks. Sparsh says he aims to bring back the losing fame of tea gardens due to urbanisation. He wishes to maintain the image of Darjeeling as - the tea state of India. 
Set atop Selim Hills, the tea leaves are plucked, packed and dispatched. 
Through a subscription system, Dorje Teas provides people with the ever changing taste of tea due to changes in the weather from tea gardens to people's homes. 
Sparsh calls Anupam to taste their different types of teas where he explains that Darjeeling gets its first rain in the spring season. It is when the tea bushes start blooming. He names it- The First Flush. Similarly, there are other three flushes - The Second Flush, Third Flush and the Final Flush.  
Sparsh gives a fantastic demo of his teas where he keeps on explaining different types of teas in different kinds of weather. Anupam and other sharks were really impressed with Ishaan's way of explaining everything. 
Finally, all the sharks tasted the teas offered by Sparsh. 
Namita asks - How will people distinguish which tea one should milk and which tea they should drink with hot water? She was quite perplexed that half of the Indians will not be able to connect. 
Sparsh agrees with Namita and says that they are not here to dictate people on how they should drink their tea. But there are a number of people who love Darjeeling Tea. He further explains that in India, the total tea market is of ₹1.2 Lakh Crores and Darjeeling Tea has just ₹1500 Crores market in it. 
Peyush asks - Where do you see your business? 
Sparsh says that he needs lakhs of subscribers and their annual fees for the subscription is - ₹2100/- per year. 
Vineeta advises the founders that do not push the audience to subscribe but push them to buy your products. She says that surely there will be customers who will come to you because the product is exemplary. 
Anupam further asks - Where do you see your brand in the next 5 years? 
In the next 5 years, Ishaan says that he thinks we'll reach ₹100 Crores. 
Anupam asks what is their current sales? 
He sharply answers - Last month's sales were ₹11 Lakhs. 
Anupam sharply questions - What is your strategy other than the 2 Lakh subscribers you wish to bring onboard? 
Sparsh tries to answer but Anupam cuts them in between and further conveys that they have a goal in mind but there is no other strategy. 
To which Sparsh agrees. 
Aman asks the gross margin and the net margin they earn in their business? 
To which Ishaan answers that there is a 75% gross margin and currently, they are in loss. In last month sales of ₹11 Lakhs, there was a cash burn of ₹2 Lakhs. 
They have already raised- ₹8.5 Crores. In this, ₹6.5 Crores were raised from brand capital and the rest of the Crores were raised from a few angel investors and HNI at the valuation of ₹32 Crores. 
While, it was clear that Ishaan is the product guy and Sparsh is the business (finance) guy, The CEO of the company is Ishaan. 
The equity split is 50-50 between the two. 
Anupam asks a very straight question - How will you save your business?
Sparsh continues that in the last 3 months, we have figured out the entire product line, how to target our customers, and right now we are at a place where our growth journey has started. 
Vineeta explains that there is a slight disconnect in the vision and the founders have added a subscription thing, which is not required. Yet, she is willing to come onboard and she makes an offer. 
Namita had an opinion that competing with the traditional drinking tea habits is difficult and she suggested to them that they should plan to give consumers an experience where they can take a stroll in your tea gardens, have a sip of tea and then buy their products. 
Aman was out because of the same that there is a disconnect in the vision. The net margin and the gross margins did not impress him. 
Namita and Aman were out for the day. Anupam, Peyush and Vineeta make an offer. 
Offers for Dorje Teas at Shark Tank India
Offer 1: Vineeta's offer: ₹30 Lakhs for 10% equity, Valuation - ₹3 Crores 
Offer 2: Anupam, Peyush and Vineeta: ₹30 Lakhs for 15% equity, Valuation - ₹2 Crores 
Final Verdict - Dorje's Deal at Shark Tank India
 ₹30 Lakhs for 15% equity, Valuation - ₹2 Crores. The deal was closed by Anupam, Vineeta and Peyush's joint offer. 
Recode Studios
A beauty and cosmetics brand, Recode Studios brings affordable makeup for people but of international quality. Currently, they have 250 shops as well as the products are available on their website and mobile application. 
Founders: Dheeraj Bansal & Rahul Sachdeva  
Recode Studios Product Portfolio: 
Hair care 

Appliances

Skin Care 

Makeup 

Mom & Baby 

Personal Care 
More information at https://shop.recodestudios.com/ 
Recode Studios Social Media Links: 
Recode Studios Ask from the Sharks in Shark Tank India
₹1 Crore for 1% Equity, Valuation - ₹100 Crores
Discussion: Did Recode Studios Get Funding from the Sharks at Shark Tank India? 
The discussion started where Rahul Sachdeva explains about the brand that it is a beauty and cosmetics brand, while providing an affordable range, the founders say that they have managed to bring international quality in their products. 
Not only this, the brand opened their marketplace in 2021, where they have 60+ brands. 
Anupam asks - How did you start and how did this idea come into your mind?
Rahul says that he used to work in an organised sector for a brand - Makeover. I studied there and learned what I can do and how I can make the products, or how people work in this sector. 
Peyush - What problems are you solving? Because the competition in this sector is really high. 
Rahul further says that there are various brands like - Maybelline, Lakme, Sugar, Loreal, Colorbar, Faces Canada, and more. 
We say we do not compete with these brands because our segment is quite different from all of these. Because we acquire our customers through online teaching classes, no one does this way. 
After seeing the products, Aman says that he never saw a packaging that was this worse, ever. 
Peyush questions about their sales?
Dheeraj answers - the sales for FY' 21- 22 is ₹15 Crores and this year, FY' 22- 23, it is ₹11.5 Crores. 
Instagram followers - 2, 36, 000 
Anupam asks - Are you acquiring your customers through the online teaching classes, is this your strategy or are you just influencing people to buy your products? What is your real strategy?
Dheeraj answers that we give these classes through an artist to the students who are generally college goers. These classes are of 3-4 hours, and the fees for the class is ₹1500/-. Hence, we offer lunch to the students worth ₹1500/- as well as products worth the same amount. 
They also say that they reach 1000 such makeup artists who are willing to teach the students. 
Peyush advises that they need to work on the branding. Vineeta praises the founders on their strategy to educate people and then sell their products. 
Anupam - Could you please explain about the marketplace you have built?
Dheeraj answers that they generate their 50% revenue from the marketplace. ₹7.5 Crore from other brands. He further explains that they had to add the marketplace in their business because of COVID-19. We already had a stock of our products that had 6-8 months expiry, hence, we have to sell such products at ₹1 all over India. 
This way, people tried our products and then there was a demand for our products. And, due to this, more and more people joined us. 
Anupam declares that they are the emerging faces of India who are going to revolutionise the industry in India. 
We all sharks are out but you inspired us! 
Aman asks - Is this a profitable business? 
Dheeraj answers - last year profit after tax - 6%. We earn ₹65- ₹70 lakhs of profit. 
The projected sales for this year is ₹30 Crores. 
Offers for Recode Studios at Shark Tank India
No offers were given to Recode studios at Shark Tank India. 
Read More: Why Recode has a Genius Customer Acquisition Strategy?