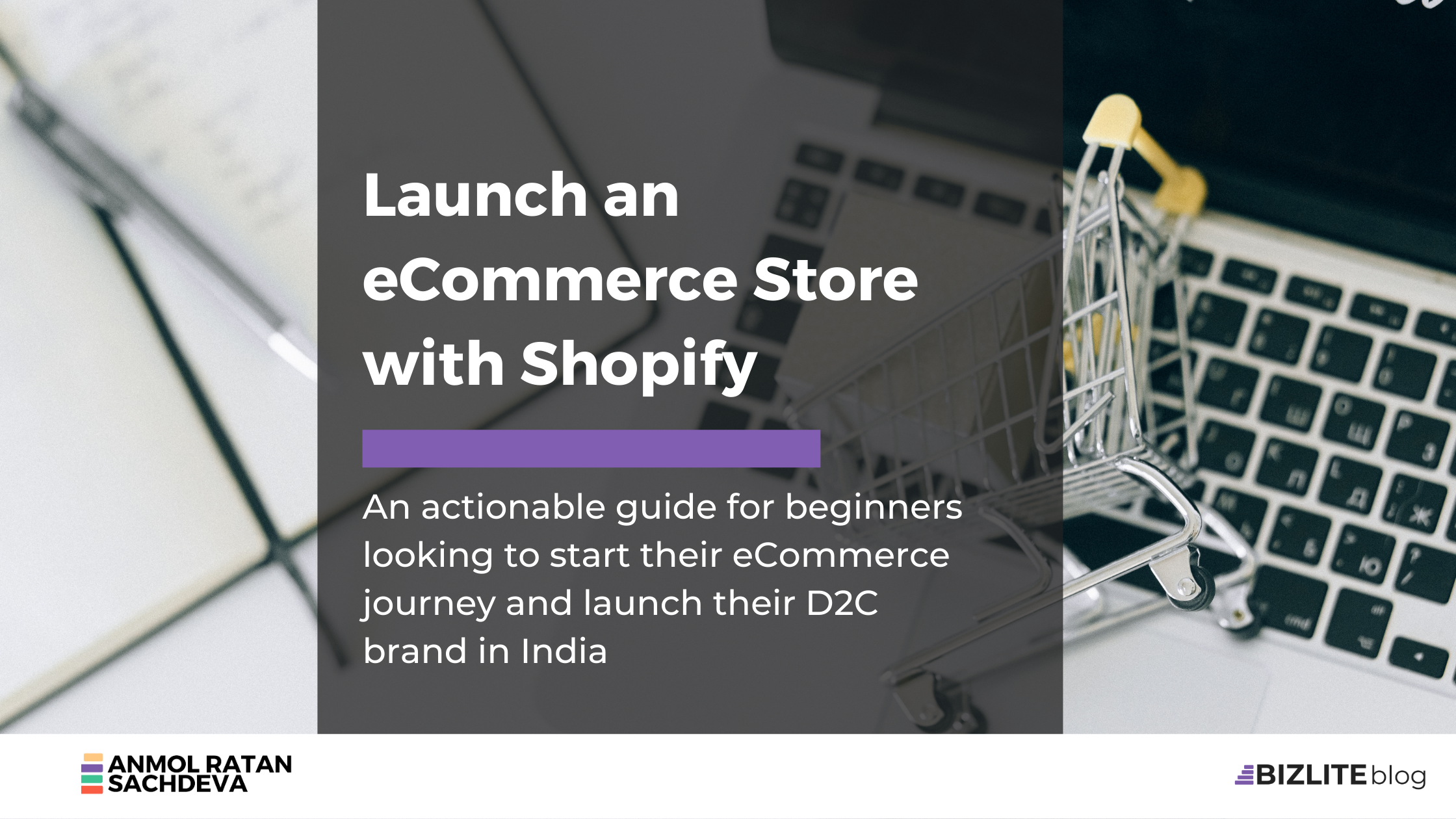 Do you remember the last thing you bought? If you're not living under a rock, you would have checked Amazon before buying it.
Amazon is the first thing that pops up in someone's mind when thinking of 'shopping'. 
There are more eCommerce stores than ever, yet, shoppers are not getting tired of shopping online.
The eCommerce Opportunity in 2022
Sales on eCommerce stores are expected to explore and cross $6.3 trillion by 2025. 

Retail ecommerce sales worldwide from 2014 to 2024 (In billion U.S dollars) 
Source: Shopify
The eCommerce opportunity powered by the D2C craze is enormous in 2022. You might have already seen the number of D2C brands featured on Shark Tank India. Most of those startups were COVID babies (launched during COVID-19). And how did so many entrepreneurs manage to launch eCommerce stores from scratch during the lockdown? 
The best thing about modern times is that everything is available online, even information and resources. People who wished to launch their startups got the time in COVID-19 to launch their stores. Google served as their genie - providing information in blog posts, and a solution like Shopify helped them tackle the 'tech challenge'. 
With so many D2C brands launched in the last three years, you might think, does it make sense to launch an eCommerce store in 2022? 
Don't worry - we're a country of 1bn+ people, and potential customers are always looking for stores online. 
You can see from Google Trends Graph that the demand for online shopping has been steady through the last five years. 
Now that you know it makes sense, let's look at some fundamental aspects of launching an eCommerce store in India.
This is not an ultimate guide but a ready-reckoner for beginners looking for an easy way to start an eCommerce store in India.  
Choosing the right platform for Your eCommerce Store
With the startup revolution in full swing, it is now not hard for anyone to launch their eCommerce startup. 
Platforms like Shopify & WooCommerce allow anyone to launch an eCommerce store without spending a lot of time on setup.
Here are some eCommerce platforms that you can explore: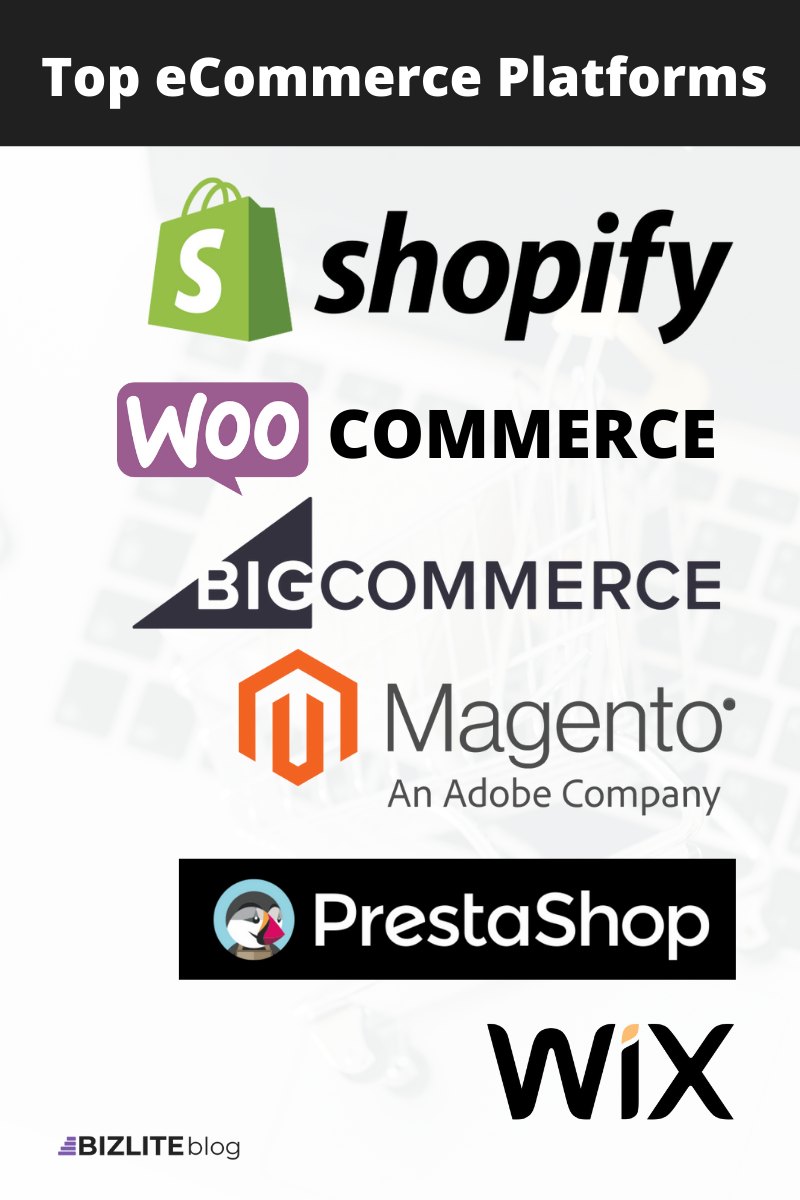 If you're an early-stage startup with a small team or a business thinking to transition from offline to online, Shopify is your best bet. 
With an easy-to-configure and use interface, Shopify wins over its competitors, giving a startup, offline business or small team access to everything they need for launching their online business. 
Starting Your eCommerce Journey with Shopify
Shopify is one of the largest eCommerce platforms used by more than 8 lakh merchants worldwide. 
Growth of Shopify Merchants Globally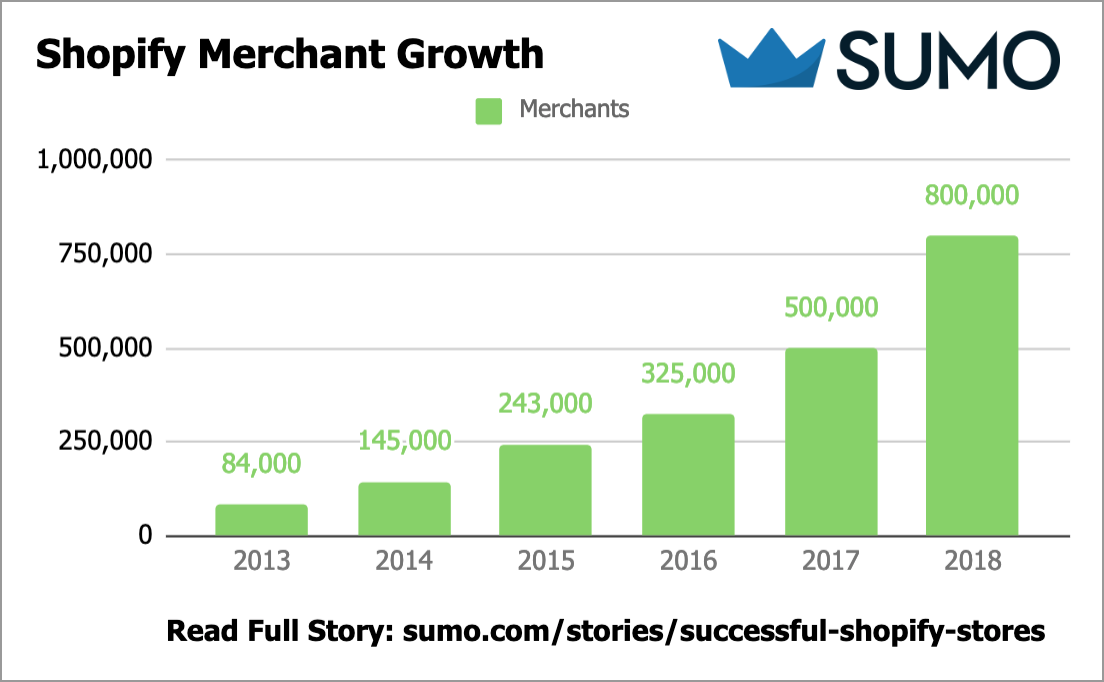 Source: Sumo
With so many merchants relying on Shopify, you needn't worry about the platform's reliability. Just follow the following steps to launch your own eCommerce website with Shopify. 
Choose your store name and finalize the domain 
The first step that will define your brand identity is choosing a name for your eCommerce Store after you've collected all the product ideas. 
While many first-time solopreneurs think that a registered business name should be the store name, it's not mandatory. 
You can have a different store name than your legal business name. Think of it like a brand name - something people will recognize you from. 
Almost all famous eCommerce stores use a different brand name (different from their company name). 
While you are thinking of your first store name, make sure to keep the following in mind: 
Keep it short and simple 

The store name should be easy to remember and spell 

The store name should be distinguishable and protectable (Don't copy others) 
Once you have squared in on a brand name, it is time to buy a domain name for the store. It will be your address on the web. So, choose one wisely. 
You can buy a domain from any domain name provider like Namecheap or register the same through Shopify. 
Sign Up for a Shopify Account 
As said earlier, launching an online store has become easy with time. No longer are you required to invest in a dedicated development team or hardware like servers to start your e-store. 
To begin, you should head over to the Shopify. Here is how to get started: 
Go to

www.shopify.com

 

Click on 'Start your Free Trial

Enter your store name (Decided in the last step) 

Click on Create Your Store 

Shopify will ask for some personal details (Email address, name, address, etc.) 
After you sign up, Shopify will take care of everything at the backend and get started with bringing your store to life. 
Pick a Theme 
After the signup, you will be presented with the Shopify dashboard. The first thing you should do is to finalize your store theme. 
You can think of a theme as a pre-designed visual set that serves as a template for you. Choosing a suitable theme is crucial for making a great looking store. 
Go to themes and click Shopify Theme Store to choose a store theme. 

Shopify theme stores have multiple options (both free and paid). You can select one that suits your brand identity and the purpose of your store. 
After you've finalized a theme, click on the 'Start with this theme' button to customise your theme. 
Configure your Store 
By the time you finalize the theme, you have a standard store to start tweaking according to your business. 
At this point, you will have to start adding your brand essence and configure other business details. 
Start by customizing the theme you selected in the previous step. Go to Online Store - > Themes -> Customize theme to get started. 
You will find options to change your store's header, body, and footer under the section. Check out everything and customize the sections according to your business. 
Add a Store Logo: Upload your logo to the Shopify store. (Use

Hatchful by Shopify

if you don't have a logo to create one)  

Configure Store Settings: Once you're done customizing the aesthetics, you will have to focus on other essential aspects of your store. For your store to be fully functional, you will have to: 
Add a payment gateway to your store (Shopify Payments, Razorpay, Paypal, etc.) 
Update your shipping information (Add/Delete Shipping Zones, Update Shipping Rates) 
Set your billing information (for Shopify to charge you for your store. You would be charged after the end of your trial).  
You can find all these in the Store Settings within Shopify.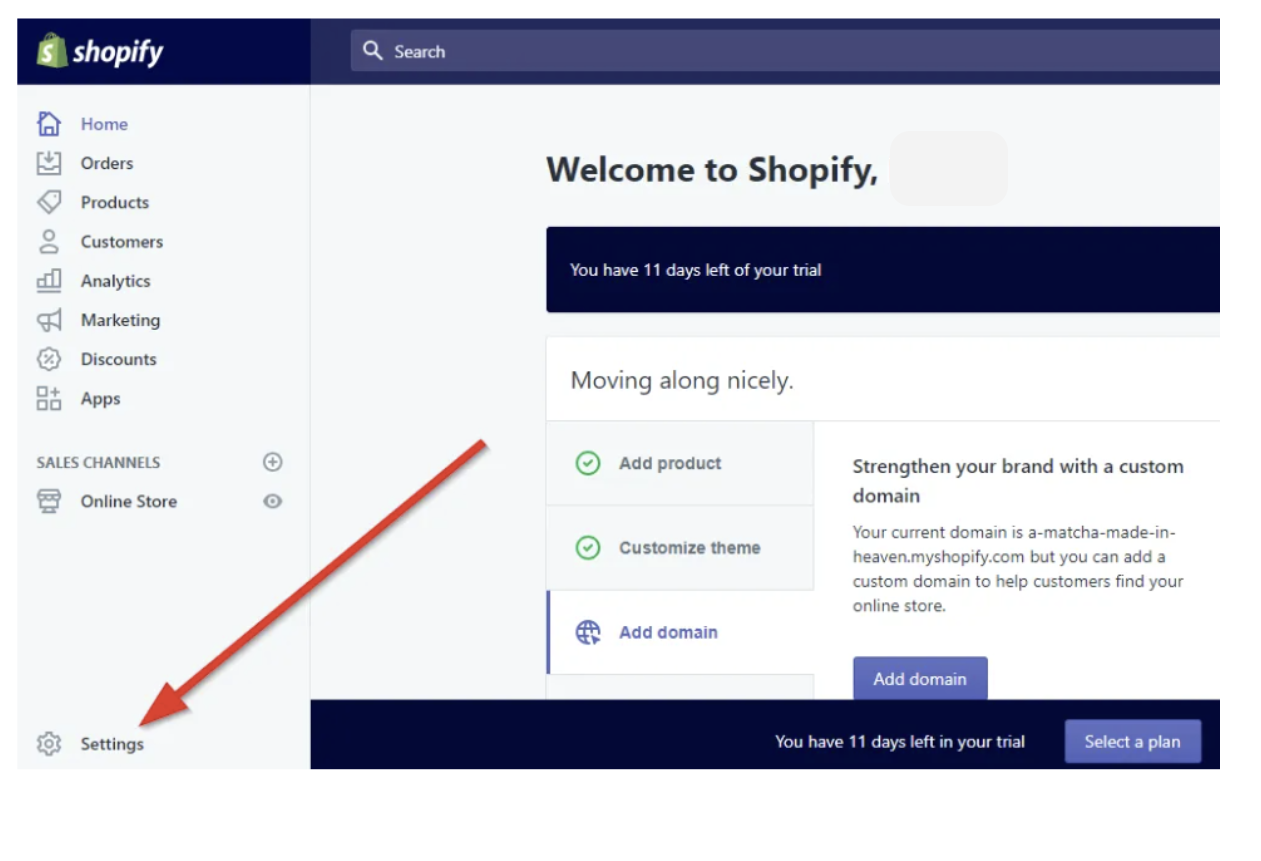 Add Standard Pages to the Store 
Now that you have sorted the basics let's get started with things that will matter for the success of your store. 
Once the store is configured, you will have to plan and execute the process of adding some standard pages to your store. Things like who you are, how customers will contact you, your terms and conditions, privacy policy and more. 
Before you launch your store, check if you have at least the following pages in place: 
About Us 

Contact Us 

Terms & Conditions 

Privacy Policy 

Returns Policy 

Shipping & Delivery Information 
Psst... you can use Iubenda to create privacy policy, T&C and make sure your eCommerce store is GDPR compliant. 


To create a page with Shopify, click Online Store -> Pages -> Add a Page. 

Make sure to add meta title and description for every page. This will help search engines (like Google & Bing) understand what the page is about and help with SEO. To do so, go to 'Preferences' under 'Online Store'. 
Also, spend some time on content/copy for everything in your store. This is essential to keep potential customers engaged and boost your conversion rate.
Add Products to Your Store 
Now comes the most crucial part – adding your products to the online store. 
If you have the images ready and descriptions in hand, product addition can be as smooth as butter. So, it is suggested to have all the information at hand before you start adding products. 
To add a product, go to 'Products' -> Add product. 

You will have to fill several columns on the next screen. Particularly, you will have to take care of: 
Product Title & Description 

Product Images 

Set Product Type, Vendor, Collections and Tags  

Set a price 

Inventory status 

Shipping information 

Variants

Meta Title & Description for SEO  
Once you add one product, you can start creating collections to group similar products based on type or tags. For example, if you are an apparel store owner, you can club products under the 'T-Shirts', 'Jeans', 'Winterwear', 'Summer Collection', etc.  
You can also import products from other platforms or use your existing data to populate your Shopify store. 
Add Shopify Apps to Your Store
Once you've added all the products for your store, you can practically move ahead with marketing your store and bringing in traffic. 
But let's hold on a bit and explore the Shopify App Store. It is one of the biggest eCommerce app stores and has apps to simplify your store management, marketing, customer relationships, and more. 
Not leveraging Shopify apps can harm you in a highly-competitive D2C eCommerce industry. Here are some of the apps you can consider adding to your store: 
Congratulations! Now off to the moon!
That's it. You'll have a fully-functional eCommerce store on Shopify by the end of this step. You can start marketing your store on social media platforms/social networks like Facebook (Facebook Groups/FB Ads) or Google Adwords.
There are several other marketing strategies to grow your Shopify store that I will be covering in the coming months.
Meanwhile, read this blog on How to market your eCommerce store in 2022. All the best! 
FAQs
How much does it cost to start a Shopify store? 
The basic plan for Shopify starts from USD 29/month. That should be enough, to begin with. You will also have to spend money on the domain name (.com domains on Namecheap start from INR 75 only). Other costs might include the cost of goods, staff, marketing, etc., just like any other business. 
How to start a Shopify store with no money? 
Sadly, you cannot start a Shopify store with $0 as it is a paid SaaS solution. You can always launch a store on WooCommerce+WordPress (both are free, to begin with). Still, you'd need to spend on hosting+domain costs. Shopify has a Free 14-day trial that you can use to try out the store. It also runs promotions from time to time (Its last big promotion was during the start of COVID-19, where it offered a free store for three months). 
How much can you earn with a Shopify Store?
The top sellers and brands on Shopify earn at least $72 per customer in the USA. The earnings from other countries can vary. For the Indian market, you can expect to earn a margin of 30-40% after accounting for all the expenses. Check the detailed revenue/earnings report for Shopify sellers for different countries here. 
How long does it take to set up a Shopify store? 
The best thing about Shopify is that you don't need to spend much time to get a decent eCommerce store. Getting the final result (a functional Shopify Store) would take at least 15-30 hours. However, it would take several hours a week to optimize, improve and grow your store.
What is the best product to sell on Shopify? 
You need to do market research to understand what sells on the internet. A quick way to do so is to check Aliexpress dropshipping ideas websites. (search for these terms on Google) and you will get several product/niche ideas. 

Resources Mentioned in the Blog
Shopify: Make your own eCommerce store for D2C brand
Namecheap: Buy domain names at an affordable cost
Hatchful by Shopify: Shopify's own logo maker
Iubenda: Create Privacy Policies (and other essential pages) 
Sumtracker

: Automate Inventory and Order Management

Segundo

: Run Email and Online Marketing Campaigns

Smile

: Rewards & Loyalty Program Management

Push Owl:

Send Push Notifications to Users Who Abandoned the Cart