#SharkTankIndia
Shark Tank India: Your Ticket to Startup Fame [Format, Tips & More]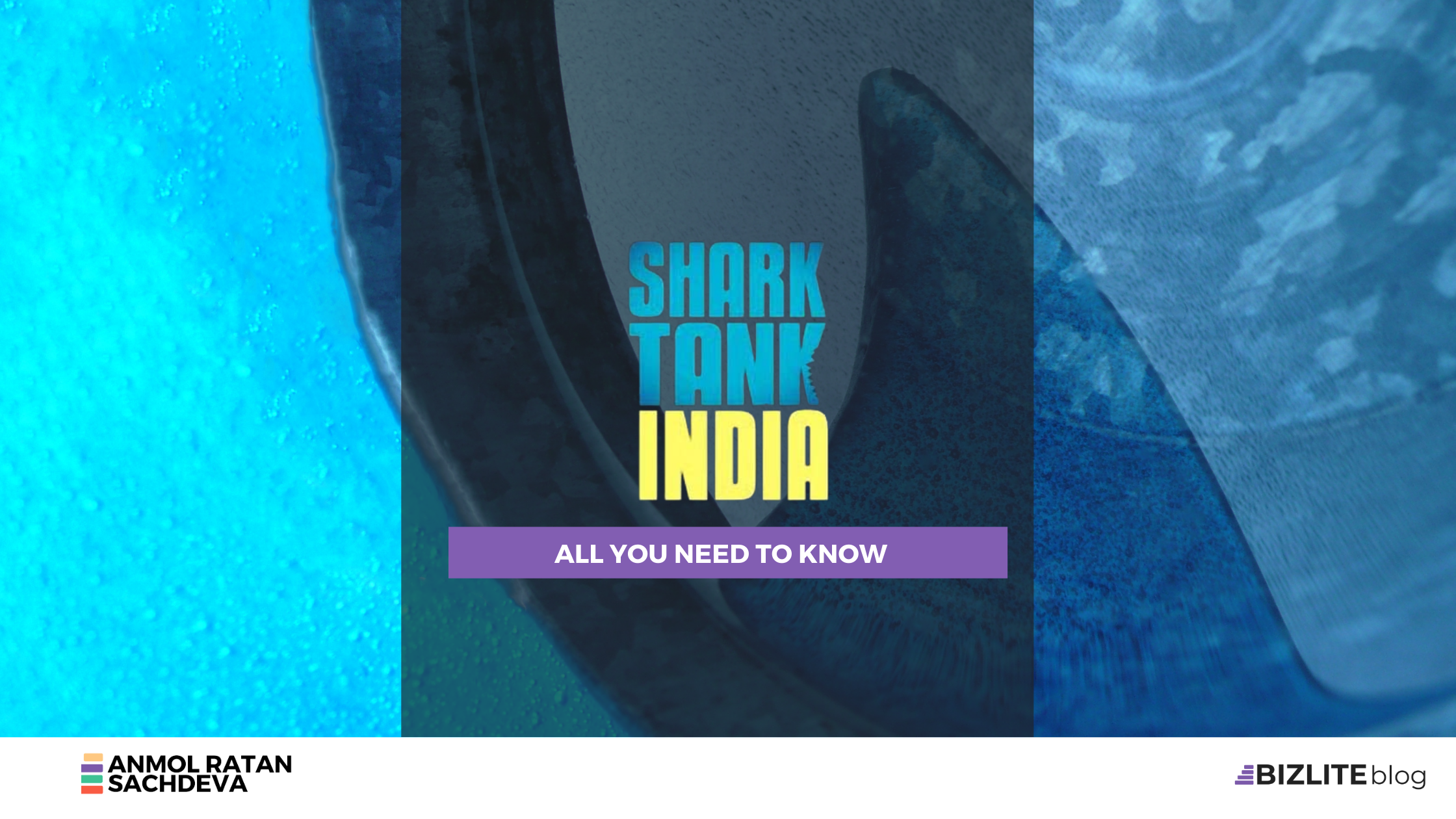 Shark Tank isn't just a reality show. It's a hope for millions of entrepreneurs worldwide. And we Indians are the most hopeful 'lot' out of all.
Who would have thought Shark Tank India would be a reality just after the pandemic, but now it's here, let's make the most out of it. 
The announcement from Sony about the India version of the popular American reality TV on June 22nd 2021 brought a hopeful wave after a prolonged period of uncertainty (thanks to the Pandemic).  
Many have already started visualizing this as the perfect opportunity that can catapult them into the 'BIG' league. 
The Season 1 announcement promo itself was an interesting one from Sony. The story of an MBA graduate who wants to start a business - looked down upon father, adults, friends, even his girlfriend's father, isn't a unique story. Every entrepreneur in India has seen this 'discrimination' and 'disgust' from the ones who are closest. 
But with the chance to get in front of experts (and get funded) served on a platter in the form of a reality show, every passionate entrepreneur can dream about becoming the next big unicorn. Surely, the scenario being portrayed is picture-perfect - a 'rags to riches' moment ready to happen. 
With the success of Shark Tank Startups in the US, Australia and elsewhere, the opportunity isn't something to be overlooked. 
Now, as we have seen what happened on Shark Tank Season 1 and season 2 is already on the cards, here's some information about shark tank format, pitch preparation tips, shark tank application, and more to help Shark tank India aspirants. 
Important Information Regarding Shark Tank India Season 2
Show Name
Shark Tank India
Brought to You By 
Sony (Set India) 
Shark Tank India Season 2 Registration Starts From
May 2022
To be Telecasted on 
Sony TV & Sony LIV App
Registration Link

THE AUDITION LINES & APPLICATIONS HAVE BEEN CLOSED ALREADY. 

[More Info: How to Apply for Shark Tank India Season 2]

Judges on Shark Tank India Season 2
Ashneer Grover, Ghazal Alagh, Anupam Mittal, Peyush Bansal, Aman Gupta, Namita Thapar, Vineeta Singh. 
[Shark Tank India Judges Trivia]
How to Register for Shark Tank India Season 2?
As of August 2022, the auditions for Shark Tank Season 2 in India have been closed. 
Download the SonyLIV App

Search for Shark Tank India 

Click on the Register Now Banner and Fill Out the Form 
You can also visit https://sharktank.sonyliv.com/ to start the registration process. 
Shark Tank India Format 
Shark Tank started in the US where investors like Kevin O'Leary, Barbara Corcoran, Daymond John, Robert Herjavec, Kevin Harrington, Mark Cuban and Lori Greiner listened to a pitch on live TV and offered real investment for startups they believed in.  
Many startups went on to become big names in their industries after infusion of capital by sharks (or through the Shark's network). More often, even if the startup failed to get an investment, the visibility they got from the platform brought amazing growth for them. (like Ring Doorbell, Copa Di Vino, etc.)
Now, the show coming to India translates into 'high hopes' for Indian startups and enthusiastic entrepreneurs (especially those who seek investors). 
Shark Tank format is based on the American counterpart. An entrepreneur looking for funding for his business idea or venture enters the tank with his pitch. The pitch should be in an interesting, engaging, and visual format for the judges (sharks) on Shark Tank India. 
Preparing for Shark Tank India: How to pitch at Shark Tank? 
Enough about the Shark Tank format and the fundamentals, let's get down to the exciting part - how do you prepare for Shark Tank India?
Like the official information suggest - you fill out a the registration form and then wait for a call for subsequent screening rounds. Based on the information you give on your registration form and your pitch during screening rounds, it will be decided if you'll be presenting your pitch in front of the judges on Shark Tank India.
So, you better be ready with a market-ready pitch that speaks to the investors and be as exciting as possible. 
Remember, this is not like a sales pitch where you'll just tell them about the product, benefits and the problems you can solve. 
Shark Tank is like an opportunity where you meet someone and start with an elevator pitch. Only better because you'll be judged on the hard facts to substantiate everything - from your valuation to your revenues, projection to your own experience, and possibly more. 
Pitching on Shark Tank India is an art you must have observed on Season 1 already. There were some amazing pitches by Skippy Ice Pops, Thinkerbell Labs, CosIQ, and others, already. 
Successful Full Pitches on Shark Tank India Season 1
You should watch the season 1 pitches to get an idea of the perfect Shark tank pitch template according to your brand, business model, and other deets. 
Basically, an entrepreneur enters the tank (set for Shark Tank), presents his case including what they do, their USP, their numbers (sales/revenue figures), why are they here for, and what will they do with the investment. Also, they tell the sharks about how much money they're seeking and the dilution they're ready to do in their company.
Shark Tank India Pitch Template: Things to Keep in Mind
Creating an investor pitch is not a new thing if you're a startup owner, but if you're ambitious to be on the Shark Tank, you need to do more than just an awesome pitch deck. 
Often, it is seen on Shark Tank US that founders, first-time entrepreneurs and product owners make the same mistake over and over again. They overwhelm the judges with loads of information and undermine their understanding of the market.
Also, it would be interesting to see a peculiar problem in the Indian Shark Tank. Much like the reality shows on Indian TV, this can soon turn into a storytelling endeavor with 'sob stories' of enterprising entrepreneurs from around the country (Because that sells on Indian Reality TV). Just hope that won't get true for Shark Tank India. 
Many times, entrepreneurs don't realize that even if the baby (startup idea) is special to them, it might not be the case with investors. The investors in the tank might not see you eye to eye and that's where the problem starts.
So, what you should do to not goof up the chances of you landing in front of millions o TV (and possibly secure funding, too). Here's something to help you get started:  
Turn into a storyteller 
Though everyone loves an entrepreneur who's data driven, a story always sells, especially when you're on National TV. Shark Tank India is your opportunity to grab eyeballs, so don't be boring. 
Remember, the channel can clip your pitch if it's not interesting enough. 
So, always create a pitch around a story. For example, CosIQ on Episode 4 shared how they had a baby together during lockdown (their business) and then moved on to the finer details of their business. 
Remember, your goal should be to grab attention and hook all the sharks on your business idea. If you fail to grab the attention in the first few seconds, the sharks won't be keen on putting up counter questions or an offer, especially if you're in an industry that has a lot of competition. 
Know your product
Investors are practical who might not care about your personal story much but the impact your startup has created (or the potential of a new idea). That's why it's better (and safe) to keep your pitch around what's concrete (and real) and not get into the 'idea theory' and 'potential' much.
Here's what you should be part of your product pitch before entering the tank:
Your Product (Technology, Idea, Features, Bugs, Competitors, Failures) 

Distribution Strategy

Annual Revenues 

Market Impact

Intellectual Property Status 
Know your financial numbers 
Numbers would be your best friend going forward in Shark Tank. If you know your Numbers, there are high chances you get desired attention in the tank.
Throughout the seasons in the US, the investors raised the biggest red flags to startups who had confusing numbers (or no idea at all). 
Hence, you should have all your numbers at tips. Some of the numbers you should know include:
Cost of Customer Acquisition

Annual Revenue

Annual Recurring Revenue

Profit Percentage (after paying yourself)

Industry averages
Know the investors
You can never expect a positive response from a stranger (except when you offer a free holiday trip without any conditions). So, how can you expect a positive outcome if you don't know something about the investors you're about to pitch? 
Do your research and be thorough about the likes, dislikes and investment philosophy of the judges at Shark Tank India. 
Better, create a personalized pitch for one of the judges if you think they align better for your business growth. 
When you hit the right chords, you'll hear the perfect tune. 
So, don't go generic with a pitch they're used to hearing a thousand times a day. Instead, give them something that's music to their ears. 
And if you need more details about the sharks on Shark tank India, head over to our blog about the largest trivia of Shark Tank India judges on the internet. 
Shark Tank Pitch Template: Questions You Must Answer in Your Shark Tank Pitch 
What is your product all about - who is it for, what problem are you solving, is there a USP, and how are you dealing with the competition? 
What is your traction and track record - your sales figures, revenue, expansion plans (if any), current orders, and your achievements? 
What are you seeking from the sharks - the investment amount you're looking for along with their expertise, or anything else, if you have something in your mind? 
What is the valuation that you're seeking funding on - how are you justifying the valuation? 
The sharks will ask counter questions after the pitch, and give them funding offers if they like your pitch. You as a business owner can counter offer the sharks, and turn the discussion into a live negotiation. 
If you manage to impress (or convince) one (or multiple) sharks for the funding amount asked, the business gets the funding (and additional support) at the said valuation. 
But here, there's more - when you get on-screen on Shark Tank India, your Shark Tank pitch will be seen by thousands of potential customers and other investors worldwide via TV and the OTT platform- SonyLIV.
This means a massive traffic spike for your website, and attention towards your product, or startup. Cool. Right? 
Investors in Shark Tank India - Who are the Judges on Shark Tank India?
Season 2 would come with the same judges as Season 1 of Shark Tank India. The judges are: 
Know more about the judges and their investments in Shark Tank Season one
What more do you need for Shark Tank India?
Shark Tank can open up unique avenues for your growth. You never know who's got an eye for finding the next big unicorn.
So, apart from just the basics (the pitch, the documents, the proof of concept), here's something more you can focus on: 
Streamlined Brand Identity

You're planning to come on TV (Okay, OTT) and present your startup. A little investment in branding won't harm and would in fact etch your name in the minds of viewers of the show (or the investors). This might be a good time to work on reviewing your brand identity if you've been long thinking of a revamp. 


Conversion-oriented Website



Don't just have a website to inform. Instead, focus on your clear and sharp positioning.





Spend a few weeks on revamping the web copy and design as it will definitely give you the advantages you expect after coming to the show.





Make sure to remove ambiguity and focus on capturing leads/users/customers through every element of your website. Keep in mind that you'll be judged and screened initially by the team based on what info you offer on your website (and in the information shared). So, better start getting serious about your online presence.




 

Unique Verbal Pitch



Don't go with a generic pitch to the tank. Do something unique that evokes curiosity among the sharks.





In the US, entrepreneurs who came to Shark Tank spent a lot of time on showmanship and you can do it, too. It doesn't need to be grand but something as simple as a unique

pitch rap or a brand rap

with attention-grabbing elements packaged in a form, which is right for a reality show. 
What to Expect After Shark Tank India? 
As I mentioned earlier, Shark Tank isn't just an opportunity to pitch. Rather, it's everything that can bring your startup in front of everyone. 
The viewership would definitely have some positive benefits for sure.
Also, it's not just about the investment, but network, contacts and lots of free organic marketing. 
So, you better prepare yourself for the following after effects if you get chosen for Shark Tank India: 
Spike in Website Traffic



Millions, if not more, will see your pitch on Shark Tank. Naturally several would be interested to check out more info on your startup.

So, your web servers should be prepared to handle the spike. You don't want a lost opportunity.
More Sales



With so much traffic coming your way, it's natural that your sales would rise. So, if you're into e-commerce or physical products, you better have the right inventory levels.




More Downloads / Email Sign ups



Many startups miss this part. They don't have the right engagement channels open early on - like an e-mail list.

Well, if you have, that's great, but if you don't have a sign up mechanism on your blog or website, it's time you have that ready because you'll see a lot of enthusiasm around trying out your product after your pitch airs online.
FAQs about Shark Tank India
What do I need to apply in Shark Tank India?
Well, you need a functional startup (or even a prototype/MVP) to begin your online application process. You can check SonyLIV's official announcement on its website for the complete list of requirements.  
What's the process of applying in Shark Tank India? 
As per the available information, the process will be divided into 4 steps starting with the online application. In the next step, a 3-minute pitch video is to be submitted by the participating entrepreneur to the sharks on the show. If they like the idea, you'll be called for an audition. The successful entries will showcase their pitch in the debut Shark Tank India season to be telecasted by SonyLIV. 
Do I need to have a real startup to apply?
Definitely not. But you need to have some kind of MVP, prototype or a scalable concept (with substantial proof to justify your growth claims) to be taken seriously by the Sharks. Your idea can be great (or unique) but without an MVP or proof of concept, there won't be many takers, even on something as revolutionary as Shark Tank India. 
Who are the judges for Shark Tank India?
Ashneer Grover - Co-founder & MD, BharatPe, Vineeta Singh - Co-founder and CEO, Sugar Cosmetics, Peyush Bansal - Founder & CEO, Lenskart.com, Namita Thapar - Executive Director, Emcure Pharmaceuticals, Anupam Mittal - Founder & CEO, Shaadi.com, Ghazal Alagh - Co-founder & Chief Mama, Mamaearth.com, and Aman Gupta - Co-founder & Chief Marketing Officer, boAt are the judges (Sharks) on Shark Tank India Season 1. Discover more about Shark Tank India Judges  Now
Will I get real investments on Shark Tank? 
 Yes. Investors spend their real money if they move ahead with investment decision. So, if you get on Shark Tank India and impress an investor, you're definitely walking out with the funds you need to grow your startup. 
Who can apply for Shark Tank India? 
If you're a startup, small business with a unique product (or solution) or an entrepreneur with an idea or prototype, you can apply for Shark Tank India. You can find more information about Shark Tank India eligibility in this blog.   
Where can I read Shark Tank India episode summaries on the internet? 
Shark Tank India is available for streaming on SonyLIV if you want to stream online. If you are more of a 'reading' person and prefer reading quick updates about Shark Tank startups in India, episode summary, funding details, and more, you can visit Shark Tank India Episode Updates page for full episode details
Should You Apply for Shark Tank India? 
That's like asking - should I focus on growing my startup. 
Definitely you should! There's no question about that. Just apply with full preparation because opportunity doesn't come knocking twice. 
The success of the first season would define its future. So, it's best you prepare your pitch before it winds up (or your competitors sneak in). So, get ready to build, improve and grow your startup and fulfil your growth dreams. 
Final Words
Shark Tank India is live now on SonyLiv and telecasts at 9:00 pm from Monday to Friday at Sony TV. To get latest updates about the show, episode notes, and more, follow Shark Tank India's Instagram handle.
To get updates on Whatsapp, join the Shark Tank India Daily Updates WhatsApp Group
---
Missed the Shark Tank India Train? Don't worry, start preparing for next season and make your Startup Shark Tank Ready (or Investor Ready, in general)
Book a 30-minute free session and get free audit to measure your investor readiness and tips to prepare your investor pitch. 

Get In Touch Now  
---
The story will be regularly updated. Expect more ideas, thoughts, tips and more to prepare your startup to be market, investor and Shark Tank Ready.

What to Expect in the Coming Weeks? 
Want updates in Your inbox? 
Join the Shark Tank India newsletter and get weekly episode updates, startup profiles, tips and more.