shopify
9 Powerful Shopify Alternatives in India [Updated LTDs]
Shopify is working great for many businesses around the globe. It has allowed people to run their online stores with ease, making scaling an achievable dream. 
But for many small businesses in India, Shopify hasn't been the most affordable eCommerce website solution. In fact, maintaining a Shopify website eats away a significant chunk of their profit that it starts looking like a parasite. 
Don't trust me on this? I've talked to many enthusiastic entrepreneurs who started on Shopify but moved on to other alterantives after a few months. 
There are many Shopify alternatives in India that are way more affordable. With the right platform, you can easily set up and run your online shop.
Here, I'm presenting the alternate options you have. You'll be better able to choose the right platform. And you'll be running a full-fledged eCommerce website at a fraction of the cost of Shopify.
Let's go for it. But while you're here, take a look at our other popular Shopify blogs too. 
Reasons to Look for Shopify Alternatives
No one in their sane mind likes to run a business with high overhead/tech cost, at least not in India. We're still a country that doesn't understand high subscription fee. After all, not everyone has the safety net of investor's money or treasure left by a Nigerian prince.
So, does that mean you should ditch the dream of running a starting an online store using Shopify? Absolutely not. But before I share the alternatives, here are a few solid reasons to look elsewhere: 
High Cost
Shopify has multiple charges associated with its use. And these can have a considerable impact on the profit margin of small-scale businesses.
In addition to the ₹1,499 per month for the Basic Shopify plan for India, you might have to pay an additional fee for themes and apps you need.
Shopify also charges a 3% transaction fee on all transactions. It is in addition to the processing fees you have to pay for your payment processor. Credit card payments also attract an extra charge, which can be up to 2.9%.
Then, GST is also applicable. You can get exempted from paying it, though. But only if you have a registered GST Identification Number (GSTIN).
Many small businesses may not be able to afford all these charges.
Limited Customisation
Shopify does have an array of free and paid themes. You can pick any and start designing your store. You can change the look and feel and have a certain level of control over the content.
But that's pretty much it. You're limited by the customisation options available with the theme you choose. You might even have to pay extra for a third-party plugin to get a feature you need. Or hire a Shopify developer. They don't come cheap.
Lack of Integrated Payments
Shopify has an in-house payment service called Shopify Payments. It allows businesses an easy way to accept payments. And it isn't available in India.
You'll have to sign up for a third-party payment aggregator like CCAvenue, RazorPay, PayU and others.
Not many small merchants use such payment services. So, it adds to the cost and complexity of using Shopify.
Shopify Alternatives Most Suitable for Indian Business Owners
Indian businesses need special care, attention, and dedicated support from Indianized businesses. Because sometimes, we all get scared to pay in $$$ and aren't too comfortable talking to the support. Plus, many international solutions don't support our local apps, websites, and business solutions. So, here are some India-centric Shopify alternatives by Indians: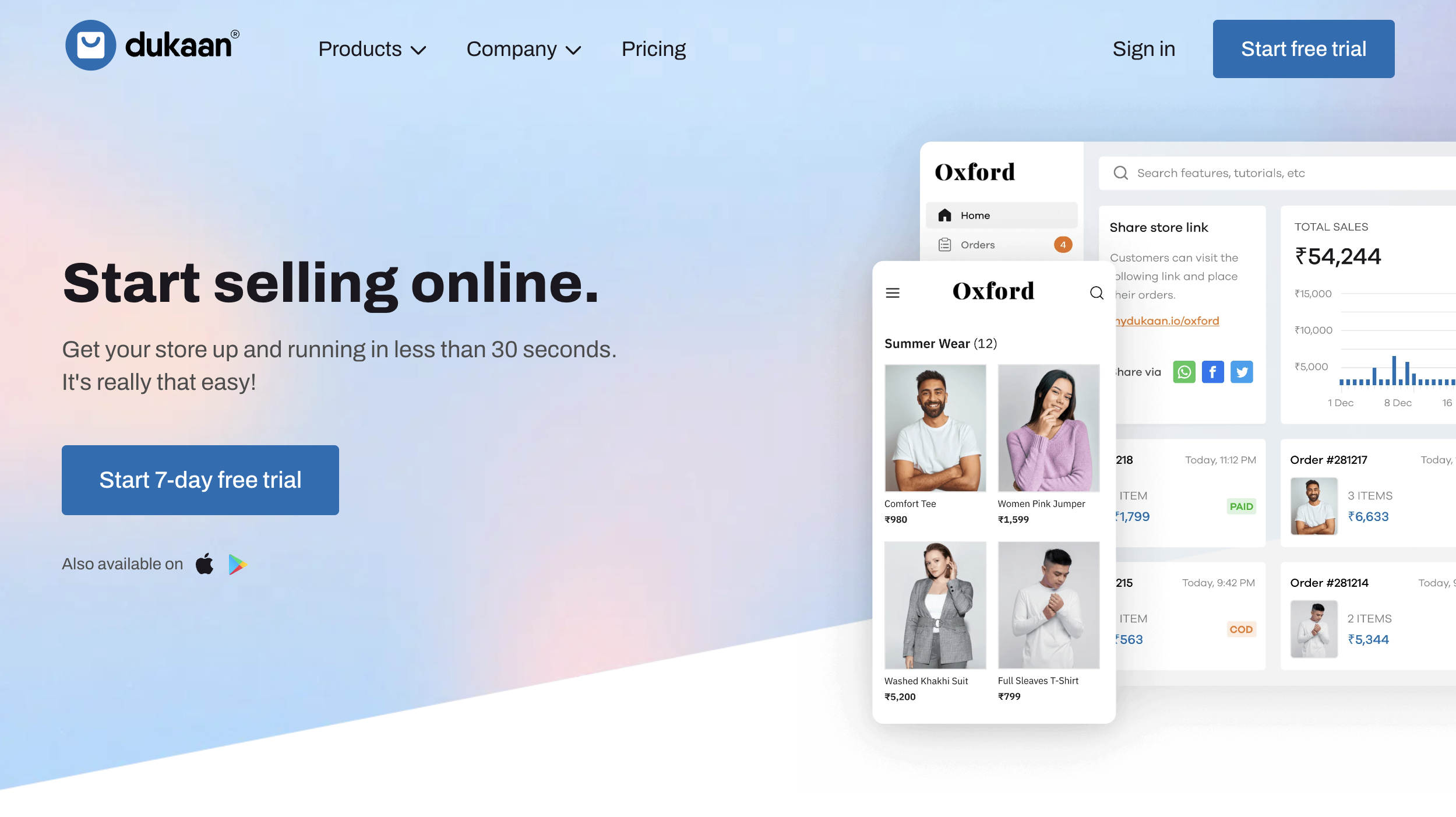 MyDukaan is the most suitable Shopify alternative for small businesses in India. It's an easy-to-use app-based platform that lets you create your free online store.
With its features, themes and plugins, you can manage payment, shipment and inventory all in one place.
Also, its plans are affordable. So, it's easier for small business owners to start their online stores with MyDukaan.
MyDukaan Pros and Cons
| | |
| --- | --- |
| Pros | Cons |
| 👍 Quick to Set up | 👎 Limited Templates and Themes |
| 👍 Affordable Plans | 👎 Lack of Integrated Marketing Tools |
| 👍 Integrated Dukaan Pay |   |
| 👍 Low Transaction Charges |   |
| 👍 No Third-party Payment Fees |   |
Most suitable for: First-time startups and beginner small businesses
Pricing: Starts at ₹375 per month
By the way, did you check out very own Bizlite digital card maker? It allows you to create an digital card and a whatsapp store online for free that you can use to collect online orders from your customers. 

Check Bizlite Now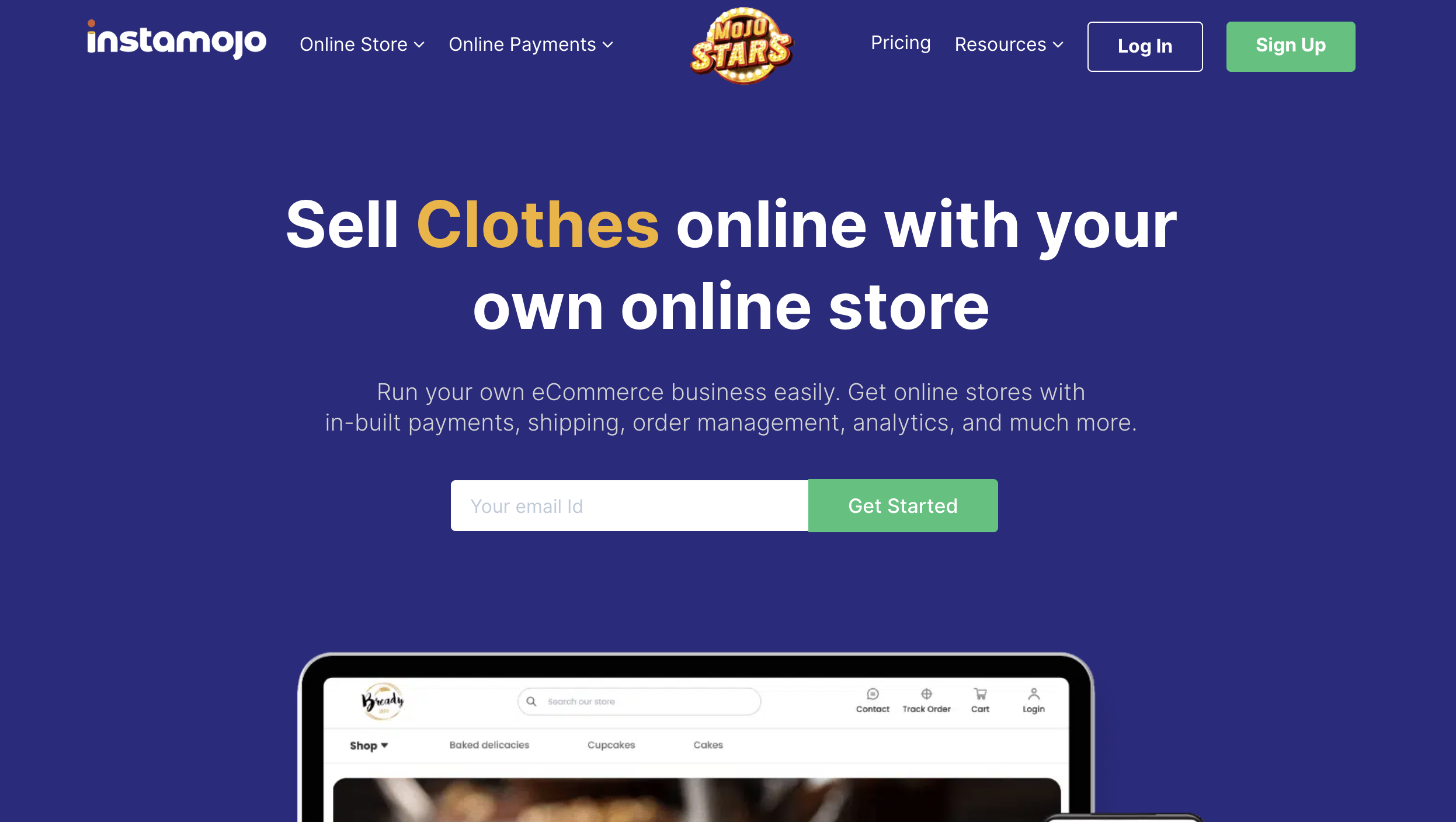 Instamojo is an online selling platform that powers small businesses and creators. It offers a simple website builder to design your product page.
With its simplified process, you can sell products and services and offer digital downloads. The option to sell event and workshop tickets is also available.
You can add an unlimited number of products to your Instamojo store. And it also comes with a landing page feature through which you can showcase individual products and offers.
Instamojo Pros and Cons
| | |
| --- | --- |
| Pros | Cons |
| 👍 Very Affordable Yearly Plan | 👎  Higher Transaction Charges |
| 👍 Free Plan Available | 👎 Limited Device Support |
| 👍 Unlimited Product Upload | 👎 No Multi-channel Marketing |
| 👍 Supports Digital Products |   |
| 👍 Multiple Payment Modes |   |
Most suitable for:
Event managers, influencers and artists; 

Digital product owners and social media coaches; 
Small business owners looking to start their online journey; 
Pricing: Starts with a Free plan. Annual plan also available at INR 5000/year.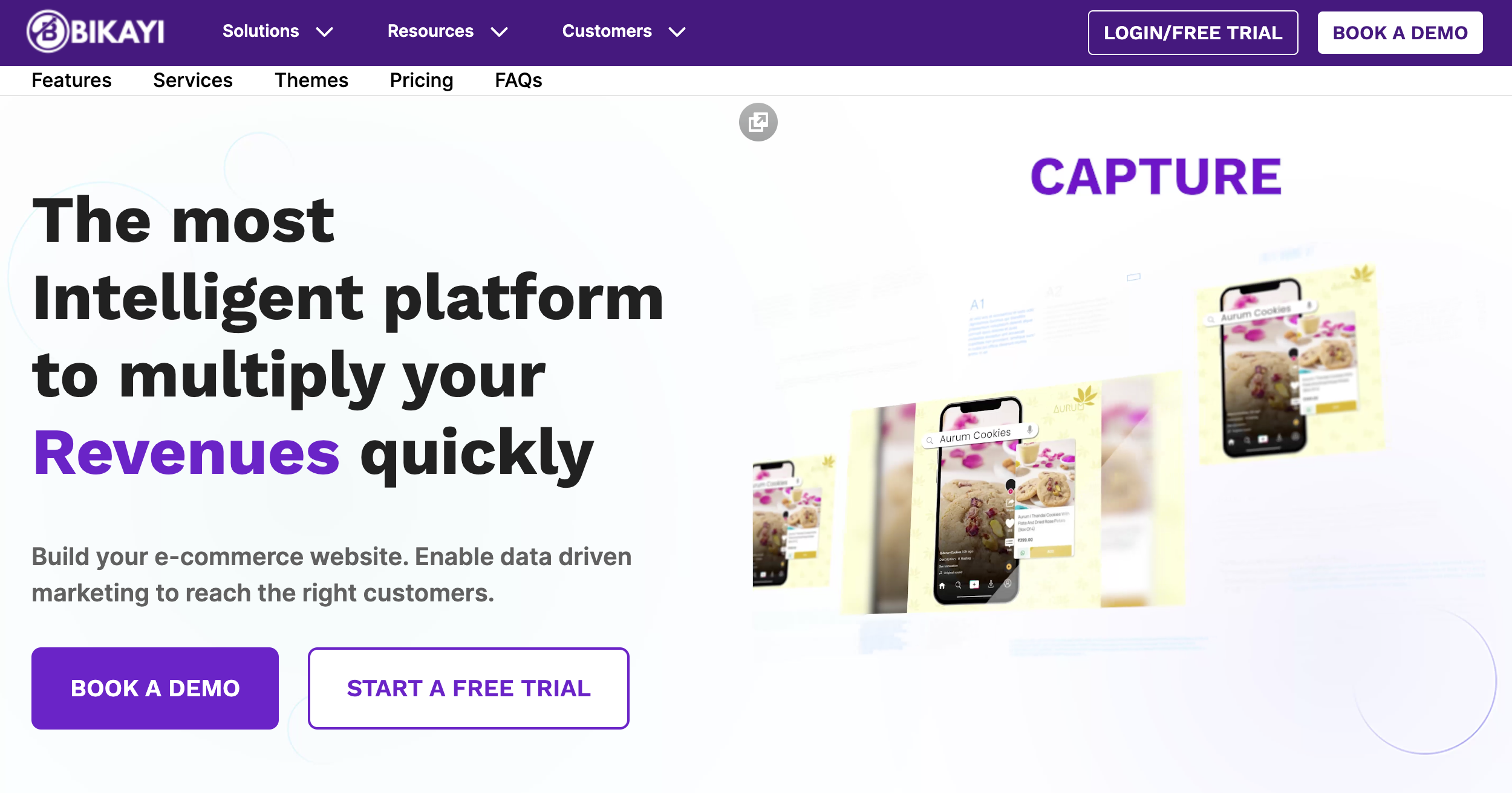 Bikayi is an eCommerce platform that offers a tailor-made experience based on specific business requirements. You can handle the entire flow from leads to deals. 
It offers several beneficial customizations and integrations to grow a business online. You also get a dedicated manager who will guide you in setting up your online store
Bikayi Pros and Cons
| | |
| --- | --- |
| Pros | Cons |
| 👍 Low Transaction Fees | 👎  High Plan Pricing |
| 👍 Dedicated Setup Support | 👎  Limited Self-service Options |
| 👍 Easy App-based Selling |   |
| 👍 Custom Marketing Packages |   |
| 👍 Business Growth Tools |   |
Most suitable for: Established businesses who want to scale business online. 
Pricing: Starts at ₹9,999 per year
Developer-centric, Conventional Shopify Alternatives
Sometimes, you need a little more freedom and security than cloud-based solutions. You desire owing your customer data and don't mind hiring a developers to build a 'customized eComm solution' for your brand. Here are some Shopify alternatives for you in that case: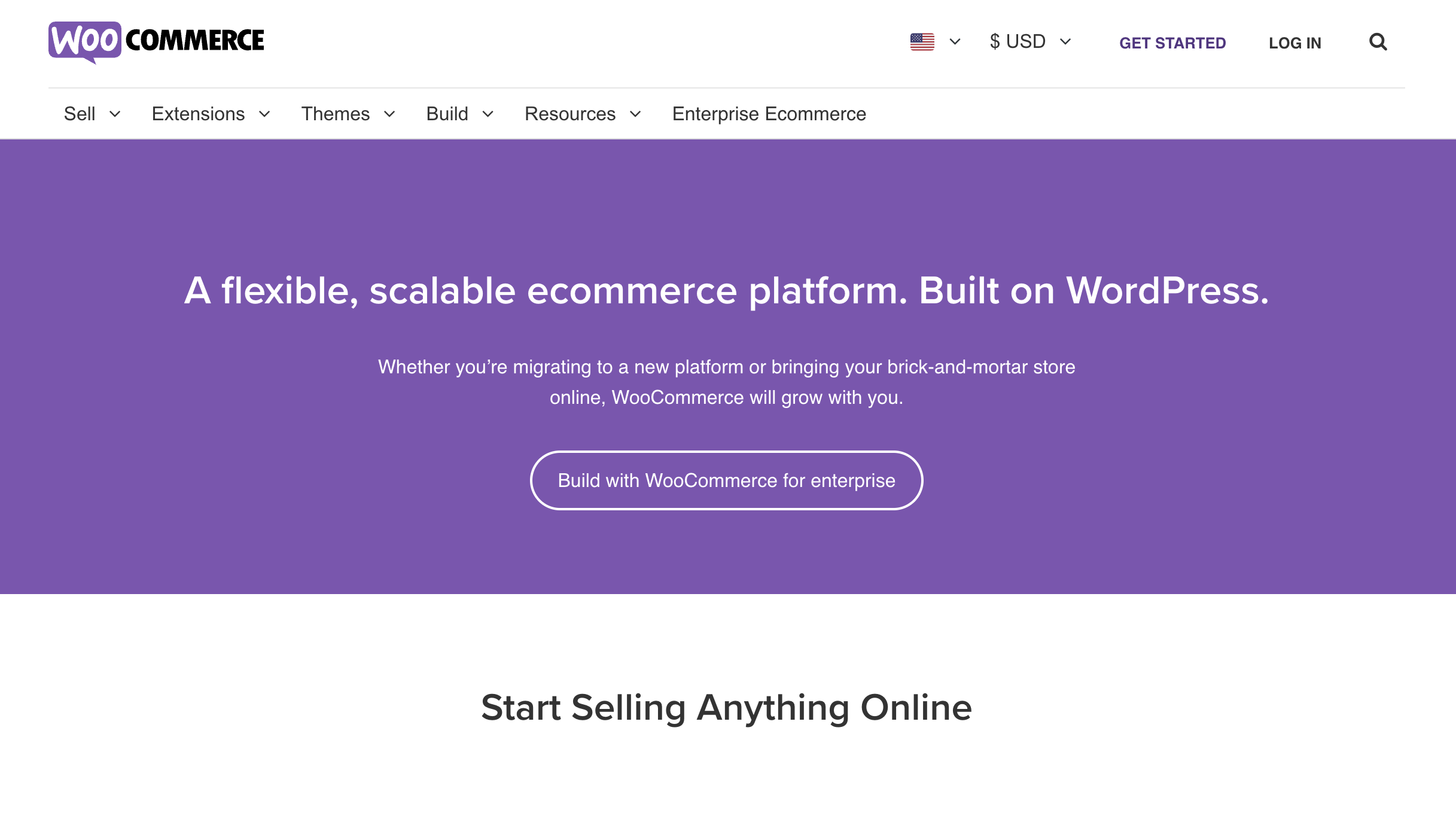 WooCommerce is one of the most popular Shopify alternatives. It offers tons of flexibility and limitless customization options to set up your online store. The best thing - it has been used by million of WordPress users and have stood the test of time. 
You can customize the platform with third-party extensions for everything you need to start selling online. With WooCommerce, you can build your fully-functional online store if you have some knowledge of WordPress or help from developer. 
WooCommerce Pros and Cons
| | |
| --- | --- |
| Pros | Cons |
| 👍 Free to Use | 👎  Steep Learning Curve |
| 👍 Highly Customizable | 👎  Limited Built-in Facilities |
| 👍 No Transaction Charges | 👎 Steep learning curve |
| 👍  Search Engine Optimization Features | 👎 Most advanced features requires paid plugins and extension |
| 👍  Additional Marketing and Sales Plugins Available |   |
| 👍 Can be integrated on Existing WordPress websites |   |
Most suitable for: Business owners who want to use WordPress to run their online store. 
Pricing: Basic plugin available for free. Extensions + advanced features to be paid for, separately.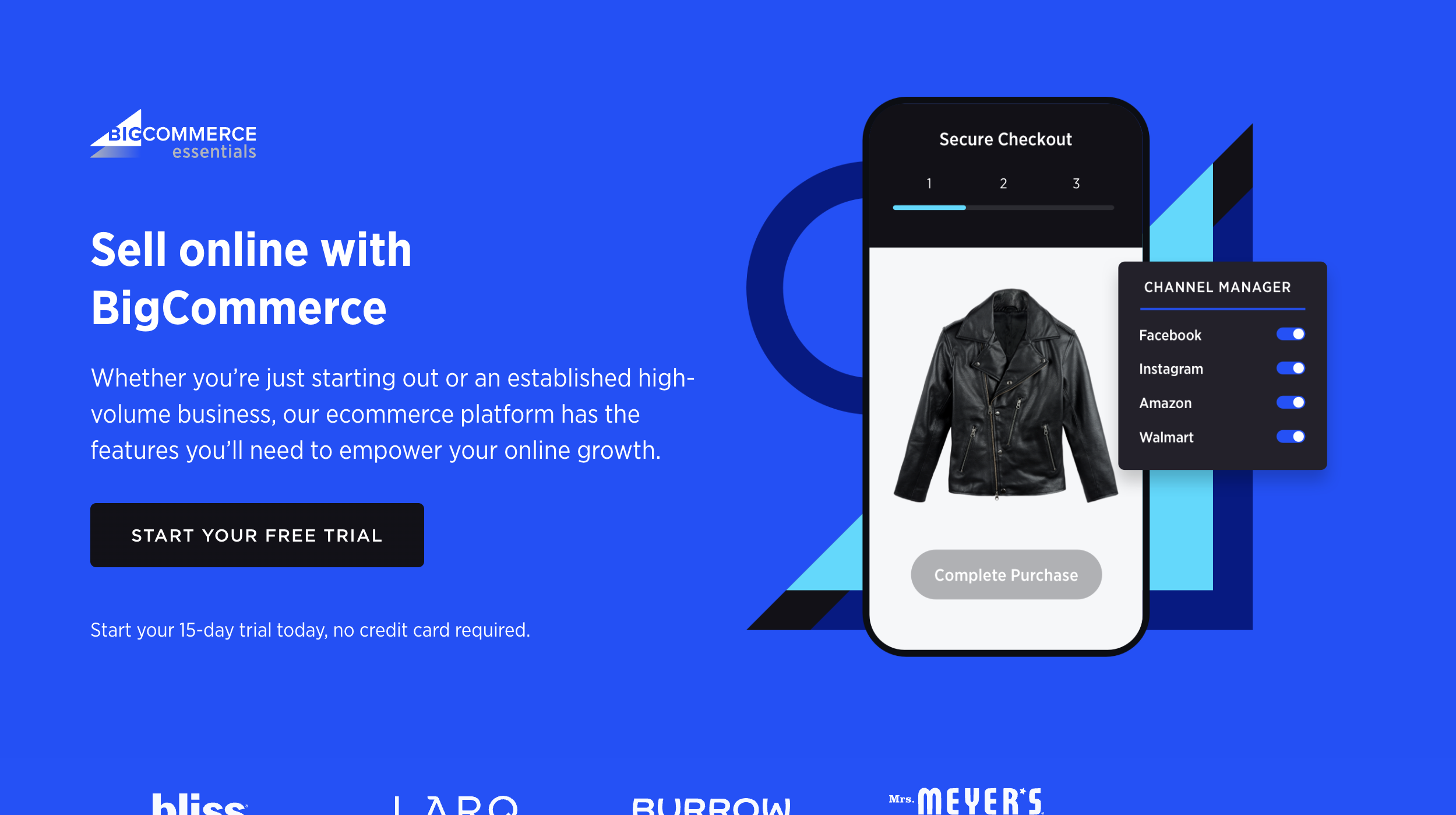 BigCommerce is another popular Shopify alternative for building a robust and secure online business site. It also enables omnichannel sales and marketing. And you can easily set up cross-selling opportunities, too.
It offers tons of themes and plugins you can tailor to your brand. You can customise your site the way you want.
BigCommerce is an excellent option for handling multiple storefronts with one dashboard. It has an easy-to-use interface to customize the entire checkout experience.
BigCommerce Pros and Cons
| | |
| --- | --- |
| Pros | Cons |
| 👍  Powerful Sales Options | 👎  High Plan Pricing |
| 👍  Highly Customizable | 👎  Not Beginner-friendly |
| 👍  No Transaction Charges | 👎 Need to Hire Developers |
| 👍  Built-in SEO Tools |   |
| 👍  Professional Reporting |   |
Most suitable for: Large-scale businesses with extensive customization requirements. 
Pricing: Starts at $29.95 per month. Free 14-day trial available. 
Magento (Adobe Commerce) -  eComm Customization Superhero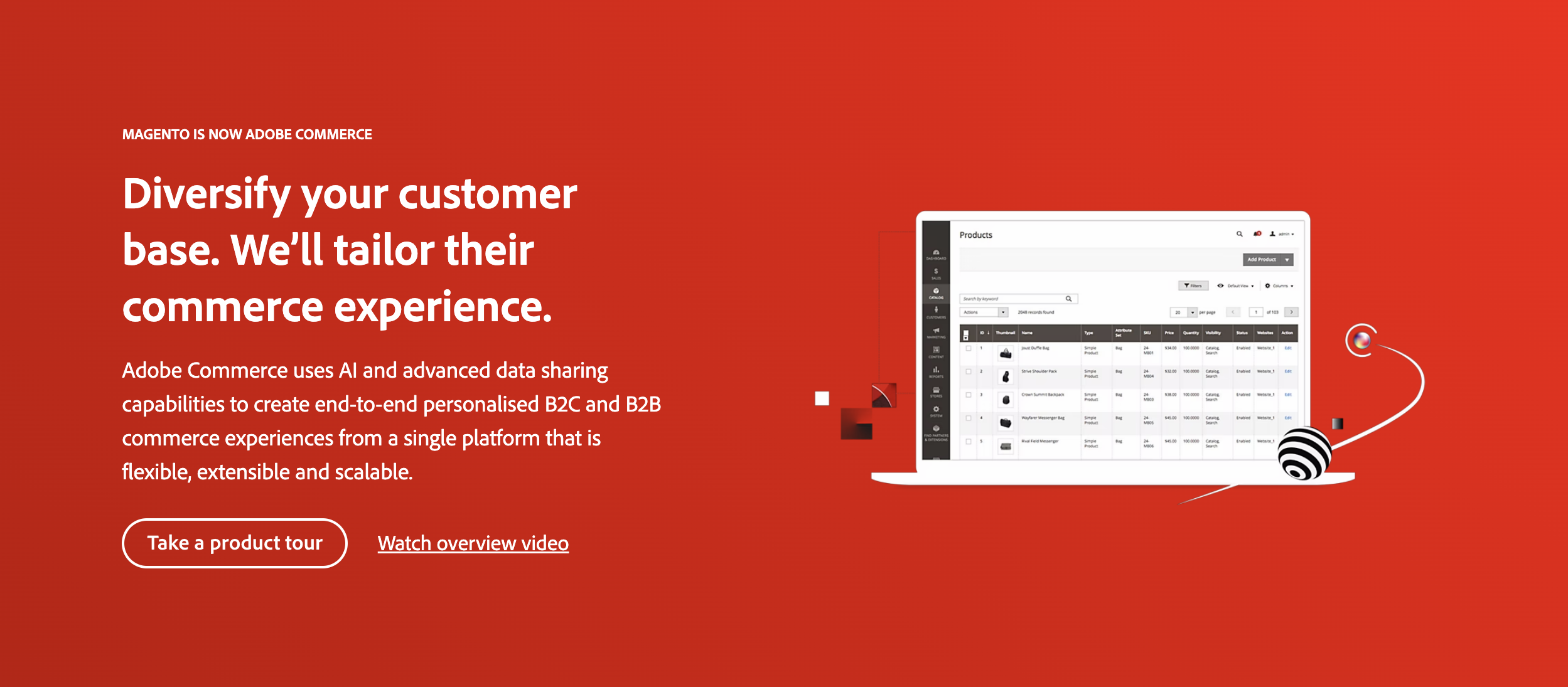 Magento is an eCommerce tool built to scale large businesses. It comes with a lot of tools to arm you with the insights you need to improve your sales.
You can use Magento to serve different audiences and cater to their needs. It provides enterprise-level features that support multiple business models from one platform. Magento also has extensions to connect with third-party services. 
In addition to various third-party plugins and extensions, Magento also comes with AI-driven product recommendations. It helps provide customers a relevant and personalized shopping experience.
Magento Pros and Cons
| | |
| --- | --- |
| Pros | Cons |
| 👍 Advanced Management Features | 👎 Time-consuming Setup |
| 👍 Flexible Customization Options | 👎 Steep Learning Curve |
| 👍 Mobile-optimized Experience | 👎 Not Beginner-friendly |
| 👍 Extensive Extension Library |   |
| 👍 Performance Monitoring Tools |   |
Most suitable for: Small to large-scale businesses looking for scalability and complete customization. 
Pricing: Based on annual GMV and Average order value.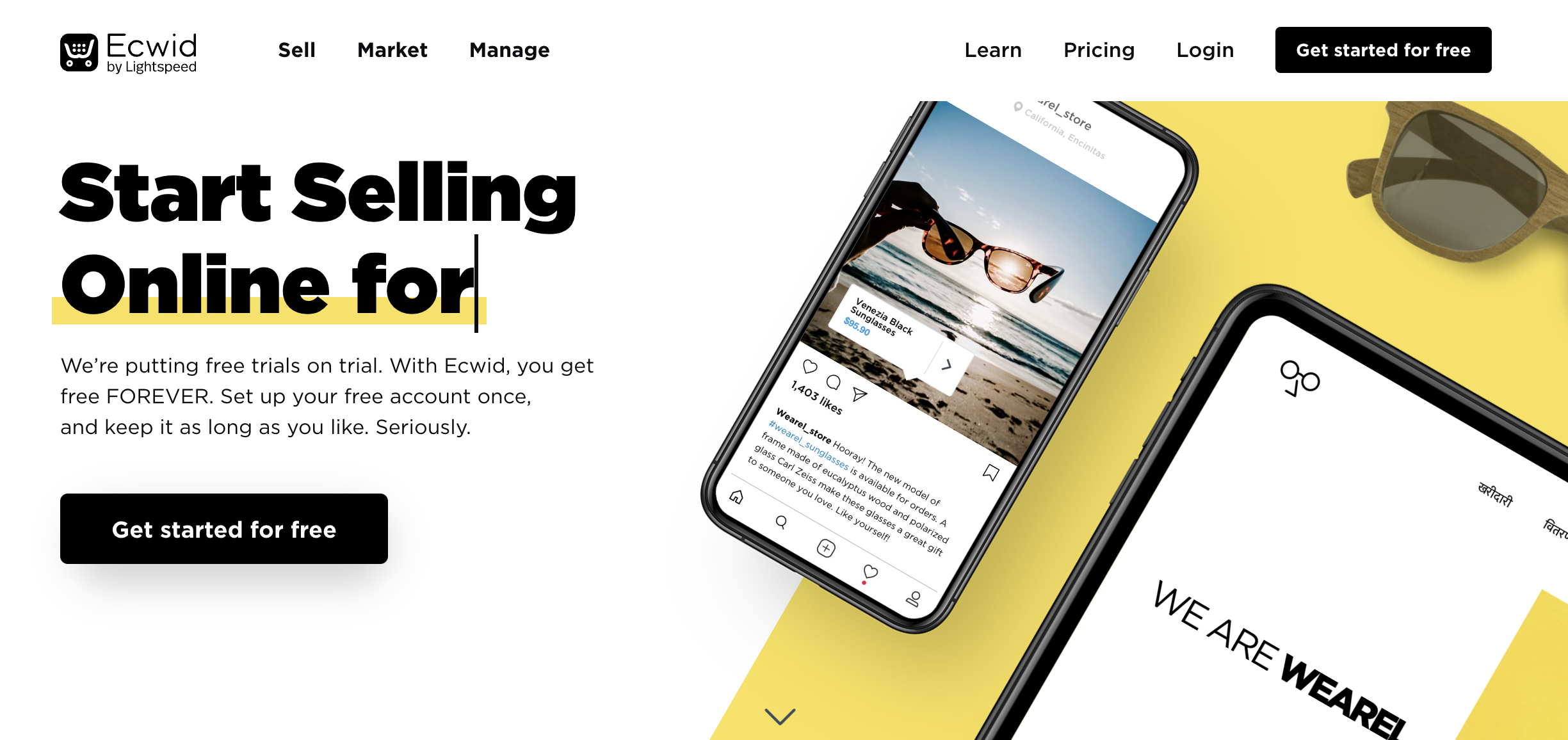 ECwid is an online eCommerce cart solution allowing you to create your free online store quickly. It has a user-friendly interface that helps you create a store for multi-channel selling.
You can sell across website, social media, Amazon marketplace, and other locations using ECwid. This means you can manage everything - inventory, orders, pricing with a central dashboard. And with the mobile app, you can access your store anywhere.
ECwid also offers advertising and marketing tools to help your store grow faster.
ECWid Pros and Cons
| | |
| --- | --- |
| Pros | Cons |
| 👍 Quick Setup | 👎 Basic Features |
| 👍 Easy-to-use Interface | 👎 Limited Design Choices |
| 👍 No Transaction Fees |   |
| 👍 Multi-channel Selling |   |
| 👍 Advertising and Marketing Tools |   |
Most suitable for: Small businesses with an active website and social media, who want to adopt an omnichannel sales strategy. 
Pricing: Starts with a Free plan. Pro plan with advanced feature starts at INR 669 per month, when paid annually. 
Shopify Alternatives with a Free Lifetime Plan
Still not convinced about paying a monthly fee (or extension fee)? Don't worry, we've a few Shopify alternatives that you can use forever by paying a fixed one-time fee.
You'll have to buy a lifetime license from AppSumo and then you can use these eCommerce store builders for life. Isn't it a steal deal? 
Note that these are early-stage startup products that are still in development. There might be a few hiccups on road (or lack of features), but if you're just starting, these are good to go.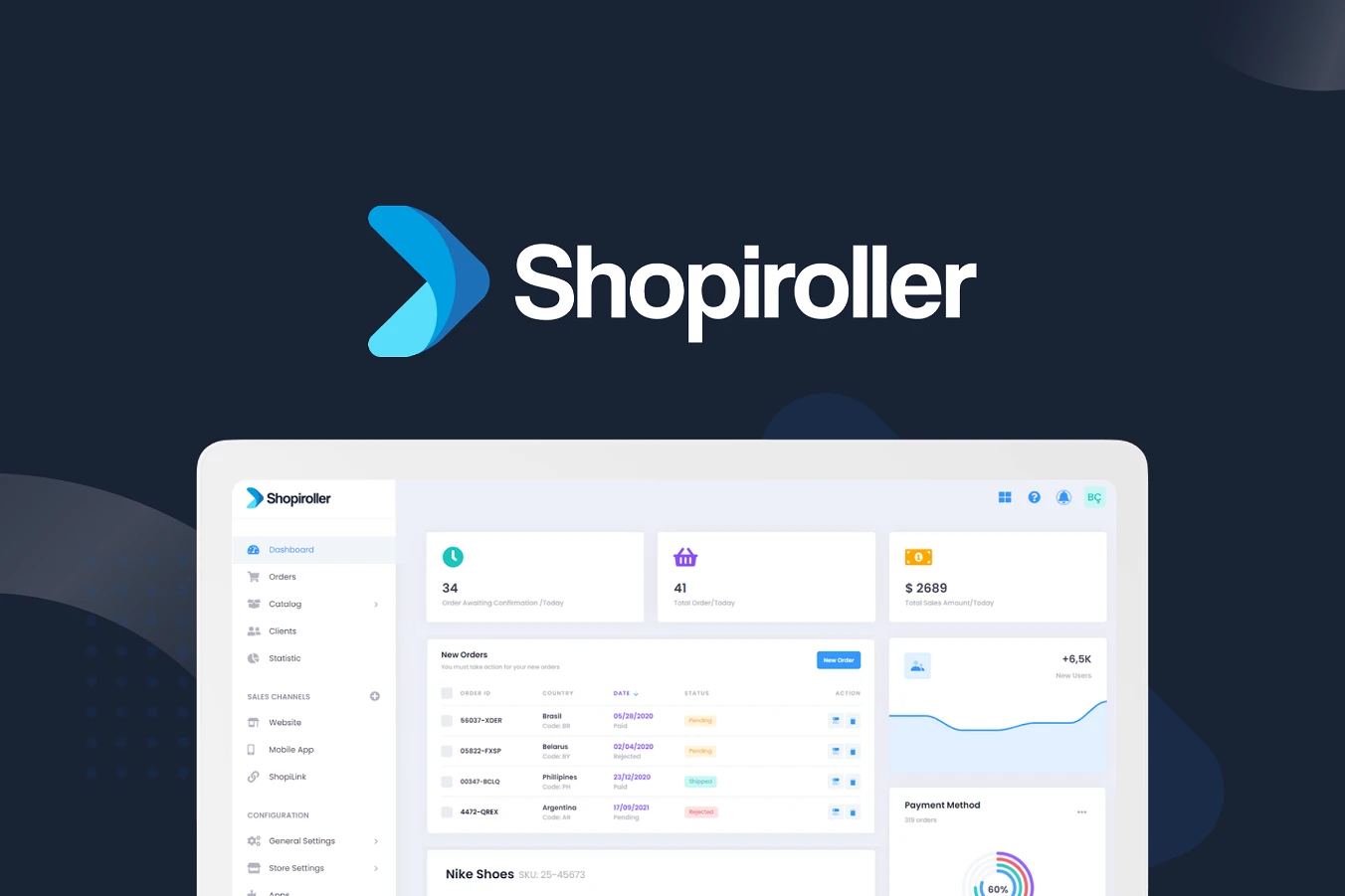 ShopiRoller is an online store builder that lets you manage eCommerce stores via multiple sales channels. It has all the features you need to manage your business.
With ShopiRoller, you can sell digital, physical, and professional services all in one place. You can even integrate your online site with your offline storefront.
It's one of the few Shopify alternatives to offer a lifetime plan and it doesn't require any coding knowledge.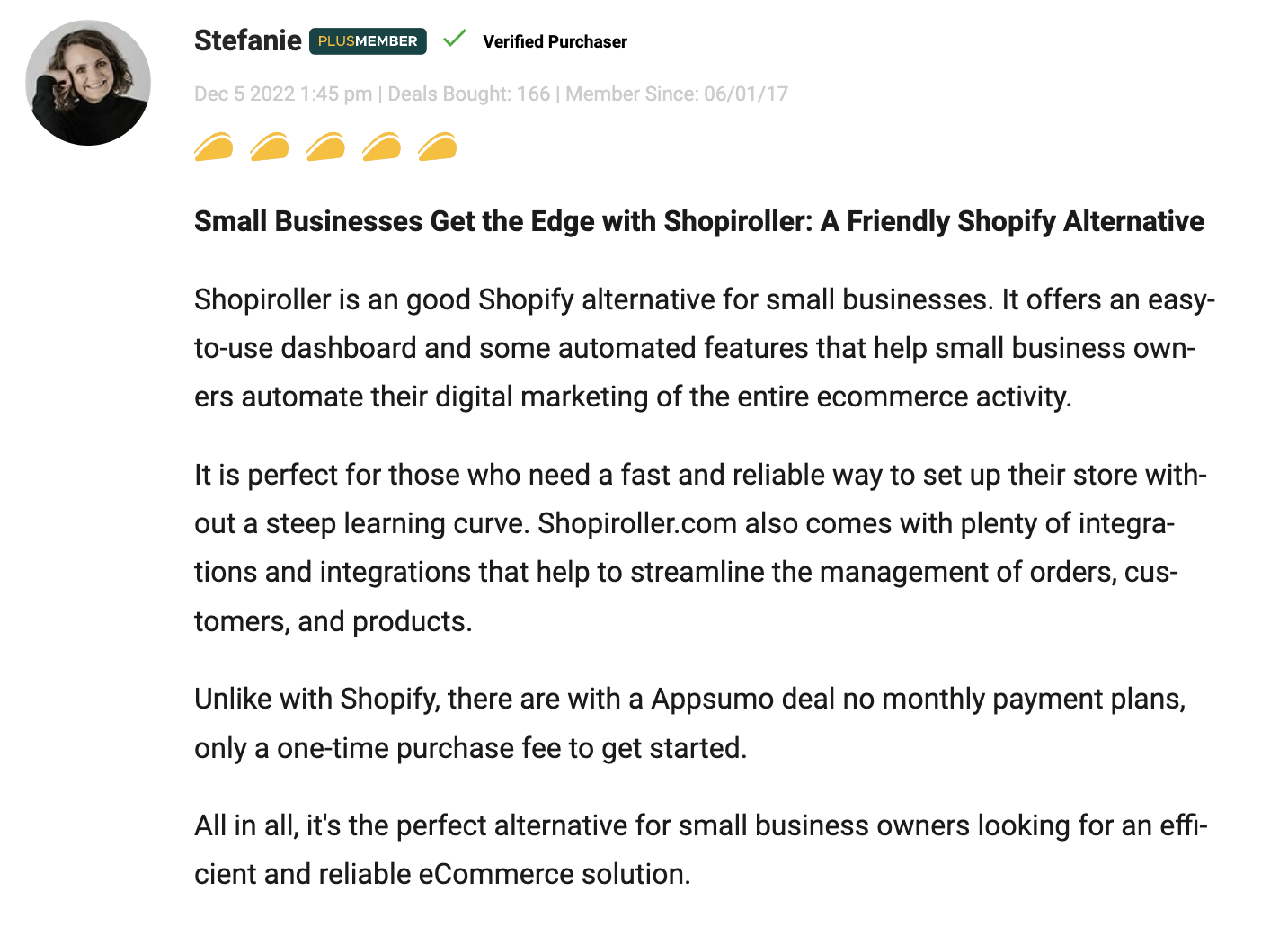 ShopiRoller Pros and Cons
| | |
| --- | --- |
| Pros | Cons |
| 👍 Easy Setup | 👎 Basic Features |
| 👍 Pay once, use forever | 👎 Limited Customizations |
| 👍 Omni-channel Selling | 👎 Few Payment Gateways |
| 👍 Social Media Integration |   |
| 👍 Marketing Automation |   |
Most suitable for: Small businesses and individual sellers
Pricing: One-time payment of $79
StorePlum is another affordable eCommerce management platform designed to set up an online store with minimal effort. You can use its intuitive store builder to update and control your store with ease.
It has built-in SEO functionality to publish blogs and improve store rankings. StorePlum also comes with features to optimise and improve conversions.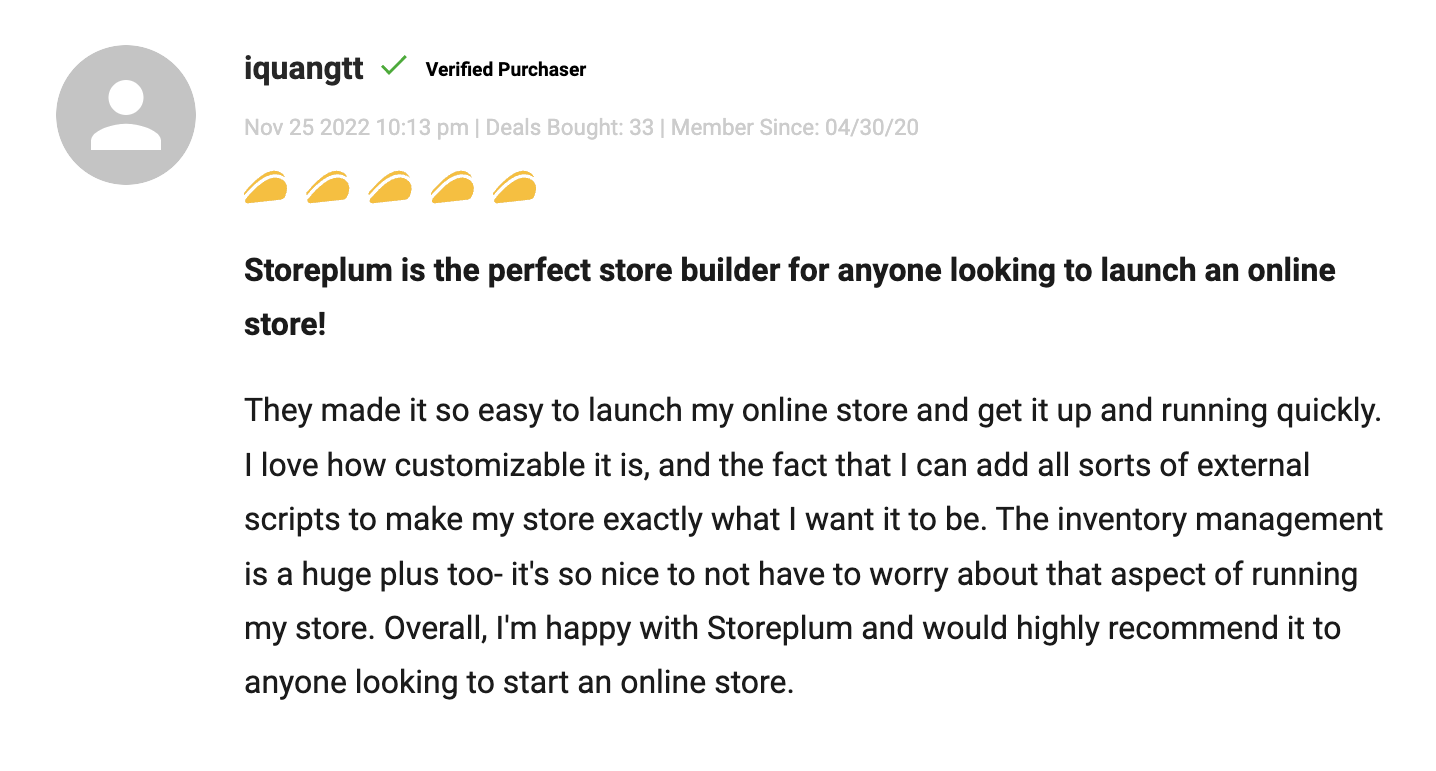 StorePlum Pros and Cons
| | |
| --- | --- |
| Pros | Cons |
| 👍 Lifetime Plan | 👎 Basic Features |
| 👍 Built-in SEO Features | 👎 Limited Customizations |
| 👍 Easy Store Management |   |
| 👍 One-click Checkout Option |   |
| 👍 Analytics and Reporting Tools |   |
Most suitable for: First-time sellers with limited requirements
Pricing: One-time payment of $79
All Shopify Alternatives Compared: Which Shopify Alternative is for You? 
Before you leave... 
You saw the different options you have over Shopify and now might be in a better position to pick the perfect eCommerce platform for your business. But before you leave, here are some useful articles that might help you in the next step of your growth journey. Do give them a look too: