shopify
20+ Best Shopify Stores in India for Inspiration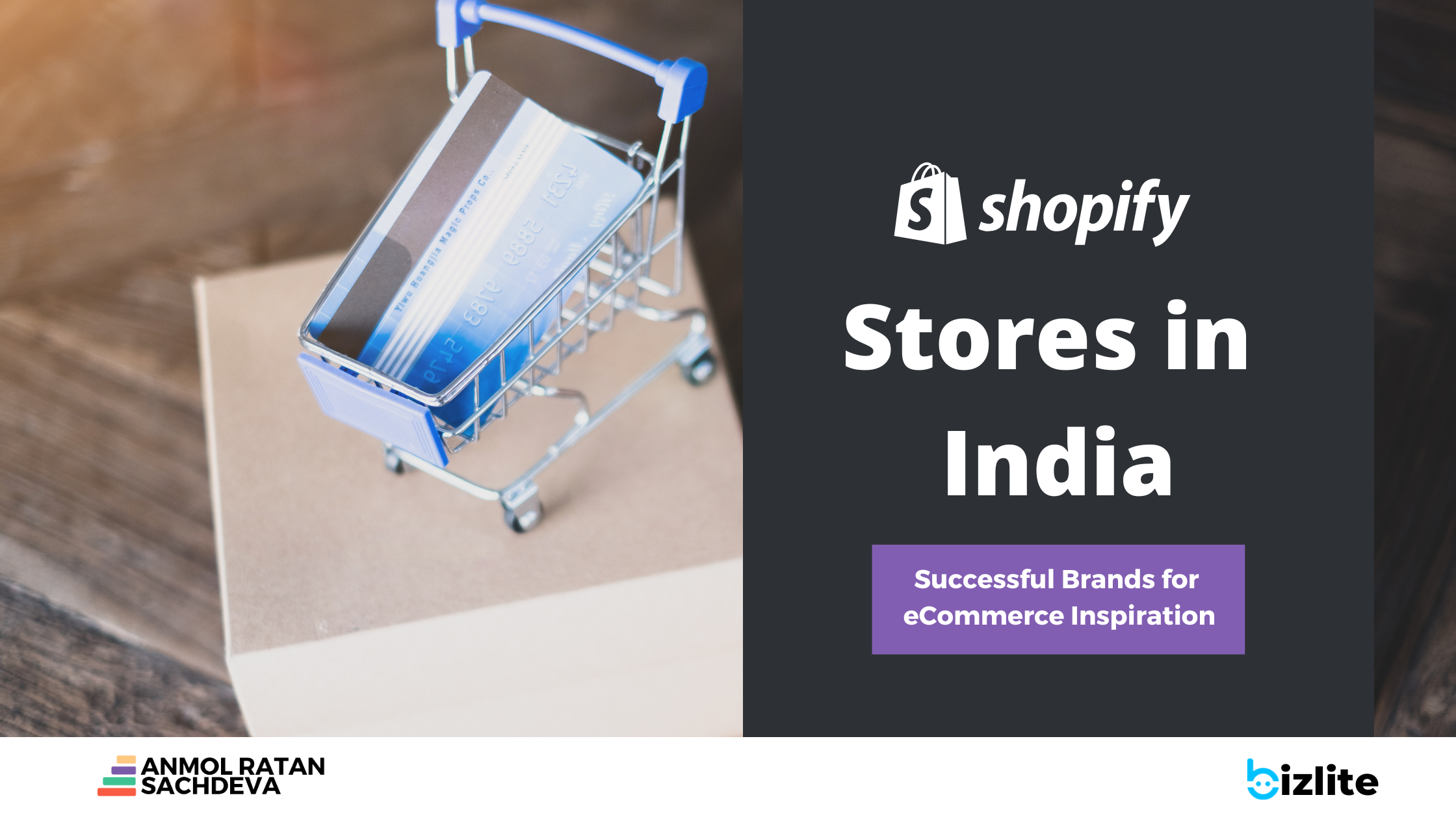 Most eCommerce startups need a simple, easy, and pocket-friendly way to manage their eCommerce store and Shopify is one of the best when it comes to simplicity, convenience and great integrations. 
If you've researched on best business ideas to start with low capital, you might have come across a suggestion to start a Shopify store. But even if its easy, sometimes, the best can get confused about layout, categories, homepage designs, themes and what not. 
That's why we've curated the top Shopify stores in India for you to take inspiration and start your own journey. So, let's look at the best and help you make a head start. 
Shopify: Brief Introduction & Overview
Shopify is a powerful eCommerce platform that helps you to sell products online. The easiest way to create an online store in minutes without technical knowledge. It is an excellent choice for those who are not tech savvy or do not have much time to launch and manage their store. 
Shopify allows you to launch your eCommerce store and accept orders in hours. Even Shopify pricing plans are pocket-friendly compared to the hassle of managing multiple costs like hosting, development, design, product management, backend dashboard, etc. 
Many small business owners, startups, drop shippers, and even established brands use Shopify to host their stores and manage eCommerce operations in India. Shopify is even thinking of partnering with ONDC network in India to increase the scope and visibility of Shopify sellers in India. 
Let's look at some of the brands that are killing it in India's eCommerce and D2C industry and how Shopify is assisting them in their goals. 
Top Indian Shopify Stores: Complete List 
Don't have the time to read the entire blog? Scan the table below for a quick overview of top Shopify stores in India. 
| | |
| --- | --- |
| Brand Name | Category |
| | Clothing & Apparel Shopify Store in India |
| | Clothing & Apparel Shopify Store in India |
| | Clothing & Apparel Shopify Store in India |
| | F&B Shopify Store in India |
| | F&B Shopify Store in India |
| | F&B Shopify Store in India |
| | F&B Shopify Store in India |
| | F&B Shopify Store in India |
| | F&B Shopify Store in India |
| | F&B Shopify Store in India |
| | F&B Shopify Store in India |
| | F&B Shopify Store in India |
| | Electronics & Gadget Shopify Store in India |
| | Electronics & Gadget Shopify Store in India |
| | Electronics & Gadget Shopify Store in India |
| | Skincare Shopify Store in India |
| | Skincare Shopify Store in India |
| | Skincare Shopify Store in India |
| | Unique Shopify Store (Wooden Toys) |
| | Pet Products Shopify Store in India |
| | Music Equipment Shopify Store in India |
| | Niche Shopify Store in India for Book Merchandise  |
Fashion & Apparel Shopify Stores in India
If you are looking for Indian shopify stores that sell fashion products, here are some of the best Shopify Stores for Inspiration. You can browse the store, take notes, be inspired and launch your own Shopify store in the Fashion category: 
Farda Clothing is a contemporary fashion and apparel brand inspired to create unique streetwear for youth. Chahat Pahuja and Sanskar Mishra gained fame and recognition after appearing on Shark Tank India season 1.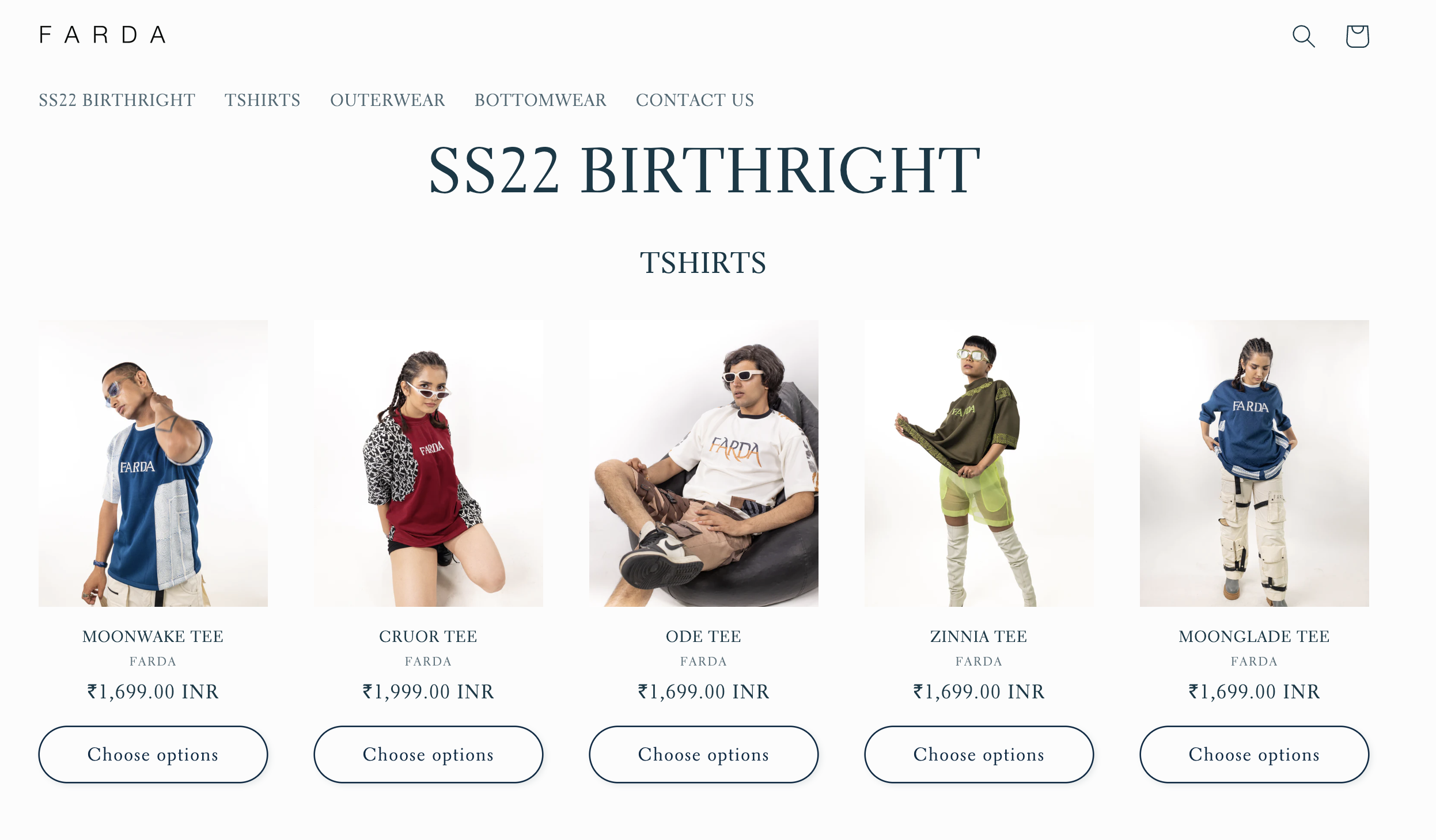 Their USP is an extraordinary range of streetwear that fuses handcrafted artistry and streetwear pieces. They are also known for their customised design pieces handcrafted by local artisans — their contrary take on fast fashion. 
Bummer is another D2C brand using Shopify featured on Shark Tank India Season 1. Bummer is a hip underwear brand known for trendy designs, comfortable fits, and super soft clothing.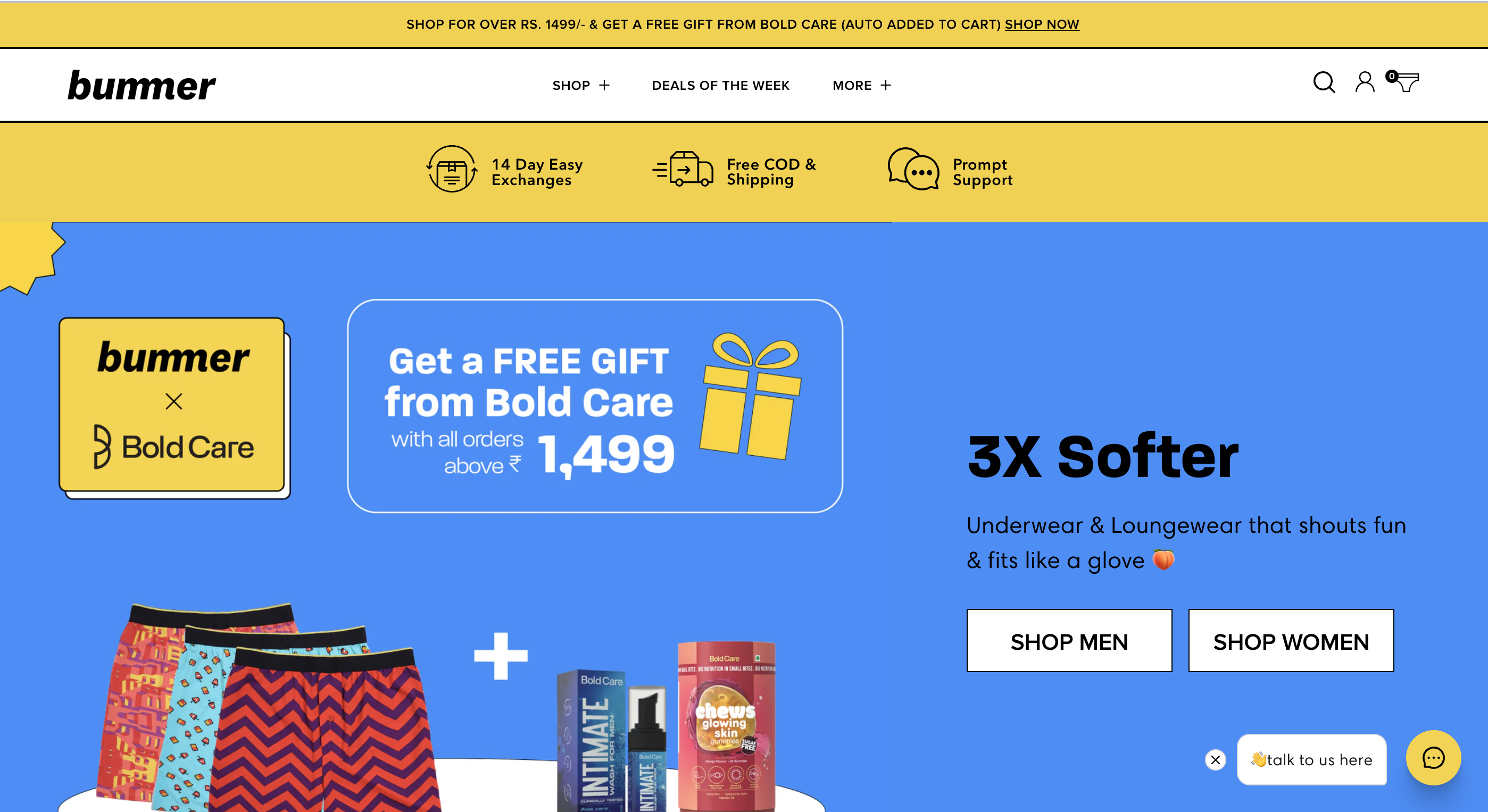 According to the founder, the brand is about variety, comfort and sustainability. Bummer's  pitch on Shark Tank India tells us a lot of detail about running a Shopify store, including the cost of marketing, logistics and shopping margins.  
Another Shark Tank India fame, Heart Up My Sleeves was featured in the inaugural episode of Shark Tank in India. The chic fashion brand makes designer sleeves that can be added to any dress or apparel as an accessory.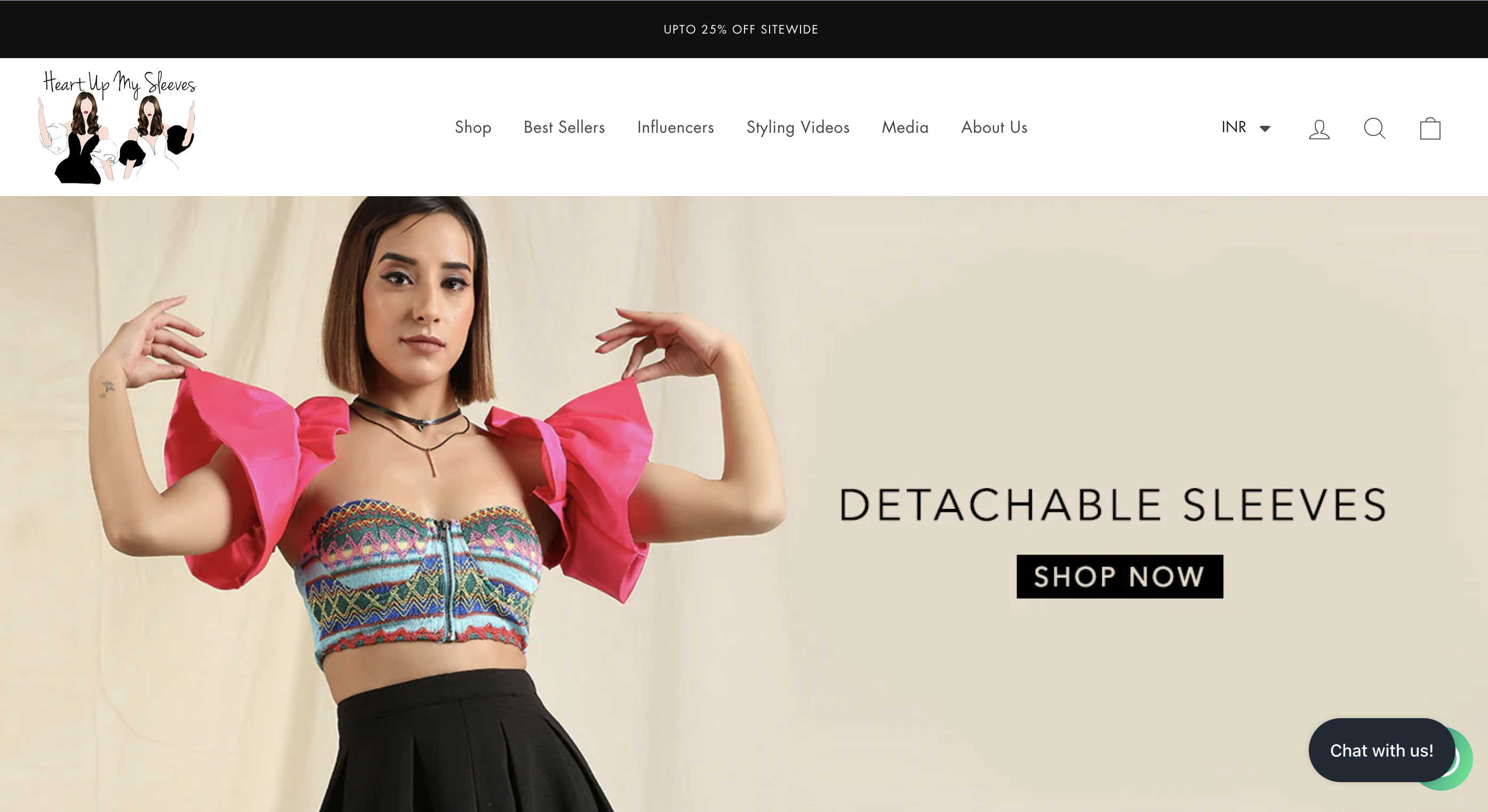 Heart Up My Sleeves launched its Shopify store after Shark Tank appearance and seems to be doing pretty well in terms of reach and revenue. Thanks to the infusion of INR 25L worth of capital by Shark Ashneer Grover and Vineeta Singh 
ALSO READ: 100+ Content Ideas for Fashion Brands
Food, Beverages & Snacking Shopify Stores in India
If you're interested in starting a food business and planning to launch a Shopify store, you can take inspiration from one of the following Shopify websites in India. Each of these websites is an example of how best Shopify websites should be structured. 
TeaBox - Leading Hot Beverage Shopify Store in India
TeaBox claims to have India's first 100% transparent procurement tea process. The brand brings you fresh tea from the finest estates in Assam, Nilgiris, and other parts of India/Nepal in under seven days.
The brand has built its reputation on its proximity to estates and freshness promise and offers the choicest tea varieties in vacuum-sealed packs for you to cherish.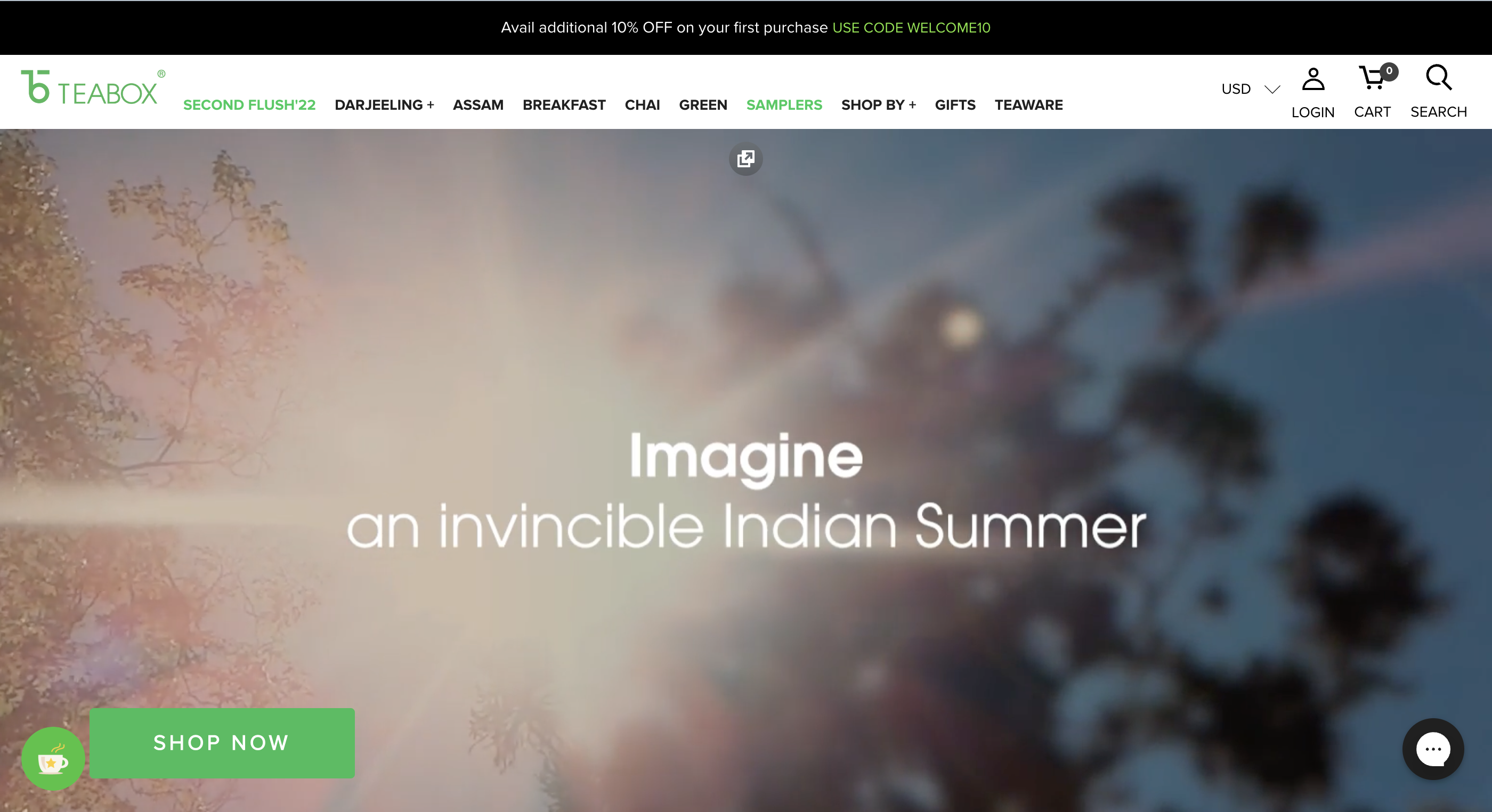 TeaBox migrated to Shopify owing to its increased expenses while using the previous Django-based platform. After moving to Shopify's robust platform, they have reduced their IT and resources costs and are using it to scale their footprint and operations online. 
Yogabars - Successful Shopify Store That Sells Nutrition Bars
Yogabars is a nutrition brand that offers healthy, gluten-free and guilt-free snacking options for fitness enthusiasts. The brand has a wide range of healthy protein bars, muesli, peanut butter, and oats.
Known for its all-natural approach, the brand doesn't use artificial preservatives, colouring, or flavors in its products.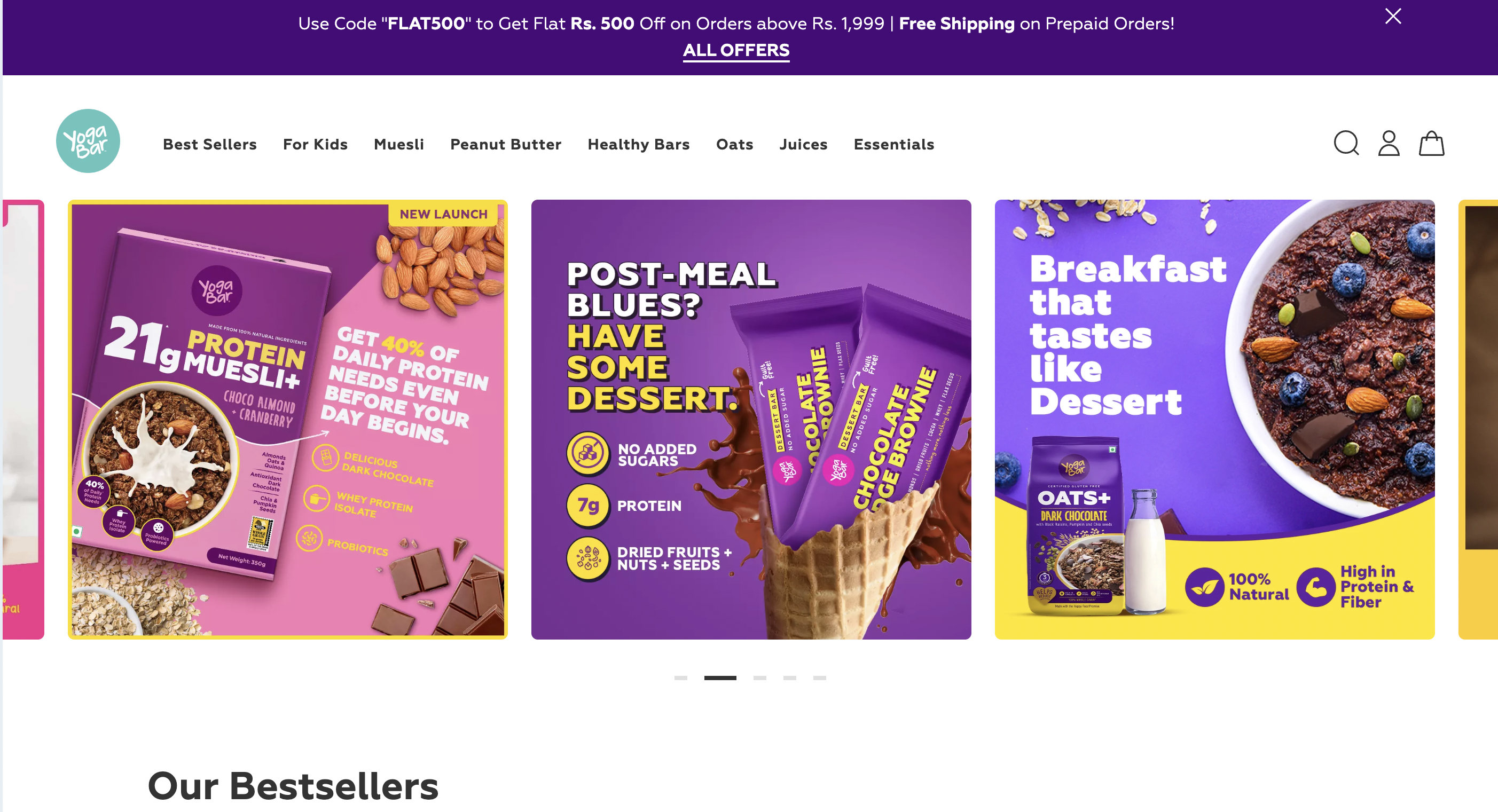 Yogabar is a popular Shopify store in India and caters to a growing user base of health-conscious Indians looking for something to munch upon. 
Vahdam Teas - Beautiful eCommerce Website on Shopify 
Vahdam is a popular tea brand in India that caters to lovers of speciality teas. Backed by a legacy of over 80 years, Vahdam brings the choicest Indian tea varieties for tea connoisseurs. You can buy green teas, herbal teas, black teas, oolong, white teas, and drinkware through its Shopify store.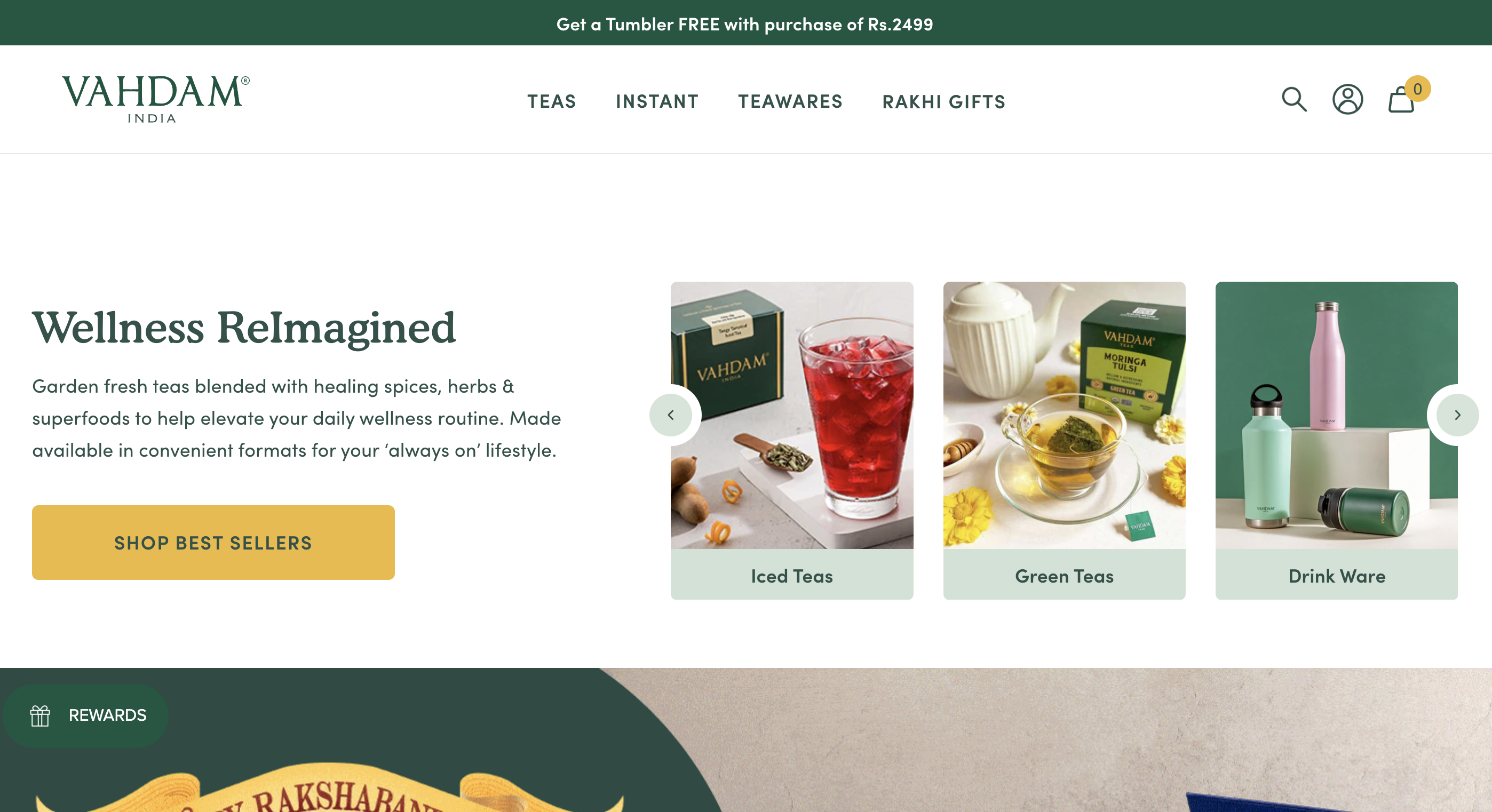 The brand is doing pretty well in terms of growth and revenues. Vahdam earns $21.5 million in revenue, and Shopify has always been an essential part of its journey. The founder says they have been using Shopify when it didn't have INR as a currency. Since the beginning, any other platform was never an option in the founder's head. 
#TagZ Foods - One of the Best Shopify Stores in Snacking Category
Started by Anish Basu & Sagar Bhalotia, #TagZ gives all of us hope — to much on snacks without the guilt. Starting with popped potato chips which are at least 50% healthier than regular chips, they've been shelling out new products almost every month since their appearance on Shark Tank India Episode 2. 
They are a proud user of Shopify and have been growing at a 3x multiple since they achieved popularity due to their national TV appearance.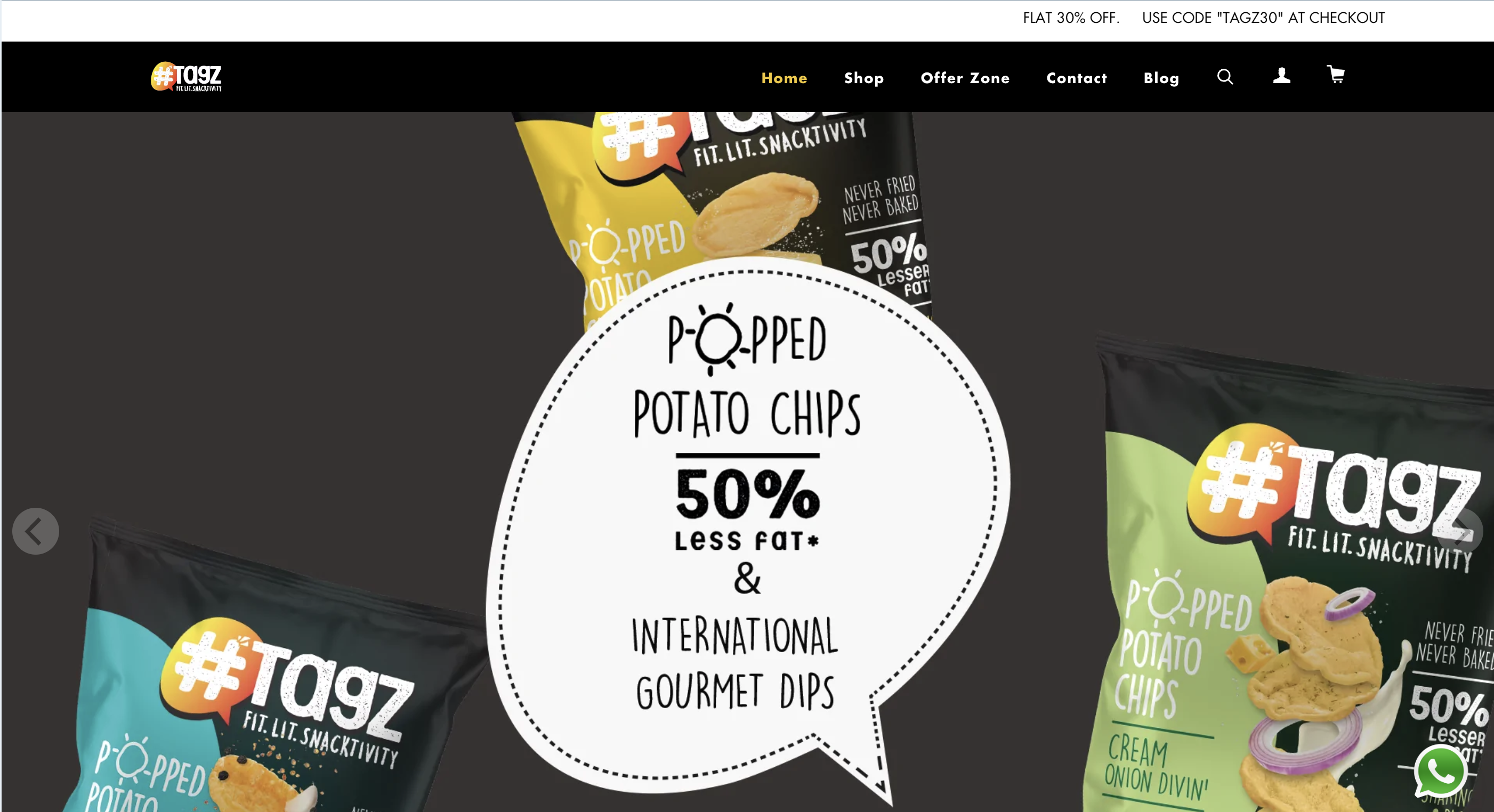 Meatyour is not your conventional meat or poultry brand. It's managed by a company that believes in the power of free-range eggs and poultry. 
The D2C brand provides free-range brown eggs to Pune and Mumbai residents and plans to start operations in Delhi and Bengaluru soon. The funding they received from Shark Tank India would probably fuel this expansion plan.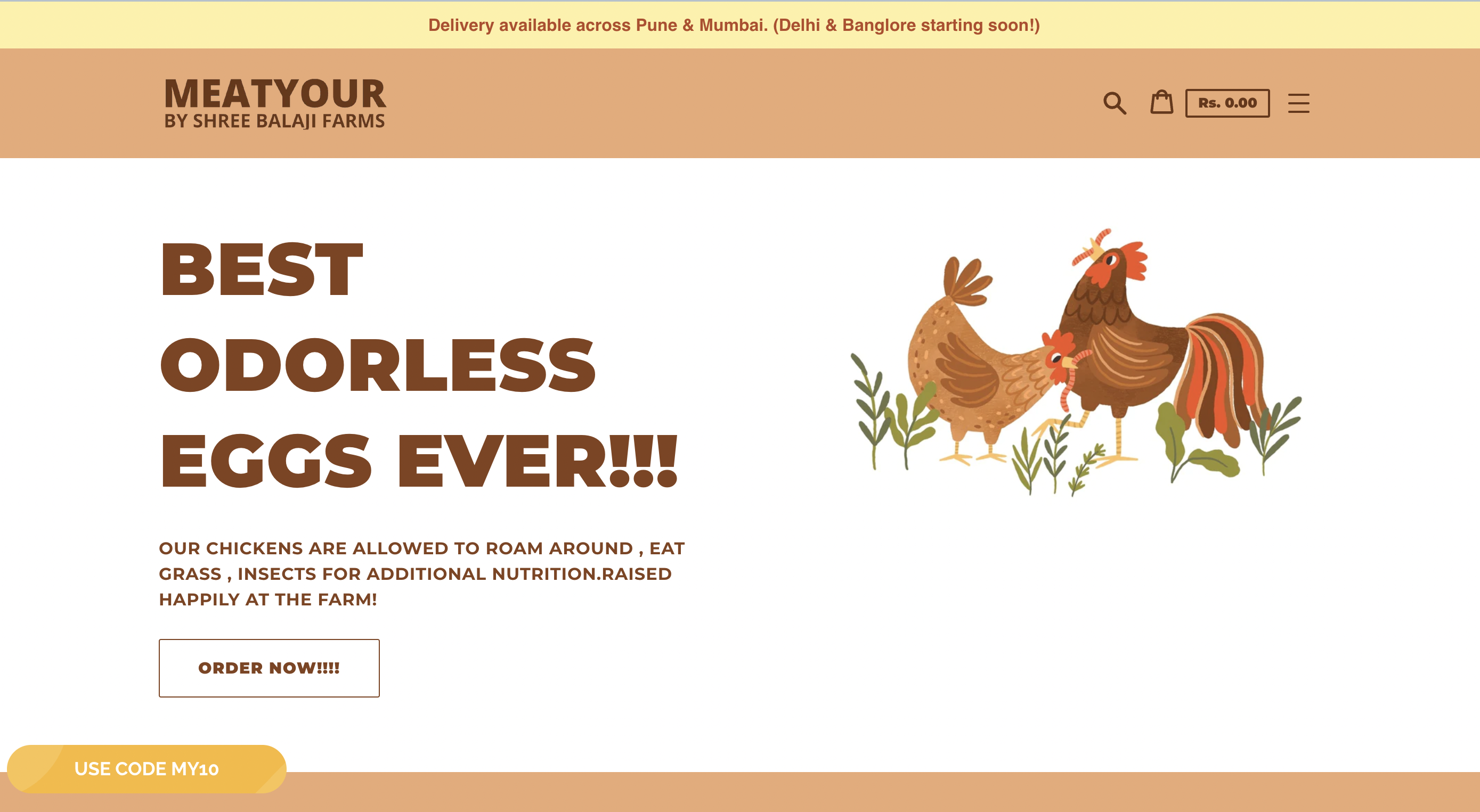 You can order the eggs from their Shopify website, subscribe to their egg boxes, and enjoy the odourless and fresh eggs daily. 
If you've been conscious about your water intake ever in your life, chances are that you've come across Beyond Water at least once. 
Beyond Water helps you create a healthy habit of consuming an ample amount of water every day. How? 
Well, they introduced water enhancers that elevate the taste, giving you a flavorful treat (and incentive) every time you consume water.
It's a flavour enhancer for water which you can use every day. The all-natural flavour and colour with natural electrolytes would help you consume more water.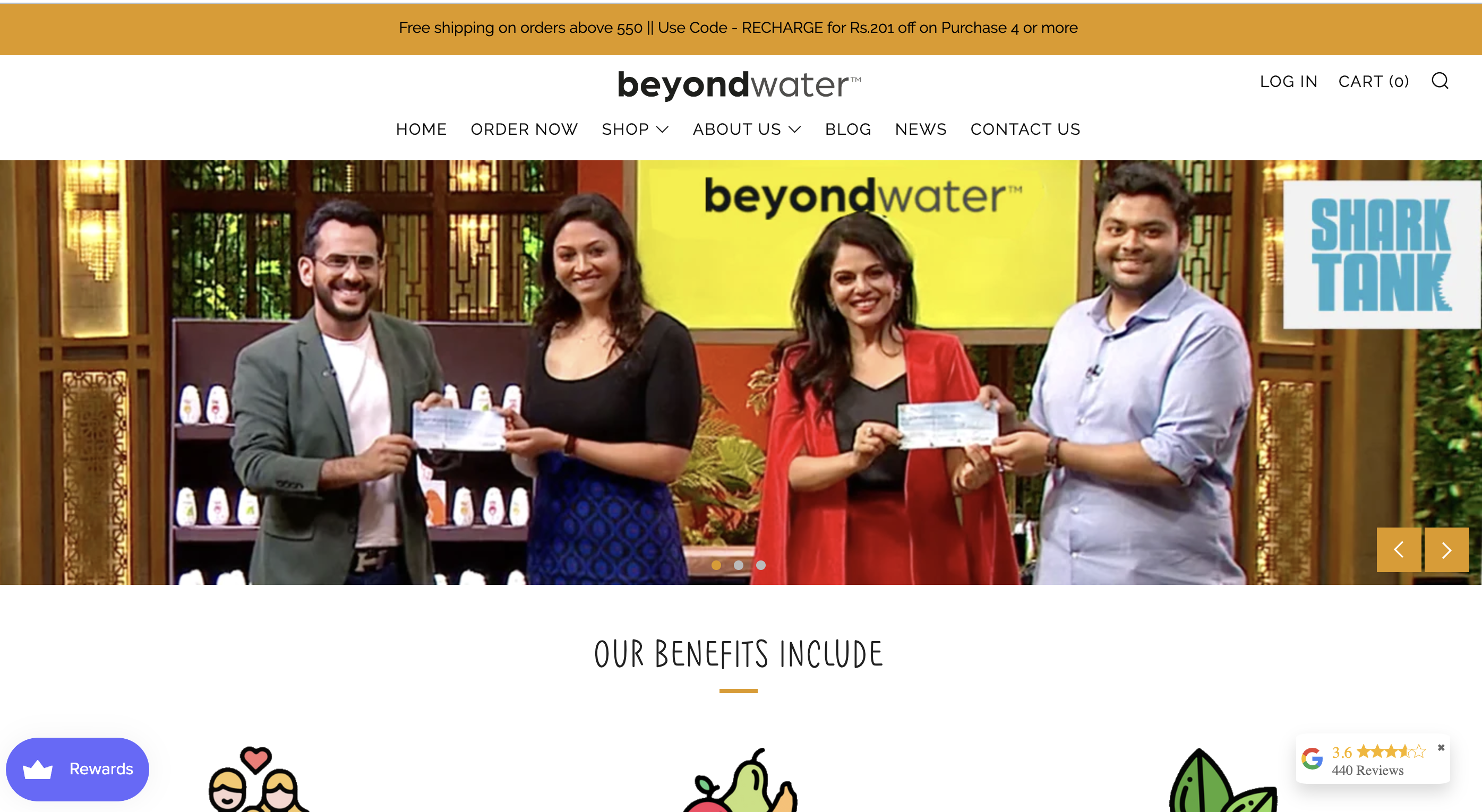 Beyond Water was also featured on Episode 16 of Shark Tank India Season 1. They received funding from Aman Gupta and Namita Thapar and have been growing steadily. They also use Shopify to run their online store. 
We all know how Skippi Ice Pops became a success story on Shark Tank India season 1.
Didn't hear about it? Don't worry! Here's everything about Skippi Ice Pops on Shark Tank India.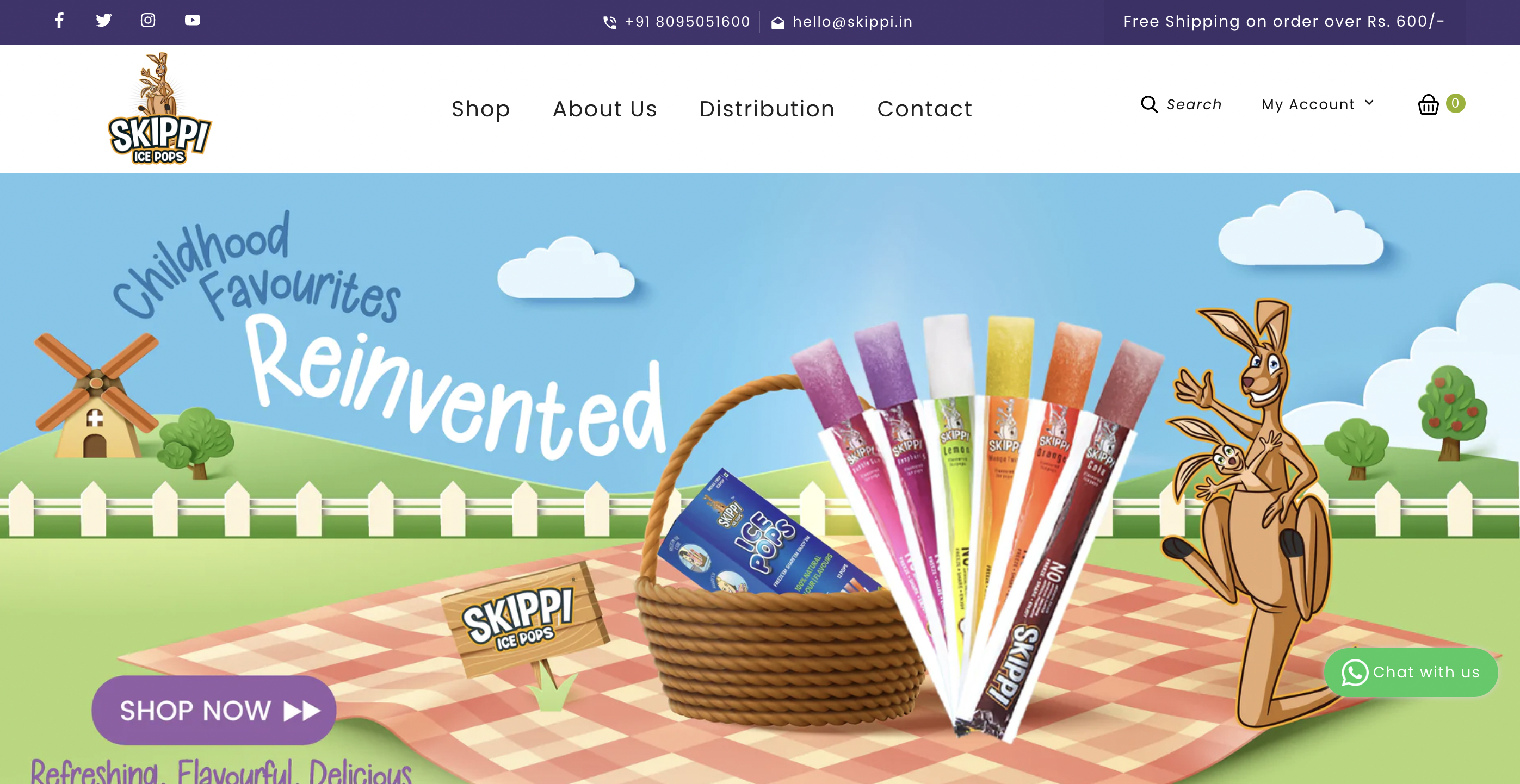 The popsicle brand has successfully packaged and delivered the nostalgia of cherishing a cold, sweet popsicle without any hygiene issues. Currently, they're using Shopify to run an online store and have registered an annual revenue of INR 4 crore. 
Beyond Snack is an interesting brand that offers an authentic, hygienic and flavorful range of Kerala banana chips.
The brand discovered that the banana produce in Kerala is thrown away due to underutilisation and thought of creating a branded range of banana snacks in India.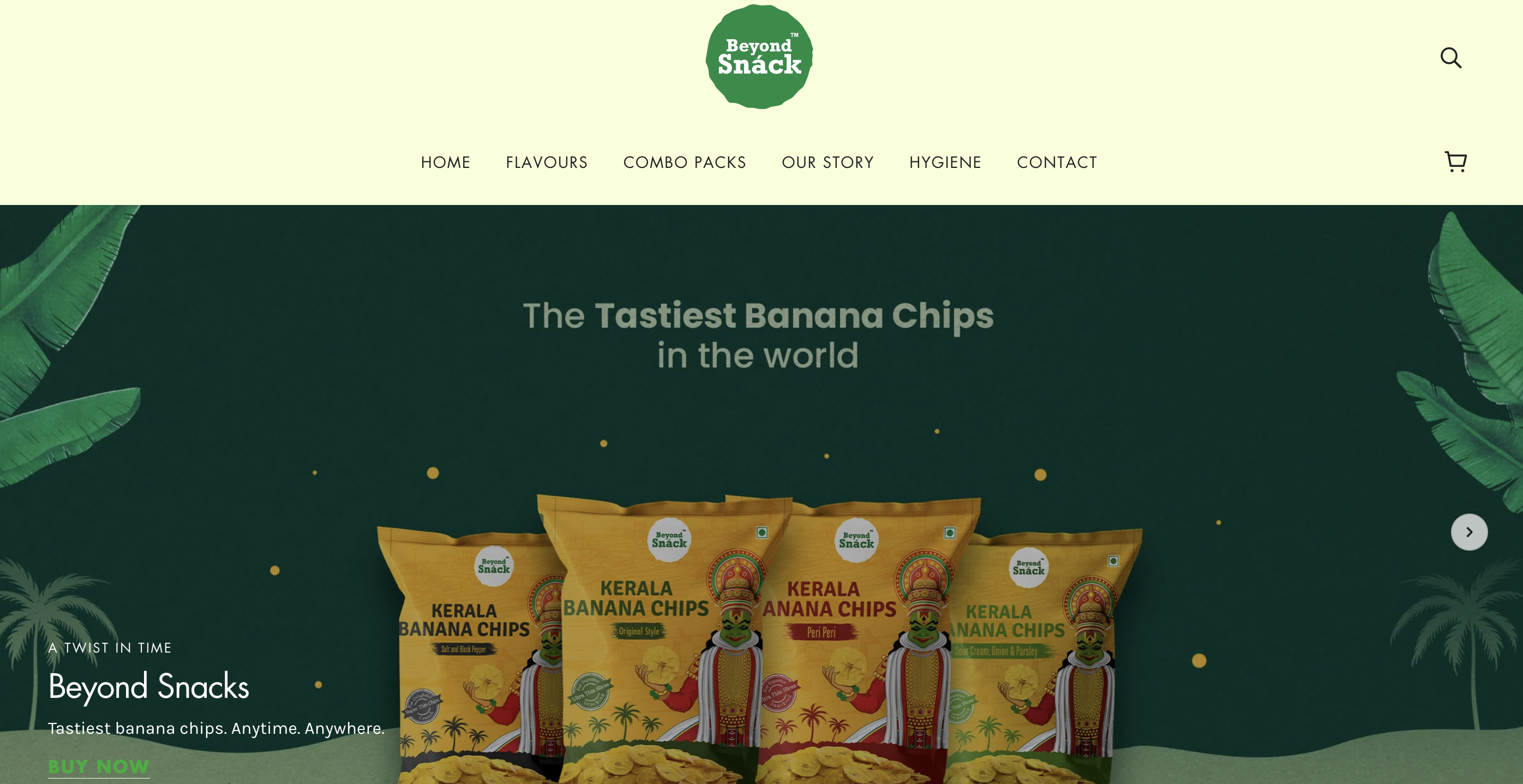 Today, the brand sells its products — Banana chips in four different flavours through its Shopify-based website, Amazon & Flipkart.  
Shopify isn't just for the tech-savvy, affluent or urban generation. Even aspiring entrepreneurs with limited capital — common men (or women, in this case) from small towns can use Shopify to launch an eCommerce brand in 2022. 
Jhaji Aachar is the perfect example of that. Coming from the hinterlands of Bihar, the brand by the women entrepreneurs became extremely popular after their appearance on Shark Tank India. Though they couldn't grab funding, they won lots of hearts and massive popularity after coming on the tank.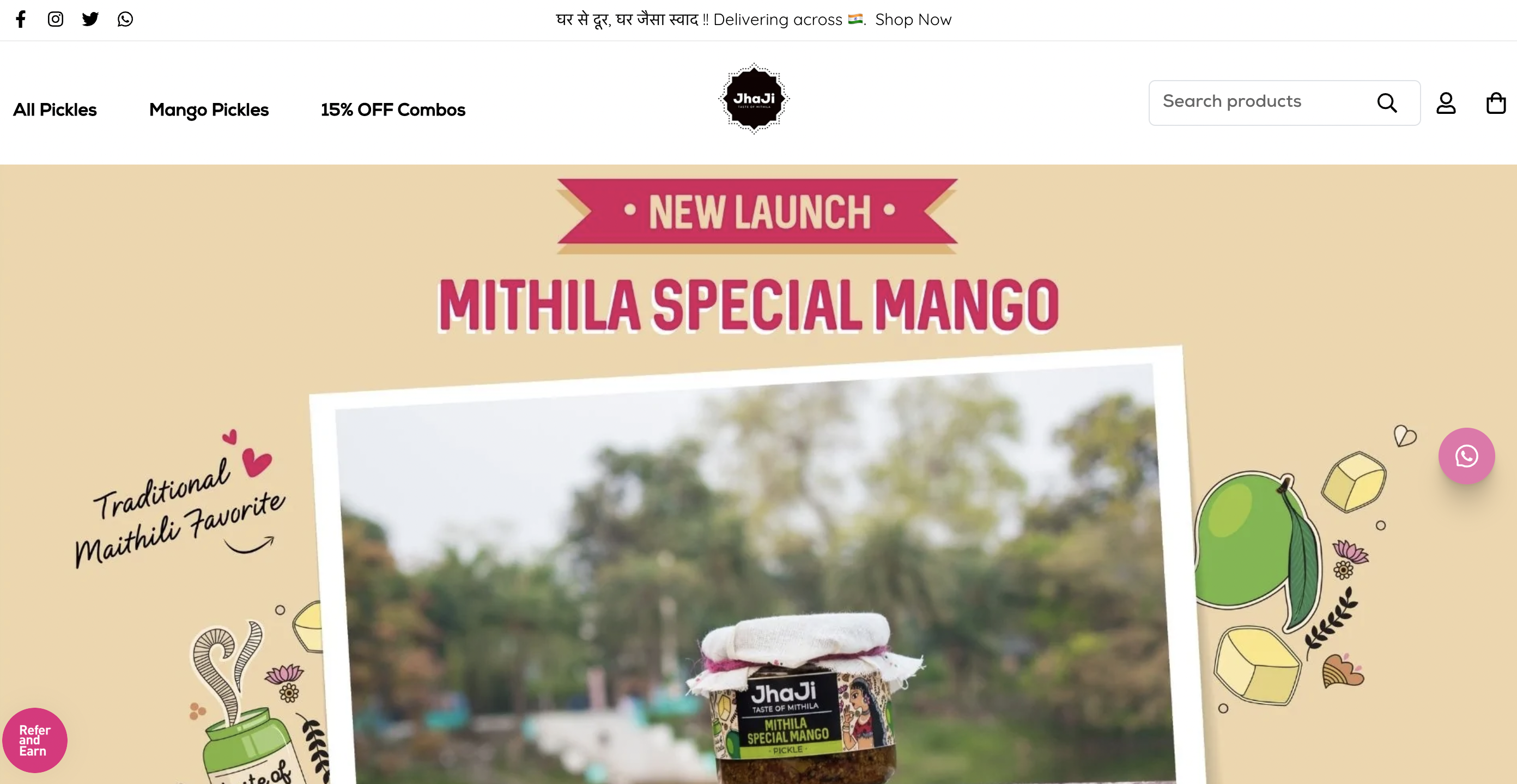 Jhaji Aachar sells homemade pickles and speciality preparations through their Shopify store and is growing rapidly, creating its own space in the Indian food D2C space. 
Gadget Shopify Stores in India
If you're into Gadgets and dream of starting a Gadget store on Shopify, here's some fresh and interesting inspiration for you. The following are top Shopify stores in India. Use them to understand what's required to launch your own gadget Shopify store in India
GoNoise - Popular Gadget Shopify eCommerce Website 
You must have seen Newspaper ads for top smartwatch brands recently on Page 1 of National Dailies. 
Well, it seems Noise had the vision to pull off 'the wearable story' a long time ago. Their founders Amit Khatri and Gaurav Khatri started this company in 2014. 
Initially started as a smartphone cases brand, Noise soon realized the growing demand for smartphone accessories and gadgets. The brand launched several smart wearables and wireless headphones including one of the first truly wireless earbuds — Noise SHOTS in India.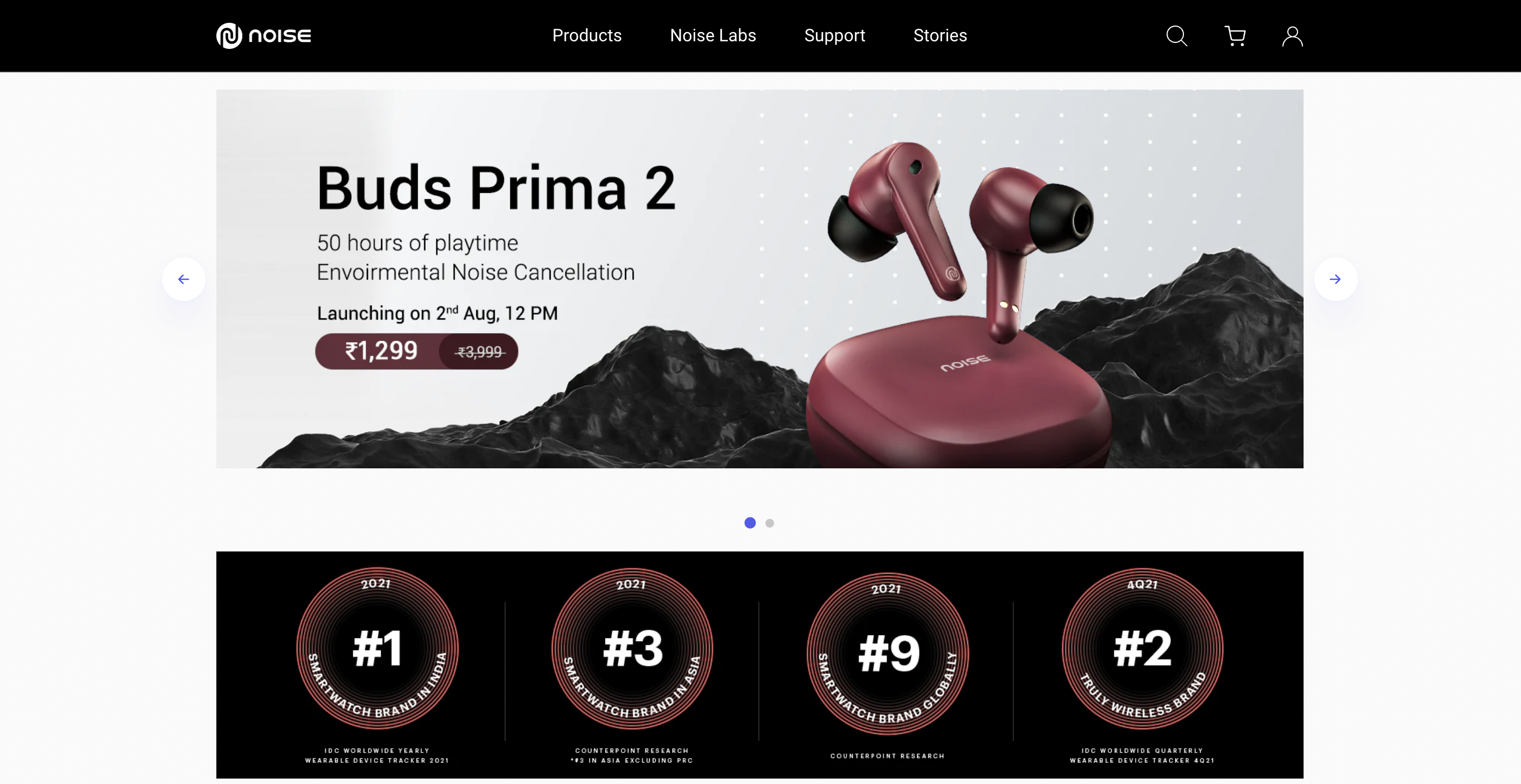 Their online store runs on Shopify and enjoys a great traffic from interested peeps looking for a premium experience from their wireless wearables. 
Headphone Zone  - One of the Oldest and Biggest Shopify Stores in India
Headphone Zone was India's first exclusive online store that started way back in 2011. The brand sells headphones, personal audio devices, and earphones to elevate the music listening experience of Indians. 
But don't take it as yet another gadget brand. They've been focusing on buying guides, value-based content, and on-call support to help music enthusiasts pick the right headphone or listening gear. 
Headphone Zone also started its retail operations in 2013 with stores in Bengaluru, Chennai, and Mumbai. 
Today, they have an active online community, a strong retail presence, and a massive Shopify store where you can find your next headphone easily.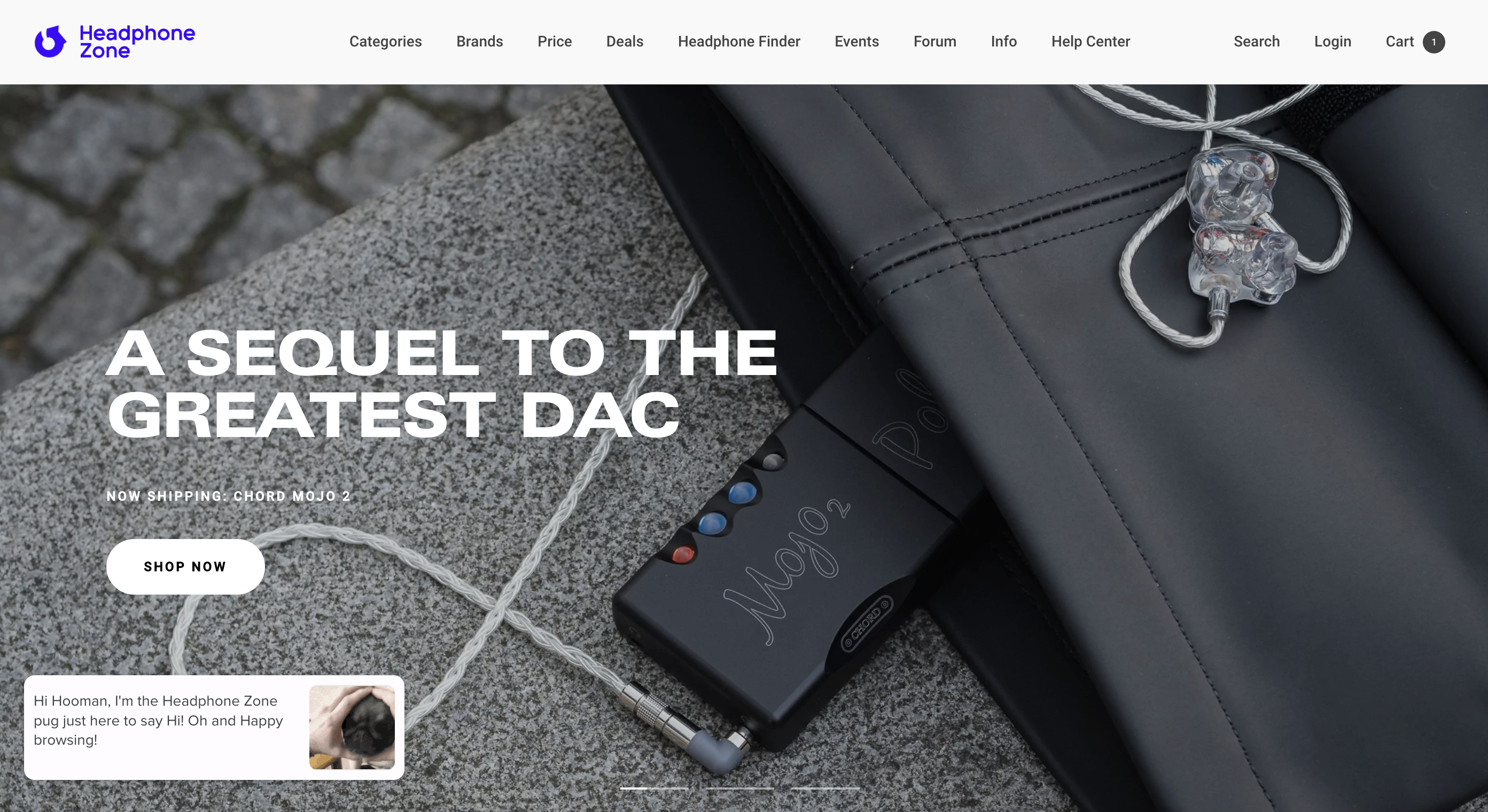 Their product pages can give you an idea about how you can showcase the most out on Shopify stores. 
Can you think that someone would pay you 1 crore for your Shopify Store?
Well, this happened with this brand. Hammer Lifestyle was offered an amount of 1 crore for the whole brand built on Shopify by Aman Gupta. 
Hammer sells athlesiure products — smartwatches, headphones, earphones, etc. via it's Shopify store.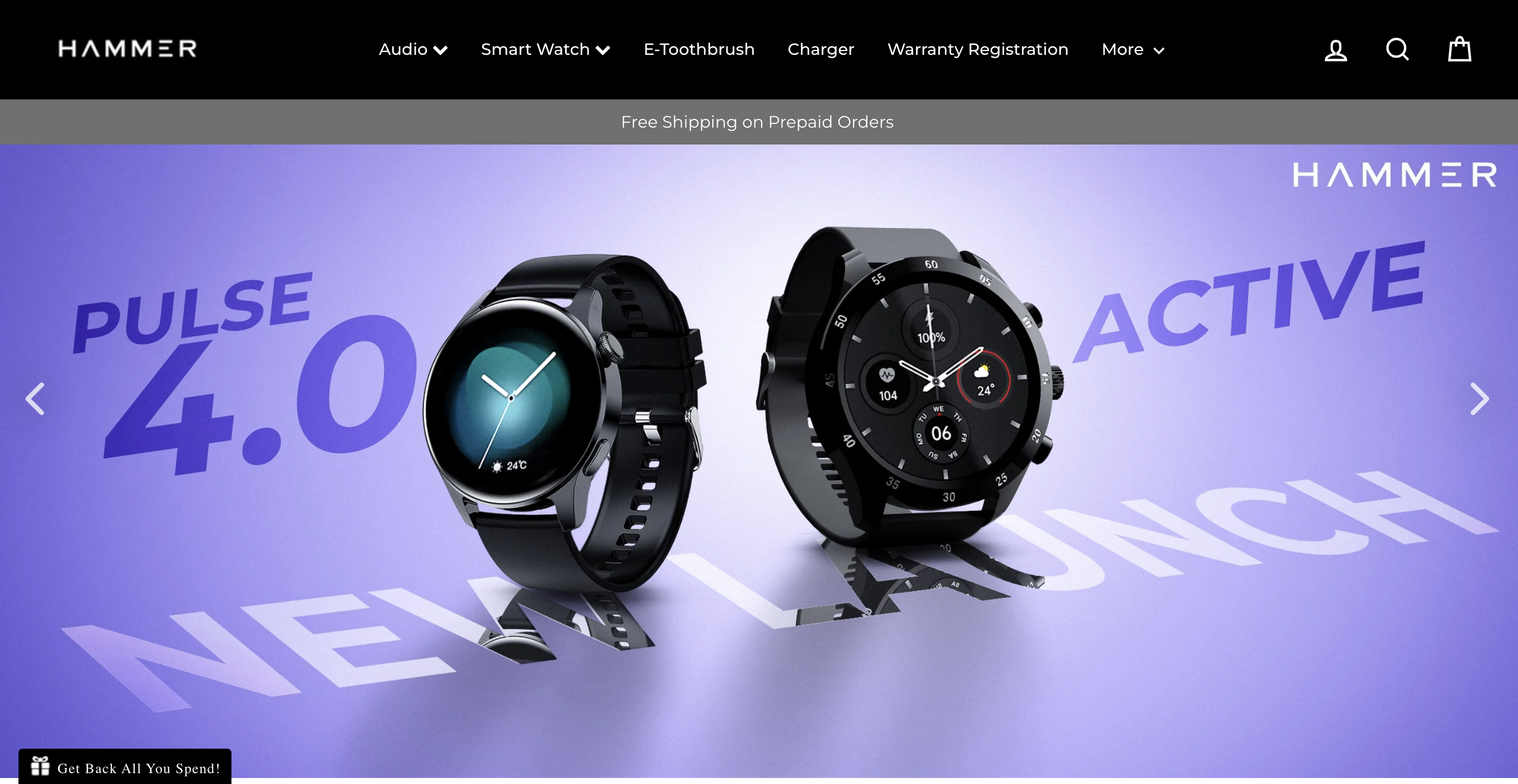 The brand has a large range of products and is using Shopify to manage its online eCommerce operations for a long time now. And you now know how interesting it can get if you think of starting a Shopify store in India.
Skin & Personal Care Shopify Stores in India
Shopify is a great solution for skin and personal care brands and you can quickly launch a store if you've got the right direction. Here are some of the top Shopify stores in the category you can use as reference. 
Auli Lifestyle - Popular Shopify Store in Skincare Category
Auli Lifestyle is an all-natural, chemical-free skincare brand you must have seen on Shark Tank India Season 1. The brand has a wide range of organic, Ayurvedic and natural skincare products for all skin types.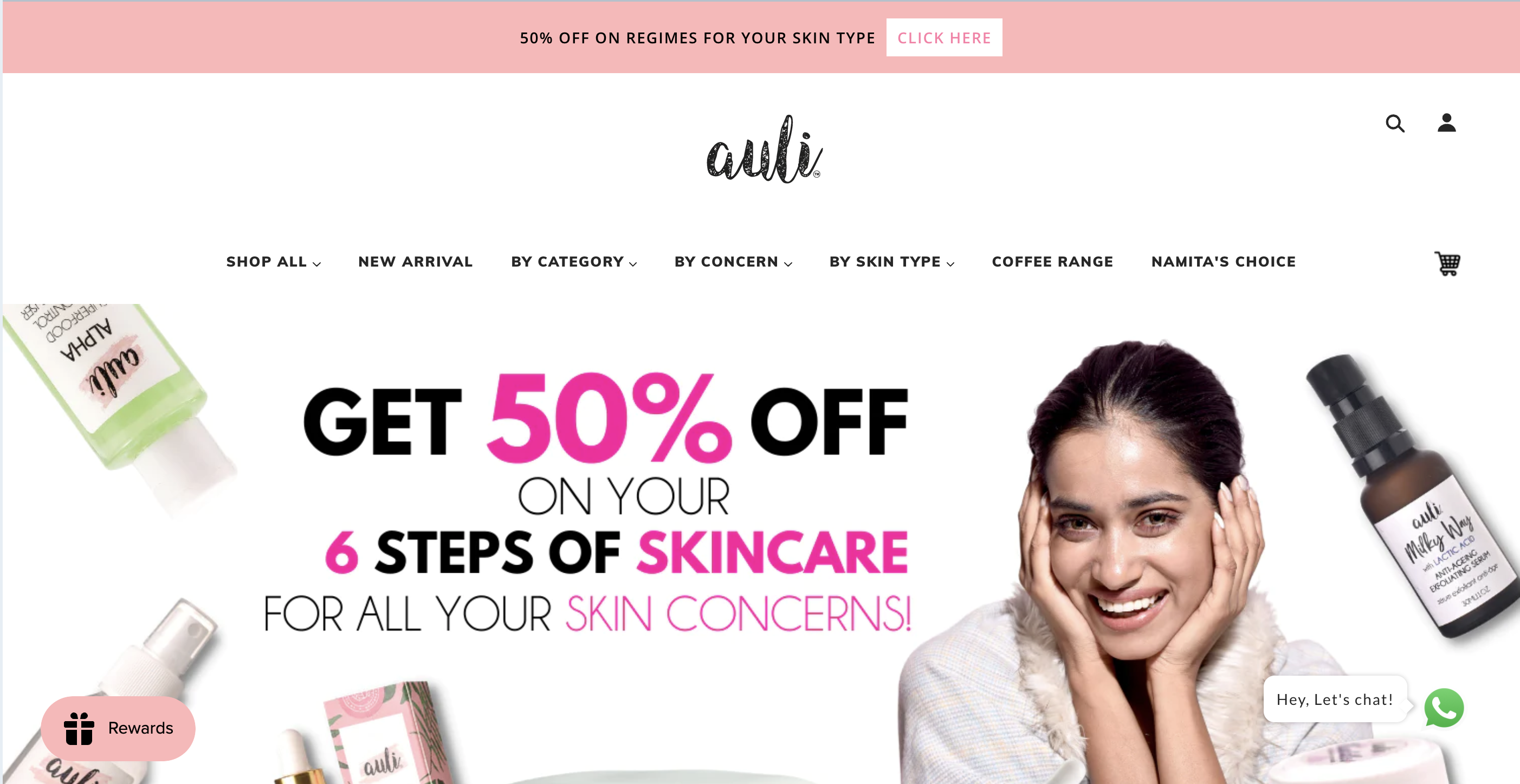 Based in Kolkata, the brand has a handsome customer base which keeps growing and uses its Shopify website to sell its products. The brand registered seven figures in revenue in the last financial year, most of which is through its Shopify-based website.
MCaffeine is another D2C brand using Shopify to host and run its eCommerce operations in India.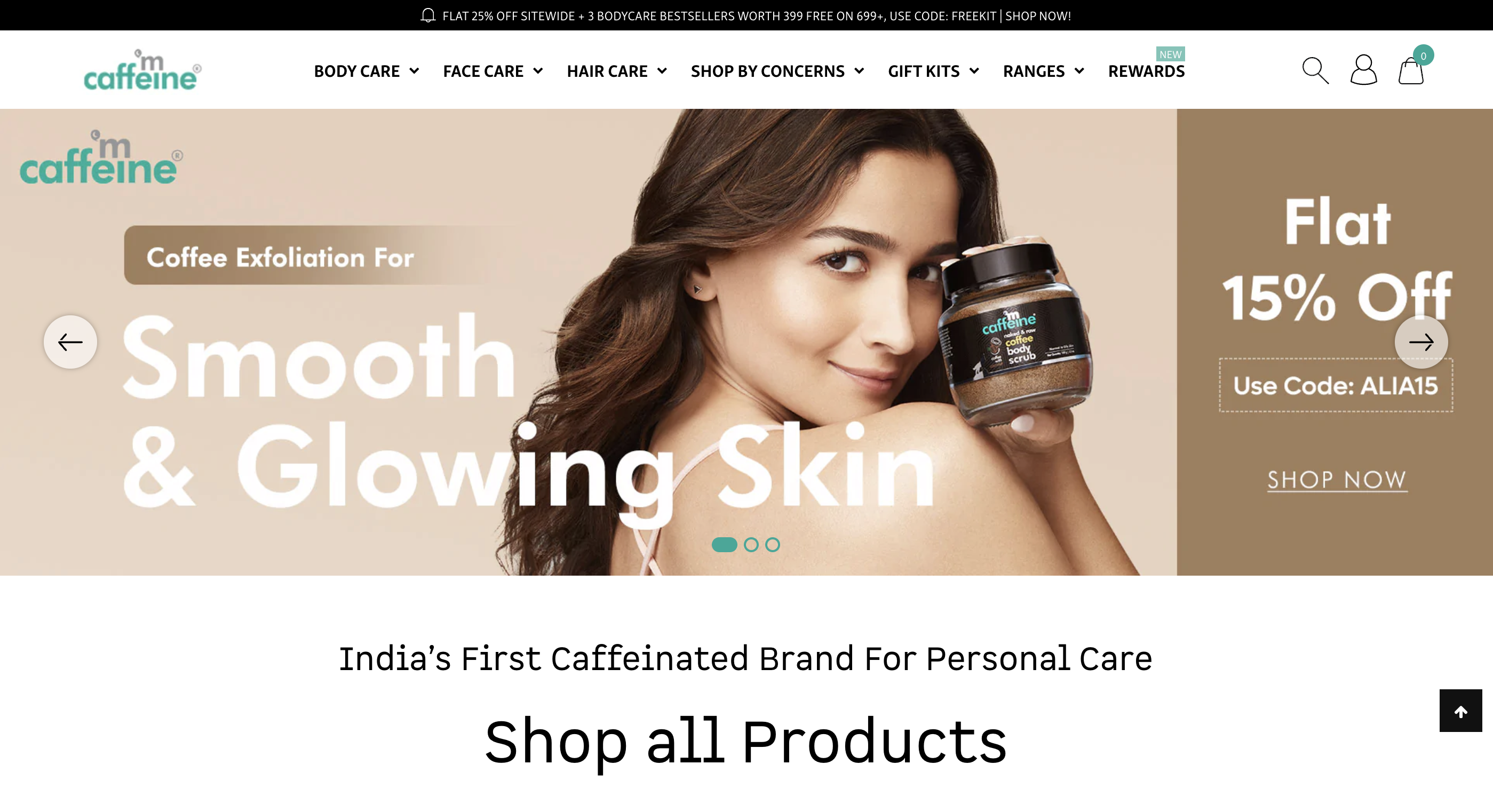 MCaffeine is India's first caffeinated personal care brand designed for young millennials. Built out of the personal experience of its founders, McCaffeine offers 100% vegan, cruelty-free, and dermatologically tested skincare and personal care products that are bold and highly effective. 
Staring a business is just like raising a baby — CosIQ literally showed us how it can be in their Shark Tank India pitch. The founder duo left their jobs and grew their business during the pandemic. 
Started by a husband-wife duo, CosIQ offers all-natural cosmetic products through their Shopify store.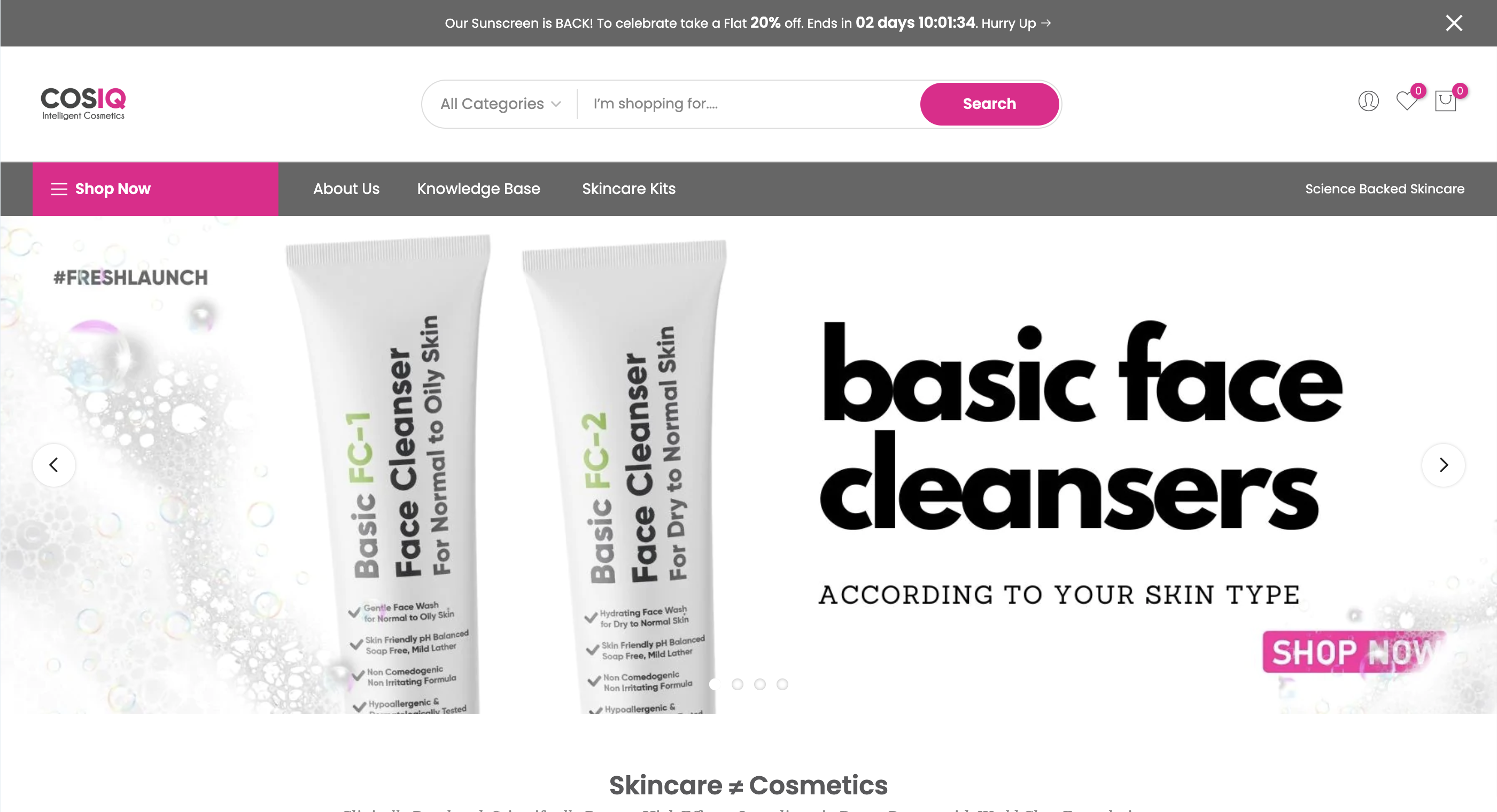 They managed to win funding from Anupam Mittal and Namita Singh on Shark Tank India Season 1 and are steadily increasing their operations and customer base. Watch their pitch to be inspired to raise and grow your business as a baby. 
Interesting Shopify Stores in India
If you're planning a unique eCommerce business and are confused if Shopify is the right fit, here are some unique Shopify eCommerce stores running successfully. 
Ariro is known for its thoughtful range of toys using Neem wood. The brand is on a mission to give children the joy of plastic-free childhood through its product range.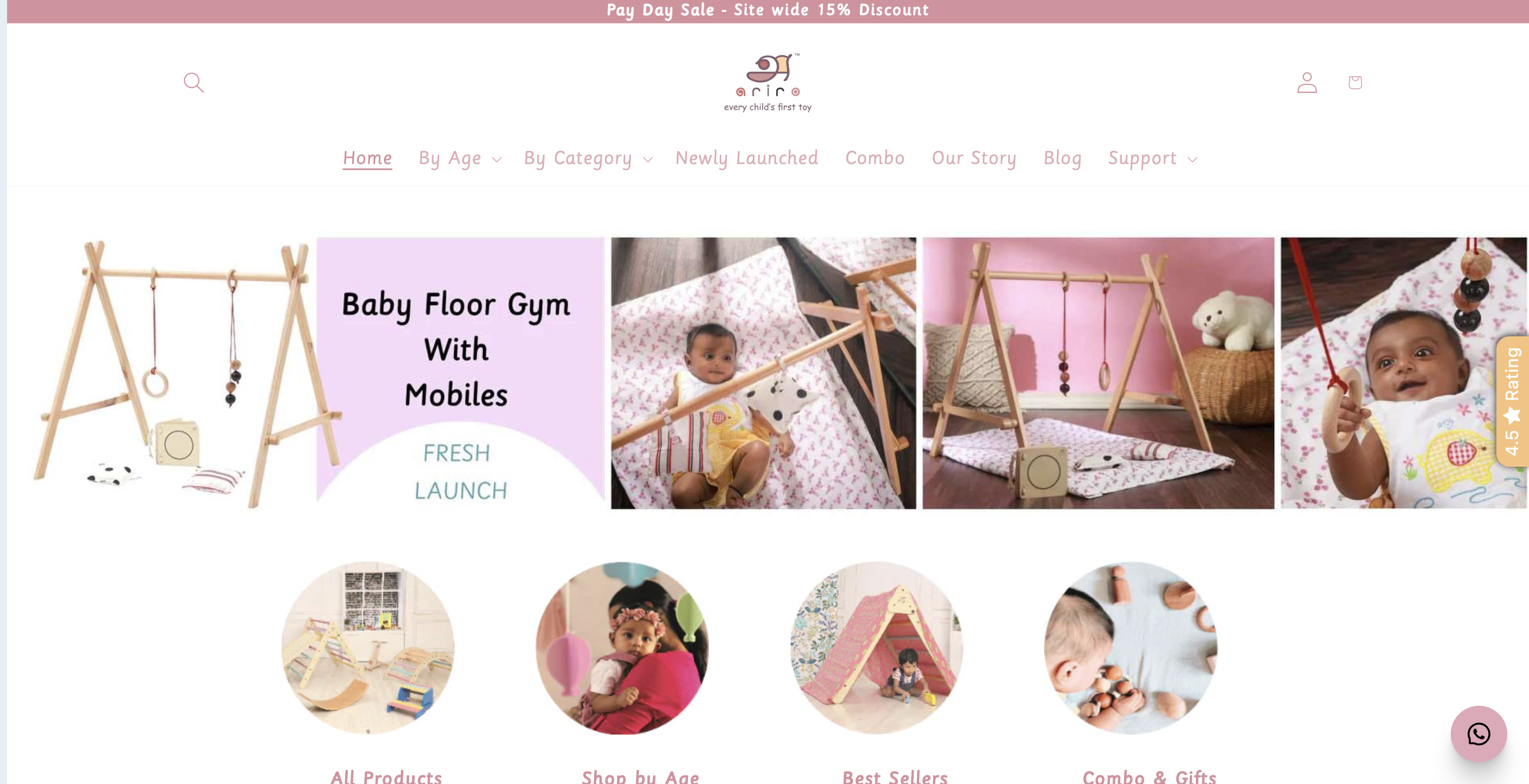 Ariro is using Shopify to run its online store, which generated 80% of its revenue in the last financial year. Ariro was also featured on Episode 9 of Shark Tank India Season 1
Heads Up for Tails - Pet Product Store on Shopify in India
If you have a dog or pet in your house, you must have looked upto Heads Up For Tails for your pet supplies.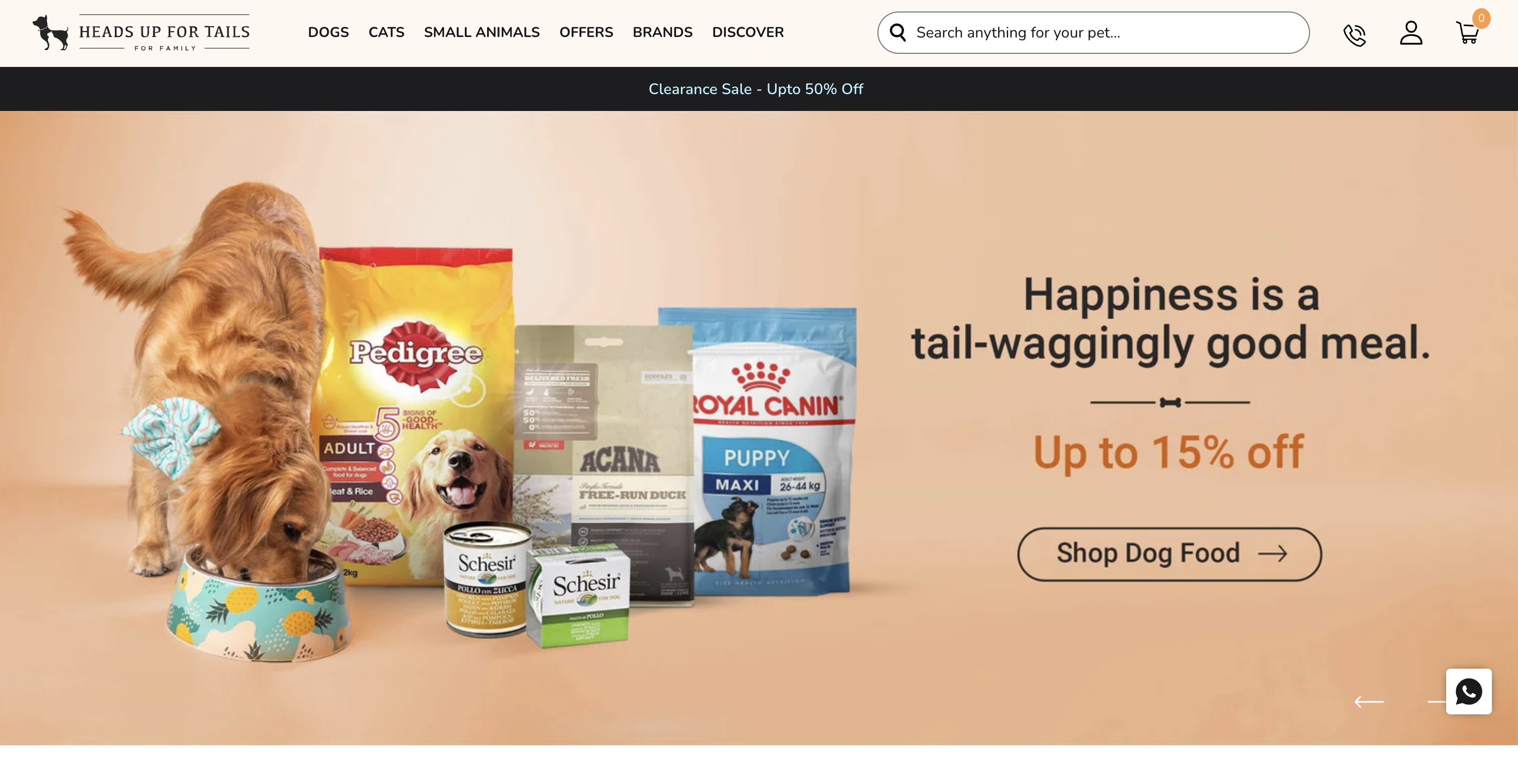 The premium online pet store has everything to pamper your pets. The brand has come a long way since it began operations as a small Kiosk in Select City Walk New Delhi. 
Today, it's one of the most revered names in the online pet community and runs a popular online pet supplies store on Shopify. 
Bajaao  - Music Equipment & Instrument Shopify Store
Bajaao is something you'd browse if you are interested in the music industry. The largest D2C brand for musical instruments and audio equipment in India, Bajaao offers all kinds of musical stuff on their Shopify Store.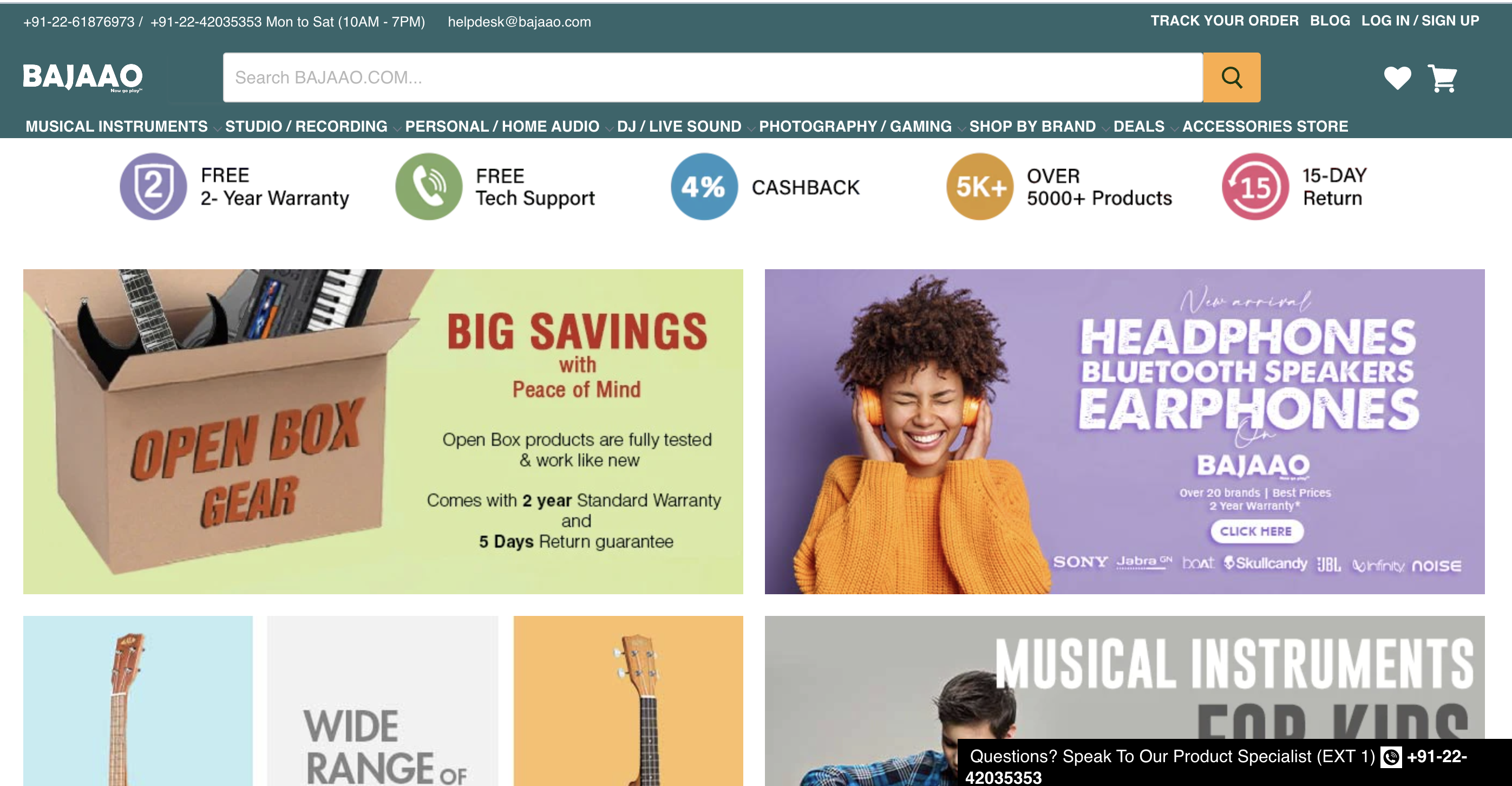 Started in 2005 (way before even Shopify came to the eComm scene), Bajaao has been featured among the world's top music retailers and has seen the online world of eCommerce bloom. 
BookBlabber is a new Shopify store that specifically caters to the love of Books. Created by Lazywriter Abhijeet Kumar, who hails from Bettiah, a small town in Bihar, the store features unique designs and merchandise for book lovers to show their swag.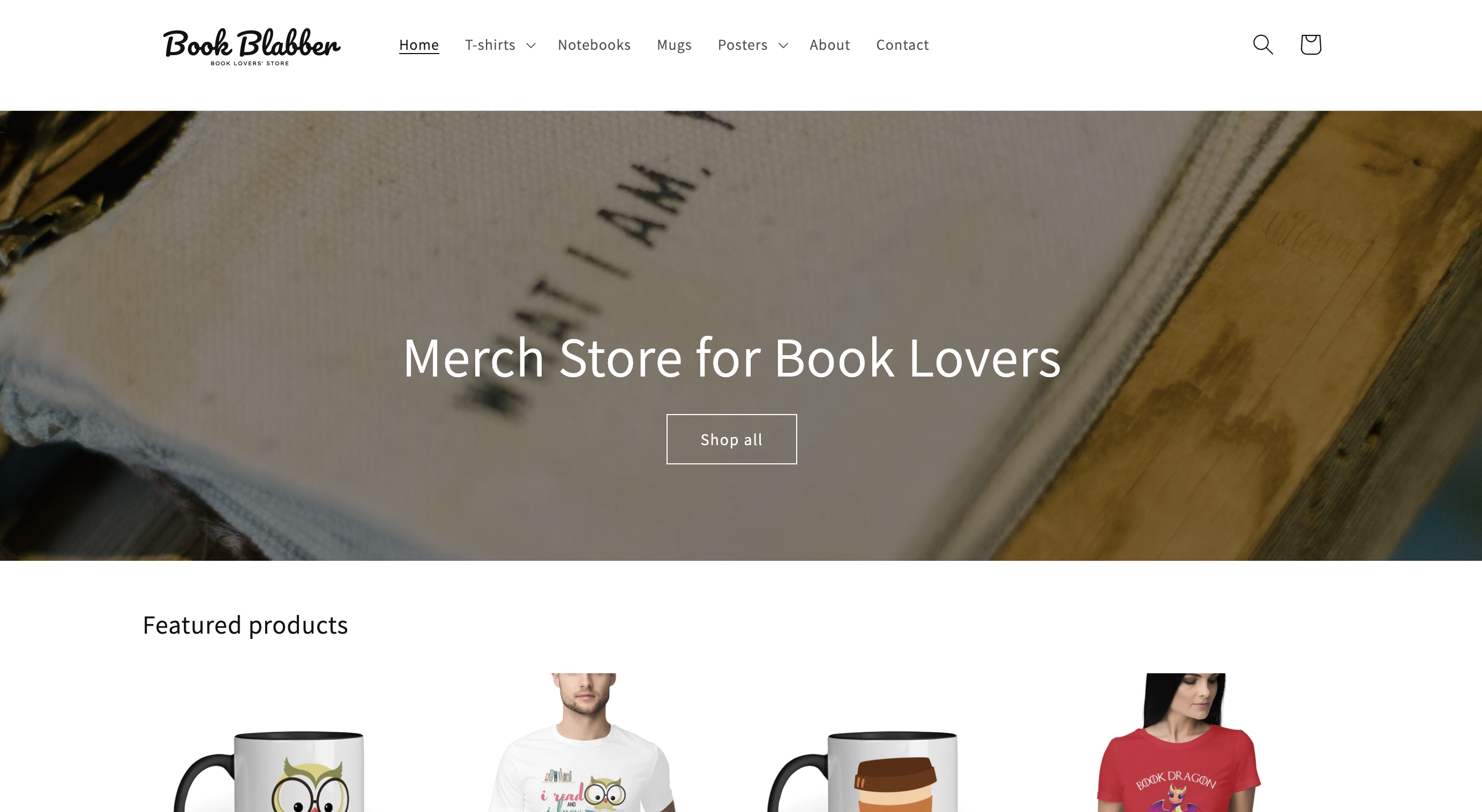 Abhijeet, a lifelong book lover, revealed, "I kept searching for T-Shirts to wear that had quirky quotes for a long time but failed to find a store in India. The only ones I found were costly US-based Shopify stores that didn't appeal much. So, I thought, why not start my own store, and Shopify was really a life saver. I was able to launch a Shopify store within days once the designs were finalized." 
Abhijeet's story aptly objectifies how easy it is to start a Shopify store if someone has a great idea that caters to a growing market demand. 
Bookblabber currently dropships merchandise using third-party supplies and is constantly adding to its design bank. Are you a book lover looking for special merch? Have a look at Bookblabber Store Now
Frequently Asked Questions about Shopify Stores in India 
How many Shopify stores are active in India? 
There are almost 41,000+ Shopify stores in India according to the available figures in public domain. These stores run successful eCommerce business, dropshipping stores, or D2C brands using Shopify in India. 
How to start a Shopify store in India? 
Starting a Shopify store is quite simple. You just need to sign up for a Shopify account to get started. In case you need step by step guide, check our Shopify Guide and get everything you need to know. 

Inspired Already? Start your Shopify Journey, Today! 
As you've seen, Shopify is a great tool for launching and running your D2C brand, eCommerce Store. If you'd have observed, many Shopify stores in India were featured on Shark Tank India and received great response. 
That's a great validation point for starting a Shopify store in India in 2022. So, what are you waiting for? 
Also Read: