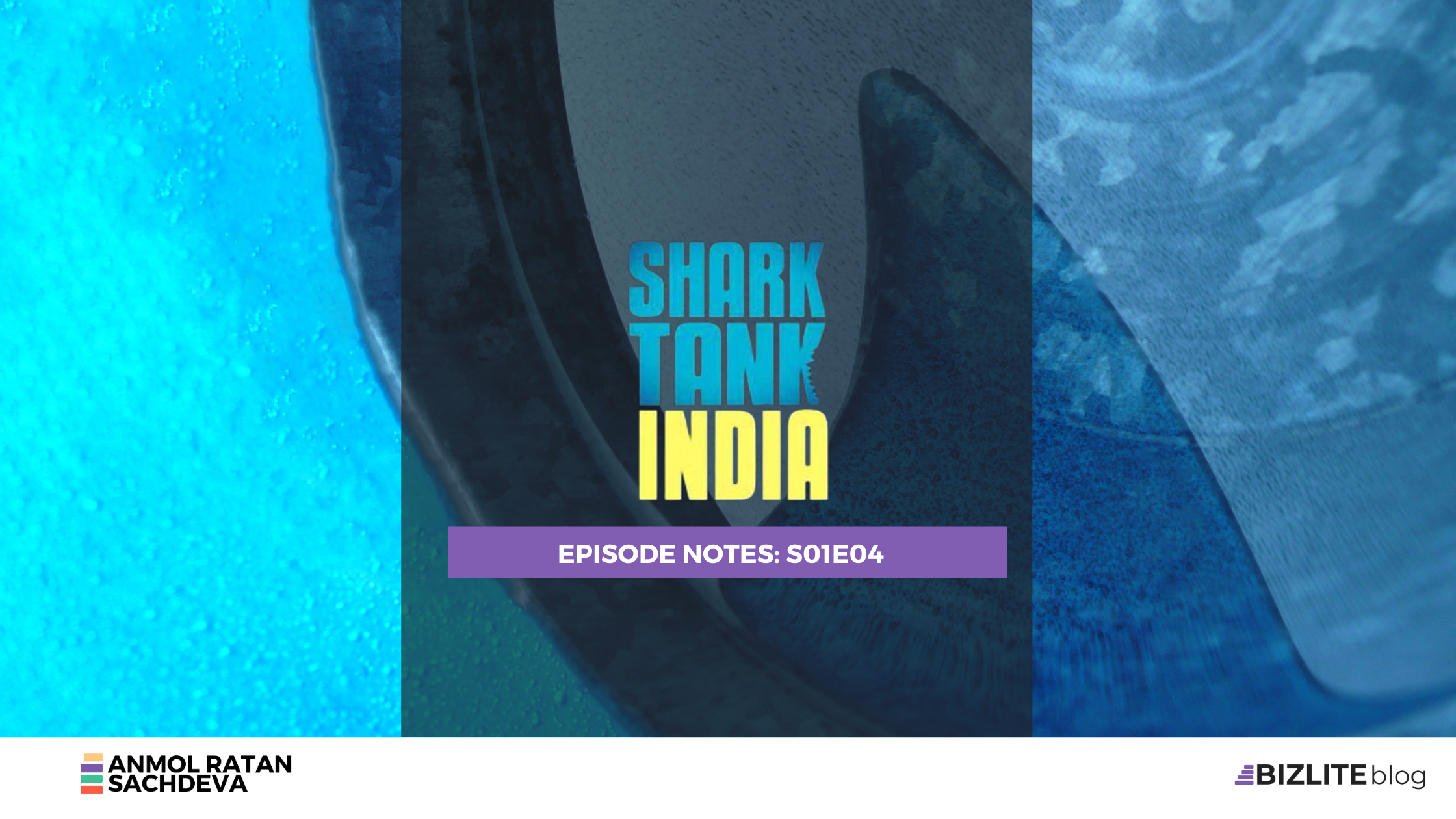 CosIQ came with an ethical and intelligent skincare range on the tank. The founder couple - Kanika and Angad married in 2019 and when everyone forced them to have a baby, they made CosIQ - a company they treat like a baby. 
They wanted to make a skincare brand that focused on actual results and could change the way skin care regimen is seen in India. 
Their best-selling product is a sunscreen that gets absorbed in just 10 minutes and they also launched India's first 2-ingredient vitamin C with 2-year shelf life, for which they were applauded by Vineeta Singh - an expert in the industry herself. 
Brief Profile
Company Name: CosIQ (Cosmetic + Intelligence Quotient) 

Website:

https://mycosiq.com

 

Started in: 2021

Founding team:

Kanika & Angad
Did CosIQ get funding at Shark Tank India? 
Ask: 50L for 7.5% equity

Got: 50L for 25% equity 

Sharks who invested: Anupam and Vineeta 
There were deep discussions in the tank about the brand's future, sales figures, and potential. In the last 4 months, they registered 11 Lakh sales out of which 90% was online. With a gross margin of 75% and 20% net profit, the brand looked promising. 
But Ashneer's comments on the brand name - felt like a Chinese TV brand started the grilling. Angad, the founder, welcomed criticism with open arms and said that they were open to changing anything and everything to make things work. (In his words, bacche ka naam bachpan me change kar lia jae to acha hi hai). 
Namita found the sunscreen to be a bit sticky and was out right away. Vineeta shared her concerns about the valuation but liked the product a lot. 
They got a good response from all the sharks otherwise and had multiple offers on the table: 
Vineeta Singh: 20L for 20% + 30L Debt at 12.5% interest

Anupam: 50L for 20% equity 

Ashneer: 75L for 33.33% equity (More than they came asking for) 
After they left the tank for an internal discussion, and were ready to accept Anupam's offer, they got some new offers. 
Anupam was ready to come in with Vineeta at 25% equity which would give them the expertise of two sharks, and Ashneer gave a solo offer of 75L for 25% . They tried countering at 20% with Anupam and Vineeta, but in the end, happily accepted Anupam's and Vineeta's combined offer- 50L for 25%. 
One of the most inspiring pitches till now came from an enterprising nanad-bhabhi duo from Darbhanga, Bihar. 
They started the pitch emphasizing the importance of pickles in Bihar and how they thought of taking the special taste of homemade pickles to the world with an online store - Jhaji- Taste of Mithila. 
Their specialty: traditional homemade pickles, sundried in the most natural way without using any preservatives or chemicals. In just 3 months of launch, they found 2500 customers on their online store. 
Brief Profile
Did Jhaji Store get funding at Shark Tank India? 
Ask: 50L for 10% 

Got: Nothing

Sharks who invested: NA 
Every single judge liked the taste of their pickles. And their story was appreciated equally by everyone. 
Aman loved the fact that they're doing all this from a small town in Bihar. Anupam was curious about branding and online marketing. Their son - an IIT Delhi student helped them launch and promote this brand in NCR. 
With 5.14 lakh sales last month and an average order value of INR 600, they had a monthly profit of INR 70-80k.  
Unfortunately for them, their impressive journey and a small business story failed to make sharks interested in a deal. Namita was the first to opt out because of their lack of experience. Ashneer asked the founders to focus more on being profitable and improving the shareholding pattern. Vineeta felt the valuation to be a bit too high. Aman was mildly interested, but in the end, he chose to stay out, as Anupam. 
All the sharks wished them the best but felt that the business was not investable at present. 
Bummer's pitch can be called one of the most colorful pitches on the Tank. A quirky underwear brand from Ahmedabad, Gujarat, Bummer brings fashion, comfort, style and colors to the hidden (and dark) world of inner wear for men and women. 
Bummer's founder told how he invested a lot of time and found the perfect material-colour combo to launch a unique and eye-catchy range of inner wear. 
Brief Profile
Did Bummer get funding at Shark Tank India? 
Ask: 75L for 4% equity

Got: 75L for 7.5% 

Sharks who invested: Namita and Aman
The tank heated up for the first time in this pitch. Ashneer got quite vocal after seeing Sulai's pitch focused on only two sharks - Aman and Vineeta. According to Ashneer, the founder's two-faced nature (of getting funding from B2B venture earlier and showing that he's just focused on D2C investor in the tank) is what's wrong with the pitch. He opted out as he felt the pitch was disrespectful. 
Aman advised the founder to be respectful to all the entrepreneurs and not to be blindsided (even if you're focused on one shark). Aman and Namita collectively offered to invest 75L for 15% which Sulai countered for 6%. At the end, he grabbed a deal with both of them for 7.5% equity. 
What do you think about Shark Tank India Episode 4? 
The episode showed the true side of Shark Tank on Indian reality TV. It's not a sure shot way to get funded. The sharks, though are there to mentor, but first, they're sharks and they'll bite if you're not prepared well. 
Remember, the show isn't an Investor Tank. It's Shark Tank, and it can get heated up. You should see Kevin O' Leary's comments on Shark Tank US if you felt Ashneer was loud (and disrespectful) to any entrepreneur. The debate about the value and format is ripe on Twitter with the sharks receiving a lot of flack for what they are portraying on-screen.
What do you think about the episode? Share your thoughts on our social media handles - follow our Instagram handle or join Shark Tank India daily WhatsApp group for instant updates. 
Stay tuned for episode notes, pitch commentaries, and more updates on Shark Tank India. 
While you're here
Check out our recent posts on Shark Tank India