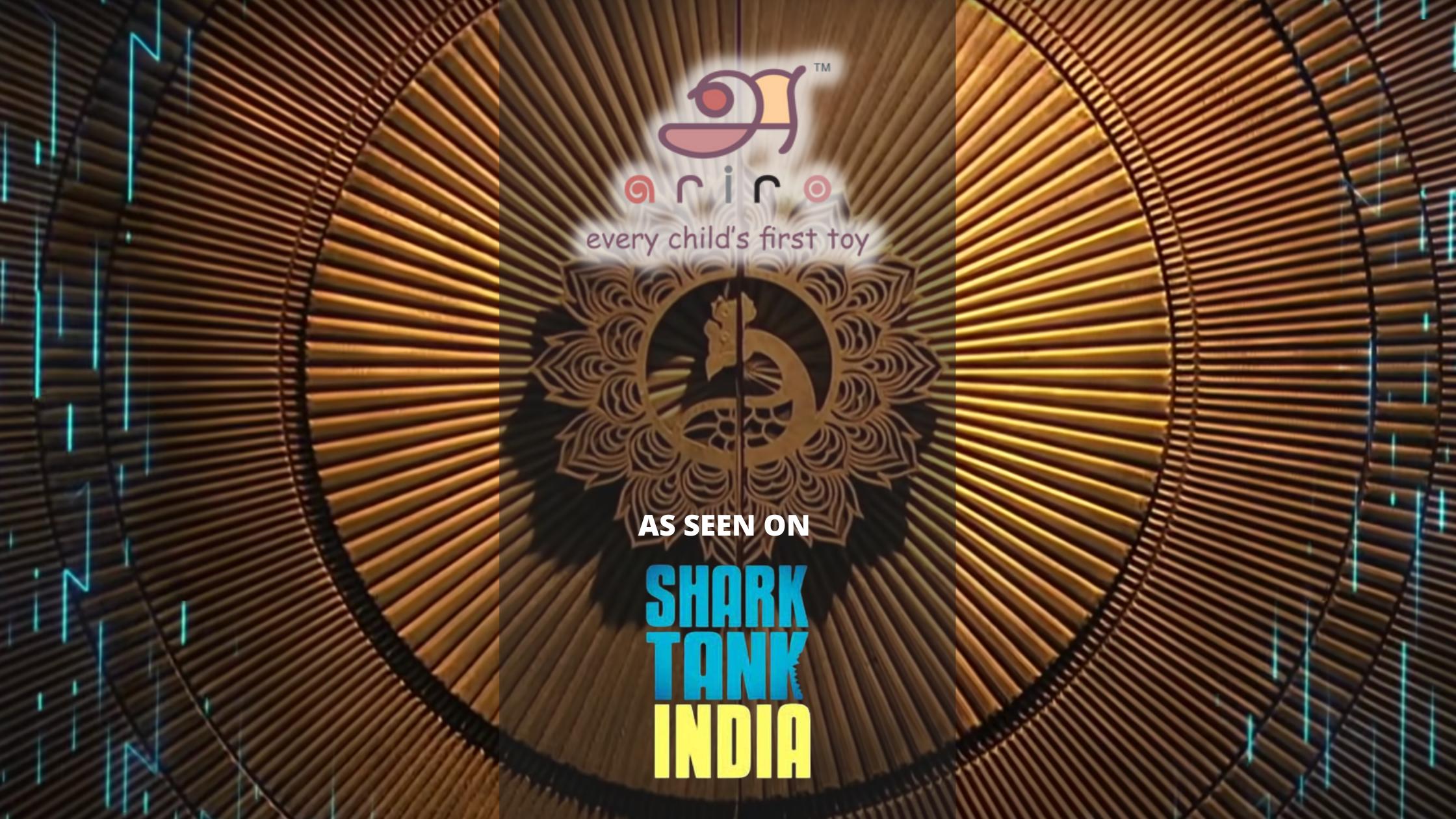 If you've spent your childhood in a village, town, or even a Tier-II city, you'd definitely have at least one toy made of wood. Remember the popular song about 'lakdi ki kaathi'? 
Well, Ariro brings the same joy of playing with wooden toys for toddlers and kids. They manufacture toys made from neem wood and were featured in Episode 9 of Shark Tank India Season 1. 
Designed for kids aged 0-3 years, Ariro has a wide range of toys including teether, picklers, triangles, jungle gyms, and more. 
Ariro Toys: The Story & Brief Brand Profile 
Ariro means lullaby in Tamil sung by people when a baby is born. If you look at Ariro's logo, you'd observe that it's a blend of Tamil and English. 
Ariro was founded by Chennai residents Vasanth Tamilselvan and Nisha Ramasamy. Ariro's founding team claim that a kid consumes one credit card's worth of plastic every month. 
When they had their first kid, they decided to ditch plastic toys and hired a carpenter to create wooden toys. They wanted something durable and safe because toddlers have a habit of putting everything in their mouths. 
They got some wooden teethers for their daughter and a few other toys, which their daughter and her friends completely enjoyed. After finding a product-market fit by researching and experimenting with kids around them, they finally launched Ariro in the market in the year 2020. 
The brand products are available through their online platform — a Shopify-based website and across 43 stores all over India. 
Ariro Toys: Product Features
100% free from plastic 

Safe and hygienic 

Made using Neem wood 

Designed for kids between the ages of 0-24 months
Ariro Toys: Brand Trivia
Parent Company Name: Ariro Pvt. Ltd. 

Founders: Vasanth Tamilselvan and Nisha Ramasamy

Website:

https://arirotoys.com/

Available on: Online platform + 43 stores across India

Pricing: Different price range 
Ariro on Shark Tank India
Ariro entered the tank in Episode 9 with a pitch of 50 lakh rupees for 2.5 percent. They were seeking sharks' skills more than money. After several offers from all the sharks and subsequent discussions, Team Ariro accepted the offer of 50 Lakh for 10% by Aman Gupta and Peyush Bansal. 
According to their own pitch, Ariro registered a sale of INR 2.5 crore in the last FY and their Shopify website accounts for 80% of the revenue. Rest of the revenue is generated from partnerships with preschool brands and toy brands like Hamleys India. 
Featured in: Episode 9 of Shark Tank India 

Ask: 2.5percent equity for 50 lakhs

Funded By: Peyush Bansal & Aman Gupta

Equity/Funding: 50 lakhs at 10 percent equity
Thinking about launching your own Shopify Store like Ariro? Here's how you can get started with Shopify in India.