New Tech
The Ultimate Twitter Automation Hack: Create Content for a Month in Just One Hour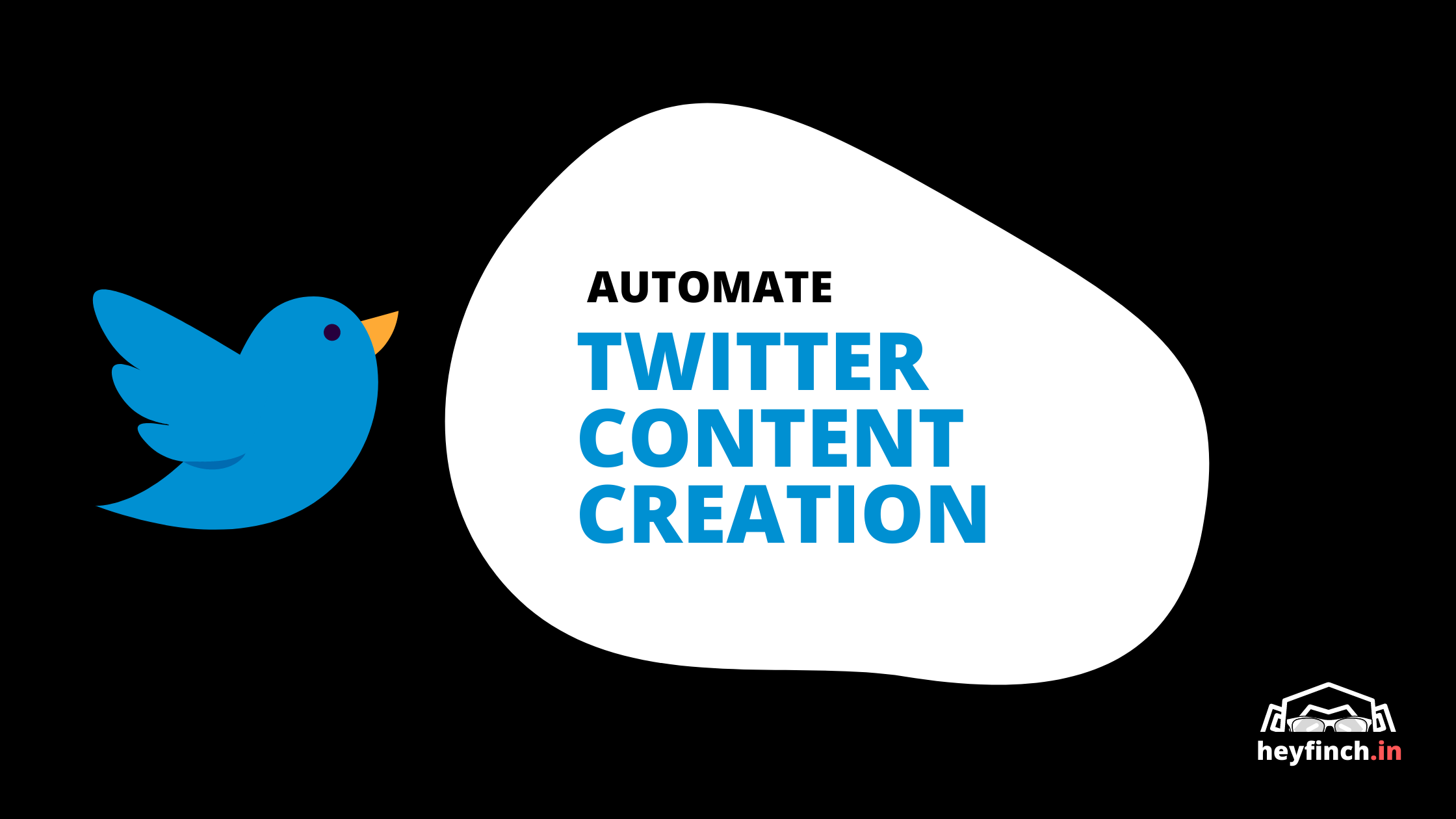 Everyone's off to Twitter. And Elon Musk isn't the only reason. 
True that Elon Musk's interest in Twitter has spiked up user interest in being active on Twitter once again. But otherwise too, Twitter has been quite popular in India, since the lockdown ended.  
All sorts of content creators — LinkedIn Influencers, Instagram creators, are not being more active on Twitter. But wait. Twitter isn't only for these people. 
And many of these are using Twitter automation tools like TweetHunter to create content at scale, grow their following, and monetize their following, too. 
As a B2B business owner, startup, indie creator, or freelancer, Twitter can open a gold mine of opportunities for everyone. 
But creating content is already a challenge. Top it up with the cost of tools like TweetHunter and similar automation tools, and you are stuck with the same challeng — adding one more channel to the content calendar. 
Psst… don't make the mistake of just copy-pasting your existing posts on Twitter. It won't work. 
So, how do you create more content without adding more to your woes? 
Don't worry, here's a full-proof technique to create months' worth of content within hours. So, let's begin. 
But before we start. Let me clear some air on the techniques and tools, we'll use for creating content: 
We'll be using an AI content creation tool called ClosersCopy for creating the tweets at scale 

AI content isn't penalized if you add context, your own research, and personalize everything for your target audience 

Automation is great but you should ideally keep a balance between automating social media and staying active personally. 
Now, let's begin. 
Step 1: Log in to ClosersCopy 
ClosersCopy is an amazing AI writing tool which is most suitable for the use case — creating custom tweets for your niche. 
The reason? 
It allows you to create custom frameworks based on sample data/best practices, etc. without any limits. 
Though other tools like Jasper also has recipes, but the price point can make it limiting for solopreneurs, small businesses and freelancers. 
On the other hand, ClosersCopy's lifetime deal makes it the best and most affordable Jasper.AI alternative out there. 
Anyway, you need an active ClosersCopy subscription (or lifetime unlimited account) to use this tactic. 
Don't have the subscription yet? Use this link & code YEAR2 to get access at 22% less than the market price. 
Once you buy the tool, log in to your dashboard. Create a new document and open the same. 
Step 2: Choose a Pre-trained AI Content Creation Bot 
ClosersCopy has several in-built frameworks which work as templates to help you leverage the AI tool effectively. 
A framework is just like an AI bot which has been trained in a particular use case, in this case, trained in writing tweets related to your industry. 
Open the Frameworks tab on the left side to access the frameworks library within ClosersCopy. 
Search for 'Startup & Marketing Tweets — Build, Improve & Grow' 
This framework has been trained with top performing tweets in startup, entrepreneurship, solopreneurship, marketing, and building/launching your own startup. 
But you can choose another framework too. ClosersCopy has 700+ readymade frameworks, including several frameworks for social media content. 
Click on the 'Startup & Marketing Tweets' framework and you're ready to start creating tweets at scale. 
Have a different niche? Request a Custom Trained Framework from Heyfinch.in 
Step 2: Feed in your seed words
Add your content pillars as seed words within the frameworks for starting the tweet creation process. 
If you're into the recruitment industry, you can type in remote work and let the AI do its magic.  
A great way to find seed words is to use your existing content buckets to realize what you want to talk about. 
You can also research top tweets in your industry to get seed word ideas for the tweet. 
Step 3: Click on 'Write for me'
Once you're done with the input, Click the 'Write for Me' button. Wait for 20 seconds for the framework to write contextual tweets for you. 
One generation brings 5 tweets for you to pick from. 
Step 4: Handpick and edit the tweets
Scroll through the generations and pick the tweets you like. 
If you didn't like any tweet generated by the ClosersCopy framework, you can regenerate by refining your seed words and clicking 'write for me' again. 
In case, you're not happy with the output, you can even train your own AI bot as a framework inside ClosersCopy, too. 
Step 5: Use a posts scheduler like Publer to schedule
Generate 30-40 tweets by repeating the above process and use a social media post scheduler like Publer to schedule your tweets on Twitter. 
Publer has amazing functionality to label tweets and set custom schedules (& times) to post tweets in the same niche. Use the inbuilt labels to set a custom schedules for different kinds of tweets. 
The whole process would take you 30-45 minutes at max and by the end of it, you'll have a month's worth of tweets scheduled for your Twitter handle. 
Isn't it a neat tactic? 
Bonus: Twitter automation with existing blog content using MissingLettr
If you have an active blog and are planning to start on Twitter, you are sitting on a potential goldmine (without even realizing). 
You must have read a lot about repurposing content on the internet. Almost all content marketers vouch for it.
But most of the times, it feels redundant and boring. 
What if I told you there's a way to automate your twitter presence using your blog content that just takes a few minutes every time you publish a blog post? 
That would be cool. Right? 
To use this hack, you need a tool called MissingLettr. 
MissingLettr helps you automate drip campaigns on social media using your existing blog posts. 
This means every time you post on your blog, MissingLettr will automatically index the post, create automated posts for Twitter and other socials, let you schedule the campaign, and manage everything for up to a year. 
You practically sit back while all your blog posts are being repurposed as Tweets or social media posts. Not only you'd be active on twitter but this will bring additional traffic for your blog. 
Cool. Right? 
Here's how to do that:
Sign up for a Missinglettr account
Connect your blog RSS feed to MissingLettr dashboard
Wait for MissingLettr to identify and plan your drip campaigns.
Review the campaigns from 'Campaigns' screen and select the blogs, and auto-generated Tweets you want to schedule.
Set up a publishing schedule (or choose automated scheduling) for up to an year
Sit back while MissingLettr posts on your Twitter round the year. 
If you have several blog posts on your blog, MissingLettr will practically fill up your entire calendar while adding vibrance to your Tweets. You won't just be tweeting one liners but also useful snippets from value-based blog posts if you are into content marketing for your business. 
So, what are you waiting for? Sign up for MissingLettr now. 
Final Words
Now, you know the tactic. There are many high-priced tools like TweetHunter that promise you to scale fast on Twitter based on the same principle as above. 
The difference — you will have an AI that you can train for yourself if you follow the tactic + endless stream of high-quality content for publishing to your Twitter Handle at a fraction of a cost of a popular Twitter management tool. 
So, what are you waiting for? Buy ClosersCopy now and start using the Tweets framework to shell out more content at scale. 
And if you add more tweets to the calendar using the technique, don't forget to tag me in your tweets.