Freelancing
How to Start Your Journey as a Freelance Content Writer in India?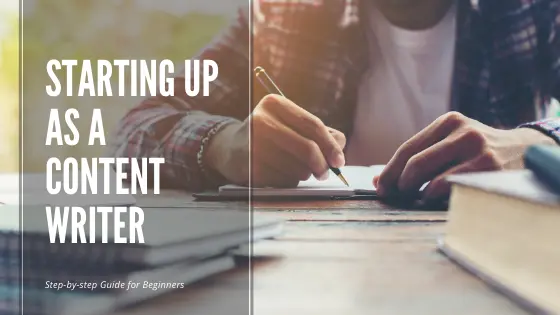 For someone who feared
losing his source of livelihood, quitting full-time job was a very dangerous
decision. I had been working as a content writer in marketing division of a
global firm and was really not impressed by my own growth. Quitting my job, I
believe, is still the best decision I made in the last 6 years I have been
working as a content writer.
A lot of people started asking me about what I do to earn a living from home since I started working from home.
Those who knew I was a content writer were fascinated by my success as it is really hard for a 20-something to start on his own. But I believe that if you really have a flair for writing, astute mindset and a vigilant eye for grammatical mistakes, you can really explore this career option.
Mind you, this post is not for professionals looking to grow. This is just an informative post for people who want to know more about content writing in India. So, let's begin.
What is content
writing?
The biggest misconception about content writing,
particularly in small cities and towns is that it is something related to
writing fiction, poetry or newspaper reports. While this is partially true, all
this come under the purview of content writing, the ocean of content has a lot
of diversity.
A content writer doesn't just write fiction stories. He helps
businesses refine their branding, communication and marketing efforts.
Content writing is using your writing skills to assist
brands, businesses, blogs, websites and individuals in clearly portraying their
offerings in front of prospective customers. A content writer doesn't just
scribble words, he makes sure that the words make an impact in the minds of the
readers. Content writing can take many forms. One can write for:
Business websites
Brochures & other marketing collateral
Advertisements
Corporate blogs
Emailers
How-to guides
Hoardings & billboards
Movies
Essentially, whatever
you read online or otherwise is content.
I guess the above statement is enough for you to understand
the field of content writing. Now you might be wondering how you can earn by
writing for someone.
How to start earning
money with content writing?
Now that you have a basic understanding of content, you need to focus on learning more about how to monetize your content writing skill.
If you love writing for yourself or your friends, it would require some hard work on your part. Before I start sharing some tips to help you earn with content writing, I would like to outline some basic character traits you must have if you want to be a professional content writer:
Punctuality

Analytical
Mindset
Resourcefulness
Patience
Commitment

These attributes are essential for long-term success in
content marketing industry. If you are not ready to work hard, this might not
be the right route for you. Remember, freelancing is a very lonely route which
requires self-motivation, self-introspection and self-discipline at every step.
The big question- How to start earning $$$ from content writing?
While you might have read a lot about freelancing before, I am sure you are still unclear about how to begin. Let me outline a step by step tutorial that would help you start your freelance content writing journey.
Step 1: Create a Blog
Before you actually think of applying for some vacancies or
bid on projects, you need to have something to show to your prospective
employers or clients. Starting your own blog is a great way to begin if you are
clueless about everything else.
From my personal experience, I would recommend starting a
blog on WordPress owing to its flexibility, scalability and user-friendliness. Here
is a comprehensive guide that covers everything you need to know about starting your own blog
on WordPress.
Step 2: Be Consistent
& Post Regularly on Your Blog
Nothing scares potential clients away than a blog that appears like a ghost town.
If you have a blog, make an effort to post regularly on it. One of the biggest mistakes I made during my career is stopping to post on my personal blog Emosentiment as I got more and more work. I justified myself by saying that I would resume once I get time.
Don't make this mistake as it will limit your growth prospects in the future.
If you are not serious about your own blog, new client will see you as someone who wouldn't be serious about their work, too. I was fortunate to get some really good clients during my initial years with whom I built long-term relationship. But all that was merely luck.
One thing you wouldn't want to affect your earning potential
is your luck. Never leave your professional growth to destiny and luck.
Now, there are certain ways to be consistent and disciplined
in creating new blogs. You need some focus and the right tools to succeed as a
blogger during the initial years. Remember, you are doing this with long-term
growth in mind. Here are some tips and tools to help you out in writing
regularly.
Generate Fresh Blog Ideas
If you aren't sure about how to get ideas for your next blog, here is a great post on blog topic generators to help you get started.
Be Consistent with Content Calendars
You need to have a content publishing calendar for your blog. Here are some great templates that you can use:
Use Scheduling Tools to Keep Yourself Motivated
I use Trello a lot to plan my work schedules and ensure I never miss out on a deadline. Using a tool takes worries off your mind giving more room to your brain for creative thoughts. And trust me, you would love scheduling tools when you actually have a lot of clients to work.
One of the perks of having a blog is that you can monetize it too by putting up ads on your blogs.
Step 3: Showcase Your Availability as a Content Writing Freelancer
One big mistake you can make as a newbie freelancer is not letting the world know that you provide a service or solution that they might need. When you start content writing journey as a freelancer, every lead counts. So, make sure to shout out to the world that you are available for hire.
If you are active on social media, this is the time to be professionally active.
Update your LinkedIn Bio, tweak your Facebook profile and let the world know you are available.
Make sure to create a compelling story about your career choices and market yourself in a consistent manner across different social media platforms.
Step 4: Explore Different
Freelancing Platforms
One of the quickest ways to launch your freelancing career is to get active on freelancing platforms.
Freelancing platforms are dedicated websites that connect freelancers and clients all over the world. If you are new to this world, this is what can get you started.
Just make sure to choose a freelancing platform that suits your style as each one of them has a separate set of guidelines and rules for account approval, bidding and working. Here are some which can help you get started:
Just keep in mind not to rely on them solely for your career growth.
While this may seem an easy way, it actually is quite hard to master. With increasing competition, high commissions and strict account approval norms, you can not really rely on third-party websites if you are thinking to pursue this career for long term.
Listen to My Podcast Interview on Sustainable Freelancing and My Experiments & Successes with Upwork
Step 5: Build Your
Professional Portfolio
I would be happy to
read your success stories about how you landed your first client. However,
don't feel elated yet. Finding your first client is just the first battle. The
war is yet to be won if you want to succeed as a content writer.
One thing that can
really harm your career as a content writer is your ignorance towards building
a professional portfolio. Your portfolio should consist of your best articles
you wrote as a ghost writer or a writer with a byline. There are contradicting
schools of thoughts regarding how to structure your content writing portfolio.
Some say you should only include articles with bylines and credits while others
suggest you should start documenting everything you write.
If you ask me, it's
better to document every piece of work you ever wrote and create a customized
portfolio for every job or project you apply to. You can start small and evolve
your portfolio with time.
To start with, create a folder in your computer and copy everything you have written.
Now create an excel sheet with details like article topic/website link, niche/industry, your role, is it live anywhere or not and when did you write this.
As you grow as a content writer, your portfolio will also grow.
Just use the Excel sheet as a reference tool to quickly find the best pieces related to an industry when someone asks you samples of your work.
I wrote a detailed and actionable answer on Quora about how to create a portfolio without a website. You can read it below:

Read Anmol Ratan Sachdeva's answer to How do I make a "content writer" portfolio without a website? on Quora

Step 6: Create a Draft Proposal & Agreement
By now you might
have got quite some hold of your content writing career. But beware, dealing
with clients can be tricky. So, I recommend that you start creating draft
proposals and agreements with the following things outlined:
Terms of
engagement including
Scope of
work including deliverables and number of free edits
Here is a great site to help you out with drafting your first proposal, agreement, cover letter and pitch document. I referred to this website a lot during my initial years as a content writer. Hope it helps you too.
Also, here are some more tools to help you with creating proposals/agreements and making them legally enforceable, right from the beginning:
www.docracy.com - Free Legal Contract Templates
www.eversign.com - Getting Legally-binding Digital Signatures for Your Contracts (Free)
www.waveapps.com- Complete accounting, bookkeeping & invoicing solutions for small businesses & freelancers (Free)
Step 8: Don't Forget
to Ask for Referrals & Testimonials
Once you get a few
clients and are working smoothly, don't relax and start settling in your
comfort zone. Give your best to your client base by putting in extra effort and
going the extra mile. Your goal, in the beginning, should not just be money but
to delight clients and make them your loyalists.
In the modern age,
word-of-mouth marketing still works. Make sure to provide high-quality content
and professional services. When your clients are satisfied, you should ask them
for referrals as well as testimonials. This step is extremely important if you
want to increase your rates over time as user generated content like reviews
and testimonials influence others more than anything else. Make sure to get
reviews on your freelancing profiles, LinkedIn and anywhere you can think of.
This will be very potent weapons for marketing yourself in the future.
Step 9: Reinvent Your Strategy Every Day
I have tried outlining the basic steps to help you get started but don't limit yourself to this guide. The digital growth opportunity using freelancing route is limitless.
To succeed as a freelance content writer in India, you should learn to reinvent your growth strategy every day, every minute. Learn new skills, discover new work opportunities, interact with your contemporaries, read more about freelancing and tweak your freelance content writing business strategy bit by bit.
Wrapping Up
So, now that you
have the basic idea about content writing industry, why don't you get started?
And if you get stuck anywhere, feel free to contact me or leave your queries in
the comments section below.