Freelancing
Struggles of Being a Content Writer: Balancing Creativity, Facts & SEO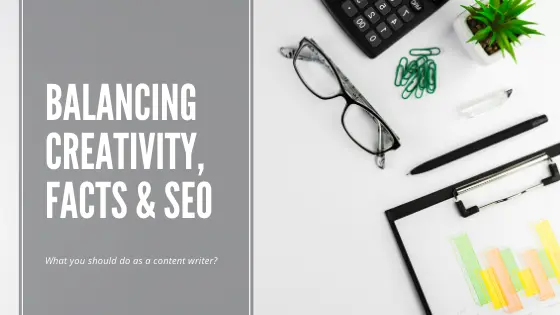 Content writing these days is a challenging profession. Don't mistake this profession as an easy one by seeing hoard of content writers available for hire, online. I agree that content writers are available everywhere these days, but how many of them are really worth investing time, efforts and money on?
When we talk about the content writing fraternity, many of its members are not really professional. But those who are have their own share of pains and struggles. One such problem professional content writers face is how should they showcase their creative skills in the era where SEO takes the front seat while writing anything online.
I myself have struggled to find the right balance between my creative skills, SEO requirements and a client's desire for being factually correct, always. Sometimes, clients don't even understand figures of speech which leads to ambiguity. Clients are not at fault here.
As someone who is hiring a professional for a job, clients look forward to using our expertise where they can't use their own.
The Eternal Dilemma
of Meeting Client's Requirements
But there are clients who are not ready to listen when we
create something, just because their keyword has an extra 's' (which might be
grammatically incorrect). What should a content writer do at this point?
Should he stand with his held high, rigid or give in to foolish feedback and do what a client desires for providing him/her absolute satisfaction? The key here is to find a middle way out by understanding not only target audiences but also the client's psyche.
How to Deal with
Demanding Clients?
Listen to how he thinks about his business, industry and
concentrate on how he briefs you about the project. If you focus here, you will
be able to understand what kind of person he/she is. Half of the work is done
here.
Once you get hold of your client's mindset, you can easily manage the creativity aspect with respect to the information he wants to give through the website. This tactic is really useful in case you are writing something deeply technical with a finicky client who is paranoid about each and every detail.
Tackling the SEO Challenge
Now coming to the SEO part, one thing I want to state
explicitly- "Always Write for Humans. If Readers Love your Content, Google
& Other Search Engines Will Rank It For Sure."
Your goal should be to appease your target audience, address their needs and demands and provide something of value through your content. If they don't find value in what you are sharing, you will always struggle to rank higher. You don't just want to write mundane content stuffed with keywords just like millions of websites on the internet. Do you?
Blending Creativity
in Your Online Writing
If not, then you will have to learn how to be creative in
your writing process. Here are some tips to present your content more creatively
without ignoring SEO principles:
Get hold of useful keywords. This will help you
get started with content ideas.
Always focus on your audience's needs instead of
what you have to offer.
Adopt a natural tone. Don't add fluff or flowery
language that people don't use.
Include facts, figures and statistics wherever
possible. This will give your content an added dimension, giving readers more
reasons to stay engaged.
Wherever possible, try to incorporate images.
This visual technique will attract prospects to read more.
Segment your content with the help of
subheadings & bullet points to make it more readable.
Don't just keep on writing without a purpose.
When you are purpose-driven, you are creatively resourceful and more
persuasive.
Wrapping Up
Whatever I wrote here is extremely personal observation but
can be applied to many cases and projects. If you felt I missed something,
please feel free to add in your insights in the comments section below.
Looking for a way to start your content writing journey?
Don't forget to read my other blog that covers various aspects of beginning as a freelance content writer.