#SharkTankIndia
Shark Tank India Season 2 Episode 4: Gear Head Motors, PatilKaki, BrandsDaddy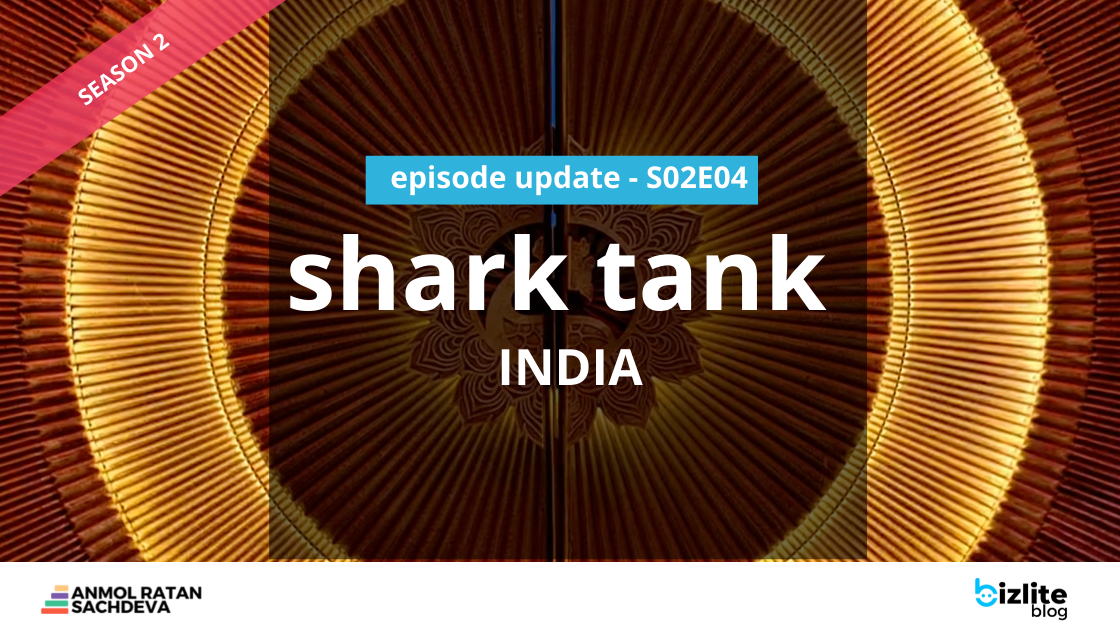 Shark Tank India's Season 2 Episode 4 brings 3 exciting brands- an EV motor brand, a home cooked snacks brand and a fire extinguisher brand. Let's have a look at these in detail: 
Gear Head Motors
Gear Head Motors provides safety and reliable electric vehicles which are efficient,effective, eco-friendly and affordable. They strive to reach every sector possible and bring a revolution in the EV vehicles segment in India. 
Founders: V Sai Meher Krishna and Gunda Nikhil 
Gear Head Motors Product Portfolio: 
Electric Bikes

Electric Tri-Cycles 
More details at: https://www.ghmev.com/
Gear Head Motors Social Media Links: 
Gear Head Motors Ask from the Sharks in Shark Tank India
₹75 lakhs for 2% equity, Valuation - ₹37.5 Crores 
Discussion: Did Gear Head Motors Get Funding from the Sharks at Shark Tank India? 
The discussion started with the founders explaining the demand of EV vehicles. Not only this, they laid emphasis on the hiking petrol prices and increasing pollution. 
To address the problem, Gear Head Motors is a brand that makes electric tri-cycles and bicycles in 24000/- only. And, in one single charge, the bike runs up to 60 kms. Hence, if you wish to travel short distances, Gear Head Motors is the number 1 choice. 
The founders explain their vision - If every home has a smartphone or a smart watch, there should be a smart vehicle as well. 
Aman asks jokingly - Are you real founders? 
Everyone on the set laughed because the founders gave a funny and interesting oration. 
Peyush asks - What is your age? How did you start this business? 
Nikhil was 24 years old, and Meher was 26 years old. He started his first business when he was in college, he owned a coffee shop. The college refused him to continue this business, so he sold his coffee shop to the college. He sold his shop at 75,000/- INR.  
His second business was an app 'Amigo'. He had a QR code and he somehow managed to stick that QR code in cafes and restaurants. So, he became the founder of 'Amigo'. In 6 months, we reached 300+ restaurants. A U.S. company approached us and we sold this business for ₹2 Crores. I earned this much money when I was 19 years old. Hence, I bought some land, and started a mechanical engineering plant. 
Nikhil introduces that Meher is his super senior from college. 
Peyush asks - So, this was your tricycle business and how did you start your cycle journey?
We started from bicycles only but one day, a physically disabled man came to us and requested for a tri-cycle. And, we somehow managed to give him the kind of tricycle he wished for. After a month, he came back and said - he had never watched sunrise in 36 years, just because of this tricycle, now, every morning, he could deliver newspapers and milk packets to people's homes. Also, he earns 300/- per day to support his living. 
The founders continued with this vision and last year FY' 21-22, they sold 1500 EV tricycles to the government. 
Vineeta enquires about the equity holdings of Nikhil and Meher 
Nikhil replies - He has 60% equity while Meher holds 40% equity of the company. 
Peyush asks about the current revenue of Gear Head Motors. 
Nikhil replies while Anupam takes over the conversation- 
EV Bike - FY' 21-22 - sales - ₹3 crores 

Last 4 months sale - ₹1.5 Crores (FY' 22-23)

Last month - ₹50 lakhs 

Projection for this year- ₹20 crores 
Anupam - How did GearHead Motors reached ₹20 Crore annual sales run rate? 
Nikhil explains that he has a signed order from a government entity. This order is for tricycles made for specially abled people. The signed order is for ₹20 Crores. 
Being quick in his calculations, Anupam corrects him - How did you reach ₹20 Crores, it should be ₹26 Crores revenue. To which Nikhil replies, that the brand won't be able to provide the number of tricycles ordered in this year. He will need more time to manufacture the number. Hence, the projected sales for this year is ₹20 Crores. 
Peyush asks about the profit of Gear Head Motors
Nikhil says -
Last month profit was - ₹8 Lakhs (August 2022)

Current month, we are projecting the same. 
The sharks rode their tricycles and cycles as displayed. Peyush says he likes 10x ideas and he feels that this is a 10x idea. Vineeta tags the founders as - 10x Entreprenuers. 
Peyush asks - How did this idea for electric cycles trigger in your head?
Nikhil says that there are branded companies selling their electric scooters for ₹1 Lakh- ₹1.5 Lakhs. They wished to target a market who were used to buying scooty pep+, passion pro and more. Yes, Omni and Nano were there, but it was too expensive for people who could spend only ₹50,000. The founders said that they started with manufacturing electric Omni and Nano, but there were money constraints. Hence, they stuck to manufacturing cycles. 
Anupam was curious to know about the differences in the electric cycle models of Gear Head Motors: 
Nikhil explains that there are currently 4 models by Gear Head
Model L

Model I

Model F

Model E.
The price of model L starts from 24,000/- 
Namita - How did you charge your bikes? 
Nikhil answers - it is a detachable lithium ion battery, comes with aluminium casing that helps with the cooling of the battery. So, nothing gets burned. It charges within 2 hours - 3 hours. 
Nikhil continues further conveying the sharks -  that the investors were not looking at the company as a technology company but as an assembling and manufacturing company. So, they started a sister company for which they raised ₹3 Crore at Valuation of ₹15.60 Crores. We came up with two entities and the second one is a completely different entity named - GHM Labs Private Limited. 
Namita asks - The investor who is in GHM Labs Private Limited, why is he not investing in Gear Head Motors? 
Nikhil says he is investing but we do not want it. We need a product guy not just money.  The sharks were confused. Aman asks if there will be different investors for GHM Labs and different in Gear Head Motors. 
Namita explains why this is not right. She says that we see 10x upscale in Gear Head Motors not in GHM Labs, so you are ruling someone out from an upscaling opportunity. 
Peyush firmly says - You will get a deal today, on one condition, that these companies have to merge. Aman and Namita agree on it.
Nikhil further explains that there is harm in merging the companies. We knew that this question was going to come up. Shockingly, the founders came up with a combined ask from the sharks - ₹1 Crore for 3% equity, Valuation - ₹33.33 Crores, merged entity.  
Anupam asks surprisingly - Your earlier valuation was ₹37.5 Crores, how can it come down to ₹33.33 Crores? 
Nikhil justifies that the valuation of GHM Labs is ₹15 Crores so he took out an average. 
Vineeta says - When you take out the valuation in a merger, there is no average but a sum of the valuations. 
Anupam enquires about the market size of electric bicycles. Nikhil says, it is 30 billion dollars in India and globally, it is 60 billion dollars. 
Anupam disagrees and says your numbers are wrong. 
Namita and Anupam were out for the day because there was a trust deficit. The reason was a disagreement between the narrative of two founders. 
Nikhil firstly says that we have two entities, we are not allowing the investors in Gear Head Motors and Nikhil, when questioned, says, they have already talked to the investors and they are ready for a merger. Something does not add up here. 
Aman talks about a balance between the co-founders and somehow, Meher brings that balance with Nikhil. 
As, Nikhil seems to be explosive in nature. Someone who has too much energy. He understands the end goal of Nikhil which is to end the dependency on China for electric vehicles. He wishes to make it in India and sell it to OEMs through GHM Labs. 
Peyush says that Nikhil is a good salesman and with Meher, the brand will touch heights. 
Offers for Gear Head Motors at Shark Tank India
Offer 1: Peyush and Aman:

₹1 crore for 7.5% equity, Valuation - ₹13.33 crores on a

condition - Same valuation as previous investors and GHM Labs and Gear Head Motors should merge. 

Counter offer by Nikhil-

₹1 crore for 6.67% equity, Valuation - ₹15 crores 
Final Verdict: Did Gear Head Get Funding at Shark Tank India? 
Yes. They grabbed a funding of ₹1 crore for 6.67% equity at a valuation of ₹15 crores  from Peyush and Aman.  
PatilKaki 
PatilKaki is a one stop shop for all your snacking needs. Not only in Maharashtra, the brand wishes to deliver their products all over in india. The speciality of these home cooked snacks is that they are actually made by hand and not with any help of machines. The usage of high quality ingredients along with no addition of preservatives makes it a completely unique snacking destination. 
Founders - Vineet Govinda Patil, Geeta Govinda Patil,  Darshil Anil Savla
PatilKaki Product Portfolio: 
Laddoos 

Chakli 

Chivda 

Kachori 

Sweet shankarpali

Modak 

Karanji 

Puran Poli 
More details at https://patilkaki.com/. They're also available on Amazon and Indiamart 
PatilKaki Social Media Links: 
PatilKaki Ask from the Sharks in Shark Tank India
₹40 lakhs for 2.5% equity, Valuation - ₹16 crores 
Discussion: Did PatilKaki Get Funding from the Sharks at Shark Tank India? 
The discussion started where Geeta Kaki started explaining her passion for cooking. She says that she started a small business for snacks from just ₹5000/-. Then, in 2020, she thought she needed to expand her business. And, with this thought, she asked Vineet to make a website for her snacks business. 
Current customers - 18,000+ 
Anupam wished to know the story behind PatilKaki.  
Vineet explains that his mother, Geeta started her snacks business in 2016 and he dropped out from school that year. Vineet continues that he started coding when he was in 9th, and until he came to 11th, he had a lot of clients that supported his monthly survival. 
Darshil and Vineet started an IT company, they scaled the company and made a lot of business through it. But, he wanted to go into a product based business. Hence, I joined a D2C Mattress brand, and it is there where he learned logistics and performance marketing. 
Geeta started with her story where she explains that her husband lost his job in 2016, she started working in a BMC office where she cooked breakfast for people. In lockdown, there was a problem of survival and it is then when she started cooking snacks for people around. Gradually, she got 10-15 orders in a day. And, in lockdown, PatilKaki came into existence. 
Namita asks - is PatilKaki business restricted to Maharashtra only?
Vineet and Geeta Kaki say that their vision is to deliver her snacks to all over India. 
Aman asks - that he wants to taste all the products. All sharks loved the taste so much that they started asking for more. Vineet says that their best selling product is Modak. 
Namita asks about the shelf life of Modak? 
Vineet answers that Modak and Puran Poli is a cloud kitchen product and their other products in the portfolio are scalable. 
Peyush asks a very important question: what is the difference between your product and others who are already in the market?
Vineet answers that their recipes are not made from machines. Every product is handmade maintaining the taste and the layers of each product which gives their brand - a USP. he explains - Modak can be moulded with the helps of artificially made plastic moulds available in the market but if you made it from your hands, you need to keep the layers thin. 
The main issue is that the brand needs machines according to their recipes. Aman wished to see the packaging. He liked the packaging. Vineeta likes the brand name as it gives a homely feel. 
Peyush asks - did you do the marketing and branding by yourself? 
Vineet answers affirmatively.  He asked help from a friend who was a freelance designer to design their packaging. 
Aman - How will you maintain trust if you bring machines to make your snacks? 
Darshil says that in FMCG sector two things matter the most: 
They reaffirmed that they will focus on providing the best taste which will be a key differentiator and help them stand out in the market and maintain trust at the same time. 
Namita says - There is an important factor in FMCG - Distribution. Do you wish to take your online store to offline stores? 
Darshil and Vineet answer that yes, they wish to take their brand to offline stores as well. 
And when we introduce map and nitrogen flushing, the shelf of the products will increase from 25-30 days to 2-2.5 months. Modak can be deep-freezed and a supply chain can be created. 
Peyush asks about other investors of PatilKaki
Darshil explains that they did a round with their mentors - ₹7.5 Lakhs, Valuation - ₹10 Crores. And, 2 months back, we raised another round for ₹29 Lakhs, Valuation - ₹10 Crores. 
Aman asks - What is your ASP (Average Selling Price) or Average Order Value and breakdown?
Darshil and Vineet answers in unison - ₹650. In this, 25% - raw materials, 5% packaging, 15% additional delivery. Marketing - 30% 
The gross margin comes at around 55% after taking out all the expenses. Vineet and Darshil agree to this. 
Aman further asks about their sales of PatilKaki?
Last year it was ₹1.4 crores revenue (FY' 21-22)

FY' 22- 23 till date is ₹1.02 crores. 
Projection for this year is - ₹3 crores 
Anupam was highly impressed with their knowledge. 
Namita asks - Is this a local business completely? Peyush adds - What is your monthly burn?
Vineet answers honestly and explains that their monthly profit is as follows: 
June 2022 is- ₹1 lakh eight thousand 

In July 2022 - ₹2 lakhs  

August - ₹6.5 lakhs 
Offers for PatilKaki at Shark Tank India
While Aman was ready with his offer, Anupam cut him in between and gave his first offer.  
Offer 1: Anupam:

₹40 lakhs for 4% equity, Valuation - ₹10 crores
Aman was quite taken aback with Anupam interfering. He refused to give his offer and asked others to give their offers first. 
Offer 2: Vineeta:

₹40 lakhs for 10% equity, Valuation - ₹4 crore 
She further says that her valuation was quite logical but since Anupam has offered a higher valuation, her offer stands null and void. 
Peyush asks Aman to give his offer but he keeps his angry temperament. He justifies that the companies he had invested in earlier season are now at ₹2 Crores business in 1 year, the other business was at ₹10 Lakhs but now it is at ₹1 Crore. He says that a founder needs more contact, a founder knows D2C, let's go to the marketplace and make it the next big thing. 
Offer 3: Aman:

₹40 lakhs for 5%, Valuation - ₹8 crore 
Namita stays out because Aman has already offered quite good a deal and she thinks they will be able to scale PatilKaki in a better way. Peyush wishes to join Anupam's offer. 
New Offer #1: Peyush and Anupam:

 

₹40 lakhs for 4% equity, Valuation - ₹10 crores
Peyush says that it is a tough category as a business. He thinks that they will be the best entrepreneurs and that is why he is ready to invest. Geeta says that she needs all 4 sharks. Anupam exclaims that the deal needs to be changed. 
Aman refuses to be a part of this and he makes a counter offer. Vineeta also refuses to come onboard. 
Counter Offer by Aman:

₹40 lakhs for 4% valuation - ₹10 crore - as a single shark 
Peyush says that the brand's marketing and branding is on point but after a sale of ₹50 Lakhs, there will be a saturation point. He wished to make the manufacturing a big thing so that there is no saturation. 
While, Aman, on the other hand, says that manufacturing is not a big thing. And so far, he has guided other brands of the same category, he has made them reach heights. 
Anupam cleverly states that those brands who were invested by Aman in the last season are PatilKaki's competition. Aman lashes out on Anupam telling that they are not a competition. 
Anupam justifies that he is also a good mentor as he has helped a lot of brands reach heights. They have created a value of ₹1000 Crores, not ₹1-₹2 Crores. 
Vineet and Darshil take their time to decide before they give their final verdict. 
Final Verdict: How Much Did PatilKaki raise on Shark Tank India? 
The founders of PatilKaki accepted Anupam's and Peyush's offer of ₹40 lakhs for 4% equity at a valuation of ₹10 crores. 
Brandsdaddy  
Brandsdaddy  is a fire extinguishing company dealing in products that helps extinguish a small fire before it gets big. The brand created a ball that is light-weight, safe, maintenance free, easy to use, self-activated, non-toxic and most importantly, works on all classes of fire. 
Founders: Roshaan Vivekanand Mishra and Annkita Roshaan Mishra 
Brandsdaddy Product Portfolio: 
Fire Extinguisher Ball

Car Extinguishers 
For more info: https://www.brandsdaddy.com/
Brandsdaddy Social Media Links: 
Brandsdaddy Ask from the Sharks in Shark Tank India
₹70 Lakhs for 5% equity, Valuation - ₹14 crores 
Discussion: Did Brandsdaddy Get Funding from the Sharks at Shark Tank India? 
The discussion started with Roshaan explaining about why his product brings a revolution in the fire extinguishing industry and shares some numbers of shortage of fire extinguishing gear in India. He further explains that there is a shortage of the following - 
66% - shortage of fire station 

78% -  shortage fire equipments

90% - shortage fire fighters 
He explains his fire extinguishing ball has a shelf life of 5 years, it is a portable device, easy to maintain and a 100% made in India product. Also, the product can be used by a kid as well without any prior training. 
Currently, the product is bought by schools, colleges, government agencies, hospitals, top corporations, BSF, IOCL, fire brigades, and more. Annkita explains that her mission is to help extinguish a small fire before it becomes a big hazard. 
Vineeta asks - It is a great cause and due to fire, there are a lot of hazards, this is an amazing initiative, and how did you come up with a solution because it is a global problem?
Roshaan says that he started as a sales manager in an insurance company. He worked in several places and was posted in Vietnam as well for a while. When he turned to India, there was a Kamala Mill fire incident, and that triggered him a lot. 
This incident took him back to his childhood 30 years back, he used to live in a slum area and his house caught fire. He was just 5-6 years old and he had to spend his night at Kandivali station, Darbhanga. He saw his father crying and as he was moved by the whole incident he was really close to his parents. 
So, after the Kamala Mill incident, he started researching how he can solve this problem. Firstly, he thought, can there be a way where a victim does not go into fire - and then he developed this product. 
Anupam - After developing this product, where have you reached currently? 
Roshaan explains that in 4 years, we have reached a lot of people. Even fire brigades are ready to buy the brand's product. Currently, the brand has a contract for 3 years with an insurance company. If someone buys their insurance, the product is delivered to them as a mandate. 
Anupam asks - What are the monthly sales of BrandsDaddy?
Roshaan conveys his sales as following: 
Monthly sales: ₹12 Lakhs - ₹12.5 Lakhs

Last Year Sale FY' 20-21 - ₹51 Lakhs 

Sales for FY' 21-22 - ₹1.45 Crores 
Next month, the brand is going to be launched in Maldives. The samples have already been approved and the brand is reaching the market. 
Vineeta - From where is your majority of revenue coming from?
Roshaan says that this is a B2B company entirely. 
Vineeta further asks - If the fire is too big, how will your product help?
Roshaan explains that the fire gets silenced out for a few seconds (8-10 seconds), the temperature becomes low and in the meanwhile, the rescuers can rescue the people easily from a very big fire as well. 
Namita asks - What is your gross margin and net profit in this ₹1.4 Crores business?
Roshaan says the business has been profitable since day 1. 
The Gross margin is 60%

The net profit is 10% 

The average selling price is - B2B - ₹1000-₹1500 for one fire extinguishing ball

The MRP of the product is ₹5000 
Anupam says - In B2C, selling this product will be really difficult. 
Roshaan says - Yes, I agree. It is a capital intensive business so we will have to mass produce the product. Though, Roshaan agrees that he has a plan for it. Currently, the distributors he has, he will send the product to these distributors and then they will supply to the customers. 
Anupam disagrees with Roshaan and says -  that this brand will not work in B2C and it will flourish in B2B with co-branding. 
Vineeta agrees that - People in India take these things really lightly. She was out for the day conveying the founders that she won't be able to help them in getting them customers. 
Peyush thinks that this business is at its early stage and he won't be able to help them get anywhere in this business. He encourages the founders that business is worth it and this business will flourish in B2C to create a mass impact. 
Namita - She disagrees with what Peyush said and further adds that not only in B2C, B2B has a lot of potential, insurance companies, pharma companies and many more such companies - the market is really big. She says the founders need to gain more connections in the B2B market. 
Offers for BrandsDaddy at Shark Tank India
Offer 1: Namita: ₹35 lakhs for 5% equity, ₹35 lakhs debt @12% interest, Valuation - ₹7 crores
Aman further adds that he does not want to fight with Namita so he stays out for the day. 
Anupam says - He will put this product in the insurance category and in India, insurance business is a push business. In B2C, you will have to put a lot of sales effort and it will take a lot of time. Since Namita already gave an offer, Anupam excuses himself for the day. 
Counter offer by the founders: ₹50 Lakhs for 5% equity and ₹20 Lakhs debt @12% interest, Valuation - ₹10 Crores. 
Namita says that the valuation changes and currently the valuation of ₹1.4 Crores is not even considered a valuation. In addition to this, it is a non recurring business and once the contract finishes, then the business also finishes. There is no lifetime sales.  
Final Verdict: Did BrandsDaddy Raise Money at Shark Tank India? 
Yes. They raised ₹35 lakhs for 5% equity & ₹35 lakhs debt @12% interest at a valuation  of ₹7 crore from Namita. 
Did you Like Episode 4 of Shark Tank India Season 2? 
This episode came with a lot of drama and shenanigans from the Shark's side. Though all the pitchers were well prepared, the 'kheencha taani' between Sharks were evident. Social media is full of posts about 'brashing' and 'elitist' behaviors from the previous episodes. Now, it would be interesting to see what the viewers have to say about Episode 4.
If you're here for the first time, don't forget to check out our episode summaries of other episodes: 
And if you love discussing about the pitches, don't forget to join our free Whatsapp Group. 
Join the discussion on Whatsapp Now
Are you a small business with big ambitions of growing as Shark Tank Pichers? Well, everything starts small and you can take a step by launching your digital store today. The Best Part - It's free to get started.
Build Your Online Profile, vCard & Free Whatsapp Store Now