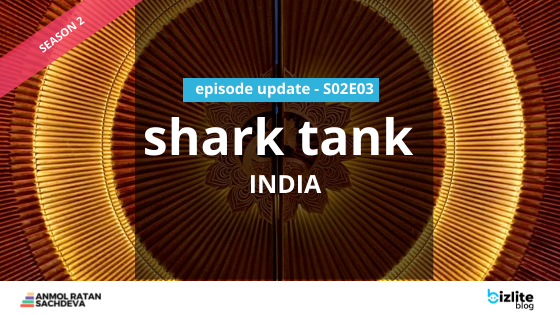 (This is a regularly updating story. Come back for more updates after the show or join Shark Tank India WhatsApp Group for instant notifications after the episode goes live) 
Shark Tank India's Season 2 Episode 2 brings 3 exciting brands - a healthy cold beverage brand, all Indian regional language OTT platform, and a fashion brand that changes its colors. 
Atmosphere Kombucha 
People do not take care of their gut health but it is quite essential to look after one's gut health. The root cause of every disease is one's gut. Through bacterial imbalance. But one can get their gut in good health - through Kombucha 
India's first and finest kombucha brand. They ferment green tea with bacteria and yeast to make kombucha which:  
Improves gut health 

Is made from pure ingredients 

Tastes like magic 

Provides real living probiotics 
Founders: Ariella Blank and Rebecca Sood
Interestingly, Rebecca is the wife of Arman Sood, a Forbes 30 under 30 entrepreneur and the co-founder of the popular coffee brand, Sleepy Owl Coffee. 
Atmosphere Kombucha Product Portfolio:
Kombucha and Kefir

Fudge

Pancakes

Cheesecake

Pasta, etc. 
Know more at https://atmospherestudio.in/
Atmosphere Kambucha Ask from the Sharks in Shark Tank India
₹75 Lakhs for 3% Equity, Valuation - 25 Crores
Discussion: Did Atmosphere Kambucha Get Funding from the Sharks at Shark Tank India? 
Family came to India from America in 1992. Father is mechanical engineering professor. He was working in IIT kanpur for 2 years and then 4 years in IIT Kharakpur. Then the family shifted to mussorie. They settled in India because they loved India and indian culture. Father and mother - both american. 
Father was researching and they liked pahadi area pahadi lifestyle. 
Rebecca was 1.5 years when she came to India. Ariella is made in India - rebecca joked about her as she was born in india. Rebecca is married to Armaan Sood - Founder of Sleepy Owl Coffee. 
Both sisters did their B.A. in United States 
Rebecca and Ariella says that they returned to India because their heart lies in India. 
Peyush - How did you came into this business? Why not try a 'job'?
Rebecca says that their parents treated their every child - 2 brothers and sisters without any gender discrimination. We went to same schools like our brothers. We noticed that other families did not treat their children, the same way. We also noticed that in India, employment and education opportunities is hard. We wanted to address this problem in India with a sustainable business solution. 100% female workforce. Delhi, 14 women working in the company. 
Aman asks - is this a business or a social cause? 
Sisters answered that this is a business. We are staying in India because we want to stay in India. Rebecca was working with FabIndia earlier, - Fabcafe - product manager. 
Ariella was working in Organic India - then it noticed there are gut related issues with people. 56% of people in India - struggle from gut issues. After researching a lot, I did not find anything in India. I started making Kombucha for clients and then launched -Atmosphere Kombucha' organically. 
Vineeta likes the packaging of the brand 
Sharks tasted the product. All sharks liked their Kombucha . Sugar content was high. 10 gram. Ariella answered that - We put sugar for bacterial culture. In curd, lactose eats away the sugar. Similarly, most of the sugar in Kombucha is eaten by the bacterial culture. 
Aman and Vineeta - this is a videshi concept. Indian will not reflect with this. Will indian drink 220/- product? 99% people of India don't even know what is Kombucha. Anupam asks about the market size. 
15000 crore market - Kombucha in india. We wish to market Kombucha not exactly as a Kombucha. 
Namita and Aman - Price point of view se India k liye high hai? Kya aapko nhi lagta? 
Yes, it will be pricey with respect to the mass market. It is a cold chain product which is why it is pricey. 
Sisters will rethink the price when they can. Jab funding aa jayega, factory khudh ki hogi, production khudh karenge tab, 
Namita - As a manufacturer, you can control the cold chain product but when it goes to the distributor, there is no guarantee - if your drink is not kept in fridge for long hours, then? What is the effect? 
Rebecca says - drink will become fermented and frizzy if not kept in required temperature. It will turn sour 
Anupam says - Don't you think this is a big problem? 
Yes, but it is a special drink. Hum 'Jugaad' se, kaafi mehnat se we are handling this. 
Namita says - Aapke handle krne se kuch nhi hota hai, kyunki aapne ek baar pass on kr diya naa toh distributors handle nhi krenge, aur aapka drink will turn sour. 
Namit asks  about Sales- 
1 crore - this year - business is 40% online, 60% is b2b, jismein 20% retail stores and 40% cafes and restaurants hain 
Anupam asks about margin - 
 Average margin - 35% retail 
Average Margin - 40% cafes 
Aman asks - End mein kitna paisa kamaya?
Gross margin - 29lakhs - earned this year 
Namits asks - Transportation is really costly in cold chain business. How did you save 30 Lakhs? 
Ariella says - We are transporting the Kombucha via trains. We send our drink in cities where there are trains running 12-24 hours and it can reach within the time frame - 12 to 24 hours. We maintain the temperature via ice packs. 
Namita says - your business will be restricted at the manufacturing site only? Jahan pe trains 12-24 hours tak pohonch skti hain… this is a constraint. 
Rebecca says - Yes, there is a constraint - we send it to Bangalore, Kolkata, Kochi, Mumbai, Goa, Jaipur, Dehradun. 
Vineeta asks - How will you make this a big business? 
Their end goal was to make a manufacturing unit so that we can grow our company easily. 
Vineeta asks - Toh 75 lakhs se kitni bottles bann payengi?
We can make a factory in 75 lakhs and we can make 3lakhs bottles per month. 
Aman says - Aapki packaging bohot solid hai, packaging hata do toh digene ki bottle lagti hai? 
Yes, it is a digene bottle. They did not make their own bottles because of money constraints. They used a normal digene type bootle for their packaging. 
Anupam says - Jugaad ??? 
Namita did not like the kombucha concept because Indians are not familiar. It is expensive and bohot headache waala business. Namita says she is familiar with this cold chain business. 
Aman said 220/- waale log kisi k sage nhi hote. Aaj kuch try krenge kal kuch try krenge. He was out. I think there is a lot of fight to sell this 220/- product. 
Peyush - He is out because cold chain business is not accha. Your product is amazing and he was ready to be their customer. He was out. He advices to utilise the business in some other category. 
Anupam - yahan se aage jaana dangerous game hai. Beverage business is 'shamshaan'. He was out. Jugaad is good. Profitably dhandha chala rhe hain. 
Offers for Atmosphere Kambucha at Shark Tank India
Offer 1: 75 lakhs for 20% - Anupam , Valuation - 3.75 crores 
Offer 2: 30 lakhs for 10% , 45 lakhs in debt @12% interest  Valuation - 3 crore- Vineeta 
Counter offer by the sisters - 75 lakhs for 8% equity, Valuation - 9.38 crores, - they offered Anupam 
Anupam denies the counter offer made by Rebecca. He says - he can reduce the equity 5-10% usse zyada nhi. The two sisters replied - hm 10% se zyada nhi jaana chahte hain.
Final Verdict: Did Atmosphere Kombucha get Funded at Shark Tank India? 
The co-founders of Atmosphere Kombucha rejected the the offer made by Anupam. Hence, they didn't get any funding at Shark Tank India. 
Stage - Regional OTT Platform
India's first OTT platform designed to cater the regional audiences.
The founders came with a single question - why there are TV series and movies in limited languages? Boliyon (regional dialects) ka apna koi channel nhi hota aajkal, when there are 19000+ regional languages in India. 
Stage is the Netflix of regional languages with 100% original content and also dubbed content in regional languages. 
Founders: Parveen Singhal, Vinay Singhal, Shashank Vaishnav
For more info: https://www.stage.in/
Stage Ask from the Sharks in Shark Tank India
3 crore for 1% equity, Valuation - 300 Crore 
They started from Haryanavi dialect - local movie industry khadi kr di. 1000+ haryanvi people got employment. Unhi artists k saath mil ke hmne - 300+ hours original content in Haryanvi and Rajathani. 
We have - 1.3 lakhs paid subscribers in Haryana. We started  making Rajathani content 3 months back and we identified different dialects jo hm agle 5 saal mein launch karenge
Vineeta asks - How do you guys know each other?
Vinay and Shashank are college mates. They know each other from 12 years. And, I know Parveen because he is my younger brother. Vinay and Parveen are from Bhiwani. Shashank is from Indore. 
Earlier they were Founders 2014 - WittyFeed. Used to make viral content. Got traffic from facebook. 
 profitable - 40 crore business, based in indore. Failed in 2018 because facebook de-platform kr diya in 1  night. 12 crore ka traffic usmein se 6 crore log america se aate the. 
Facebook ne hata diya because - non americans are influencing americans voters using facebook as a platform. 
Aman asked - Aapko toh bohot bura laga hoga? 
They were clinically depressed. After this failure. They had their office in TimesSqaure. Kisi employee ko fire nhi kiya , 2-3 months ho gaye 
February 2019 mein sab paisa khatam ho gaya. 2 crore ka payroll tha but they did not fire their employees toh salary dete jaa rhe the. Kyunki unki bhi koi galti nhi thi. 
Lekin as a founder - hm sab kuch band nhi krna chahte the. 
Eventually, they did townhall - 90 employees, asked from employees - if you trust us, give us 6 months, ki hm 25% aapko salary denge aapko kahin se bhi laa k and baaki 75% baad mein double kr k aapko as an equity de denge. 
54 employee  took this bet on the founders. Aap 25% chorro sir, meri saving le lo … 
Employees gave their savings to the founders. 
After so many discussions, hm stage k idea tak pohonche .. 
1st November, 2019, they launched Stage with the help of their employees. 
Anupam asks - Kitni equity di aapne un 54 logo ko? 
In June 2020, we gave them exit. They made 2x+ on their investment. 
Aman - What does stage do? 
kos-kos par badley paani, chaar kos par vaani - the brand stands true to this. Hence, there is a need for an Indian Netflix celebrating different dialects 
Stage is boliyon ka netflix hai, 100% original content, regional languages. Hm is desh ki boliyon ki kranti laayenge. 
Aman asks - is this dubbed content or original content? 
No, it is 100% original content. Local content - local audience - local dialect - local artist 
Anupam - Toh ek picture kitne mein bann jaat hai?
Ek web series - 6-8 episodes - 25-30 minutes - 20lakhs 
ek movie - 18-20 lakh 
Content cost is higher. 
Akhada - Stage - latest movie - 
They gave demo of their application. They showed a trailer of their new movie Akhada. 
We do not give free content, deliver value and India will give money. Subscribers - 1, 30,000
Week 4 retention - 94% watchtime monthly - 4.5 hours. 
Namita - yeh 300 crore ka valuation kaise de diya aapne?
2020 round - 10 crore, pre money - 65 crore, 2021 round (bloom ventures)- 20 crore, pre- money 80 crore,  third round - 36 crore, pre-money - 250 crores 
Peyush - Abhi kitna revenue hai?
FY 21-22 sales - 3.85 crores 
Currently monthly sales - 25 lakhs 
We reduced our sales as it was 75 lakhs last to last month. 
Our CAC was 700-800 rs and we wanted sustainable growth. We did not want to burn. 
CAC - 270 
 10% organic traffic monthly burn - 1.1 crores 
60 lakh - content pe kharch hota 
30 lakh - team ko jaata hai. Event - 20 lakhs 
Vineet was out. Valuation can't match. Feels terrible. I got inspired. 
Vineeta appreciates the story behind the brand. She tells her story when she asked her employees to fund for the company when her company was in loss in April, 2020. 
Anupam - success builds ego, failure build character - aapka character bann gaya hai …
Anupam - hmse 3 crore le k kya kroge?
They could not explain this. 36 crore round already ho gaya hai. 
Anupam says - aap keval marketing krne aaye hain. He was out. He comments - Maza aaya aapki kahani sunn k. 
Offers for Stage at Shark Tank India
Offer 1: Peyush, Aman and Namita - 1.5 crore - 0.6 equity , 1.5 crore at 18% debt 
Peyush commented that 10% Organic traffic is a big problem. Business is too scattered and applauded their success with Wittyfeed.
Aman - aap jaise logo ki zarurat hai india ko, gir k uthna is commendable. Entrepreneurs ki ummeed ho aap log. Usse zyada kuch nhi chaiye. Main paise nhi de raha, bharat k liye kar rha hu. 
Namita - rote rote bhi has rhe. 
Final Verdict: Did Stage get funded at Shark Tank India? 
Yes. They accepted the offer by Aman, Peyush & Namita for 1.5 crore for 0.6% equity and 1.5 crore debt at 18% for a valuation of 250 crores 
Girgit 
First colour changing product brand - store for kids and adults 
1 year sales - 3000 product sales , have 18,000 happy customers 
Founder - Pooja Bajaj Shah
Girgit Product Portfolio: 
Sunny shoes

Magic Bottle

Sunny T-shirts

Mask 

Sunny Sneakers 

Sunny Watch Strap 
Know more at https://www.girgitstore.com/
Girgit Social Media Links: 
Girgit Ask from the Sharks in Shark Tank India
20 lakhs for 10% equity, valuation - 2 crore 
Discussion: Did Girgit Get Funding from the Sharks at Shark Tank India? 
Namita asks - what is your journey?
Pooja was a teacher, and she took a break from the job. The husband showed a colour changing pigment. Family business is in textile. She loves children. She was pregnant as well. 
After researching, she found girgit. 
Peyush - it is risky name? 
The husband says that this a magic. 
He puts lukewarm water - the shorts changed colours - 
Temperature sensitive clothe
Canvas shoes - using uv light because there is no sunlight. 
Joote dhoop mein rang badalte hain. 
Are you sure UV rays utni hain jitni sunrays se aati hain, and kaafi hai colour change ke liye? - Vineeta 
The answer is yes. On a cloudy day as well, it changes colour. 
Namita - baccho mein hi chalega, adults mein nhi chalega 
We started for adults because of customer demands. 
Namita asks - who is the founder? 
Benoy is a mentor and guiding light. Pooja is the CEO 
Anupam - photochromatic lenses in glasses - 20 years - people do not use it. 
Benoy answers - It is the cost price. If you use regular pigment in apparels it is - 400-500 rupees. The cost price is 60x which is why people do not buy. 
Raw material is cheap. 
Namita asks - price 
Joote - 2000 fir kids, 3000 for adults 
Nike competition - same shoes - 8000-10,000
Sale - 
1 saal sale - 58 lakhs, gross margin - 79% 
Last month - 8.5 lakh, month before that was 7.5 lakhs, the month before that was - 5 lakhs
Anupam - How it is increasing?
Pooja answers that - festive season. 
Gross margin - 80% 
Whatsapp sale - 65% 
Exhbhittion - 25% 
Instagram ads - 30,000 rupees 
Peyush and Aman - scalable issue aayega. 1 usp le k aage jaana tough hai. 
Vineeta - bacche ki excitement jitni jaldi aati hai utni jaldi jaati bhi hai - as a category kabhi bada hote nhi dekha 
Anupam - it is gimmicky because of t-shirts and shorts. Grow kaise kroge, I am out. 
Namita - lot of people underestimate the power of supply chain. Advantage - cheap raw material. Bohot bada advantage. 
She advises - 
For 15 years - age group - 0 -15 years, gross selling can be - 
Stickers, hats, t-shirts, bags, slogans and all pe try krna chaiye - tie up with first cry.com and all such platforms - kaafi bada banega 
Offers for Girgit at Shark Tank India
Offer 1: 20 lakh for 20% equity - Namita , Valuation - 1 crore 
Counter offer by founder - 20 lakhs for 15% equity, Valuation - 1.33 crore  
Namita explains - Exit is very difficult in this business. I will stick to 20% equity 
Final Verdict: Did Girgit get funded at Shark Tank India? 
Yes, they accepted the offer for 20 lakh for 20% equity by Namita.