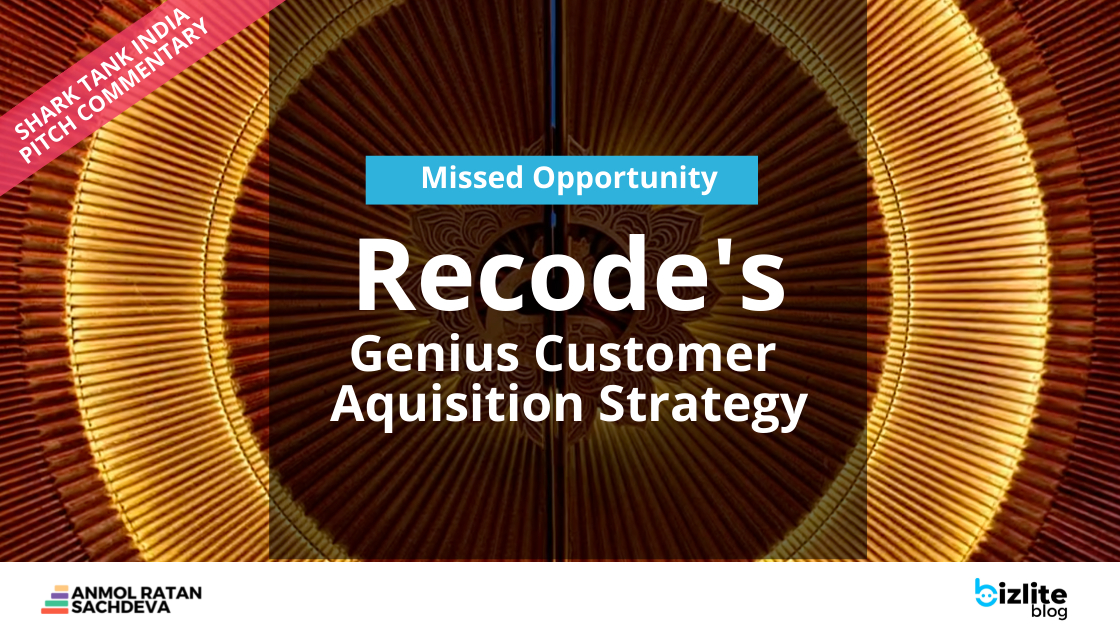 I started following Shark Tank after I saw the first season of Shark Tank US. The show started after the 2008 market collapse when banks refused to fund small businesses. The show started as an alternative to 'funding options'. 
But the current season of Shark Tank India is on a different path. Instead of appreciating unique ideas and helping small businesses (with proven business concepts), it seems to mock, diss, and make fun of 'unpolished' entrepreneurship, as it looks from the recent episode where Recode faced a similar fate. 
Recode faced ridicule and was called 'Jugaad' by multiple Sharks on Episode 1 of Season 2. But what's a business without a little 'jugaad'? 
Recode customer acquisition strategy (on which the sharks laughed) is a classic case of how to hook the buyer with a freebie and make them ambassadors for life. 
Instead of giving a 'good to have' or useless free product, it's freebie — a free luncheon at a five-star hotel with a 4-hour seminar caters to the ambition of small-town makeup artists who want to make it big in the industry. 
What is seminar-based customer acquisition strategy of Recode Studios? 
As per their pitch, Recode conducts a 4-hour seminar-style class in Tier-II & Tier-III cities of India. It distributes pamphlets about the seminar among college girls inviting them to learn about the makeup industry at a nominal cost of 1500/— and start their career, upskill, or learn from the best.
 

 

View this post on Instagram

 
The brand pools in experts to conduct the seminar, like in the poster above and also gives free Recode products worth the amount of the seminar to all attendees. 
The craze for cosmetics and makeup compels aspirational girls to 'own their destiny' and sign up for such seminars. Topped with influencer marketing, Recode successfully grabs the attention of thousands (if not more) in a short span of time. 
And if you look at the social media numbers, you'll realize the hype is better than many 'funded' startups with large marketing teams. 

Why Does Recode's Customer Acquisition Strategy Work? 
In India, personal handholding is often seen as a sign of 'care'. People are naturally 'suspicious' of buying online. You would have heard 'this is a scam' a million times from your mom/dad whenever you try to convince them to buy from an unknown / less known brand.
We are a country that sticks to its brand — take Parle G, Nirma, and Bajaj, for example. 
In such a scenario, Recode cracked the perfect way to create a long-term brand recall and loyal relationship with the customer. In a world where D2C struggles to make an impression in customers' minds, Recode is a classic case study about the 'offline-online' sangam. 
There can't be a better way to talk to the customer than by giving them a 'value-packed' lesson on how to use a product to improve their lives. Isn't it what HubSpot taught us about content marketing? Isn't it what all online gurus preach — Give, Give, Give! 
Recode took the advice to heart and now enjoys excellent revenues and a promising path to long-term profitability, which many unicorn startups are yet to dream of. 
According to their pitch, they will clock 30 crore in revenues soon — which isn't bad considering the hiccups and challenges a small-town entrepreneur faces. 
They are an inspiration by every standard. 
And the best part is that each of their 'students' or attendees becomes a future customer and even influences others to buy Recode products. 
You can't even imagine how many 'jargony' tactics are at play here — 
Customer acquisition

Brand recall 

Brand ambassadorship 

Influencer marketing

Referral marketing, etc. 
No matter what you call the Recode guys, I'd call them genius. 
No matter what the world says — network marketing, jugaad, or luck, they are true entrepreneurs in spirit. 
And when the sharks commented about their spontaneous decision-making, I guess they forgot the classic startup strategy of 'breaking things' fast. 
Which business can learn from them?
Any business struggling with brand awareness and rising customer acquisition costs can learn from the Recode pitch. Sometimes, all you have to do is become an essential part of your customer's life, fulfil their ambitions, and help them grow. You'll grow yourself. Here is how this strategy can work for others: 
Healthcare businesses can conduct workshops about the benefits of their products; 

Tech-based businesses conduct webinars and product demos; 

New FMCG brands offer recipe books with free ingredient samples in grocery stores and ask users to share recipes online; 
Innovation has no boundaries, and Recode showed us how ingenuity still works in India (or, as sharks said — Jugaad). 
All the best in finding the perfect Jugaad for your business! 
And if you need to discuss it in detail, Whatsapp me, and we'll figure out the perfect Customer Acquisition Jugaad for your business. 
If you already have a business and want to grow like Recode, I also suggest launching a Whatsapp store & a digital vCard. (Recode also uses Bikaayi for running its online store) We're offering it for free at Bizlite. Grab yours now