Far away from the glitz of the tech cities like Bengaluru, Hyderabad, or Pune is Bharat. 
An India where most of the youth is either busy preparing for a 'sarkari naukari' or scrolling endlessly on their Instagram feed. Where entrepreneurship is 'heard of' but not practiced. 
An India where Aman, despite having the grit, wisdom, and knowledge of the world at his fingertips, struggles to fly his idea off ground. 
This is the India I am most concerned about. Partly because of a news clip I read recently.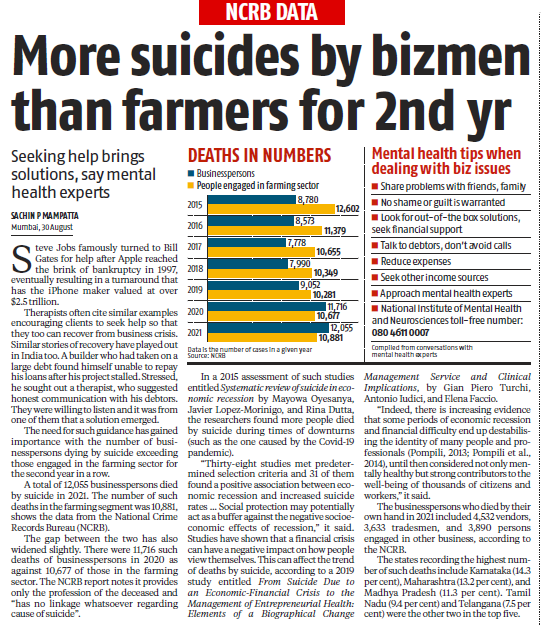 And maybe, also because I come from a small city in the north of Rajasthan. 
But just hear me out. Not because I'd share something new. But I'd share something old, that needs to be told, time and again. 
India jumped phenomenally in 'Ease of Doing Business' rankings. From 142 in 2014 to 63 most recently, it has been a phenomenal journey. 
Much thanks to the Government's commitment to simplify things. But sometimes, reality is far from the theoretical numbers. And the youth in small cities keep wondering what does this ranking mean for them. 
I am not critisising the government or the system. But we all know, there are challenges, we can't ignore. I am just listing out the challenges that every youth who wishes to start a business faces in India. 
Some of these are external, while most are internal — the things that you'd find ignored in most 'entrepreneurship challenge lists' around the internet. 
In the coming months, I'd cover several solutions for these problems (follow this page for updates). But for now, it's just the beginning. 
So, let's see why small business and entrepreneurial aspirants struggle to start their first business in India: 
1. The Right Mindset 
Probably, the most important but often overlooked aspect related to starting something of your own. In India, mindset around entrepreneurship is still evolving. 
According to an estimate, it takes 7 to 10 years for a business to be truly successful. And that too, without any guarantees. 
During this time, one has to deal with every kind of insecurity and problems, which they're not mature to handle. 
Not many are exactly in love with the idea of such a long commitment topped with the grind associated with starting something. This is the reason most quit or exit at the first sign of failure. 
If you or anyone you know is planning to start a business, you'd definitely had a discussion like below: 
"I will do this for x number of days, and start earning x amount in a month/year."
"I want to earn lots of money and get rich quickly. Starting this business would make me the money I need."
"I can't work for others. So, it's better to start on my own, hire a few people, and earn the benefits." 
Most people who think of starting a business don't think long term. 
They're mostly thinking of starting in a hope to get out of their day jobs, appear credible/employed, or earn a quick buck from entrepreneurship. 
Combine this 'jhatpat' mindset with our older generation's obsession for certainty,  and you have a pot of 'failures' no one is ready to taste. 
Top it up with our weird obsession towards academic success (marks), and you know that the youth has never ever faced any real failure or what takes to become an 'overnight success'. 
Most people just want to start a business to earn a quick buck, look/appear cool, and to feel like a boss.
Especially, in small cities and towns. They think it would make sense to be your own boss (even if they know nothing about starting a business). 
The mindset problem is evident with incidents like bashing and hate for a post about 18-hours work days  made by a CEO. 
Everyone wants to reap the benefits, without putting in the hard work. And starting a business looks like a shortcut to making wealth. 
While it is not proven to make people 'wealthy'. The source of such info comes from glamourization of 'funding news' or 'richest in the world' lists. 
The maturity and patience is simply not there which paves the way for failure or a startup or business venture, especially if someone is starting a business for the first time. 
2. Capital or money 
Probably the problem #1 for every entrepreneur out there. 
Even the article above states financial difficulties is a major reason for the bad state of entrepreneurs in the country. 
Finding money for starting or growing a business is like a quest. You're never really winning. Every time someone thinks about starting a business, the question of money crops up. 
And this is a worldwide problem. Not India-specific. 
66% of all small businesses face financial challenges. 
In India, most small businesses fail to raise capital or attract investments, mostly because of their limited scope of growth, or operating inefficiencies. 
The Economic Times says that most small businesses resort to business loans for meeting their working capital requirements. Out of this, 40% loans are secured from informal channels with high interest rates. 
You must have seen this in your area or city too. Committees, chit funds, or personal financers agree to lend money to businesses without much formalities or collaterals. 
Even if a business succeeds (which is a different story in itself), most owners struggle with the cash flow of their small business, making it really hard for them to think of marketing, or expansion. 
Though Indian startup ecosystem and the government has been quite active in providing cheap (and easy) access to business loans for the youth, the sheer vastness of the nation still leave people (and aspiring entrepreneurs) behind. 
The fear of loaning money and not being able to pay or not getting any money to fund a business idea keeps an average Indian away from the thought of starting a business in the first place. 
3. Method 
What should be my first step if I want to start 'xxxx' business? 
This thought lingers on the back of mind of everyone who's starting. India is not yet privileged enough to ensure awareness. 
Entrepreneurship in itself is tricky, and finding the right path to start or grow something is a problem for the average Indian. 
Though the internet is a great resource and access to the online resources has come as a boon for entrepreneurs, but there's still a bigger problem at play. 
Information overload, especially in the entrepreneurial niche is a strong deterrent. Even if someone tries searching online, the sheer volume of content and information makes them  procrastinate. 
Plus, if you observe on social media, millions of ads run everyday, each trying to teach you the right way to make money, build a business, or solve a business challenge. 
Sadly, most of this paid 'course' content is not geared towards making anyone succeed. The most they do is confuse a person even more. The 'pseudo guru' and coaching culture has lost its way and now is making others even more confused about their abilities to start a business. 
An entrepreneur, especially in the small urban centers, is always confused about which method or way is better, always in a delusion, which makes running a business more confusing. 
I touched about the topic of confusion and shiny object syndrome as an entrepreneur briefly in one of my old blogs. Sadly, there are still not many ways one can deal with this. 
Though there are accelerator and legit programs out there, but in the noise of the internet, real gold gets out of reach (or gets buried deep) of a common Indian who just wants to start something small with the exact steps. 
4. Mentorship 
No matter how rebellious you are, you still need someone to guide you. For an entrepreneur, especially for the first time, finding a legit mentor is quite difficult. 
All kinds of pseudo gurus and consultants on the internet can topple someone from their original business idea or plan. And it's dangerous even more when someone doesn't have any plan in the first place. 
Many so-called mentors try deviating a small business owner from their actual path for personal gains — to buy a product, service, or course. 
There's a lot of ambiguous term thrown around on this topic. There are mentors, advisors, consultants, personal coaches, and what not, all over the social media.
And if you're coming from a small city or town, no matter how good you're at your own thing, you'll instantly be attracted to the charisma of the mentorship world. 
You would feel you've got the right person, and before you know, you'll be part of a multi-level marketing or sales scheme. 
Thankfully, there has been great progress in the form of legal incubation platforms for startups and business owners. But sadly, for small business owners, such initiatves lack the depth or focus. 
I personally tried searching for a mentor early in my journey, failed at it when people didn't respond well (or tried selling me a dream that wasn't aligned), before I chose to become my own mentor (and decided I will never misguide anyone who asks for a path). 
Things have worked well for me till now (though I am still early in my entrepreneurial journey).
But yes, the turf is very distracting and you all know how most first-time business owners are not 'well-networked' to find mentorship coming their way. 
More challenges to entrepreneurship 
Entrepreneurship isn't an easy road so limiting the challenges to a small list won't do justice to the problems at hand. 
Apart from the ones I mentioned above, building a team, finding worthy talent, achieving operational efficiency, regulatory compliance, are just some other problems. 
Thinking of the list itself gave me sweats. Think of the to effort and commitment it takes to move the mountain of success as an entrepreneur in India. 
Commitment to find solutions is the first step. Let's take it together! 
What is a blog without tangible takeaways doing on the internet in 2022 when we all know these problems. It seems like a moot point. Right? 
But it's not for me. And for the millions out there feeling dejected about not being able to find a direction to solve this challenges. 
This year, I took it upon myself to help solve the challenges to starting a business in India. I am alone but committed to help solve the problems, one at a time. 
I have no intention to sell a course (or get your personal data) but to publish information for my community who keep coming back to me in a hope to find relevant and meaningful answers. 
I have been 'helping' since 2014 in my own way but now I am also falling short. The reason, I am putting it in the world out there in the form of this blog, to help India start something of their own. 
If you also feel deeply for the 'lost cause' of small business growth and entrepreneurship, I am all in to hear your ideas out and possibly pool our resources (and knowledge).
Right now, I am trying to build a knowledge base and if you're eager to contribute, have a look at this page: Smallbiz India Lifeline 
Let's work together!