In India, everyone's a hustler. We all have seen our parents, brothers, sisters and neighbors trying to earn a little extra. Everyone wants to increase their monthly income. Some use network marketing; others go for property dealing, beauty parlors, boutiques, taking tuitions, or selling homemade snacks. Reason: 
'Chahe naukri ho ya vyapaar, money comes like a tortoise but goes like a rabbit!' 
Sadly, the side hustles our parents loved aren't relevant (or rewarding) in 2023. Today, everything's available at the tap of a button, and no one prefers buying from 'their loved one.' But we all need a side income idea to earn money. Isn't it? 
So, how do you start earning extra money through a side hustle in India? More importantly, does any idea fit your current schedule? 
In this blog, I'll share a quick and rewarding idea that I tried for the first time in 2017-18 and am still pursuing. This idea helped me leave my job, start a business, and get independent – free time and extra cash. And no, I am not talking about freelancing like I usually do. So, let's begin. 
Dropshipping - Best Idea to Start Earning Money on The Side
If you're a millennial, you must've thought about starting your own business by selling products online. Most probably, you've tried it, too, but stopped because it takes too much time to source materials and ship them to customers. 
Well, today, I will share a new way to sell online where you don't need to deal with stock, shipping, and all the problems that can be a headache to manage alongside a full-time job. 
Dropshipping is a way to sell stuff online without ever touching the products. Confused? Don't be. In dropshipping, you're not the one handling the products. You promote the products manufactured by someone else by acting as a middleman. 
You promote a product on your online store, website, or social media profile. 

Someone else (usually a wholesaler or manufacturer) ships it directly to the customer.
So, you never stock inventory. The supplier takes care of that. Simple as pie, right? It's different from your traditional 'trading businesses. 

Dropshipping isn't just a fancy 'online' term; it's a legit way to start a side hustle in India.
Why Do I Think Dropshipping is a Good Side Hustle Idea? 
Out of a million other ideas, you must've explored YouTube & Google; why dropshipping? Well, in one sentence – it costs almost nothing; there's no steep learning curve and virtually unlimited resources out there. You don't need to pay anyone to learn and do drop shipping.
Here's why I think it's best for you to start a dropshipping business as a side hustle: 
No Upfront Costs.

One of the biggest barriers to starting a side business in India? Money. No one's got extra cash on the side to create a new venture. With drop shipping, that's less of an issue. You don't need to buy inventory or invest a lot of money in expensive shopfaces or online stores. 
Manage Your Hours, Your Way.

Unlike freelancing or any other client-facing side hustle idea, dropshipping lets you work whenever you want. Netflix binger or night owl? Promote on your own time and adjust your business idea to fit your office or free hours. 
No Inventory Woes.

You don't need a warehouse or extra room to store your products. And there's no need to track shipments, chase courier partners, or manage the supply chain. Just pass on the order to the supplier, and you won't get pesky calls from customers during your office hours.

Easy to Test and Grow.

Got a product idea, but I'm not sure if it will sell. Or do you want to see if 'online selling' works for you or not? Try first with dropshipping and test multiple products without committing to inventory. Find winners and make your next move. Plus, it saves time wasted on managing unsold inventory in case your idea flops.

Enough Learning Resources.

If you're scared of the 'dark zone,' there are lots of free tutorials, videos, and coaches out there to guide you through. Learn on the go with virtually minimal downside. 
Did I Do Dropshipping as a Side Hustle Ever? 
Short answer – yes, thrice. I started a small business on the side  – YourFashionPit to dropship apparel back in 2017-18. It didn't scale because I didn't feel like apparel was my 'vibe.' I quit after successfully scaling it up to 100 orders per month. 
That was my first 'flavor' of launching a side hustle, and I feel I was successful – it brought confidence that I can do more than freelancing. 
Though the idea didn't feel like a natural fit, dropshipping allowed me to quit with minimal downside. I wasn't stuck with 'unsold inventory,' and I went on to do another test with another niche during COVID. 
Right now, I am again testing a new idea with a friend where he does the operational part, and I just take care of marketing ideas whenever I have time. :) 
So, yes! I can say it's pretty a risk-free approach to side hustle where you can quit if you don't feel like it (or feel it was not a natural fit). 
Unique Dropshipping Ideas: What Can You Dropship in India? 
You get the gist – promote someone else's products and earn margins (profits) on each successful order. But how do you know what product to sell? Where to start? 
You can't start promoting any product and expect customers will come automatically. Right? 
I've got a solution for that, too. There are hundreds of tools available online that help you find the 'most trending' products online. Here are a few: 
Sell The Trend

Thieve

NicheScraper

eComHunt 

Unicorn Smasher
Unsolicited Advice: Upar wale tools google kar lena! :) 
If you have limited money to spend on a tool, let me share my secret – it's free and gives you a fair idea of what's in demand. 
Go to Amazon and look for the

Movers & Shakers Category

. 

You'll find the bestsellers from the previous day on the screen. The biggest gainers in sales rank in the last 24 hours. Keep coming back to the Movers & Shakers screen daily, and you'll know what sells in India.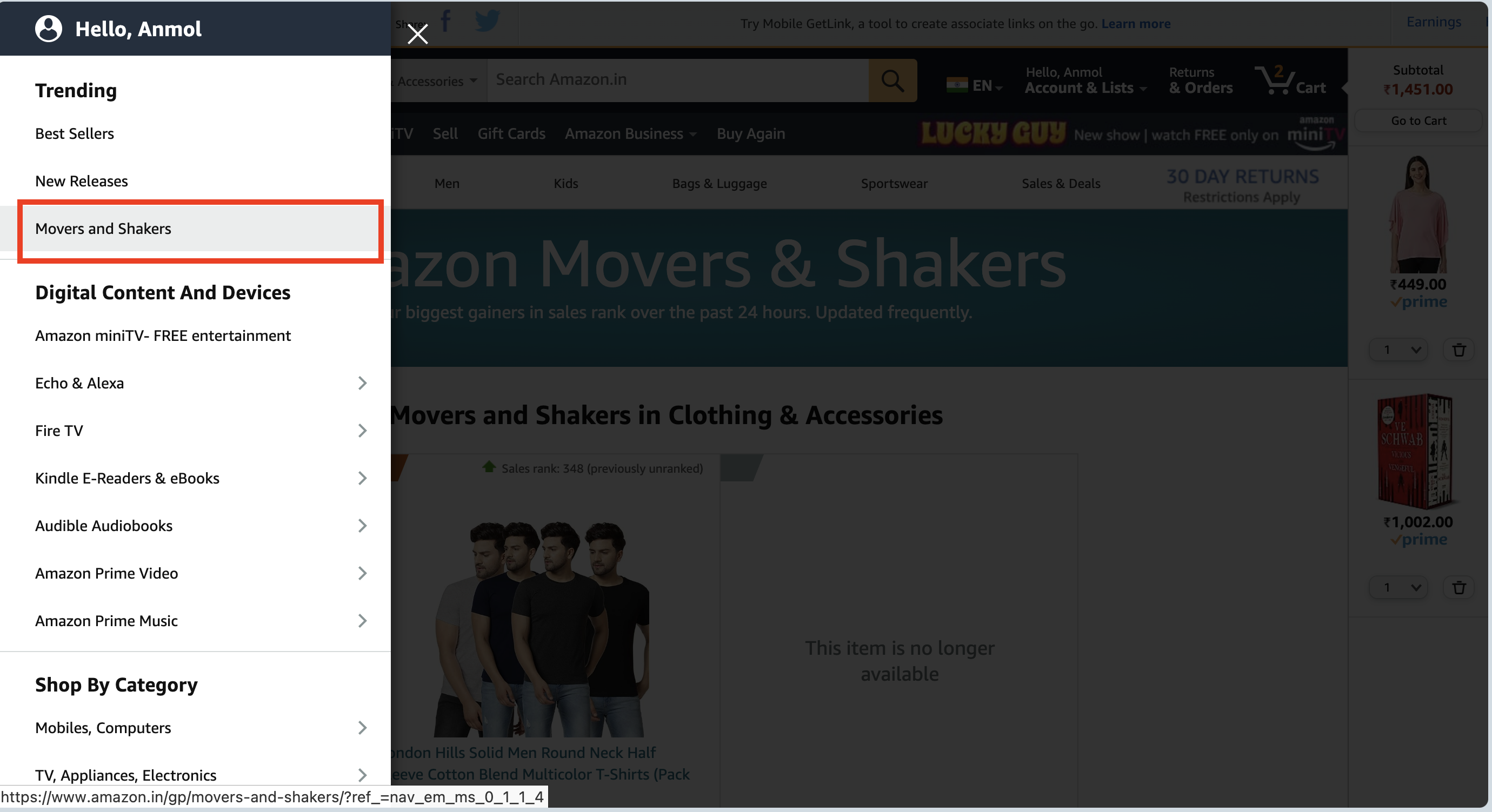 💡Bhai ki advice: Pick a category from the sidebar to see what's selling in that particular category. Pick a variety you are interested in, check what products are trending, and you'll start getting product ideas for dropshipping. 
If it's too much hassle for you to start researching (or you don't get the time), here are a few ideas to get your brain on the dropshipping track: 
Personal Care Products.

Skincare and grooming are essential routines for many people. Plus, people are spending more on grooming. Consider dropshipping Organic soaps, face masks, and grooming kits for men. 
Eco-Friendly Items.

Sustainability is a growing trend, and eco-friendly products are gaining traction. Think of reusable bags, bamboo toothbrushes, compostable plates, etc. 
Smart Home Devices.

People love Alexa and the conveniences smart devices offer. The demand for smart devices like Smart bulbs, Wi-Fi cameras, automated curtain systems, etc., is growing, and it provides a significant markup, too. 
Pet Supplies.

People are adopting and raising pets more than ever now. Don't trust me? Check out #indieparents or #cutedogs hashtags on Instagram. The pet product market is booming, and owners are willing to spend on quality products. You can dropship organic pet food, designer pet collars, and pet carriers. 
STEM Products for Kids.

Parents value educational playtime, making this a lucrative dropshipping opportunity. Dropship STEM kits, educational board games, and interactive learning toys.
Travel Accessories.

With the rise of travel in India, demand for cute and functional travel accessories is at an all-time high. Think travel pillows, luggage organizers, portable water purifiers, etc. 
Kitchen Gadgets.

Gone are the days of HomeShop18. But I'm not trying to make cooking at home easier. You can start dropshipping handy kitchen gadgets like vegetable choppers, non-stick silicone baking mats, electric grinders, etc. 
Fashion Accessories.

Fashion accessories, artificial jewelry, and similar

add-ons often have good markup potential and can enhance any outfit. Dropshipping trendy sunglasses, boho bracelets, and statement necklaces is a good idea. 
Things You Need to Start Dropshipping in India
Starting a dropshipping business is like prepping a car for a road trip. You need to plan everything for a memorable trip. Remember your last trip – you had a car, the fuel tank was full, you got good music, snacks (entertainment), and a destination in mind.
Dropshipping is just like that, with a few parts moving in sync to help you get to your goal – earn money on the side. Let's look at each, one by one. 
For the road trip to happen, you need a car, first of all. You must've haggled your friend to lend a vehicle if you don't already have one. Similarly, for dropshipping, you need bizlite. 
bizlite is the fastest, cheapest, and easiest way for a business to get online without monthly financial commitments. You don't need to pay a monthly sum like Shopify, and you get some exciting features like QR scans, digital business cards, and WhatsApp store. 
All this lets you manage your incoming orders from your phone without logging in to any dedicated dashboard. After all, you don't want your manager or colleagues to catch you logged in to your eCommerce or social media account to check incoming orders. Right? 
So, first off – sign up for a bizlite account. It allows you to create a digital business card and WhatsApp store for free (for up to 5 products). For more products, you can purchase a paid plan. 
Bizlite lets you: 
Create a free digital business card and WhatsApp store; 

Add up to 5 products to your WhatsApp store; 

Add payment links to your card for faster payments without commissions; 

Get a personalized store & card link; 

Accept appointments. 
Remember, this is on the free plan. The paid plan is more exciting as it lets you create a detailed product catalog with product categories, images, and everything else. The best part is that the paid plan is also very affordable at just a one-time fee of INR 1000/– only. I bet you spend more on 'Chai & Snacks' every month. 
💡Bhai ki advice:  Start frugally with bizlite, as it's more affordable and easy to manage. Once you scale your operations, you can move to Shopify, which costs a few thousand rupees monthly. 
Also Read: How to Sell Anything Online without a Marketplace or Paying Commission
Glowroad or Any Supplier Platform – Your Business' Engine 
Next, you need a well-oiled engine. Your supplier will be the engine that powers your business. Without a reliable engine, your car will not move, and neither is your business.
For the sake of simplicity, mentioning only two platforms to help you start: 
These platforms let you jump into dropshipping wagon quickly. Sign up, pick your stuff, set your price, and share. You earn when people buy. The supplier takes care of shipping. Win-win for all. 
Read More
💡 Bhai ki advice: Start with Glowroad, and later research more and find dedicated suppliers for your 'winning' products on Indiamart or local markets. If you're in Delhi, you'll find almost all kinds of suppliers in Sadar Bazaar near Pulbangash Metro Station. 
Online/Offline Marketing – The Fuel That'll Take You Places 
You need fuel to get your car, or in this case, your business is moving. Marketing is that fuel. But don't worry if you don't have any 'marketing knowledge' or experience. Here's a simple way to get started: 
Pick a social media platform you know, like Instagram. 

Think of content ideas you can create to promote the products. Some examples include product review reels, product demos, etc. 

Use Canva to create social media posts or Instagram reels for promoting your business. 

Use a social media automation platform like Publer to schedule the social media posts. 
If you're short on content ideas, here are some ideas: 
If you don't feel that 'online' would work for you, you can start small and share your bizlite link with your network or neighbors. Ask them for referrals, create a WhatsApp group of daily deals or fresh stock to share products online. You can also use Facebook Groups to promote your product listings. 
Need more quirky ways to promote your new business? Fill Out This Form to Get Unique Business Ideas in your Inbox. 
💡 Bhai ki advice: Go for both ways – online and offline in the beginning. Start focusing more on platforms that bring you the best results. 
How to Get Started with Dropshipping in India? 
You're still here! Great. It shows you're committed to exploring the dropshipping idea. Here's a quick glimpse of the process I shared through this blog. Follow the below steps to go from zero to one. 
Find a niche or product Idea.

Use the tools mentioned above to get a head start on what you want to sell. 
Find a store name idea. Are you confused or blank on the name idea? Discover fresh store names on the Bizlite Store Name Directory.
Create a Glowroad account and start curating.

Sign up on Glowroad or Meesho and pick products for your dropshipping business.  
Create a bizlite account. Sign up for free to get a free digital card and Whatsapp store to add all your chosen products to a single link (or storefront). 
How Will You Start Earning via Dropshipping in India? 
It is time to come to the main point – how will all this help you earn money on the side? Here's a scenario: 
You'll post regularly on Instagram, Facebook, WhatsApp, and other Platforms; 

Interested customer will discover your product on their feed or as an ad on any platform; 

They'll visit your bizlite store link and place the order if they like the product; 

As soon as they place the order, you'll receive a Whatsapp text with details like their order, address, name, and contact number; 

Use the order to place their order with your supplier. If you're using Meesho or Glowroad, you can order directly as you place an order on Amazon. Remember to add your profit margin and customer details when placing the order; 

Once the order gets delivered, you'll receive your profit margin in your Glowroad account, which you can withdraw to your bank account. 
FAQs
How much will you earn by dropshipping in India?
Earnings can vary big time. It's all about how much effort you put in. The more you hustle, the more you make. Simple as that. Your earnings depend on various factors like product choice, pricing strategy, and marketing skills. Some people earn a few thousand rupees a month, while others make lakhs. 
How will I ship?
No sweat—you don't have to. Your supplier takes care of shipping. You focus on selling.
How do I make extra income each month?
Find a hot product, then use Bizlite to set up an online storefront. Promote your business, and watch the cash flow in.
How much time should I dedicate to my side hustle to make it successful?
Aim for 5-10 hours a week to start. Consistency is key to growing your side gig.
Why should I think of a side business?
Who doesn't want more cash? A side hustle is your ticket to financial freedom.
More Side Hustle Ideas for You
If dropshipping doesn't sound too fascinating or rewarding, here are a few more ideas you can try to earn extra cash on the side. 
Graphic Designing. Got an eye for design? You can offer your skills on platforms like Fiverr or even to local businesses. Whether it's designing logos or creating eye-popping graphics for social media, the demand is high and the money's good!

Virtual Assistant. Super organized? Businesses are always on the lookout for someone to help manage their chaos. From email handling to calendar management, being a virtual assistant offers flexibility and a chance to work with various industries.

Affiliate Marketing. Love talking about products you adore? Why not get paid for it? With affiliate marketing, you can earn a commission for every sale made through your unique referral link, just like dropshipping. It's like sharing a secret gem with your audience and getting rewarded for it!

Online Course Making. Are you an expert in something? Share your wisdom! Creating an online course can be a one-time effort that pays off long-term. Teach people a skill, and you'll not only earn money but also make a lasting impact.

YouTube Channel. Camera shy? Time to overcome it! Whether you're into cooking, gaming, or fashion, there's an audience for it on YouTube. Start your channel, grow your following, and cash in on those views.

Content Writing. Got a way with words? Businesses need quality content to attract customers. From blog posts to newsletters, if you can write compelling stories or useful guides, you're golden.

D2C eCommerce Store. Got a product idea? You can easily set up an online store and sell directly to consumers. The internet makes it easier than ever to reach a global market without breaking the bank.
Looking for Inspiration? 
I balanced my first side hustle with a full time job. Here's the full story.
I've shared everything I had. Now, over to you to get started. All the best!