shopify
Shopify India Pricing Plans: How much will it cost to launch your eCommerce store?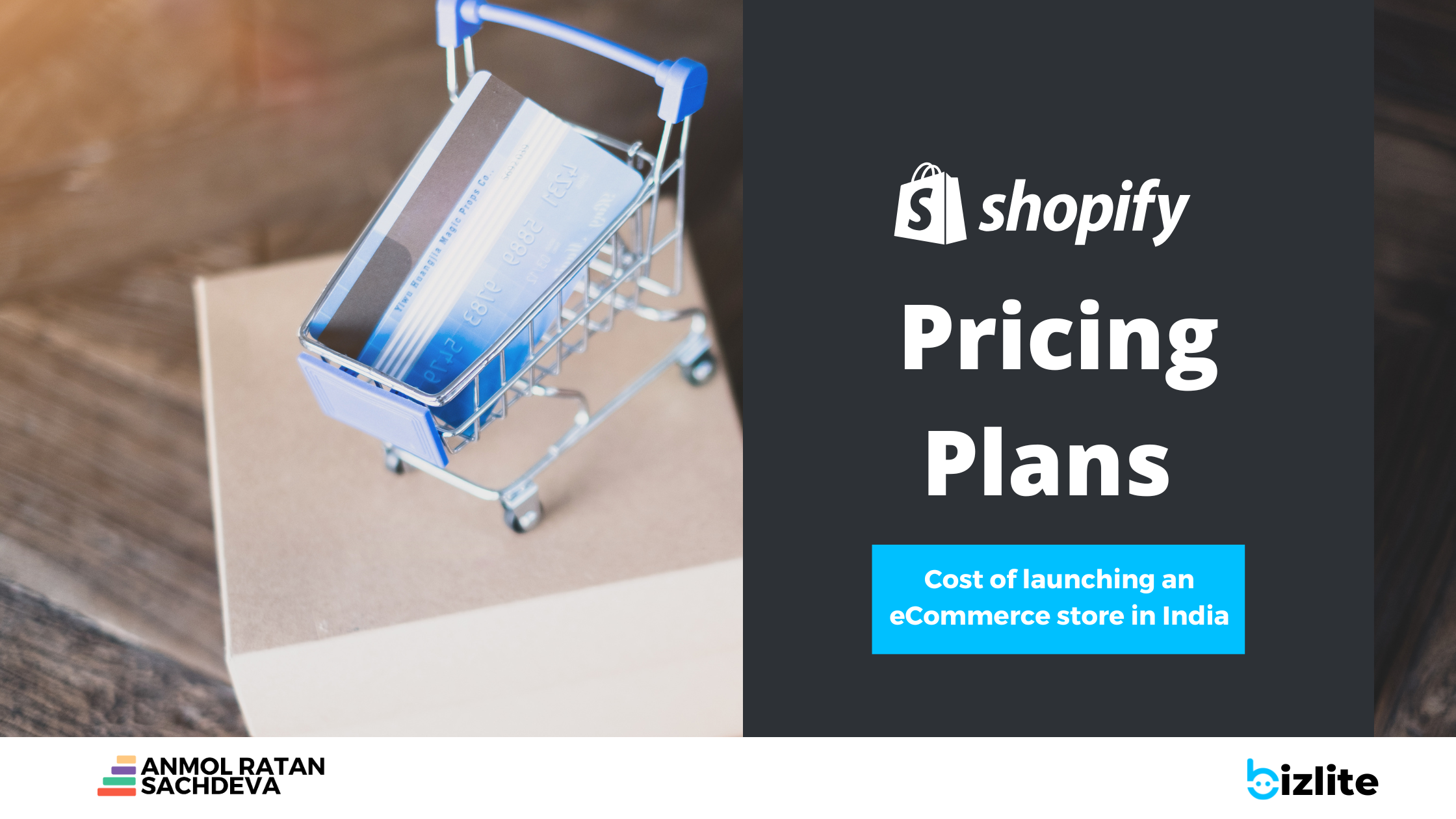 You've explored all the business ideas — searched everything online, watched all YouTube videos, attended free webinars, and maybe more. And you've finally decided to launch your eCommerce store on Shopify. 
This may be your first time starting a business, or you might have tried different things in the past. In any case, you know, you need to understand the costs associated with starting a business. 
If you've thought carefully, you'd have understood that launching a Shopify store for eCommerce, D2C, or even a dropshipping business makes sense, mainly because you'll be able to manage everything from a single platform. 
So, if you're all keen to take the first step towards launching your own eComm business using Shopify, then hang on (and probably bookmark this page). 
Because I am going to cover everything about Shopify pricing plans in India — the costs, the features and benefits. There is also some information about the Starter plan - the cheapest Shopify plan in India and answers to common questions about Shopify pricing in India. 
Shopify India Pricing Plans: The Basics
You must have probably glanced over Shopify's pricing page by now. 
Here's how it greets you. 

Though Shopify's pricing model is pretty straightforward — three unique plans, there are always questions about which one we should pick up when starting up. The most tempting (price-wise) is always the basic plan. 
But will it be useful? And are there any hidden offers (or secret Shopify plans for Indian first-time businesses)? 
Let's quickly glance over the three plans. 
Shopify India Basic Plan — Starts from INR 1499 per month.
The basic Shopify plan for Indian users costs INR 1499/— per month, which is a great price point, considering the reliability and features of the platform. You can launch your Shopify store with ease using this plan. 
Shopify India Basic Plan: Core Features
Fully-functional online store with an eCommerce-enabled website + blog
Add and sell unlimited products on your Shopify store

 

No external hosting required

 

Two staff accounts and four inventory locations supported

 

All basic reporting and segmentation features enabled

 

Free SSL certificate

 

Abandoned cart recovery features
Manual order creation

 
Shopify India Basic Plan is Useful for
Someone who's starting their first online eCommerce store

 

Dropshippers who can afford to overlook advanced reporting features
Small business owners who want to get online fast (Manual orders allow you to bring all your sales data online)

 

Aspiring entrepreneurs with a limited budget who want to try the Shopify store experience

 
Claim your 14-day free Shopify trial + a 100% free eBook (for yours to keep forever) now
Shopify India 'Shopify' Pricing Plan —
 

Starts from INR 5990 per month.

 

Shopify has a 'standard' plan called 'Shopify' on its website. This is the standard package that Shopify recommends every store owner in India to buy. 

The 'Shopify' plan comes with all the standard features of the Shopify India Basic Plan + some additional features like professional reporting, additional staff accounts, and inventory locations. Plus, the transaction fee on this plan is lower by 1% compared to the basic plan. 
Shopify India Shopify Plan: Core Features
Everything in the Shopify India 'Basic' Plan

 

Better reporting, including the ability to create standard order, sales, profits, and customer reports

 

Lower transaction fee than the basic plan (1%)

 

Five staff member accounts to manage and operate the Shopify store
Up to 5 inventory locations to manage the locations where you store your products (+1 than the basic plan)

 

eCommerce automation to automate manual tasks and workflows
Shopify India Shopify Plan is Useful for
Online eCommerce store owners with some online sales (proven sales/marketing approach)

 

Entrepreneurs who are data-driven and require professional reports for analysis and improvements

 

Store owners who want to minimize their workload by linking tools and triggering automation
eCommpreneurs who wish to pay a lower transaction fee per orde
Claim your 14-day free Shopify trial + a 100% free eBook (for yours to keep forever) now
Shopify India Advanced Pricing Plan — Starts from INR 22680 per month.

 
The advanced pricing plan — the highest on the table is for large, established eCommerce businesses already killing it online. 
Priced at INR 22680/— per month, it's evident that the advanced plan is for businesses who're serious about their online operations. The plan comes with some advanced reporting features and the lowest transaction fee you can enjoy on Shopify, i.e. 0.5%. 
Shopify India Shopify Plan: Core Features
Everything in the Shopify India 'Shopify' Plan

 

Advanced reporting capabilities
Third-party calculated shipping rates (integrated shipping rates calculator on checkout page)

 

Estimates of import duties and taxes on checkout (if you're selling internationally)

 

Lowest transaction fee (0.5%)

 

15 staff member accounts to manage and operate the Shopify store
Up to 8 inventory locations

 
Shopify India Advanced Plan is Useful for
eCommerce stores or sellers with existing (or expected) high volume sales

 

Established self-hosted eCommerce stores that're looking for cloud eCommerce platform alternatives and want to reduce tech spends

 
Claim your 14-day free Shopify trial + a 100% free eBook (for yours to keep forever) now
Shopify India Pricing Plans Compared: What's the Difference? 
 

Basic

Standard

Advanced

Staff Accounts

2

5

15

Inventory Locations

Up to 4

Up to 5

Up to 8

Automation

Not allowed

Yes

Yes

Transaction Fee

2.0%

1.0%

0.5%

Others

 

 

Real-time shipping, import duty and other cost estimators

 

Advanced reporting and automation

 
Cheapest Shopify Plan in India: Hidden in plain sight

 
If you look carefully at the Shopify India pricing page, you'd observe a cheaper pricing plan below the three original plans, just adjacent to the Shopify Plus plan (meant for customized/enterprise-grade solutions).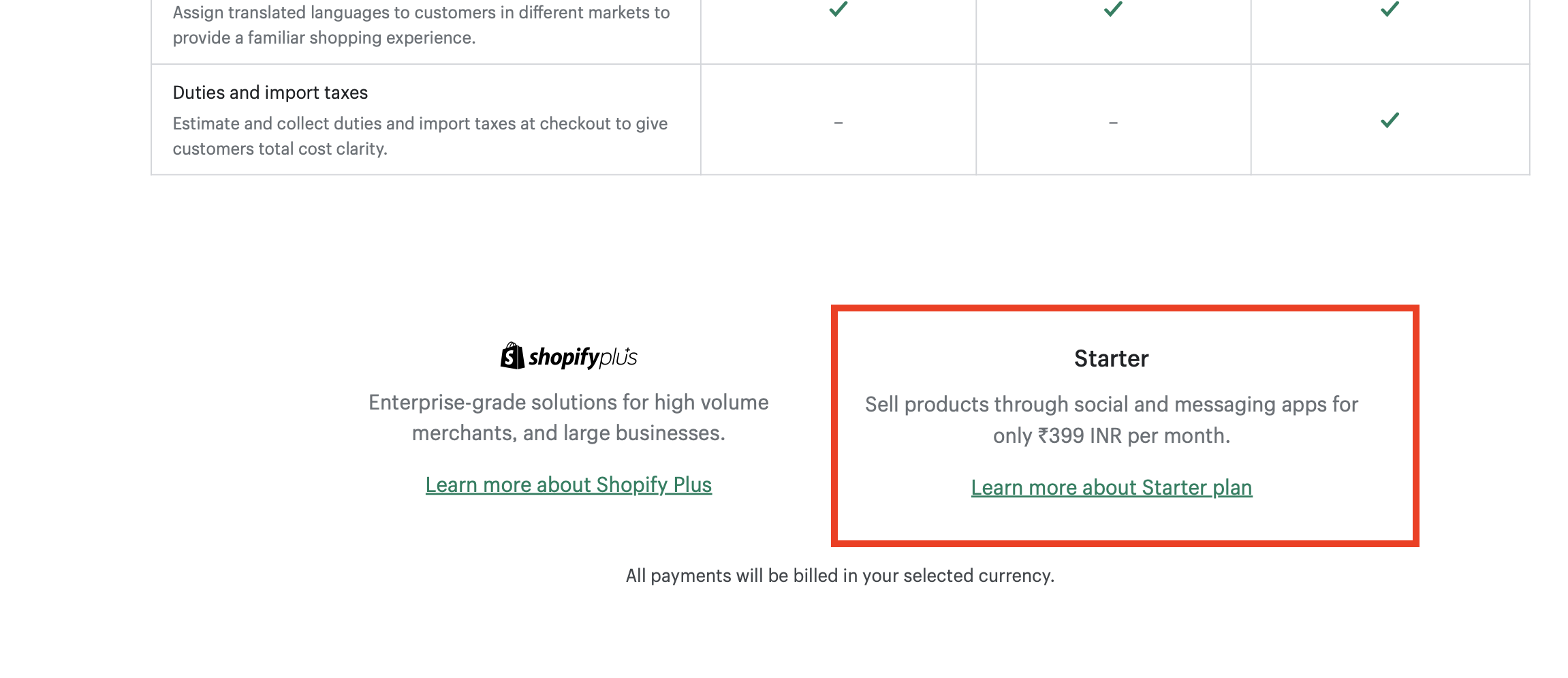 The plan — Shopify Starter is designed to help you test your eCommerce idea at just INR 399/— month. 
What's it all about? And how is it so cheap? 
Shopify starter plan is a unique plan for first-time store owners who want to try out the taste of selling online using social media, email, SMS or WhatsApp. Basically, for people who wish to practice social selling but want dedicated product pages with a great checkout experience. 
You can even use the Shopify checkout option on your existing Carrd landing pages (that you made for your small business). 
Know how social selling apps like Meesho and Glowroad work? Shopify Starter plan works exactly like that. You get a dashboard to manage your products and test your market without wasting time or money building a website. 
Basically, it's an attempt at enabling small business owners to taste selling before they invest in a Shopify website. Platforms like MyDukaan have been offering similar solutions in India. 
Other 'Hidden' Costs Associated with Launching a Shopify Store in India
Paid Themes & Apps: Themes and apps help customize your store and improve functionality. All themes and apps (except the starter/basic themes and free apps) are charged separately and can be bought using the Shopify marketplace.
Domain Charges:

You'll have to buy a domain name (your address on the internet) to launch a Shopify store. Use

Namecheap

to search/buy domain names for as low as INR 80/—

Customization, if needed:

If you have some specific requirement from your eCommerce store, you'd need a Shopify developer or designer, for which you'll have to pay over and above your monthly subscription plan. You can hire a freelancer or Shopify agency for customization requests.

 
FAQs about Cost of Launching a Shopify Store in India
Should you buy a paid plan by Shopify India?
If you're serious about launching an eCommerce or dropshipping business in India, you should definitely think of a paid Shopify plan. You'll save a lot of time, money, and effort on setting up your own store manually and managing operations when you choose to go with Shopify. Plus, the basic plan that starts at INR 1499/— per month isn't a bad option if you consider the cost of building/hosting your own eCommerce store. 
Which is the best Shopify India plan?
Choosing the 'best' plan is a subjective task. The choice depends on your uses, applications, and business life stage. If you're yet to test your eCommerce business idea, better go with the starter or basic plan, but if you're confident with proof of success, you can go for the Shopify plan or even the advanced plan. 
Which Shopify India plan is the cheapest?
The Starter Plan, which starts from INR 399/month, is the cheapest Shopify plan in India. But remember, it just gives you the ability to share product links and use Shopify checkout, and you can't create a complete eCommerce store on the plan. For building a store using Shopify at minimum cost, go with the Basic plan, which starts at INR 1499/month. 
Which Shopify India plan has the least features?
The starter plan has the least number of features. It just allows you to use Shopify to create and share product pages with a checkout feature. 
Can you add your own domain name to a Shopify store in India?

 
Yes. You can add your own custom domain to Shopify store in minutes. Go to Sales Channel —> Online Store —> Domains to add your custom domain to your Shopify Store. 
How do I know if Shopify India will work for me?
You can start using Shopify for free for up to 14 days using the free trial option. Try the platform, and decide for yourself. It's better to act than to guess or just read, always. If you don't like the offerings, you can always cancel your subscription plan. (Money won't be deducted if you cancel before your subscription expires) 
Does Shopify take a cut of sales?
While Shopify doesn't take a cut of sales in India, Shopify does charge a transaction fee on every transaction happening through a third-party payment provider. You'd need a payment gateway to accept payments from your customer on your platform. The transaction fee depends on your Shopify plan and is charged for a 30-day period using a standard formula ([(cost of products - discounts) + tax + shipping charges] x rate) 
Enough with Evaluating Shopify India Plans. Here's Your Free Trial!
Okay! I guess you got all the information to get started. Don't overthink this. If you want to start a business, the best way is to act sooner than later. And if you're still confused, here's a free guide to starting your first eCommerce store using Shopify. 
Go, start your eCommerce operations, right away. And if you're keen (and driven), here's a link to claim your free Shopify trial right away.