Resources
#BIGStory Initiative by Bizlite & Anmol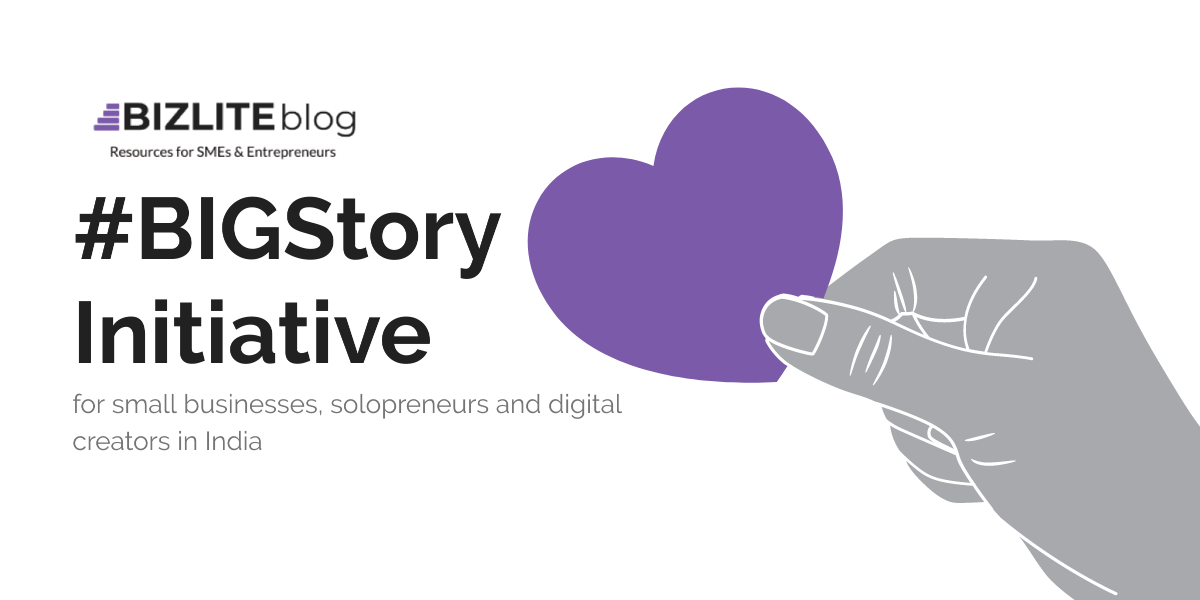 In Dec 2020, I took a pledge: To help more creators and solopreneurs in India than I ever did in life. 
And that's how the #BIGStory initiative was born. 
My journey so far. [January 10th 2021]
Till the last year, I was just focusing on SaaS startups, and big corporates and helped them with their digital footprint. 
But the more I interacted with small biz entrepreneurs, freelancers and solopreneurs (Thanks to LinkedIn), the more I realized that I can make a bigger impact there. 
While my existing clientele's main goal was to grow revenues and bring more sales, small creators and businesses just want to fulfill their ambition of calling something their own.  
I took the leap in December and started reducing my paid client engagements to help small businesses and solopreneurs in India. 
I discussed this with a few friends and started a small pilot to on-board creators and aspiring entrepreneurs who wanted to start an online business, or increase their scope of operations on 1st January, 2021. 
I wanted to see if I am even useful to these guys. So, I started reaching out and was overwhelmed by the response I got for the helping hand I extended.
Almost everyone I interacted with, readily accepted my support on strategizing their online growth. 
In just 10 days, I am happy to have 5 regular engagements in this pilot project of mine, each from a different industry. 
One has his own eCommerce store in healthcare category.
Next, there is this independent consultant in the financial domain who wants to start his online journey. 
Another one is a writer who wants to launch her first book this year. 
Then there is one who want to switch from freelancing to a more structured agency setup. 
And lastly, there is a financial advisor who wants to expand his horizons from a small town to make a pan-India impact. 
I was planning this for months and I am happy to have launched this initiative. All of these passionate people are eager to make it BIG in the world. 
Each one of these would be a #BIGStory in the future. 
Though there is no remuneration for me in helping and consulting them, I am happy that I can help them, anyway. After all, it's not always about money. 
I am formalizing this pilot of mine and I would be taking more creators and solopreneurs under this program in the future.
I am calling this BIG Framework - Build, Improve & Grow. My focus under this would be to make any entrepreneur #MarketReady first and then scaling their operations.  
It's just like running a startup. There is no fixed responsibility but we want to make it #BIG together. 
I will be documenting each of the venture's story on this blog to help other creators and entrepreneurs learn from our mistakes and achievements. 
Stay tuned for more #BIGStory updates. 
Subscribe to #BIGStory updates on LinkedIn 
If you're a small creator or business who needs my help on marketing, content, building a digital business or anything business, please feel free to send in an email at contact@arsachdeva.com. I will be happy to jump on a call to discuss. :)