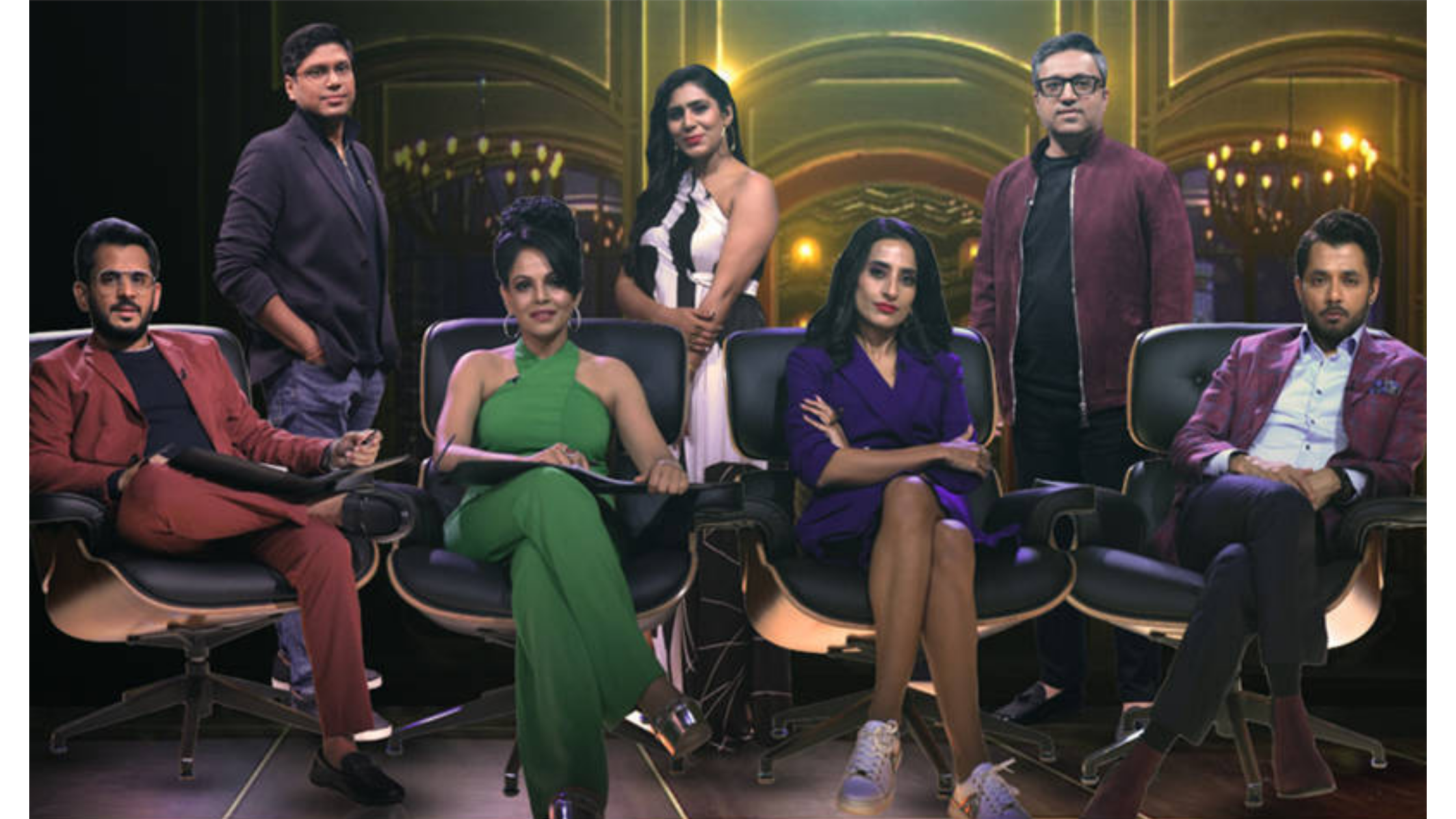 You're excited for Shark Tank India. And why shouldn't one be? 
It's like the 'launch of KBC' for our generation, but better. Just like KBC brought small-town dreams to small screens (and the prize money fulfilled it), Sony's latest show - Shark Tank India brings the opportunity to get funded - literally the dream of every other startup entrepreneur. 
Everyone who was waiting for Shark Tank India had the same question in mind: 
Who will be the judges on Shark Tank India? 
Sony revealed Shark Tank India judges in mid-November after months of silence about who'll be the Sharks. 
The judges announcement came as a delight for Shark Tank fans in India. Sony carefully chose some of the most dynamic personalities from the Indian startup ecosystem to judge Shark Tank India season 1. 
Here are the Sharks: 
You might have known them, followed them, admired them, or even adored them. But many entrepreneurs aren't too much into following the who's who. This blog is for entrepreneurs and startup enthusiasts who want to know more about Shark Tank India judges. So, let's begin looking at them, one by one.  
Who are the judges in Shark Tank India? 
Ashneer Grover, MD and Co-founder - BharatPe
If you keep an eye on India's Fintech space, you'd have seen, heard and read from Ashneer sometime for sure. The co-founder & Managing Director of BharatPe - India's leading payment solutions, Ashneer is known to be an active investor with approximately 23 startups investments across industries. 
Ashneer's Public Investments
According to Crunchbase, Ashneer has invested in 15 startups. His most recent investment was in HireQuotient. He invested $1.8mn in the PreSeed round in December 2021. 
According to an interview given to Moneycontrol, Ashneer shared he is an avid investor with investments in 23 investments and 2 VC funds - Ribbit Capital & Vinni Pujji's Fund. 
More on Ashneer Grover 
Vineeta Singh, CEO and Co-founder - SUGAR Cosmetics
You'd remember Vineeta from Week Magazine's cover as the IIM alumnus who turned down a 1-crore package in 2007. She went on to launch SUGAR Cosmetics with Kaushik Mukharjee in 2015, which is now one of the leading Indian cosmetic brands. 
 Vineeta's Public Investments
There's no public information on Vineeta's startup investment portfolio as of now. It would be interesting to look at her picks this season. 
More on Vineeta Singh
Peyush Bansal, Founder & CEO - Lenskart.com
Peeyush Bansal is a popular name in the Indian startup scene and is the founder & CEO of Lenskart.com. He started Lenskart in 2010 after he quit his job at Microsoft in 2007. He launched a couple of startups between 2007 & 2009 before finally settling in with Lenskart.com. 
Peyush's Public Investments
According to Crunchbase, Peyush has invested in three startups with the latest one being for Shiprocket in Dec 2021. He invested $185mn in Shiprocket. Other investments include a seed round investment in inFeedo and a venture round in DailyObjects.com. 
More on Peeyush Bansal 
Namita Thapar, Executive Director - Emcure Pharmaceuticals
Namita Thapar is a CA by profession and is the executive director of Emcure Pharmaceuticals. A part of Forty under Forty list by Economic Times, Namita is deeply passionate about entrepreneurship and women's health. 
She even launched a YouTube talk show - Uncondition Yourself with Namita to break stigmas and talk about the issues related to women's health in 2020. 
Namita's Public Investments 
There's no public information on Namita's startup investments. However, she heads Incredible Ventures Ltd. - a dedicated education company focused on teaching entrepreneurial skills to young minds. 
More on Namita Thapar
Anupam Mittal, Founder & CEO - Shaadi.com 
If you (or any of your loved ones) have tied the knot in the last two decades, you'd have used Anupam's portal. Yes, he is the co-founder and CEO of Shaadi.com. He heads People's Group which launched many similar startups like Makaan.com before it was cool. 
Anupam's Public Investments
Anupam is an avid startup investor with investments in more than 200 startups to date. Some of his investments helped 'now big' names like Ola and Big Basket during different stages of their growth journey. 
More on Anupam Mittal
Ghazal Alagh, Co-founder and Chief Mama - Mamaearth
Prior to co-founding Mamaearth with her husband, Ghazal was a corporate trainer. Her brand started out of a personal need (and problem) to find natural and toxin-free products for babies. She has successfully spearheaded Mamaearth and has turned into a household name for mothers all over the country. 
Ghazal's Public Investments 
There's not much information on Ghazal's startup investments. She participated in the pre-seed round of Uvi Health in July 2021. It would be interesting to see her as a Shark Tank judge. 
More on Ghazal Alagh 
Aman Gupta, Co-Founder and Chief Marketing Officer - boAt
Is there anyone who doesn't admire boAt as a truly Indian brand? I don't think so. Aman co-founded the brand along with Sameer Mehta and made it into a global sensation in a short while. He has a knack for lifestyle products and marketing and takes deep interest in everything he does. 
Aman's Public Investments 
According to Crunchbase.com, Aman has investments in four startups with the most recent being in Shiprocket series E Round. It's interesting to note that Varun Alagh - Ghazal's partner and husband and Peyush Bansal also participated in the same round. It would be interesting to look if they pool in their resources to fund entrepreneurs on the show.  
More on Aman Gupta
How much have the judges invested in Shark Tank India? 
According to reports and an interview at VCCircle.com, the sharks have successfully funded close to 100 startups over a period of three months. All the money they invest on the show is their personal money and according to Anupam Mittal, the average ticket investment ranged from a few lakhs to a crore. 
More Resources on Shark Tank India Judges
Final Words
Just a few minutes are left before the show telecasts for the first time on Indian television as I write this down. 
All these sharks are doing commendable work by promoting Indian entrepreneurs on the show. Let's hope these sharks set an example for other VCs and seed investors who start looking at ideas with more. 
Let's tune into the first episode and see how these sharks start the season. Keep coming back for more updates on the show.  
More Info about Shark Tank India