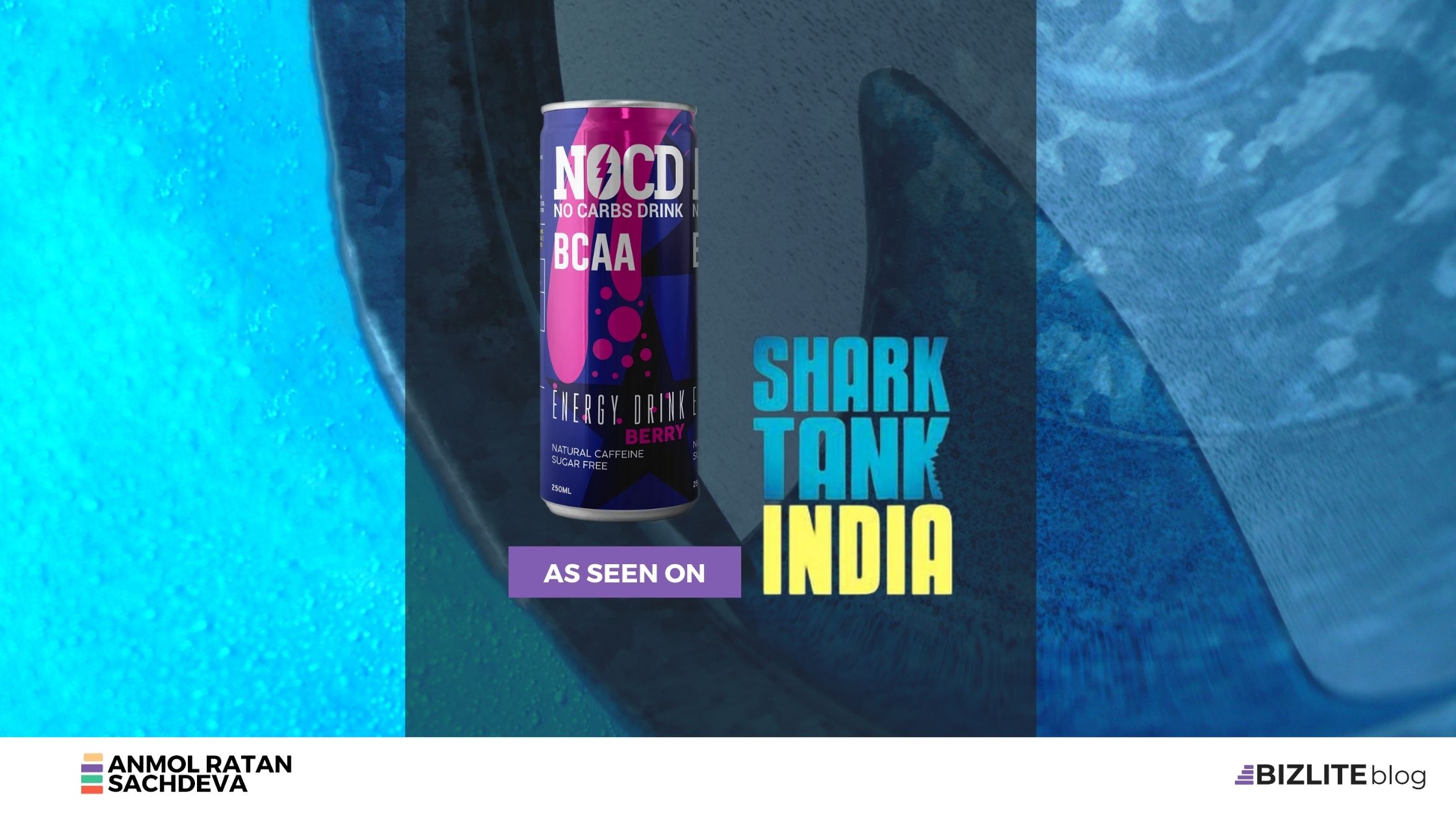 NOCD was featured on episode 3 of Shark Tank India. It came asking for 50L in return of 2% equity in the company. 
Kya NOCD ko mil paayega wo investment jiski unhein talaash hai? Dekhiye #SharkTankIndia, kal se Som-Shukr raat 9 baje sirf Sony par!#Only37HoursToGo@Ashneer_Grover @vineetasng @peyushbansal @namitathapar @amangupta0303 @GhazalAlagh @AnupamMittal @rannvijaysingha @SPNStudioNEXT pic.twitter.com/Y5jMhTEI1b

— Shark Tank India (@sharktankindia) December 19, 2021
NOCD is a no carbs energy drink with just 5 calories per can. The brand name 'NOCD' stands for No carbs drink. According to NOCD pitch at Shark Tank India, the energy drink is available across 1100+ stores all across India, in addition to Amazon and other online marketplaces. 
The founders launched the drink to offer a healthy alternative to 'high sugar' energy drinks and is a viable Redbull alternative in India. 
According to NOCD's website, the drink is a nootropic - a brain stimulator that enhances memory, cognitive functioning, focus and mood. 
Enriched with vitamins and BCAA (branched chain amino acids), NOCD is for people who want to adopt a fit and active lifestyle without being addicted to any drink, beverage, supplement or tablet. 
With just 5 calories per can, zero sugar and no carbs, NOCD is truly a healthy alternative to Redbull and other high caloric energy drinks available in the market. 
The health benefits of BCCA - an active ingredient in NOCD energy drink are backed by a number of clinical studies and trials. It can help boost metabolism, burn body fat and boost energy levels in the body. 
NOCD: Brand Trivia

NOCD Social Media Links
Shark's Take on NOCD: Did NOCD Get Funding at Shark Tank India?


There was a mixed reaction by the sharks about NOCD brand. While Ashneer openly commented on the name of the brand, Aman didn't like the taste. But Anupam saved the day for the founding team by explaining the reason behind the taste. 
Watch NOCD on Shark Tank India
Read Shark Tank India Episode 3 Summary
The brand was able to impress Vineeta Singh due to the mass potential and got the first mixed deal (equity+debt) on Shark Tank India Season 1.  
Check full details of the discussion and deal in Shark Tank India Episode 3 summary 
Would you like to try NOCD Energy Drink? 
NOCD is available to buy in India on Amazon, Flipkart, BigBasket, Dunzo and select grocery stores around the country. 
Thinking of Starting your own business like NOCD? 
Explore the following resources to help you get started on your journey: