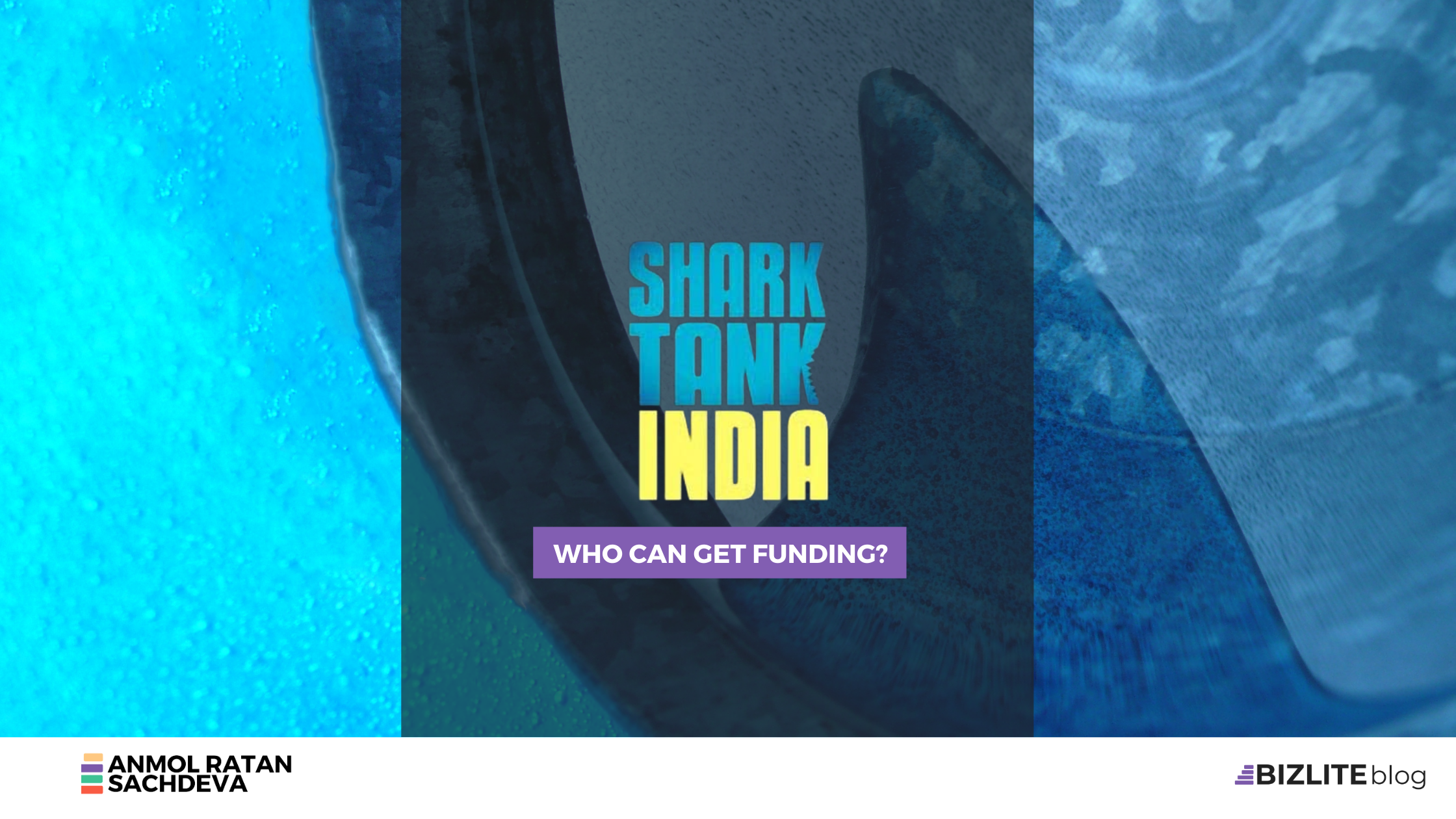 Getting money to start or scale your business or startup is a dream come true. When you're a visionary who wants to stand on your own feet, monetary support is the first thing that can get you going. 
Traditionally, entrepreneurs looked up to banks and financial institutions for securing a business loan. The last two decades boosted the venture capital and angel investment ecosystem, opening new avenues for securing investments. 
The coming of Shark Tank to India has opened up new hopes for Indian entrepreneurs. 
The American version started at the cusp of the financial ruins of 2008 and now just after the pandemic, Shark Tank promises a great opportunity for Indian startup owners. 
The most interesting part of the equation: you don't need to be a techie (with a tech startup) to be eligible for a funding round (or to apply to Shark Tank).
Anyone with a business or a concept/prototype can apply at Shark Tank India. 
We know you have a lot of questions and that's why we are here to help you!
Watch our space for more FAQs.

Download/upgrade the SonyLIV app or click on the link to REGISTER NOW!https://t.co/gWnrE1xAMf#SharkTankIndia pic.twitter.com/rGTRH3Tp40

— Shark Tank India (@sharktankindia) June 25, 2021
Who is eligible for Shark Tank India? 
According to official inputs (and previous American episodes), anyone with a running business, or an entrepreneur with an idea, concept, or prototype is eligible to apply at Shark Tank India. 
Some of the most popular segments that can get the desired traction (and investor's interest) on the show include: 
Restaurants & food brands

Tech startups

Home-based businesses

Chefs/Home Cooks/Cloud Kitchen Owners

eCommerce websites 

Fashion brands/boutiques

Small biz owners 
General tips for applying to Shark Tank India 
When you're an entrepreneur, you know there's no smooth path. 
Similarly, applying to Shark Tank India isn't just an application process- you can't expect to fill a form to get access to funding, contacts, and the subsequent benefits. 
Apart from preparing a pitch for the judges, here are some general tips that will help you sail through: 
Have a working model, proof of concept, or real sales
Don't fall into the trap of going into the tank unprepared. To be honest, if you don't have anything substantial, you won't cut. But still, even if you get to it, you should have something solid to show. 
Just a verbal pitch about an abstract idea (or concept) based on the pain points or market demand won't help. 
If you're a product startup, you need to have a working model or prototype. If you're into the food business (or anything physical) carrying samples would give you an edge. 
The best thing would however be a proof of concept, substantiated by real sales. Investors love ideas, but they go crazy on a validated idea. If you're getting revenues (and profits), they'll lend an interested ear, else be prepared to listen 'I am out'. 
Know your numbers and prepare a solid pitch 
Don't prepare a general pitch. And don't make a mistake in creating your pitch around the industry or market potential. 
Let me tell you a secret - investors hate it when you're vague. And they hate you more when you utter ' we're a first mover in a $500 bn industry'. Don't do that. 
Rather speak what you know in concrete terms. You know your product, so appear like an authority - know your processes, your numbers, your customers, and your growth projections. 
Don't forget to get any forecasts vetted by an industry professional like a CA who knows your industry. That would give you a pillar to support your hypothesis (if any). 
Also, your pitch should be investor-centric and remember they might not be your customers. So, be prepared to face some tough questions. 
Don't be greedy
Many first-time entrepreneurs fall into the temptation to ask more than they need (or deserve).
Remember, your idea will only remain an idea if you don't have the money to turn it into a reality. Or if you don't have money to scale it up further. 
So, be careful in your ask and don't overestimate your valuation. 
Investors won't like you if they sense you're trying to burn into their coffers. Keep in mind that you can't experiment with your investor's money
FAQs
When is Shark Tank India starting?
There are no official announcements on the telecast. But the application window will close on 21st July. So, you better start applying for Shark Tank India. 
How to register for shark tank India?
The application process is simple, to begin with. You can log on to https://sharktank.sonyliv.com to start your application process. You'd need basic business information, your pitch, a 3-minute video pitch, and lots of supporting documents to complete your application for Shark Tank India.
How to prepare a pitch for Shark Tank India? 
A pitch needs to answer all the doubts and questions of investors. For Shark Tank, the investors would be looking for a validated proof of concept (or revenues). Plus, you need to be really on-point with your valuation. You can get a free pitch overview consulting for Shark Tank by booking a call here.  
Final Words
Shark Tank is a great opportunity for businessmen and startups of all scales to grab legitimate funding and several other benefits. 
If you're a business owner, you should give the Shark Tank India application a shot. Do you think you need more information on Shark Tank, check out my detailed blog on Shark Tank India and how it can help you grow. 
Want to make it BIG in the coming months?
All I need is your email to send you all the updates about Shark Tank India and how you can get ready for it.

Send Updates in My Inbox