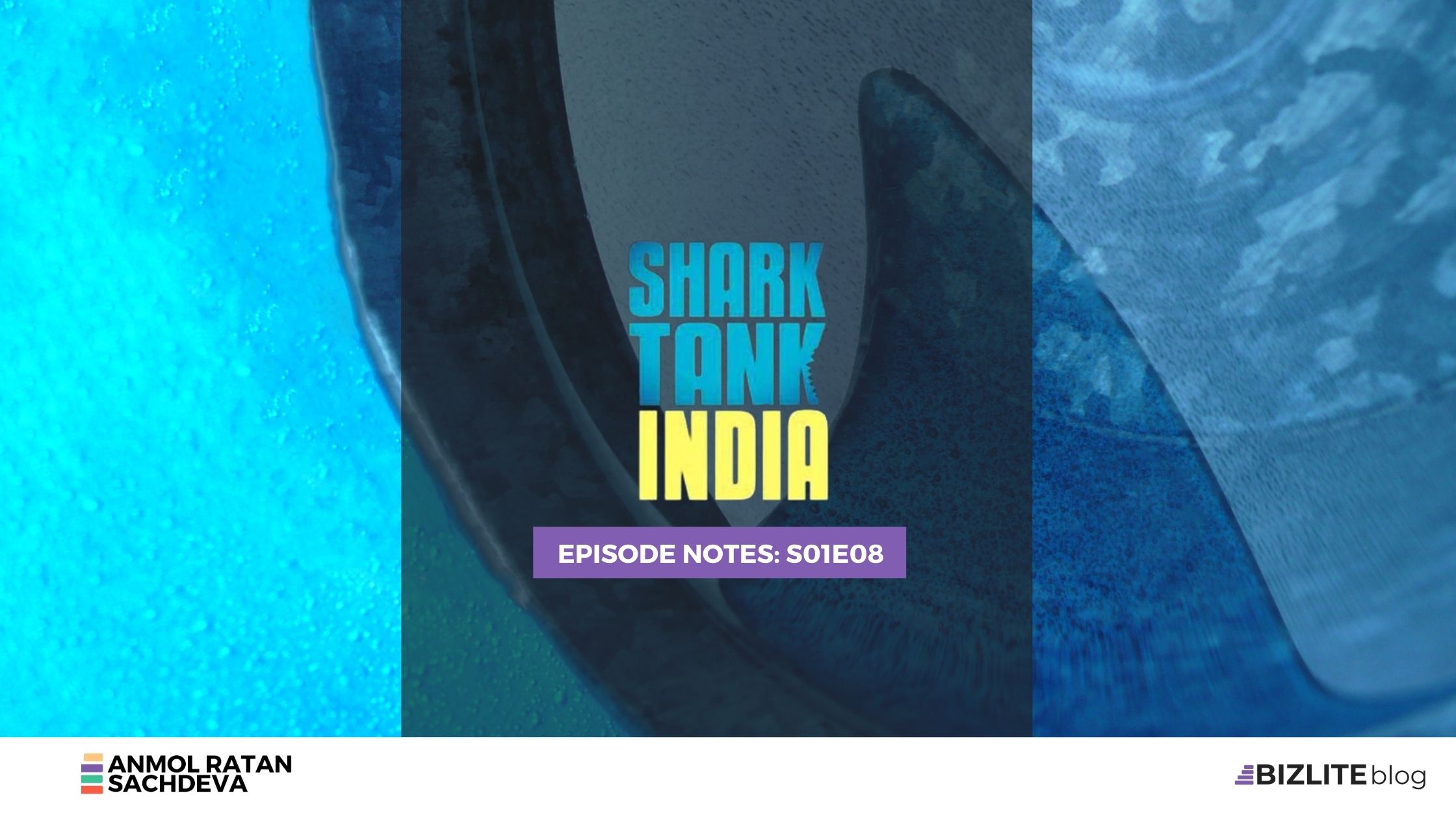 (This is a regularly updating story. Come back for more updates after the show or join Shark Tank India WhatsApp Group for instant notifications after the episode goes live) 
Shark Tank India's Episode 8 brings 3 amazing brands- a Kerala banana chips company, a brand that developed a no pain device to check glucose levels, and India's first adaptive smart motorcycle. Checkout the exciting promo where a founder turned her difficulty into an opportunity to build her brand. Have a look below to find out:
 

 

View this post on Instagram

 
Beyond Snack Brief Profile & Company Info
Beyond Snack is a Kerala banana chips brand that aims to challenge the existing unorganised banana chips market, which does not follow hygiene and cleanliness. 
The founder, Manas Madhu, who is a Keralite, wants his brand to become India's number one go-to snack. Beyond Snack is healthy, tasty and comes in four different flavours that can be enjoyed by snack lovers all over India.
Beyond Snack Product Portfolio 
Healthy Kerala banana chips that is available in 4 flavours, which is trending on Amazon and Flipkart
Shop your tasty Beyond Snack banana chips at https://www.beyondsnack.in
Beyond Snack's Social Media Links
Beyond Snack Ask from the Sharks in Shark Tank India
 50 Lakhs for 2.5 %, valuation – 20 Crores
Discussion: Did Beyond Snack Get Funding from the Sharks at Shark Tank India? 
Manas was not happy with his 9-5 job and once he got to know that 40% of banana crop is wasted, he wanted to build something around this.
Manas started off the conversation with his previous sales and said that within 1.5 years, they sold 140 metric tons of banana chips. 
Piyush asks– Is the quality special or can it  be cracked? Any good food scientist can make it right?
Manas was firm with his response and said that it is very easy for him to become a national brand in 2 years, a 100 Crore company. There are so many local brands like Balaji and Haldirams that have banana chips, but that's not an exclusive product, they have many namkeens and snacks.
When we think of Lays, potato chips are what pops into our mind. Similarly, he wants his brand to be a synonym with banana chips. A soft and quality chips which is easy to byte and thinner in precision.
Anupam is passionate about the products and asks how much money was invested? 
70 lakhs. Manas's father also invested and monthly sales is 20.6 lakhs.
Ashneer then questioned the high pricing of Rs 60 and asked to make it Rs 30 as its a fast moving snack.
Manas said that he is also launching a Rs 30 pack and if they like they will buy Rs 60 also. Gross margin is 55% and retail 48 % with 100 % ownership. He wants to expand his market to Mumbai and then the entire Maharashtra, Gujrat and Delhi. 70 % of the sales are happening from North India.
Anupam says- Profit 60 lakh sales and 6 lakh profit annual. Can you take your gross margin to 70% and how? 
Yes, it's possible with proper optimization.
Ashneer loves the brand but says that Manas has communication problems, so he wants to help Beyond Snack become a brand.
Offers for Beyond Snack at Shark Tank India
Offer 1: Anupam's offer -50 lakh for 20 %
Piyush bansal joined in a 50-50 partnership.
Manas missed to inform about previous 1.4 crores and total dilution - 15 %.
Revised offer: 50 lakh for 10 %
Offer 2: Aman's and Ashneer's offer- 50 Lakh for 2.5 %, same as what Manas asked.
Final Verdict
50 Lakh for 2.5 % was instantly accepted by Manas from Aman and Ashneer.
Vivalyf Innovations Brief Profile & Company Info
Vivalyf Innovations introduced EZLYF, a non-invasive, no blood and no pain device to check the glucose levels of diabetic patients. One of the founders, Duvvuru Varshita who is a type 1 diabetic, introduced EZLYF to make it convenient for similar people like her. The device is still in the preclinical evaluation stage and they hope to launch their product soon.
Founders: Duvvuru Varshita (20) and Vimal Kumar (25)
Vivalyf Innovations Product Portfolio 
EZLYF, a non-invasive, no blood and no pain device to check the glucose levels
Vivalyf Innovation's Social Media Links
Vivalyf Innovations ask from the Sharks in Shark Tank India
56 Lakhs for 7.5 %, valuation - 7.47 Crores
Discussion: Did Vivalyf Innovations get Funding from the Sharks at Shark Tank India? 
Duvvuru talked about her life story and started by saying that she has to test diabetes 4-5 times a day and for 20 years, she is a type 1 diabetic. She was in a coma and she had to take an injection every day. Since then, she promised her parents to find a solution for it.
EZLYF is still in a preclinical evaluation stage and she stressed that they need support to launch and market their product. Duvvuru also said that she has gone into a coma 6 times till now and 56 days is the longest period and the smallest one is 2 days just last year. She also cleared AIEEE, IITJEE and came back in 11 days from IIT.
Piyush asked – There are so many products in this category, how is it different? 
He checked his sugar levels and it came to 363, which he doubted.
They said that it's no prick technology – 90 % accuracy. Peyush striked back and said that accuracy is very important as it's someone's life . 
((50-50% partnership. 7.5 lakh government funding  (nidhi pryas grant) didnt understand))
Namita asked - What is the best you can do?
Improve the device with increased testing and present the product CDSCO. Namita opted out but assured to help in terms of grants and tie-ups with hospitals for testing. Aman also opted out.
Piyush doubted accuracy and was ready to take risk with 1/3rd equity.
Peyush and Anupam offered 56 lakh for 33.33 %. Ashneer was out as the product was showing inaccuracy. Peyush was ready to support as his mom is also going through the same.
Offers for Vivalyf Innovations at Shark Tank India
Offer 1: Peyush and Anupam offer 56 lakh for 33.33 %
Counter offer: 36 Lakhs for debt 5 % and Rs 20 lakh debt for 3 years
Final Verdict
Peyush and Anupam offered 56 lakhs for 33.33 %.
Motion Breeze EV Profile & Company Info
Motion Breeze EV has prototyped India's first adaptive smart motorcycle. Their vision is to align nature with technology.
The adaptive technology has been patented. With a push of a button, the bike changes settings as per rider's comfort. It has 180 km/hr speed in 6 seconds and upto 250 kms in one charge with 1-3 hrs of charging time. There is also utility space to manage mobile helmets and charging cable.
Founders: Kartikeya, Anantraj, Shivrajsingh and Deepenbhai
Motion Breeze EV Product Portfolio 
Adaptive smart motorcycle that aligns nature with technology.
Motion Breeze EV's Social Media Links
Motion Breeze EV ask from the Sharks in Shark Tank India
30 lakh for 3 %, valuation 10 
Discussion: Did Motion Breeze EV get Funding from the Sharks at Shark Tank India? 
Anupam asked Investor Deepenbhai- What's the reason to invest?
This is a multi-brand 2 wheeler servicing company with 180 outlets across India. He saw potential and helped them. He invested 35 lakhs and got 27 % equity.
Namita asked - There are so many big players like Hero, Enfield etc. Why do you want to combine all 4 in one? 
Just to give extra comfort as per need. Driving in the same posture has harmful effects on the long run and can lead to accidents. So to break the monotony, they are offering 4 settings in one bike.
Anupam priced the bike for  1.5 to 3.5 lakhs and asked how to compete with upper segment bike brands?
Moto influencers can touch and test products at 180 service points and feel the difference. 
Namita - 4 in 1 is confusing, so I'm out.
Aman – Big players are already in this segment and product is not good, so I am out.
Anupam – I am out as, your pricing factor and brand positioning is not good enough.
Peyush-I am out as it's an early stage
Ashneer – Frame structure and actuators are patented and battery designs patented. Production unit Baroda. We have a investor and with ur money. Certification
He is not just investor, I am also mentor. 
(Didn't understand last few sentences)
Offers for Motion Breeze EV at Shark Tank India
Final Verdict
30 Lakhs for 6%
Did you like Shark Tank India Episode 8? 
While you're here
Check out our recent posts on Shark Tank India