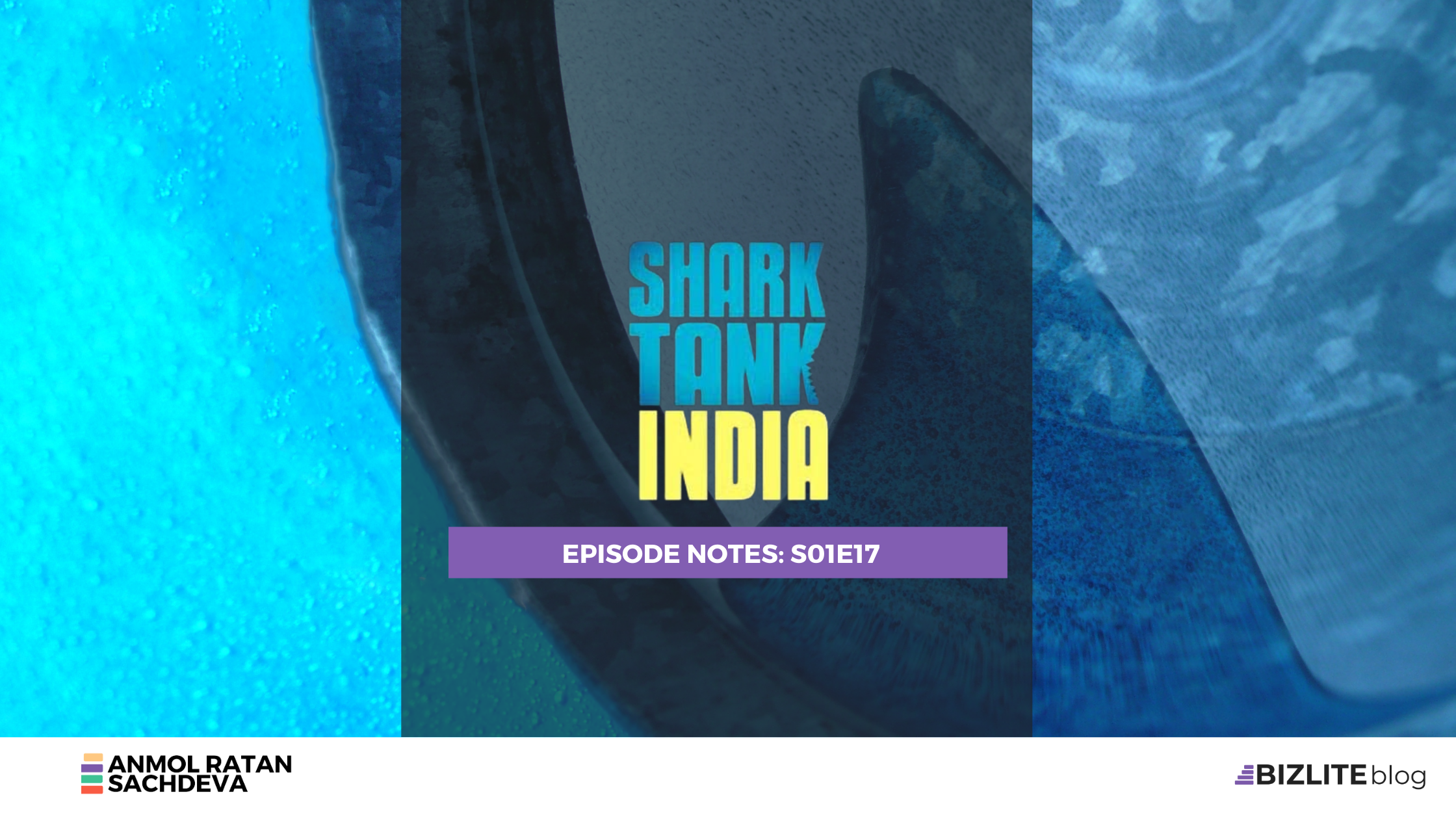 (This is a regularly updating story. Come back for more updates after the show or join Shark Tank India WhatsApp Group for instant notifications after the episode goes live) 
Shark Tank India Episode 17 brings 4 interesting brands to the tank.
Find Your Kicks India is an exclusive sneaker and apparel marketplace/website, Aas Vidyalaya is India's first online school - the perfect solution for post-COVID education ecosystem, Outbox is a surprise event planning company and RoadBounce is a robotics/tech startup with a robot that detects obstacles on road to prevent accidents. 
 

 

View this post on Instagram

 
Let's look at each brand and their pitch in detail.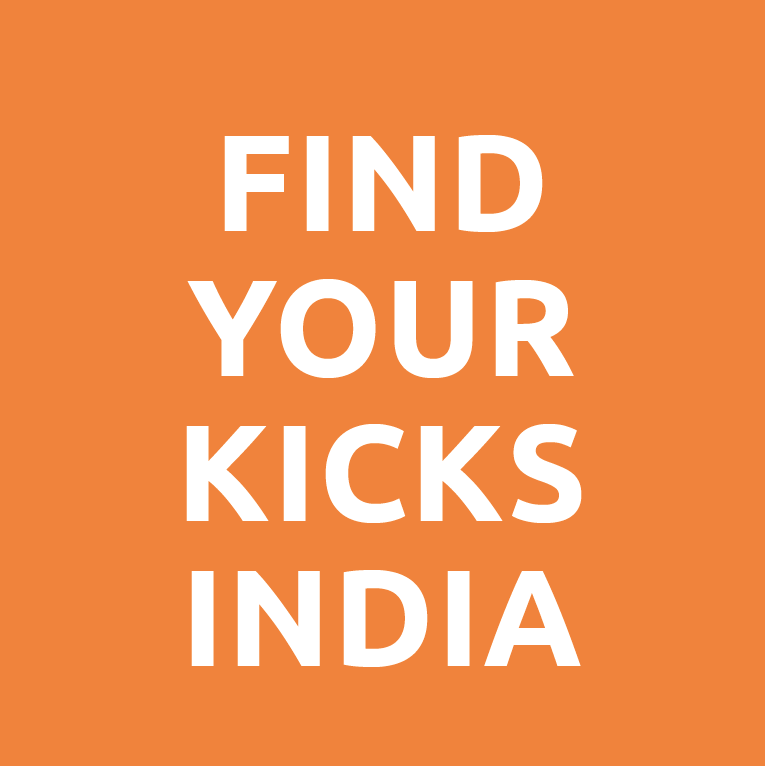 Find Your Kicks India brings an authentic and exclusive range of sneakers and apparel for Indian youth. According to its Instagram handle, the brand is a 'one stop destination' for buying and selling of hyped sneakers and apparel'. 
The brand sources 'exclusive' products which are otherwise not available (easily) in Indian markets - high-end premium sneakers like Air Jordans. 
Apparently, the brand onboards resellers and screens them through an internal onboarding process. The brand then sells their products via their Instagram handle. A niche dropshipping marketplace for sneakers in India.
The brand sources limited edition sneakers (which got sold out on flash sales on brand websites like Nike in minutes) and makes them available to buyers. 
Solves the problem of resale market in Sneakers - size, fakeness, finding resellers. 
Find your Kicks India is a premium sneaker reseller aggregator platform - in multiple sizes, authentic, /. People can even resale their sneakers of they are ready to sell. They are listed on GQ marketplace featured as largest marketplace of sneakers in India. 
Find Your Kicks India Products
Buy Find Your Kicks India Products on Website: https://findyourkicksindia.co or Instagram Page: https://www.instagram.com/findyourkicksindia/?hl=en 
Find Your Kicks Social Media Links 
Find Your Kicks India Ask in Shark Tank India
50L for 10% equity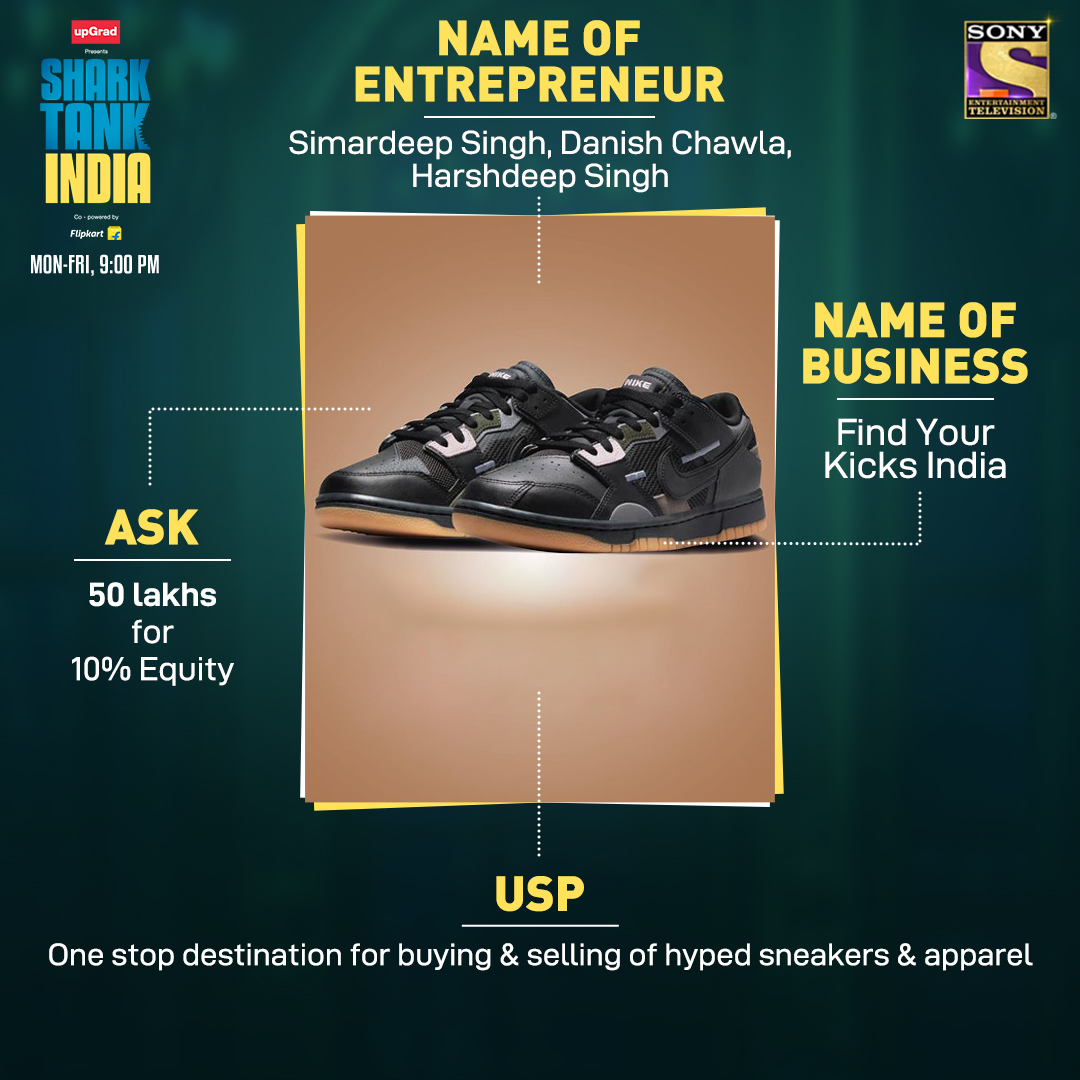 Source: Shark Tank India on Twitter
Discussion: Did Find Your Kicks India Get Funding from the Sharks at Shark Tank India? 
Namita starts the discussion by welcoming the sharks and telling them that her family is full of 'Sneakerheads'. This is an upcoming business and asks about their background. 
The founders are from Ludhiana Punjab - childhood friends and two of the three founders are first cousins. 
Ashneer appreciates the business idea. Says that the business is nice and there is high demand, globally there is a big market. Ashneer asks about the market size of sneakers in India - primary & resale market. 
The founders inform that the primary market is of 9000 crore currently and reseller market is 10-20% (uncomfirmed). 
Ashneer also asks about the difference between limited edition (jordan) sneakers and normal sneakers. The founders tell that these are limited edition (that get sold in minutes through flash sales) and have high demand in the market (because of limited supply). 
Aman asks why they have a 'Buy, Sell & Trade' in the positioning. It feels that they trade in second-hand sneakers. 
The founders tell that they have a marketplace where secondary (resale) markets are active. Aman asks how do you sell (second hand or not). They all are fresh 
What's the sales? 
In 8 month their sales figures: 26L

Last Month Sales: 3.5L 

Total GMP (on the platform): 5.5 Crore (Overall) 
Namita asks them to answer a Rapidfire
Net Profit - 17L 

Instagram Followers - 40k

Competitors - 1 or two competitors 
Aman asks - what's the business model? 
We are on a subscription model - we created an aggregator marketplace where resellers list their sneakers. We make them meet and charge a subscription from resellers.
Anupam asks what is the average selling price - INR 20k
Namita gives first offer along with Ashneer, but thinks that the current valuation is too high. 
Ashneer thinks there is too much work to do on the certification and authenticity aspect of the marketplace. Ashneer says that he can get them listed on PostPe platform (sneakers can be sold on EMIs) 
Aman thinks that the sneakers market is crazy but doubts that they can execute. 
Aman gives an offer on behalf of all five sharks - everyone will bring their expertise - Lenskart will bring marketplace business model expertise, Anupam knows a lot about business and startup world, Ashneer wants to create a financial model around EMIs of sneakers, Aman will help with brand building. 
Offers for Find Your Kicks India at Shark Tank India
Offer 1:

Namita & Ashneer - 50L for 30% of the equity

Offer 2:

All Shark Deal - 50L for 30% of the equity 
After their discussion with the father (over call), the gave a counter: 
Founder's Counter offer: 50L for 20%
Counter offer by sharks: 50L for 25%
Final Verdict
50L for 25% equity by all sharks - Ashneer Grover, Namita Thapar, Anupam Mittal, Aman Gupta, and Peyush Bansal 
AAS Vidyalaya is India's first 100% online school. Anytime, Anywhere School (AAS) aims to solve the problem of accessibility to quality education in India. The brand brings schools closer to children who cannot go to schools. 
In the post-COVID world where offline classes have become a dream only (and many schools aren't equipped yet to deliver online classes efficiently, AAS comes like a ray of hope (aas in Hindi) for millions of teachers, students and parents in India. 
The school offers classes for grades 6th to 10th in multiple subjects like English, Hindi, Sanskrit, Maths, Science, Social Science, Computers, and Marathi. 
According to its website, AAS has 20,000+ video classes available for unlimited views to the students along with 1,00,000 Q&As and access to qualified teachers for doubt clearing.
Their pitch started with an emotional story about two kids who can't go to school (because of rural background - no school nearby).  
They inform that India has  8 L primary schools, 4L middle schools and 1.5L secondary schools but average attendance is 50% and only 30/100 pass class 10th in India. 
They also talked about their business model. AAS Vidyalaya sets up education cafe with edu-tablets in villages and rural areas. Children can come to the cafe and attend classes (who don't have devices and smartphones at home). 
Founders:

Vishal and Leena 
AAS Vidyalaya is available on: 
AAS Vidyalaya Social Media Links
AAS Vidyalaya's Ask in Shark Tank India
1.5 crore for 3% equity (Highest ask in the tank till date)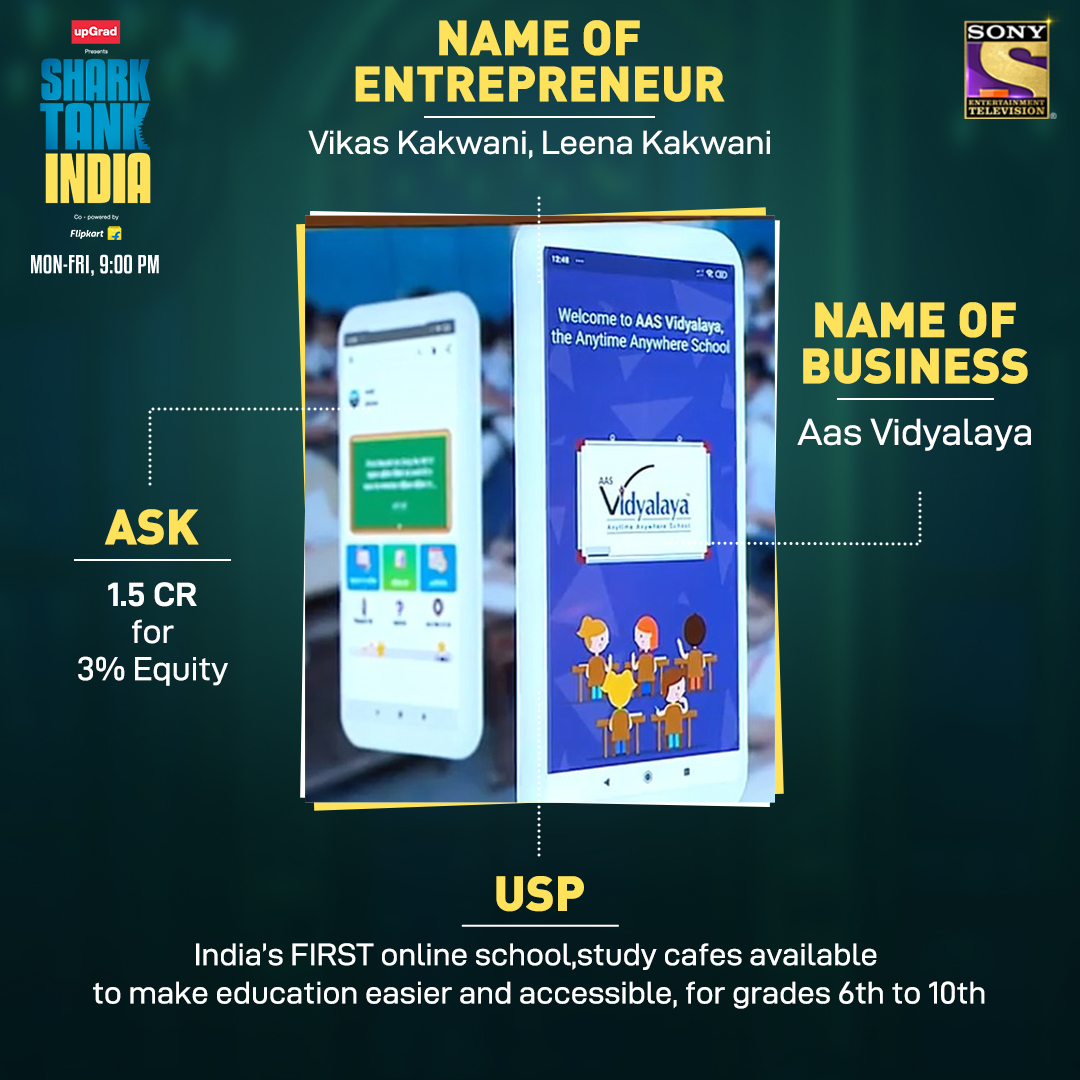 Source: Shark Tank India on Twitter
Discussion: Did AAS Vidyalaya Get Funding from the Sharks at Shark Tank India? 
Namita asks about the revenue model of the business. 
First they started with a B2C model but that needed a lot of capital for success (device cost, marketing, etc.)
Then later, they pivoted to focus on corporates (B2B) who have factories and industrial plants in small cities, towns and villages. They are now collaborators with five big industrial players in the country. 
AAS Vidyalaya does a cost-to-cost setup in factories and plants of big corporations. 
Anupam asks about the founder's background 
Vishal was born and brought up in Meerut. Father was not educated but wanted him to learn and grow. He got him into a Convent School. Later graduated from IIT and completed post-graduation from IIM. Afterwards, he spent 20 years in corporate in sales and marketing. 
Leena was born and brought up in Kanpur. Graduated in Child Psychology and focused on her child's upbringing and using her skills and knowledge for the same. 
Peyush asked about the uniqueness of the model and if it is really India's only and first online school. 
On this the founder explains the economic situation of the country. If we divide India into a pyramid and the L1 population is highly wealthy (HNIs), they have a lot of options for anything and everything. But lower strata don't have a lot of options (even for education like in rural areas).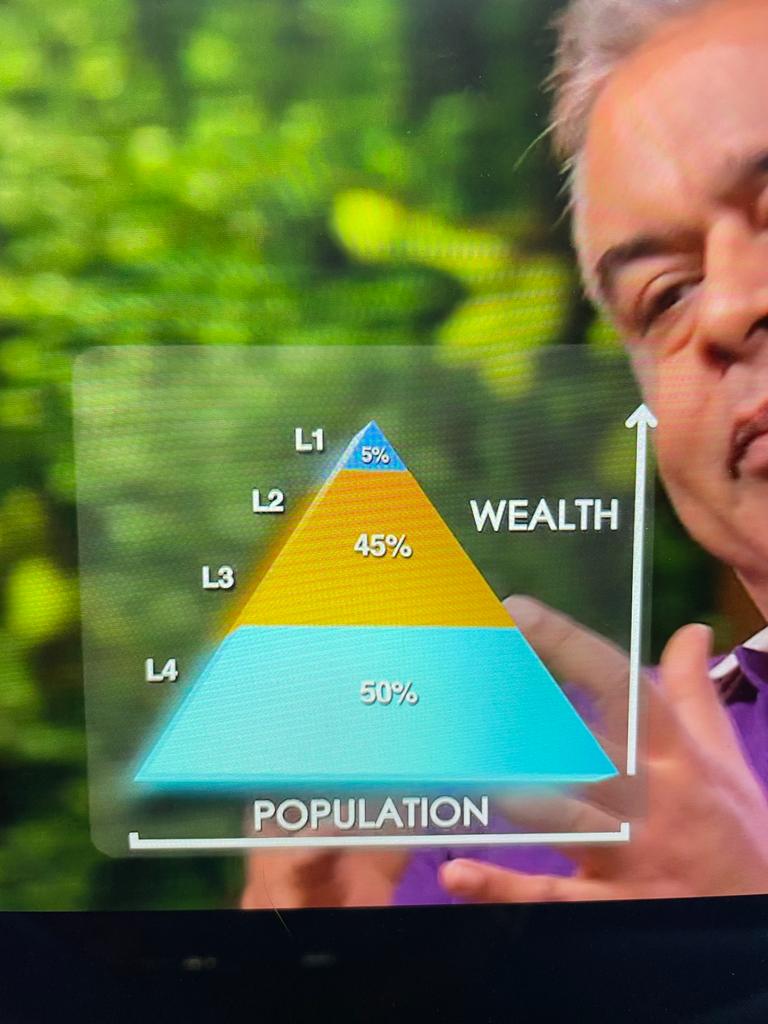 They started AAS Vidyalaya to cater to the lower segment and began with CBSE curriculum classes. In January 2021, they started classes in Marathi Medium after high-demand from Maharashtra. 
Peyush appreciates the clarity in the business model. 
Ashneer says that he is afraid of IIT-IIM founders. If you have a comfort zone of falling down, you can do anything and every time you fail, you can go back to cushy paying jobs. He wants to understand the founder's commitment and motivation. 
The founder informs that they started in 2017 and is doing this now whole-heartedly. Won't go back to the corporate world because he believes in the idea. 
The sharks ask about the current shareholding. 
1.5 Crore investment by friends and family who have 23% equity

They got 50L under the Nidhi Programme which took away 7% more equity.

Rest is with the founders 
Aman asks why they are in the tank - to earn money or just for charity. 
The founders convey that they really want to build a sustainable business around the whole vision. 
Aman also asks about their intention to go into the D2C business. They agree that they want to go into the D2C business but want to do it correctly. 
Aman compares the model to BYJU and UpGrad in that case. He never understood the viability of such a business model. He doesn't feel that the business model is financially sound and is out. 
Anupam thinks that the funding should not come from private players but CSR programs and grants. He is also out. 
Peyush asked about the annual revenue
Last year - 70L 

This year - 1.5 crore

Projections - 5 Crore
Peyush thinks that they are solving  a great problem, focus and clarity is great and the concept is required in current times. Ashneer, Peyush and Namita comes together to give an offer. 
Offers for AAS Vidyalaya at Shark Tank India
Offer 1: Peyush, Ashneer and Namita: 1.5 crore for 15% equity 
Counter by Founders: 1.5 Crore for 7.5% 
Sharks don't agree with the counter.
New counter: 10% for 1.5 crore 
Sharks don't want to negotiate. Final offer by Sharks is for 15% 
Final Verdict
1.5 Crore for 15% equity by Namita Thapar, Peyush Bansal and Ashneer Grover (Highest Investment on Shark Tank India by Sharks, Till Date) 
Outbox is a surprise event planning company based out of Kolkata. The brand arranges for special surprises for family members, friends and partners (on behalf of their loved ones). 
You can plan a romantic dinner dates, proposals, anniversaries/birthday parties, open air dinners, special gifts, and interesting couple experiences for your loved ones with the help of Outbox. 
They are solving the problem of doing something grand (surprise) for loved ones and romantic partners - proposals, anniversaries. 
Outbox is a completely bootstrapped and profitable venture right from the beginning. 
Founders: Kaushal Modi and Sukriti Agarwal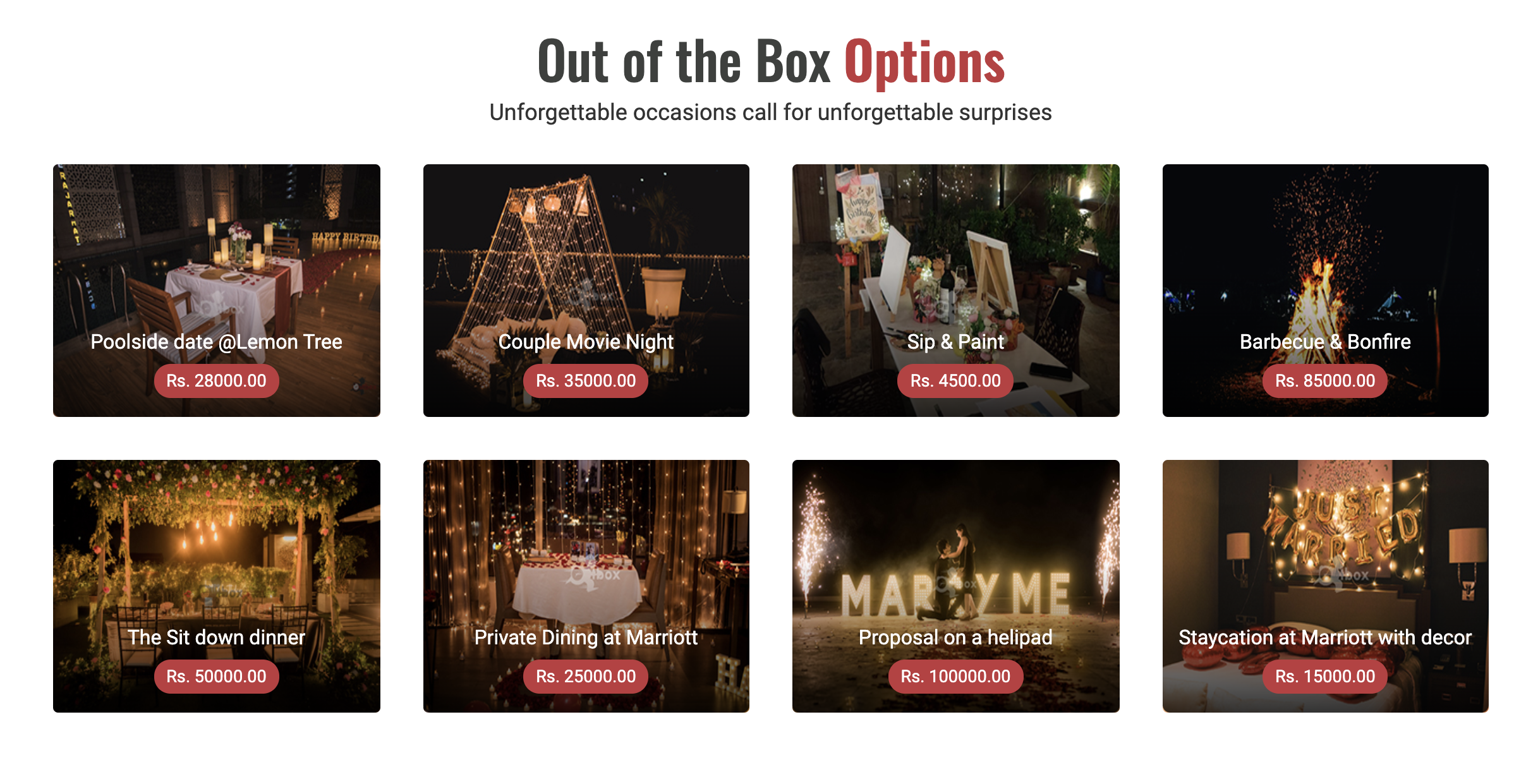 Source: Outbox Website
Outbox's Social Media Links
Outbox's Ask in Shark Tank India
50L for 5% equity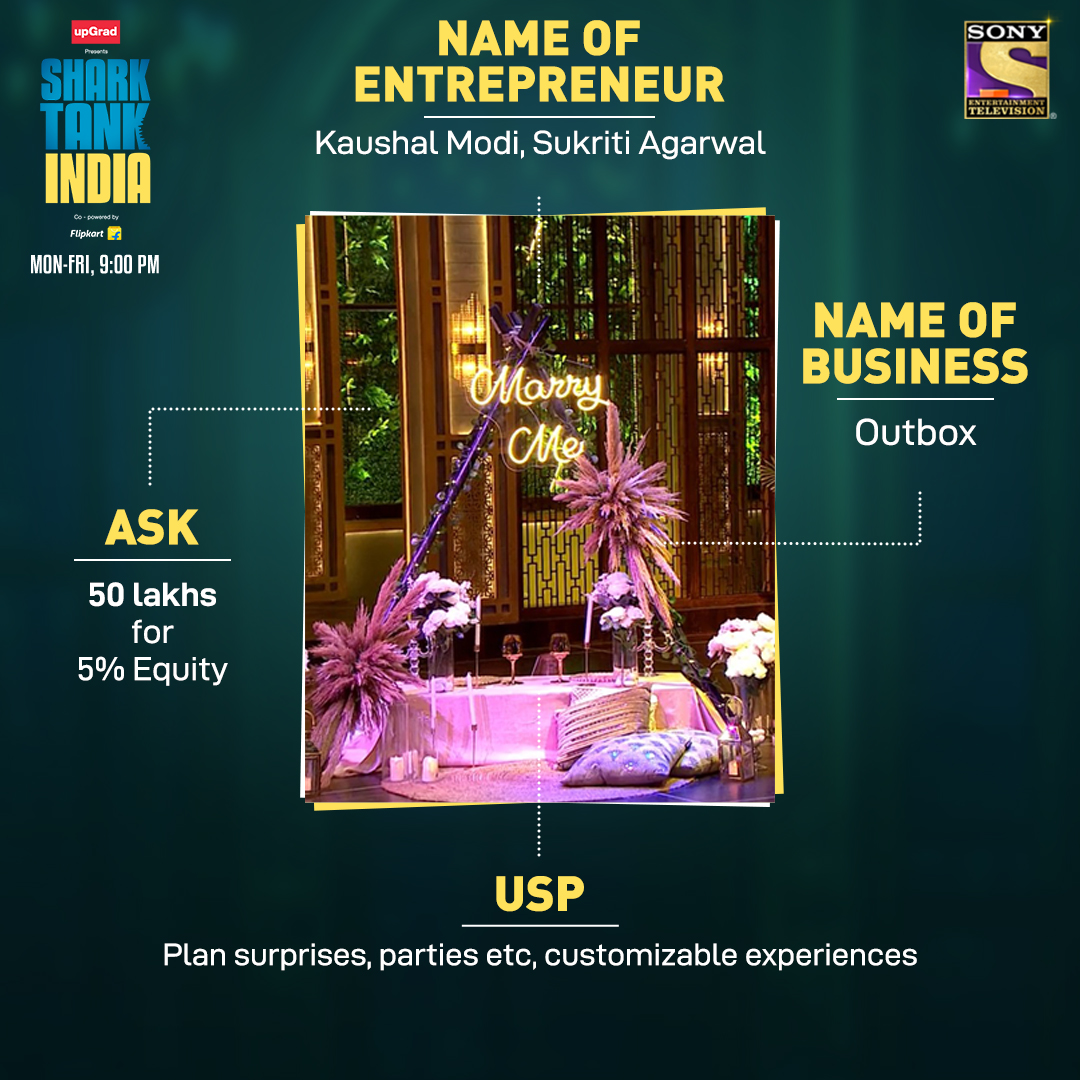 Source: Shark Tank India on Twitter
Discussion: Did Outbox Get Funding from the Sharks at Shark Tank India? 
Ashneer asks  - doesn't the concept feel like an oxymoron. Why put someone else to work for doing something that means something for your loved one. 
On this, the founder tells that India doesn't have a DIY culture.  Most customers they have want ideas for surprises and they play the role of helpers as people don't know what they want to do for a surprise. 
Namita asks for ticket price of the surprises offered: 
Cheapest Surprise is for 3.5k - A guitarist  to surprise during a proposal

Highest priced surprise is for 1.5L - a cruise dining experience and proposal for a couple under the Howrah Bridge 
Peyush wants to see the web booking experience - how people book a surprise. The founders gave a demo using a video on the screen. 
After that, Peyush asks about the revenue 
Gross sales:

5 crore till now (5 years - 2017 till now) 

Sales Last year (COVID year) :

1.1 crore 

Year Before Covid:

1.25 crore

Sales this year till October:

1.5 crore
Ashneer says that the business is a show-off business (visual appeal). But the logo is really bad and the web experience is also very basic. He is lost because of the brand and web experience and is out. 
Peyush is surprised with the business volume. But the business is not very proprietary. Anyone can knock-off the idea and start their own business. He appreciates the business, but says that they need a tech co-founder for improving the web experience. They don't need a shark at this stage. He is out. 
Aman thinks that the business is not scalable and the fundamentals are not clear. He is also out. 
Namita is also out because the business is not scalable. It is an experience and service-based business where feedback matters a lot and negative feedback can ruin the brand quickly. 
Anupam discusses the opportunity for a shark in their business. He tells that a Shark naturally invests in a business that can give 100x weighted returns. He cannot see a future path right now. 
At this moment, the founders pitched their service for a collaboration with Shaadi.com. Anupam says why will he do it with them and why can't he do it himself. The couple says that he'd need a team anyway so why not do it with them and give them an offer as they have the same target audience.
Anupam doesn't get convinced and gets out for the time being. But at the same time, he wants to keep the conversation going (outside the tank) and maybe meet them again in the future. 
Offers for Outbox at Shark Tank India
No offer
Final Verdict

Outbox didn't get any deal in Shark Tank India





RoadBounce is patent-pending as a smartphone app that predicts riding/driving comfort and road roughness. The product works on vibration-based road roughness measurement technology. 
RoadBounce aims to make Indian and global roads safer (and pothole-free) to ride. The app can be used by individuals, private contractors, and the government to measure road roughness and improve road infrastructure in an area or country. The app can also help in making strategic asset management decisions related to road infrastructure management. 
Till date, RoadBounce has collected road condition data for over 50,000 kms. An important use case shared by the founder is that their app can can alert Ambulances about the road condition - potholes, blockages, etc. in advance. 
The founder gave a demo using a robot built for the Singapore government for finding cracks and crevices in the road. Post the demo he shows the detailed analytics report on the path's condition. 
Roadbounce's Social Media Links
RoadBounce's Ask in Shark Tank India
Ask: 80L for 10% equity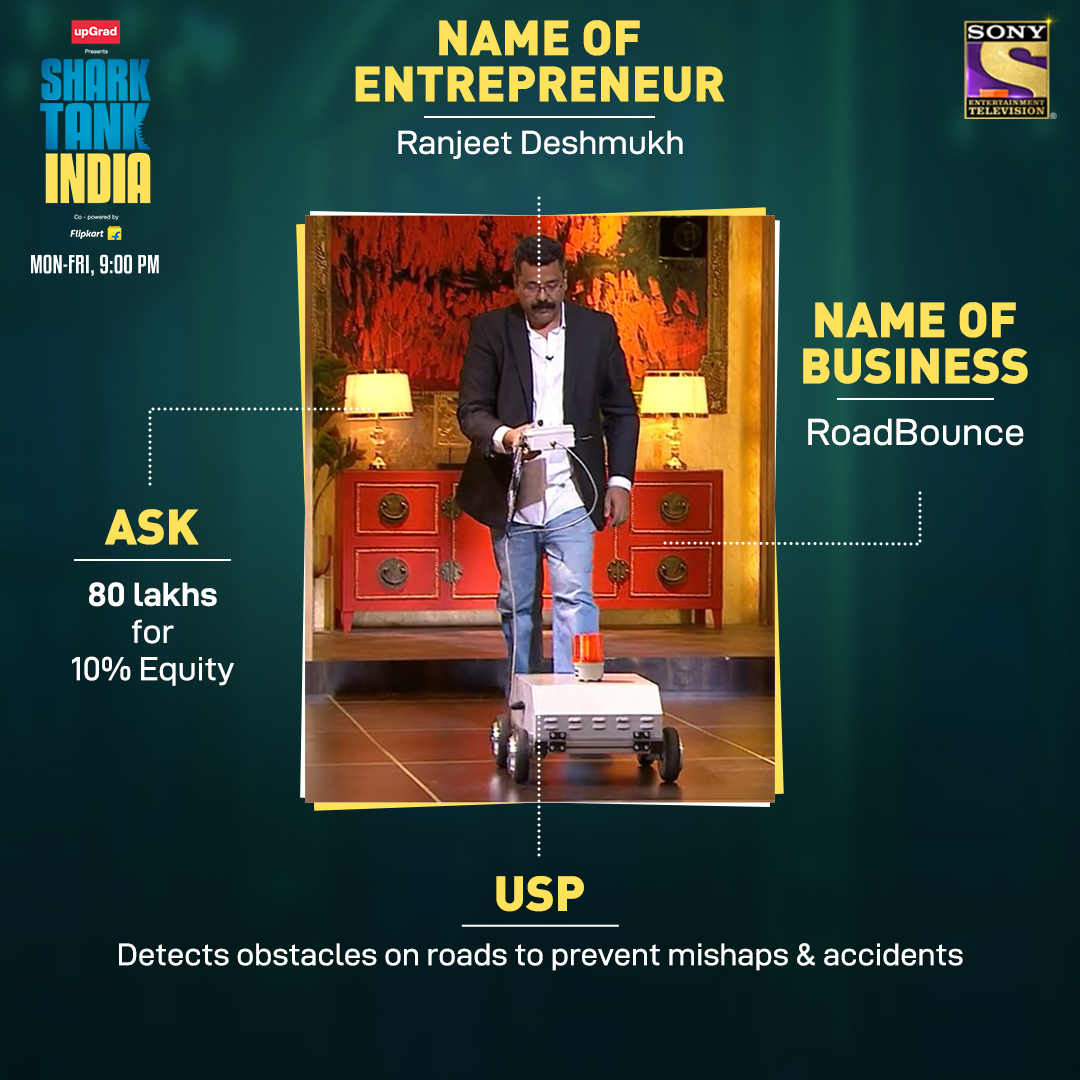 Source: Shark Tank India on Twitter
Discussion: Did RoadBounce Get Funding from the Sharks at Shark Tank India? 
Aman asks about revenue and business model. They say that road contractors and the government use their product (as a service). 
RoadBounce's revenue is as follows: 
Last year:

30L 

Year Before COVID:

1.5 crore

Current year:

2.5 crore 
Aman thinks that their data (of the demo of Mumbai roads which the founder showed later) is wrong. 
Anupam thinks that the business is primarily a government-dependent business and asks about the future plan?
The founder shares that road survey is a big government spend(200 crore annually) and they'd want to keep focusing on the same at the time. 
Ashneer thinks that Google would build and implement a similar technology easily. 
The founder informs that their tech is patent pending. 
Anupam, on this, asks if they'd even get a patent issued and informs that Ola is currently gathering data like this and giving freely to the government. He is out. 
Aman thinks that this is not a big problem (pothole problem and analytics). He is out. 
Ashneer is also out.
Namita is also out because she is not able to understand the business' customer base and revenue model. 
But Peyush gives an offer to RoadBounce. 
Offers for RoadBounce at Shark Tank India

Offer 1: Peyush gives an offer for 20% equity against 80L
Final Verdict
Got 80L for 20% equity from Peyush Bansal


Did you like Shark Tank India Episode 17? 
What do you think about episode 17 of Shark Tank India? 

While you're here: 
Check out our recent posts on Shark Tank India