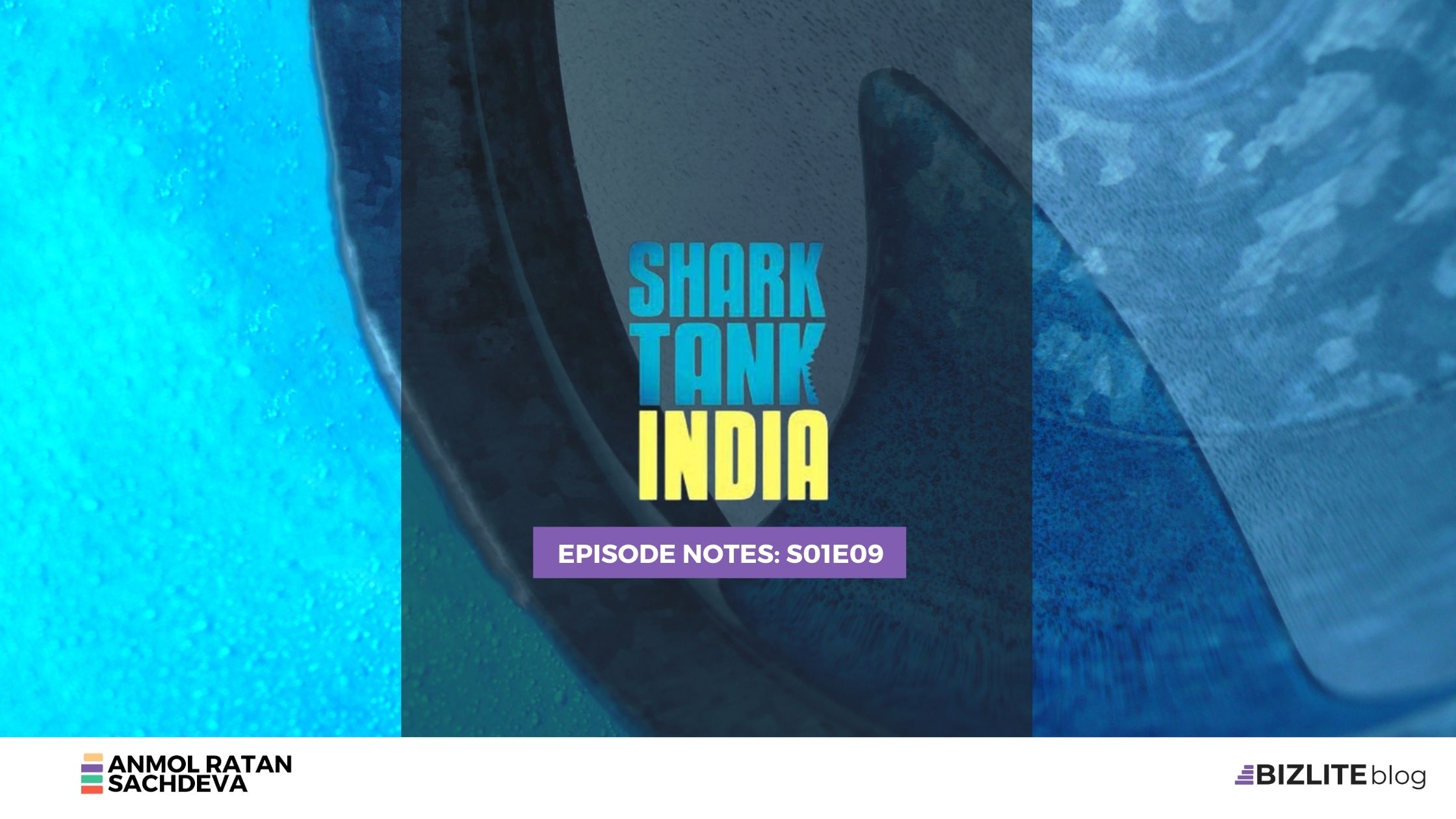 (This is a regularly updating story. Come back for more updates after the show or join Shark Tank India WhatsApp Group for instant notifications after the episode goes live) 
Episode 9 of Shark Tank India brings 3 incredible brands- a smart helmet company, a brand that designs antibacterial wooden toys using neem wood, and a company that makes edibles using archaic methods. Have a look at the promo below to find out:
 

 

View this post on Instagram

 
Altor Smart Helmet Brief Profile & Company Info
Altor Smart Helmet is India's first range of smart headgear. Every year there are countless road accidents and Altor Smart is a solution for bikers across India that immediately informs friends and family. 
Emergency contacts get instant messages in case of any accident detection and this helps in prevention and early detection of life threatening incidents.
Founders: Bilal Shakil, Sayan Tapadar, Shamik Guhan, Anirban Gupta
Altor Smart Helmet Product Portfolio 
India's first range of smart headgear that helps to prevent and detect accidents
Shop your Altor Smart Helmet at https://www.altorsmarthelmet.com
Altor Smart Helmet's Social Media Links
Altor Smart Helmet Ask from the Sharks in Shark Tank India
50 Lakh for 5%, valuation - 100 Crores
Discussion: Did Altor Smart Helmet Get Funding from the Sharks at Shark Tank India? 
What are the sales?
Sales started on 15th November 2021
100 products and 500 paid orders in hand.
There is an app connected feature to attend calls, navigate and map users with a swipe of hand. And this feature also includes an SOS alert in case of any trouble.  Rash driving is detected and there are rewards for safe driving too.
What's the Flagship Feature?
Accident detection was demonstrated that showed 1% false detection. There is a timer that can be cancelled by the rider and nullify the message.
Anupam asked - How and when was this idea triggered? 
When they were in their second year of college, their friend died in an accident and that's when it clicked that they should do something about the increased road accidents in India. They started working on this in 2019.
Ashneer asked– Are there any other players in this space? In case a phone gets destroyed how will it work? Can sim be infused in a helmet?
No one in India, but globally there are a few. Yes, it works with bluetooth and a sim can be infused too.
Peyush asked-  How will you deal with Chinese competition?
They are collaborating with companies to licence out tech, palm sized technology.
Aman asked-Don't you want to be a helmet company?
They are a tech company making smart helmets.
What are the prices?
5 K with low margins and landed cost is 4 K.  Reason is due to supply chain disruptions during pandemic leading to commodity inflation. Ultimately, it will come down to 3k.
Namita was the first one to offer and said that pharma owners would be great customers. She is ready to help with manufacturing and massive customer connections.
Aman is interested in investing in big-time smart wearables too.
Ashneer, Anupam and Peyush asked them to sell this product for just Rs 500 and sell other services by subscription, and bear short-term losses.
Offers for Altor Smart Helmet at Shark Tank India
Offer 1: Namita's Offer - 50 lakh for 20%
Offer 2: Aman's Offer - 50 Lakh for 10 %
Namita countered the same.
Ashneer, Anupam and Peyush – same offer and suggested to focus on machine learning and AI.
Final Verdict
Namita and Aman combined together – counter offer 50 Lakh for 7 % and final deal.
Ariro Brief Profile & Company Info
A  small child consumes plastic equivalent to a credit card. Ariro designs wooden toys out of neem wood which is antibacterial and antifungal. They focus on the 0-3 years market and have 100 products to cater this segment. Their vision to become a household brand and choice for every child's first toy. Ariro toys are made in India for Indian kids.
Founders: Vasanth Tamilselvan and Nisha Ramasamy
Ariro Product Portfolio 
Antibacterial wooden toys for children.
Shop for Ariro toys for your tiny tots at https://arirotoys.com/ 
Ariro's Social Media Links
Ariro ask from the Sharks in Shark Tank India
50 Lakhs for  2.5% , valuation 20 Crores
Discussion: Did Ariro get Funding from the Sharks at Shark Tank India? 
The discussion as the founders elaborated as to why they decided to start this brand. As they didn't want their kids to play with plastic toys, they hired a carpenter to design wooden toys and decided to make a toy of Neem wood. Their friends and family liked it and saw business potential in it and in June 2020, they started their company. 
Name is a lullaby in Tamil and the logo is a fusion of Tamil and English.
Peyush knows their product and is a user and asked- What is the background?
All sharks are their inspiration and they follow all D2C brand founders closely. The founders emphasised that they are masters in Social Work and floated their company Innovasia Media Solutions now that company is leased out to TOI. This is Vasanth's second venture. His wife is a CS engineer and wanted to do something with children.
Anupam liked the idea of purposeful, eco-friendly and handmade toys. But the lifespan of toys are very short and parents are apprehensive about buying expensive toys. So, he asked to elaborate on the pricing as it looked expensive to him.
Namita & Aman asked about pricing 
A Jungle Swing costs 23 K, with manufacturing cost 12 K. Which is both high as per Aman, but Namita is convinced as they are hand made.
What are the Sales?
25-30 Lakh per month. 80 % from websites, and the rest are from Amazon. They have tied with Hamleys and 43 toy stores in India. 
Ashneer -  You are doing a 3 Crore business with 60 % gross profit with growth 9 % MOM, so he was ready to offer.
Namita was out as pricing is high as per Indian market and global is untested.
Aman asked - You guys are already profitable, why do you need money?
They admitted that they actually need mentorship for saving time. 
Anupam asked -Are there partnerships? How are people discovering you?
50-50 % partnership, completely bootstrap. They find customers and interested buyers through an Instagram page with 43 K followers.
Anupam  counter same 10 %..final he revised it and Anupam and Ashneer combine together 
Final Deal – 50 lakh for 10 % - Aman and peyush
Offers for Ariro at Shark Tank India
Offer 1: Ashneer - 50 lakh for 15%
Offer 2: Aman and Peyush - 50 lakh for 15%
Offer 3: Ashneer - 50 lakh for 11%
Offer 4: Anupam - 50 lakh for 10 % 
Revised offer- Anupam and Ashneer combined the offer - 50 lakh for 10 % 
Final Verdict
Final Deal – 50 lakh for 10 % from Aman and Peyush
Kabira Handmad Profile & Company Info
Based in Jaipur, Kabira Handmad makes consumables like edible oils, flour etc., with the same processes used by early man. They also produce cold pressed oils.
The founders Nirmala and Dr Manoj Murarka believe that right to right food is their mission. 
Kabira Handmad Product Portfolio 
Consumables like edible oils, flour and cold pressed oil.
Shop for their products at https://www.manishankaroils.com
Kabira Handmad's Social Media Links
Kabira Handmad ask from the Sharks in Shark Tank India
1 Crore for 5% equity and valuation 20 Crores
Discussion: Did Kabira Handmad get Funding from the Sharks at Shark Tank India? 
The Sharks were curious as to why it's "Handmad" and not "Handmade"?
The founders feel that to be in this segment, one has to be mad. 
Ashneer asked - What is your journey? 
Manishankar oil is the parent company started in 1998. They are making cold pressed oils. They wanted to start a vertical with Kabira Handmad including spices, oils, flours and dairy products.
Anupam asked - What is Nirmalas contribution?
 She shared that her kids are grown up and she also wanted to do something. She joined just 3 months back and is looking for marketing and packaging. They have dedicated small packs on packaging martyrs of India. It is a social cause. Peyush copied the same idea of promoting soldiers of India.
Ashneer asked - What are the sales?
Oil sale - 160 crore sales of mani shankar oils. only (20-21) own and third party manufacturing(dint understand)
Gross profit is 3 % net profit is 1 %
They priced the products competitively during covid times not to make profits, as they feel the food industry should not focus on more profits during tough times. And they gained a lot of sales.
Last year profit was 4.5%. The reason for very little profit margins is the old supply chain. All profits get absorbed in wholesales, dealers, retailers and consumer chains. So, they want to have a D2C model. 
Namita opts out because of low GC - 3%
Peyush didn't know why they needed to raise investment, so he also withdrew.
Ashneer said there is good sales of 160 Cr but low profit margins, So, he also opted out. Aman also said he was out.
Anupam offer – A new entity I am not interested, Kabira Handmad sales is 3 Cr. 25 Lakh equity as I can't trust new company and 75 lakh loan for 10 % equity(didnt understand)
Offers for Kabira Handmad at Shark Tank India
Final Verdict
The offer was refused. Kabira Handmad got nothing.
Did you like Shark Tank India Episode 9? 
While you're here
Check out our recent posts on Shark Tank India