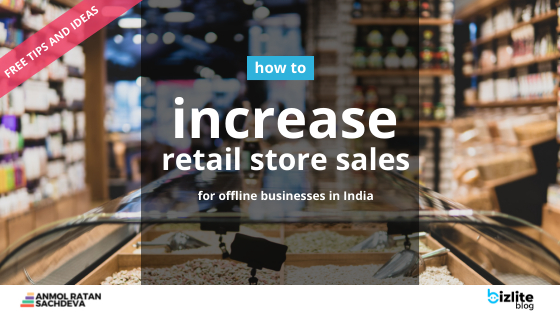 Every time you refresh your Instagram feed or open Facebook, someone's there, trying to pitch 'the next big idea' that will make you a millionaire. Some promise that you can become a 'crorepati' by launching a Shopify store. Others share the secrets of launching a dropshipping business. 
Almost wherever you go on the internet, there's a 'guru' lurking behind you, trying to push you into buying a course, learning a new skill, or forgetting everything you know. Because that's what will make you successful - a clean slate. 
But what should one do with his existing business or investment. What should you do with the stock that's lying there in your shop or retail business. Of course, there's someone who promises that they'll sell it for you via FB ads. But you have already tried it and wasted thousands of rupees last year. 
So, I won't share some 'hacks' to grow your business digitally in this blog. Instead, I'll share some simple tips that can 'regenerate' interest of customers in your existing store or operations. So, let's begin. 
What you need to understand about selling more in 2023? 
Gone are the days where you were the only source in town to 'access' quality products.  You can no longer expect customers to walk-in, and keep coming again. Now, they all have options - and that too on their fingertips. 
To fight the online competition, you need to understand the psychology of the Indian consumer, first. 
They expect and love convenience; 
They are a hard bargainer; 
They've already evaluated all options online; 
They need special treatment, 'special' recommendations or freebies to keep coming back. 
Based on these four points, we can safely assume - Indian customers are always looking for a way to 'save more and get more'. But this doesn't mean you don't have an opportunity to 'earn more' and grow your sales. 
Instead, there's an evident pattern and trend that has emerged recently. Let me give you an example. 
Nowadays, customers have a lot of options readily available on their smartphones. There's Amazon, Flipkart, Myntra, 1mg, and a million other platforms competing for customer attention. They give customers a million of options, scrape their data, and try to personalize user experience for maximum engagement and sales. 
Now, think about it - the moment customer enters your shop, you have their attention, they are not in a hurry, are ready to listen to you, and you can share your opinions, and recommendations, while treating them well. 
Start thinking of your retail establishment and/or shop as a customer experience center where you are their personal concierge. They don't have to spend hours scrolling mindlessly to search for what they want. Instead, they can tell what they want and you're right there for satisfying the need. 
The same concept as we see in modern trade stores vs conventional kirana stores. Still, a large population believes in sending a list to their nearby grocer and get monthly stock within minutes rather than spending hours mindlessly moving around big spaces within malls. 
You just need to bring customers to your doorstep and you've already won half the battle - they would appreciate the personal touch and time saved in trying to find the right product. So, your marketing should start talking about how 'local' will save them time and make their lives easier (and more efficient). 
Trust me, the most educated folks love this convenience, productivity, and personalisation pitch. And you know what it means - if you manage to convince them, you're in for some regular revenues.
Don't just believe me. Here's an ad by Vijay Sales talking of the same 'we know you' concept: 
We all know how successful Vijay sales is in retail operations. So, this 'personalization' pitch that will make their lives easier definitely works for an offline retail store. 
Fresh Ideas to Increase Your Sales on Your Retail Counter in India
Increase your medical store sales 
Launch a loyalty card - start giving membership discount or loyalty bonus to your existing customer base and ask them to share the news with their friends; 
Expand your range and pitch for upsells based on your existing customer base - Suggest them what will work better for hairfall if they regularly buy 'hair care' range from you; 
Start offering complementing service - Collaborate with a popular doctor to start giving free consultations every week, set up a collection center for health checkups; 

Partner with gyms, salons and other complimenting businesses - Start keeping a 'unique' range of products recommended by famous chain of salons or gyms; 

Start a subscription service - Deliver monthly medicine stock on a particular date at their home — account can get settled later with zero worry of missing medicine. Would work extremely well for busy professionals with parents , or old-age couple living alone; 
Set up reminder calls - Remind regular customers remember about their medicine through phone calls or whatsapp reminders; 
Stock 'hard to get' medicine/products - Find brands/agencies/products that are rare to get hands on and start keeping a stock of it. For example, hair and care silk and shine serum is hard to get on local stores; 
Sponsor 'free medical camps' — Host periodic free camps in local areas, rural regions, and tie up with doctors who give free consultation. Give freebies such as consultation pads, carry bags, with badges/branding of your medical store to doctors for use in camps or their clinics; 
Increase your distribution to smaller towns n villages - Partner with local doctors in smaller areas or villages. Provide doorstep distribution to them for common medicines every month by arranging a tour. Particularly useful if you are into wholesale trade of medicines.
Increase your sales as a garment shop owner in India
Distribute pamplets about saving time — Add benefits which are not found in  online shopping. For example, returns or exchanges don't take 3 days at an offline shop. Customers can instant take a trial in trial rooms, they can get personal attention and shopping concierge, saving their time wasted on browsing, ordering, or trialing online merchandise; 
Offer try at home services - Create a whatsapp store and ask customers to place a trial order. Deliver the requested merchandise to their home for trial, and let them pick one and pay on doorstep. This is similar to Lenskart's at-home services; 
Offer free alteration forever - Lure customers by offering free alterations to products brought from your store forever. Tie up with a local tailor (or give him a space inside your shop) to avoid any hassle of execution; 
New section or floor for designer trials - Add a new floor or section for designer shopping or trials. You can add premium products to the floor and launch it as an exclusive shopping experience center in your city. 
Rental clothes for photoshoots - Influencers and social media celebrities love dresses and new clothes. You can rent clothing for social media shoots (and not just bridal or celebration purposes) and attract many influencers who have to get dressed to post engaging content daily; 
Free gifts to local insta celebs - Find a list of local instagram influencers and send them gift hampers from time to time. This is a great form of increasing word of mouth as they might tag you or post about you on their handles; 
Engage with regular customers — Make a note of anniversary, birthdays and send them wishes along with a reminder to shop for themselves (or their loved ones) to celebrate the special occasion; 
Launch a gift registry service - Promote your shop as an exclusive center where someone can walk in (or contact via whatsapp) to pick a dress as a gift for their loved ones. Simultanously, announce a gift registry that someone can post online and their followers/friends can pay for the gifts and you will dispatch all their 'desired' gifts. 
Subscription box service - Launch a subscription box service that sends new clothing and apparel every month to your customer's doorstep. 
Increase your sales as a stationery shop owner in India
Stationery shops are traditionally known to partner with schools, educational institutions, and coaching centers to promote their business. They offer specimen copies to faculties and tie up with large schools for exclusive rights to curriculum books. But there are several other ways to increase sales too, like: 
Bundling — Launch back to school kits and promote it via pamphlets or local newspapers. Add superhero mechandise in your stationery or back to school bundles and give 'special' discount for children who bring cuttings of your pamphlets; 
Partner with art teachers and DIY hobbyists — Find art teachers or DIY enthusiasts in your city (use Instagram) and reach out to them with an offer to deliver regular supplies at their doorsteps on a discounted price. They're often looking for honest sellers who stock their requisite supplies and have a constant demand for unique paints, brushes, or items with high margin; 
Be visible in local fairs - Demo unique, cute, or fancy products by getting a stall at local fairs, or malls. Kids love unique products and often their parents are ready to buy them; 
Arrange for party supplies - Talk to restaurants or event planners organizing birthday parties in your city and supply party goods or unique decor products for them. You can also create special 'goodie' bags that organizers can pitch as return gifts bundle; 
Organize one-day fairs or haat bazar - Rent out a small space or hall for a weekend and organize a 'one price for anything' bazar like dollar store in your city. You must have seen plastic, electronics, or artificial jewelry goods sellers doing the same. Do it for stationery, invite all 'stationery lovers' you know, and ask them to post on social media; 
Sponsor NGOs - Sponser local aashrams, NGOs and people who promote education and literary mission in slum areas. You will get peace of mind and a lot of 'positive' publicity that will create long-term brand awareness; 
Launch a stationery-as-a-subscription service - Every parent is tired of their kids reminding them to buy notebooks, chart paper, pencil, and other stationery at the last moment (sometimes a night before they need it in school). Launch stationery-as-a-service and promote it among your loyal customers. You can use your knowledge of industry to create subscription bundles so they never run out of supplies (and deal with last-minute problems), well. 
Increase your sales as a restaurant or sweets shop owner in India
Employ guerilla marketing — Place branded boxes or marketing material at busy hubs in your city to intrigue people. Take inspiration from Redbull's guerilla campaigns and do something similar with your packaging or product offerings; 
Arrange tastings on busy hubs - Pitch to reliance mart and other shopping centers/malls to allow you to arrange tasting sessions within premises on busy weekends. People love free food samples and might end up visiting your shop. Plus, it would definitely create a strong brand recall if you keep doing this every weekend in a row. 
Home.delivery on festivals and special occasions - Every home in India needs snacks and sweets on special occasions and festivals like Diwali. Many nuclear families who cannot cook/have the time to make preparations and home appreciate home delivery services during this time. Instead of partnering with Zomato, have a special desk on busy festivals where anyone can call and get fresh preparation at doorsteps. Add a gifting option too so people can send gifts to their loved ones in the city. 
Start a cloud kitchen for snacks: You must have a large range of savories and snacks. Why not start a cloud kitchen and supply to corporate gatherings, or small businesses who need caterers to celebrate a few occasions. You can tie up with complementary businesses/companies who need snack supplies every month (offices with in-house pantry);  
Launch regional specialties:  People love uniqueness in food nowadays. So, why not launch regional specialties and deliver it in your city. You can tie up with players who offer regional specialties or hire a regional chef to organize regional food fest at different times of the year. You can also take the regional specialties online by running online ads targeting a specific group of people; 
Launch low-calorie Mithais or snacks: Partner with a dietician and launch your own range of healthy and low-calories mithais and snacks. The fitness loving generation (and their grandparents on medical watch) would become a regular at your shop. 
Frequently Asked Questions
Will renovating my shop increase offline sales?
While renovation and interiors might improve the in-store experience for walk-in customers, it does not have a direct correlation with an increase in sales. But you can definitely improve your interiors and promote your store/shop as an experience center in local media to experience an increase in footfalls. 
How to compete with online price comparison?
Online platforms and marketplaces don't promise price savings in 2023 as they used to do 5 years ago. You can start creating awareness in store by creating posters comparing your prices with Amazon/Flipkart and even run offline/online campaigns to show how much a customer saves when they choose to buy offline. You can also target people who are serious about environmental impact of wastage due to packaging/logistics. 
Should we spend money on online marketing to increase retail sales? 
Yes, you can promote your business online to increase retail walk-ins through online ads and other methods. However, don't expect an overnight success without a professional marketer and online ads expert. You can do a small test or experiment in your local market by running an offer for a free gift on every puchase during a specific time on a specific day to understand how many people walk in to your store to claim the free gift. 

Explore, Execute & Experiment  to Increase Your Store Sales in 2023 
Most small businesses and offline store owners keep thinking about doing something, someday. But mere thinking without execution won't help you grow your sales. You will have to try unique ideas and see if they work for you.
Yes, there will be costs involved. But by not doing anything, you're losing out on potential incremental revenue that you can earn when you're more visible in your city. 
Don't keep thinking. Pick and idea, start small, experiment, and succeed as an offline business. And if you're thinking of going online, get a free Bizlite business card and a whatsapp store signing up now.